This website uses cookies to ensure you get the best experience while browsing it. By clicking 'Got It' you're accepting these terms.
Asian Carp Report Highlights Urgent Need to Save the Great Lakes from Invasion
Jul. 12, 2012 02:25PM EST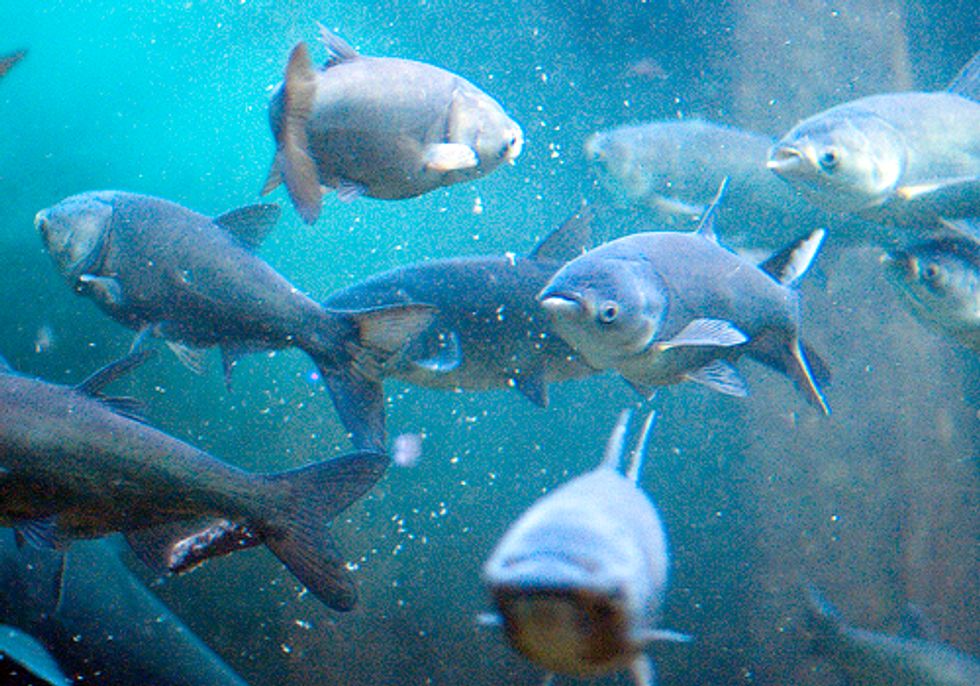 Fisheries and Oceans Canada released a binational risk assessment of Asian carp today detailing the potential threat an invasion imposes on the Great Lakes. The conclusions point to a severe disruption of established ecosystems and re-emphasize an urgency for the federal government to act quickly to mitigate the threat, which thus far it has not.
"This report confirms that the stakes are too high for failure," said Jennifer Nalbone, director of Navigation and Invasive Species for Great Lakes United. "If Asian carp invade, Canadian and U.S. waters will be changed forever."
"Both countries must support and implement the best protection from an invasion and break the artificial connection between the Mississippi and Great Lakes basins in the Chicago area," said Nalbone. "If water doesn't flow between the two watersheds, this damaging fish can't swim in."
"The report underscores the severity of the Asian carp threat and the need for leadership so that we can solve the problem once and for all," said Andy Buchsbaum, director of National Wildlife Federation's Great Lakes office. "The Asian carp are moving toward the Great Lakes far faster than the government response, and this report shows that the cost of inaction will be devastating. President Obama and Gov. Romney need to declare that they will take the necessary action to build an effective physical barrier to keep the Asian carp out of the Great Lakes," he said.
Some of the report's key findings include (from the Fisheries and Oceans Canada website):
The most likely entry point into the Great Lakes basin is the Chicago Area Waterway System (CAWS) into Lake Michigan. The effectiveness of the electrical barrier in the Chicago Sanitary and Ship Canal (CSSC) was not evaluated. Nevertheless, the complex nature of the CAWS and proximity of bigheaded carp populations led to the conclusion this is the most likely entry point.
Once bigheaded carps have gained entry into the basin, they are expected to spread to other lakes within 20 years. The spread will be more rapid for lakes Michigan, Huron and Erie, and potentially Lake Superior; longer for Lake Ontario.
Bigheaded carps would find suitable food and thermal and spawning habitats in the Great Lakes basin that would allow them to survive and become established. The areas that would be attractive and favorable are Lake Erie, including Lake St. Clair, and high productivity embayments of lakes Superior, Michigan, Huron and Ontario.
There is a greater than 50 percent probability of successful mating each year with very few (< 10) adult females (and a similar number of adult males) within the basin of a Great Lake.
Population growth is most sensitive to the survivorship of juveniles.
The consequences of an established bigheaded carp population are expected to include changes in planktonic communities, reduction in planktivore biomass, reduced recruitment of fishes with early pelagic life stages and reduced stocks of piscivores.
To reduce the probability of introduction (either at the arrival, survival, establishment or spread stage) and delay or reduce subsequent ecological consequences, immediate prevention activities would be most effective, especially in conjunction with population management activities at the invasion front.
Visit EcoWatch's BIODIVERSITY page for more related news on this topic.
EcoWatch Daily Newsletter
A new report spotlights a U.N. estimate that at least 275 million people rely on healthy coral reefs. A sea turtle near the Heron Island in the Great Barrier Reef is seen above. THE OCEAN AGENCY / XL CATLIN SEAVIEW SURVEY
In a new report about how the world's coral reefs face "the combined threats of climate change, pollution, and overfishing" — endangering the future of marine biodiversity — a London-based nonprofit calls for greater global efforts to end the climate crisis and ensure the survival of these vital underwater ecosystems.
Half of the extracted resources used were sand, clay, gravel and cement, seen above, for building, along with the other minerals that produce fertilizer. Cavan Images / Cavan / Getty Images
The world is using up more and more resources and global recycling is falling. That's the grim takeaway from a new report by the Circle Economy think tank, which found that the world used up more than 110 billion tons, or 100.6 billion metric tons, of natural resources, as Agence France-Presse (AFP) reported.
By Gero Rueter
Heating with coal, oil and natural gas accounts for around a quarter of global greenhouse gas emissions. But that's something we can change, says Wolfgang Feist, founder of the Passive House Institute in the western German city of Darmstadt.

By George Citroner
Recent research finds that official government figures may be underestimating drug deaths by half.
Researchers estimate that 142,000 people died due to drug use in 2016.
Drug use decreases life expectancy after age 15 by 1.4 years for men and by just under 1 year for women, on average.
Government records may be severely underreporting how many Americans die from drug use, according to a new study by researchers from the University of Pennsylvania and Georgetown University.
Water coolers in front of shut-off water fountains at Center School in Stow, MA on Sept. 4, 2019 after elevated levels of PFAS were found in the water. David L. Ryan / The Boston Globe via Getty Images
In a new nationwide assessment of drinking water systems, the Environmental Working Group found that toxic fluorinated chemicals known as PFAS are far more prevalent than previously thought.