This website uses cookies to ensure you get the best experience while browsing it. By clicking 'Got It' you're accepting these terms.
Asian Carp Quickly Advancing Toward the Great Lakes
Aug. 21, 2013 10:49AM EST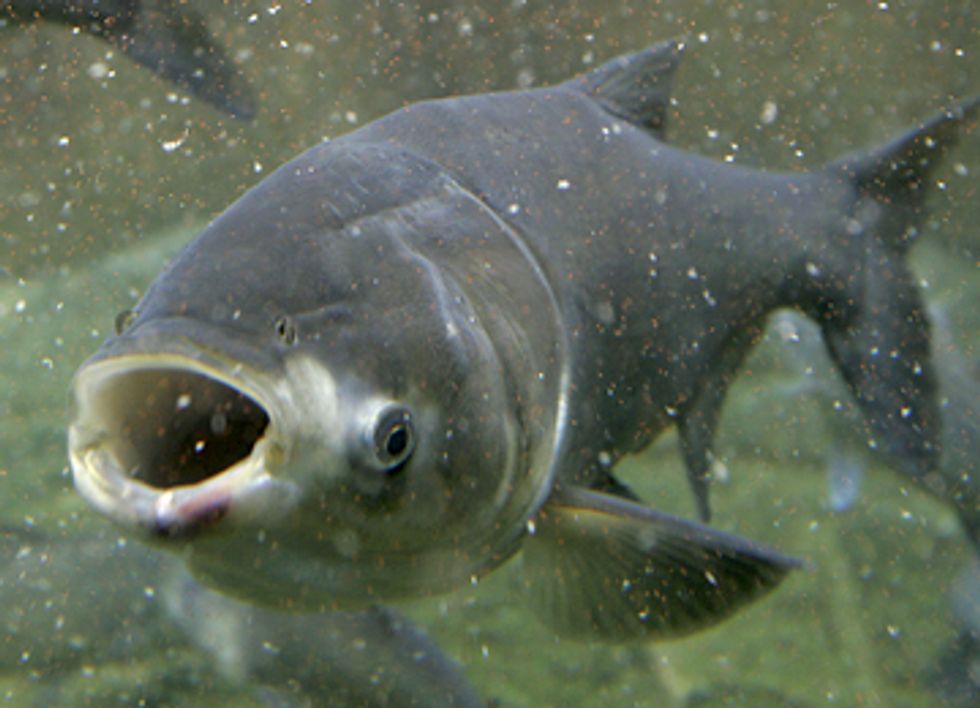 The leading edge of the Asian carp invasion in Illinois has advanced dramatically, with spawning moving nearly 100 miles upstream this year to within 25 miles of an electric barrier that is the last line of defense guarding Lake Michigan and the Great Lakes beyond.
 
Data collected by the Illinois Department of Natural Resources in June shows that verified spawning of Asian carp—a key indicator of a viable Asian carp population and its ability to out-compete native fish species—has moved to within just 62 miles of the lake.
 
"The fish are beating a quick path to the Great Lakes and we need federal efforts to keep pace with the threat," says Joel Brammeier, president of the Alliance for the Great Lakes. "Congress needs to take action now to support a permanent solution to the problem."
 
Asian carp, a grouping that includes the notorious bighead and silver species, are invasive species with voracious appetites. The filter-feeders are capable of eating up to 20 percent of their body weight each day in algae and small microscopic organisms. Their rapid growth and intense feeding threaten the base of the food web in waters that they invade. Silver carp are well-known for leaping into the air at the sound of passing motorboats, a behavior that has injured boaters and other water enthusiasts in waterways they have infested throughout the U.S.
 
"The fact that Asian carp are reproducing, and these reproducing populations are moving closer, makes it even more important that action is taken quickly," notes Cheryl Kallio, associate director for Freshwater Future. "Thousands of citizens in the region have been contacting their members of Congress, calling for fast action on a permanent solution to stop Asian carp. They've had an impact with the Stop Invasive Species Act. We're one step closer, but it is critical for people to continue reaching out to their elected officials."
 
"At every phase of the game, the Asian carp have been underestimated in their advance up the Mississippi and through Illinois on their way to the Great Lakes," says Natural Resources Defense Council attorney Meleah Geertsma. "We have to get out in front of this invasion once and for all, which means putting in a physical separation to avoid unnecessary environmental and economic damage that comes with these detrimental devils."
Earlier this year, the U.S. Geological Survey discovered Asian carp have an ability to spawn in waterways previously considered unsuitable, meaning their spawning can occur in shorter, slower-moving waterways and that there are more tributaries that could serve as carp pathways to the Great Lakes than previously thought. The trend of a now rapidly advancing spawning front in Illinois, as well as increased capacity for spawning, is further evidence the Asian carp threat to the Great Lakes is imminent.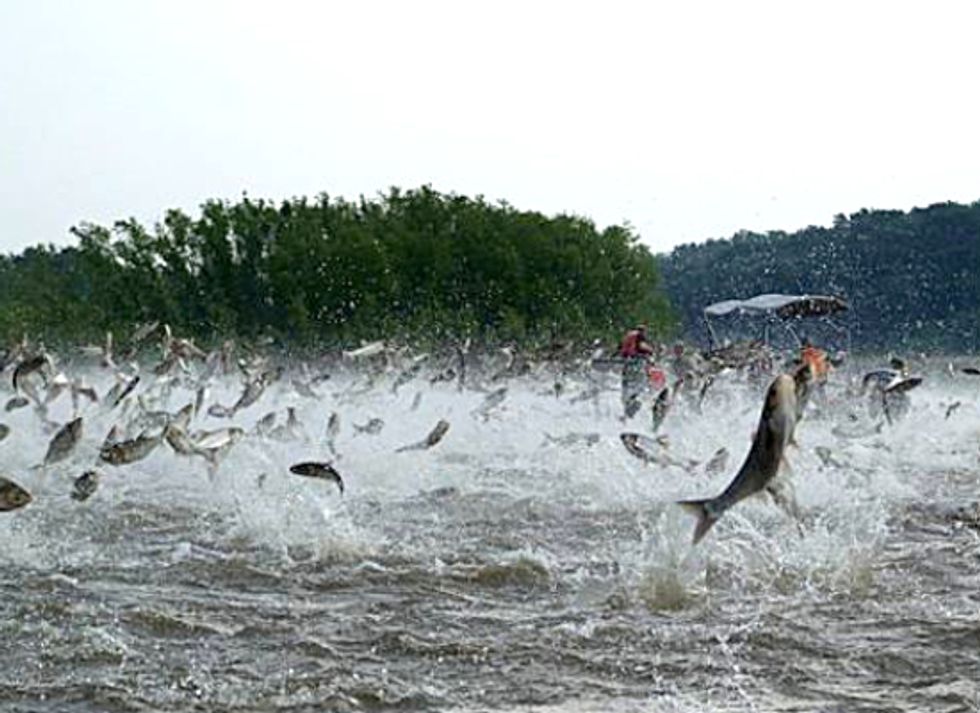 Silver carp are well-known for leaping into the air at the sound of passing motorboats.
"This is another urgent indication that the entire Great Lakes region needs to support a physical barrier in Chicago in order to protect our economy, our fishery and our way of life," says Marc Smith, senior policy manager with National Wildlife Federation.
 
"Evidence of Asian carp breeding much closer to Lake Michigan is an urgent reminder that the clock is ticking on our opportunity to put a permanent solution in place," said Jack Darin, director of Sierra Club, Illinois Chapter. "Breeding Asian carp near the barrier raises the threat level to Great Lakes. The carp are on the move, and we all need to redouble our work toward a permanent solution before it's too late."
 
The increased threat of Asian carp illustrates the need for a prompt and permanent separation of the Great Lakes and Mississippi River to protect Chicago waterways and the Great Lakes. Lab testing has shown that Asian carp fry—or babies—are far less affected than adults by the charge on the electric barrier that is meant to keep them out of Lake Michigan.
 
"Fish don't care about congressional authorization or timetables," says Robert Hirschfeld, water policy specialist at Prairie Rivers Network. "The half-measures currently in place have not stopped the advance of Asian carp. Congress needs to act now to separate the basins or it will bear responsibility for a devastating blow to the Great Lakes economy."
 
The U.S. Army Corps of Engineers is scheduled to complete its long-awaited Great Lakes and Mississippi River Interbasin Study (GLMRIS) in December. Its goal is to find solutions that end the transfer of aquatic nuisance species between the Great Lakes and Mississippi River basins.
 
"Despite all the effort to understand the problem and stop the advance of bighead and silver carp, at present a fully implemented, permanent solution could still be years away," said Margaret Frisbie, executive director, Friends of the Chicago River. "With Asian carp on the move and our rivers at risk from dozens of other aquatic invasives already present in the Great Lakes, we need to do better than that and ask Congress to act as soon as GLMRIS is released." 
Visit EcoWatch's BIODIVERSITY page for more related news on this topic.

EcoWatch Daily Newsletter
A bushfire burns outside the Perth Cricket Stadium in Perth, Australia on Dec. 13, 2019. PETER PARKS / AFP via Getty Images

By Albert Van Dijk, Luigi Renzullo, Marta Yebra and Shoshana Rapley
2019 was the year Australians confronted the fact that a healthy environment is more than just a pretty waterfall in a national park; a nice extra we can do without. We do not survive without air to breathe, water to drink, soil to grow food and weather we can cope with.
By Fino Menezes
Everyone adores dolphins. Intelligent, inquisitive and playful, these special creatures have captivated humans since the dawn of time. But dolphins didn't get to where they are by accident — they needed to develop some pretty amazing superpowers to cope with their environment.
Protesters face off against security during the Dakota Access Pipeline protests. ROBYN BECK / AFP / Getty Images
In just two weeks, three states have passed laws criminalizing protests against fossil fuel infrastructure.
Donald Trump and Anthony Fauci, director of the National Institute of Allergy and Infectious Diseases, listen to White House coronavirus response coordinator Deborah Birx speak in the Rose Garden for the daily coronavirus briefing at the White House on March 29, 2020 in Washington, DC. Tasos Katopodis / Getty Images
President Donald Trump has bowed to the advice of public health experts and extended social distancing measures designed to slow the spread of the new coronavirus till at least April 30.
Pexels
By Charli Shield
At unsettling times like the coronavirus outbreak, it might feel like things are very much out of your control. Most routines have been thrown into disarray and the future, as far as the experts tell us, is far from certain.