This website uses cookies to ensure you get the best experience while browsing it. By clicking 'Got It' you're accepting these terms.
Asian Carp Invasion Can Be Stopped by Separation
Jan. 31, 2012 08:00PM EST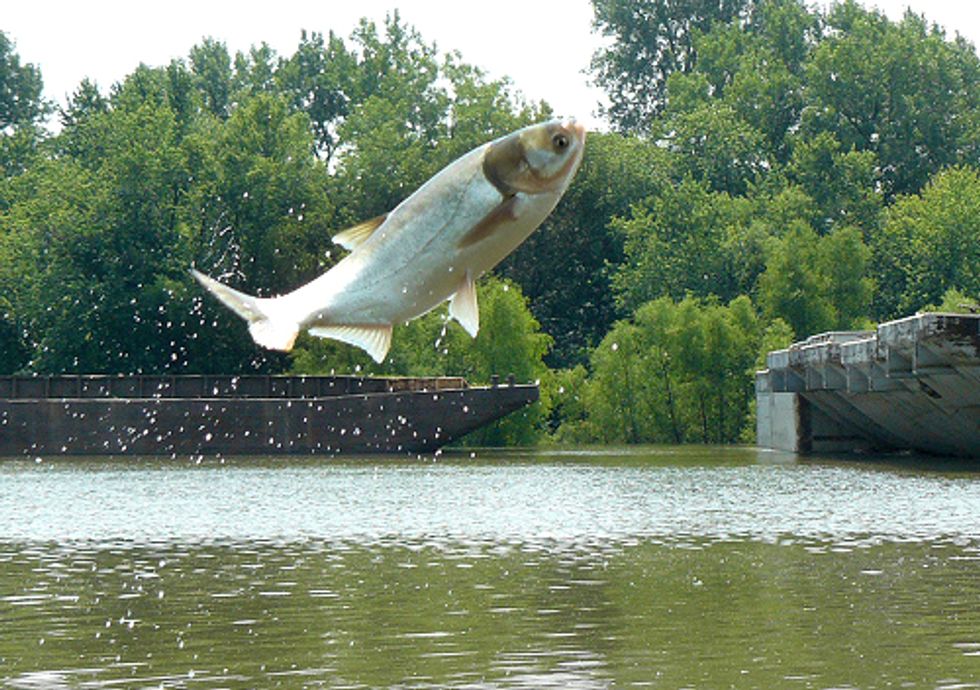 A much-anticipated study says separating the Great Lakes and Mississippi River basins to prevent the spread of Asian carp and other invasive species is not only possible, but a natural step toward much-needed action to improve Chicago's water infrastructure.
Great Lakes environmental groups reacting to the study, released Jan. 31 by the Great Lakes Commission and Great Lakes-St. Lawrence Cities Initiative, commended the authors' factual analysis concluding that separation is possible and that it must include essential upgrades to sewage, flood control and waterborne transportation while preventing the transfer of invasive species.
"The study is unprecedented in its scope and ambition, re-envisioning the Chicago Area Waterways System (CAWS) as a system that not only prevents invasive species from devastating the Great Lakes and Mississippi River and all their tributaries, but also makes sorely-needed improvements to core functions like moving people and goods, managing stormwater and maintaining water quality," the partner groups said in a statement.
The study refocuses the Great Lakes region on a long-term permanent solution and away from stopgap measures that, on their own, will ultimately fail to stop the Asian carp's march to Lake Michigan.
The authors note that restoring the natural divide between the Great Lakes and Mississippi River basins at Chicago can coordinate with efforts already under way by the city of Chicago, the state of Illinois and the Metropolitan Water Reclamation District to improve water quality and reduce flooding.
The marauding bighead and silver carp are the poster fish for the ecological and economic havoc in the offing when invading species travel between the Great Lakes and Mississippi. Research estimates that the annual cost to the Great Lakes region from invasive species introduced by shipping is upwards of $200 million per year.
"Tens of thousands of constituents have spoken to their members of Congress through a postcard campaign asking for immediate action to stop the Asian carp," said Cheryl Mendoza, associate director for Freshwater Future. "This study provides decision makers with the path to the permanent solution Great Lakes citizens have been asking for."
Since 2009, multiple hits of Asian carp DNA have been found lakeward of an electric barrier in the CAWS meant to keep the fish out of Lake Michigan and the Great Lakes. More recently, carp DNA has been reported in waters open to Lake Michigan.
Joel Brammeier, president and CEO of the Alliance for the Great Lakes, says the study is the most specific evaluation to date of what it would take to achieve hydrologic separation at the CAWS. "Chicago and Illinois have been under a spotlight as the carp close in on Lake Michigan," says Brammeier. "This report shines that light in a new direction—toward the transformation of the Chicago waterway into a resource of which everyone in the city, the state and the country can be proud."
Since 2008, environmentalists have called for separating the artificially conjoined Great Lakes and Mississippi River basins—the only permanent solution on the table and one that has come to be embraced by states, cities and members of Congress alike.
"Separation is a modern 21st century solution for a 21st century problem," says Jennifer Nalbone, director of Navigation and Invasive Species for Great Lakes United. "This study points the way to a solution that not only benefits the Great Lakes states, but also Canadian and Mississippi River stakeholders. Most of North America will ecologically and economically benefit from separating the two basins."
The GLC-GLSLCI study clearly demonstrates that separation is possible, providing detailed background on three separation options that allow elected officials and community leaders to move the discussion to the next level. As any separation is intrinsically tied to the multiple uses of the waterway system, it is imperative the Chicago region be an engaged partner.
"The study has the potential to be a game-changer in the effort to restore and protect the Great Lakes," says Jeff Skelding, director of the Healing Our Waters-Great Lakes Coalition. "It proves we have affordable solutions to the Asian carp crisis that benefit both our environment and economy. This report should put an end to excuse-making and foot-dragging and light a fire under the U.S. Army Corps of Engineers to do its job so the nation can move forward on a solution to protect the Great Lakes and the jobs that depend on them."
To that end, the partner groups stress that the study is a beginning, not an end, and should not be interpreted as a strict set of policy recommendations. Until separation is complete, they say strong interim protections must be implemented to protect against an Asian carp invasion, and note the study includes such measures within its long-term vision for separation. The groups also urge Congress to pass the Stop Asian Carp Act.
A plodding U.S. Army Corps of Engineers' study of the problem—the Great Lakes and Mississippi River Interbasin Study—could be expedited by incorporating findings from the GLC-GLSLCI study and starting separation planning now, the groups say.
"The study is a revelation. It puts solutions on the table that are both feasible and affordable," says Marc Smith, senior policy manager with the National Wildlife Federation. "The onus is clearly now on the U.S. Army Corps of Engineers to expedite its own study so the nation can stop talking about 'if' a solution is possible, and instead focus on 'when' people can be put to work to solve this problem once and for all."
Thom Cmar, attorney for the Natural Resources Defense Council, concurs. "We have a unique opportunity here because we know the invasion is under way and we know how to stop it.
"Not only can a barrier stop the spread of Asian carp and the rest of the harmful invasives moving on the waterway, it can also help revitalize the festering mess on the Chicago River—but only if we have the political will to act quickly, before it's too late," says Cmar, author of a 2010 study examining potential impacts of anti-invasive species barriers on Chicago's waterways.
---
Around the Basin:
More Reaction from Great Lakes Organizations
"Minnesota's waters are currently threatened by Asian Carp from many directions. We have to fight them on all fronts because once they are here we have no safe, effective way to deal with them. The protection of Minnesota's waters depends on shutting the door on the Asian Carp at the Chicago Area Waterway System (CAWS)."
—Darrell Gerber, program coordinator, Clean Water Action Minnesota
"This study shows that the separation of the Great Lakes and Mississippi River basins can be a win-win for Chicago and Ohio. Lake Erie's prized sportfish, Ohio jobs and $10 billion in economic revenue to Ohio from travel and tourism is all at risk from an Asian carp invasion. Ohio's congressional members need to work with leadership to ensure the U.S. Army Corps of Engineers expedite its plan so our children and grandchildren can enjoy the lakes as we do today."
—Kristy Meyer, director of agricultural & clean water programs, Ohio Environmental Council
"Canada's Department of Fisheries and Oceans completed an Asian Carp Risk Assessment in 2004 and found these voracious silver and bighead carp that spawn several times a year will invade nearly all of the Canadian Great Lakes shorelines and then travel up our rivers to get into our lakes. The Great Lakes are bi-national waters and we do not want these invasive carp in our waters. Sierra Club has a bi-national policy for all our nine Great Lakes Chapters that calls for 'urgent implementation of a plan to install permanent barriers to separate the hydrological connections at Chicago of the Great Lakes to the Mississippi River.' Sierra Club appreciates this GLC-GLSLCI report that should get construction started soon rather than wait another five years for the USACE to study the problem. The time to act is now!"
—Mary Muter, chair, Great Lakes Section, Sierra Club Ontario
For more information, click here.
EcoWatch Daily Newsletter
Catherine Flessen / Flickr / CC BY-NC-ND 2.0
Non-perishable foods, such as canned goods and dried fruit, have a long shelf life and don't require refrigeration to keep them from spoiling. Instead, they can be stored at room temperature, such as in a pantry or cabinet.
Tero Vesalainen / iStock / Getty Images
By Julia Ries
Two flu strains are overlapping each other this flu season.
This means you can get sick twice from different flu strains.
While the flu vaccine isn't a perfect match, it's the best defense against the flu.
To say this flu season has been abnormal is an understatement.
Arx0nt / Moment / Getty Images
Vitamin D, also known as the sunshine vitamin, is a fat-soluble vitamin essential for optimal health.
Plastic waste that started as packaging clogs tropical landfills. apomares / iStock / Getty Images
By Clyde Eiríkur Hull and Eric Williams
Countries around the world throw away millions of tons of plastic trash every year. Finding ways to manage plastic waste is daunting even for wealthy nations, but for smaller and less-developed countries it can be overwhelming.