This website uses cookies to ensure you get the best experience while browsing it. By clicking 'Got It' you're accepting these terms.
Asian Carp Invasion Can Be Stopped by Separation
Jan. 31, 2012 08:00PM EST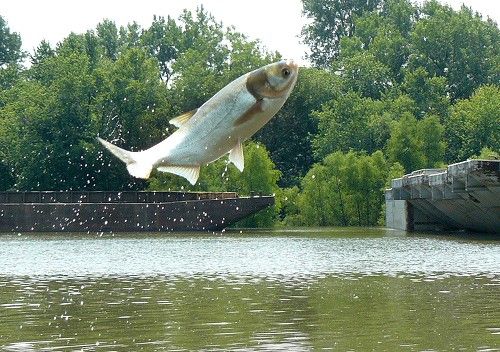 A much-anticipated study says separating the Great Lakes and Mississippi River basins to prevent the spread of Asian carp and other invasive species is not only possible, but a natural step toward much-needed action to improve Chicago's water infrastructure.
Great Lakes environmental groups reacting to the study, released Jan. 31 by the Great Lakes Commission and Great Lakes-St. Lawrence Cities Initiative, commended the authors' factual analysis concluding that separation is possible and that it must include essential upgrades to sewage, flood control and waterborne transportation while preventing the transfer of invasive species.
"The study is unprecedented in its scope and ambition, re-envisioning the Chicago Area Waterways System (CAWS) as a system that not only prevents invasive species from devastating the Great Lakes and Mississippi River and all their tributaries, but also makes sorely-needed improvements to core functions like moving people and goods, managing stormwater and maintaining water quality," the partner groups said in a statement.
The study refocuses the Great Lakes region on a long-term permanent solution and away from stopgap measures that, on their own, will ultimately fail to stop the Asian carp's march to Lake Michigan.
The authors note that restoring the natural divide between the Great Lakes and Mississippi River basins at Chicago can coordinate with efforts already under way by the city of Chicago, the state of Illinois and the Metropolitan Water Reclamation District to improve water quality and reduce flooding.
The marauding bighead and silver carp are the poster fish for the ecological and economic havoc in the offing when invading species travel between the Great Lakes and Mississippi. Research estimates that the annual cost to the Great Lakes region from invasive species introduced by shipping is upwards of $200 million per year.
"Tens of thousands of constituents have spoken to their members of Congress through a postcard campaign asking for immediate action to stop the Asian carp," said Cheryl Mendoza, associate director for Freshwater Future. "This study provides decision makers with the path to the permanent solution Great Lakes citizens have been asking for."
Since 2009, multiple hits of Asian carp DNA have been found lakeward of an electric barrier in the CAWS meant to keep the fish out of Lake Michigan and the Great Lakes. More recently, carp DNA has been reported in waters open to Lake Michigan.
Joel Brammeier, president and CEO of the Alliance for the Great Lakes, says the study is the most specific evaluation to date of what it would take to achieve hydrologic separation at the CAWS. "Chicago and Illinois have been under a spotlight as the carp close in on Lake Michigan," says Brammeier. "This report shines that light in a new direction—toward the transformation of the Chicago waterway into a resource of which everyone in the city, the state and the country can be proud."
Since 2008, environmentalists have called for separating the artificially conjoined Great Lakes and Mississippi River basins—the only permanent solution on the table and one that has come to be embraced by states, cities and members of Congress alike.
"Separation is a modern 21st century solution for a 21st century problem," says Jennifer Nalbone, director of Navigation and Invasive Species for Great Lakes United. "This study points the way to a solution that not only benefits the Great Lakes states, but also Canadian and Mississippi River stakeholders. Most of North America will ecologically and economically benefit from separating the two basins."
The GLC-GLSLCI study clearly demonstrates that separation is possible, providing detailed background on three separation options that allow elected officials and community leaders to move the discussion to the next level. As any separation is intrinsically tied to the multiple uses of the waterway system, it is imperative the Chicago region be an engaged partner.
"The study has the potential to be a game-changer in the effort to restore and protect the Great Lakes," says Jeff Skelding, director of the Healing Our Waters-Great Lakes Coalition. "It proves we have affordable solutions to the Asian carp crisis that benefit both our environment and economy. This report should put an end to excuse-making and foot-dragging and light a fire under the U.S. Army Corps of Engineers to do its job so the nation can move forward on a solution to protect the Great Lakes and the jobs that depend on them."
To that end, the partner groups stress that the study is a beginning, not an end, and should not be interpreted as a strict set of policy recommendations. Until separation is complete, they say strong interim protections must be implemented to protect against an Asian carp invasion, and note the study includes such measures within its long-term vision for separation. The groups also urge Congress to pass the Stop Asian Carp Act.
A plodding U.S. Army Corps of Engineers' study of the problem—the Great Lakes and Mississippi River Interbasin Study—could be expedited by incorporating findings from the GLC-GLSLCI study and starting separation planning now, the groups say.
"The study is a revelation. It puts solutions on the table that are both feasible and affordable," says Marc Smith, senior policy manager with the National Wildlife Federation. "The onus is clearly now on the U.S. Army Corps of Engineers to expedite its own study so the nation can stop talking about 'if' a solution is possible, and instead focus on 'when' people can be put to work to solve this problem once and for all."
Thom Cmar, attorney for the Natural Resources Defense Council, concurs. "We have a unique opportunity here because we know the invasion is under way and we know how to stop it.
"Not only can a barrier stop the spread of Asian carp and the rest of the harmful invasives moving on the waterway, it can also help revitalize the festering mess on the Chicago River—but only if we have the political will to act quickly, before it's too late," says Cmar, author of a 2010 study examining potential impacts of anti-invasive species barriers on Chicago's waterways.
---
Around the Basin:
More Reaction from Great Lakes Organizations
"Minnesota's waters are currently threatened by Asian Carp from many directions. We have to fight them on all fronts because once they are here we have no safe, effective way to deal with them. The protection of Minnesota's waters depends on shutting the door on the Asian Carp at the Chicago Area Waterway System (CAWS)."
—Darrell Gerber, program coordinator, Clean Water Action Minnesota
"This study shows that the separation of the Great Lakes and Mississippi River basins can be a win-win for Chicago and Ohio. Lake Erie's prized sportfish, Ohio jobs and $10 billion in economic revenue to Ohio from travel and tourism is all at risk from an Asian carp invasion. Ohio's congressional members need to work with leadership to ensure the U.S. Army Corps of Engineers expedite its plan so our children and grandchildren can enjoy the lakes as we do today."
—Kristy Meyer, director of agricultural & clean water programs, Ohio Environmental Council
"Canada's Department of Fisheries and Oceans completed an Asian Carp Risk Assessment in 2004 and found these voracious silver and bighead carp that spawn several times a year will invade nearly all of the Canadian Great Lakes shorelines and then travel up our rivers to get into our lakes. The Great Lakes are bi-national waters and we do not want these invasive carp in our waters. Sierra Club has a bi-national policy for all our nine Great Lakes Chapters that calls for 'urgent implementation of a plan to install permanent barriers to separate the hydrological connections at Chicago of the Great Lakes to the Mississippi River.' Sierra Club appreciates this GLC-GLSLCI report that should get construction started soon rather than wait another five years for the USACE to study the problem. The time to act is now!"
—Mary Muter, chair, Great Lakes Section, Sierra Club Ontario
For more information, click here.
EcoWatch Daily Newsletter
EPA Administrator Andrew Wheeler signs the so-called Affordable Clean Energy rule on June 19, replacing the Obama-era Clean Power Plan that would have reduced coal-fired plant carbon emissions. U.S. Environmental Protection Agency / Twitter
By Elliott Negin
On July 8, President Trump hosted a White House event to unabashedly tout his truly abysmal environmental record. The following day, coincidentally, marked the one-year anniversary of Andrew Wheeler at the helm of the U.S. Environmental Protection Agency (EPA), first as acting administrator and then as administrator after the Senate confirmed him in late February.
A timber sale in the Kaibab National Forest. Dyan Bone / Forest Service / Southwestern Region / Kaibab National Forest
By Tara Lohan
If you're a lover of wilderness, wildlife, the American West and the public lands on which they all depend, then journalist Christopher Ketcham's new book is required — if depressing — reading.
Golde Wallingford submitted this photo of "Pure Joy" to EcoWatch's first photo contest. Golde Wallingford
EcoWatch is pleased to announce our third photo contest!

Somalians fight against hunger and lack of water due to drought as Turkish Ambassador to Somalia, Olgan Bekar (not seen) visits the a camp near the Mogadishu's rural side in Somalia on March 25, 2017. Sadak Mohamed / Anadolu Agency / Getty Images
World hunger is on the rise for the third consecutive year after decades of decline, a new United Nations (UN) report says. The climate crisis ranks alongside conflict as the top cause of food shortages that force more than 821 million people worldwide to experience chronic hunger. That number includes more than 150 million children whose growth is stunted due to a lack of food.
Eduardo Velev cools off in the spray of a fire hydrant during a heatwave on July 1, 2018 in Philadelphia. Jessica Kourkounis / Getty Images
By Adrienne L. Hollis
Because extreme heat is one of the deadliest weather hazards we currently face, Union of Concerned Scientist's Killer Heat Report for the U.S. is the most important document I have read. It is a veritable wake up call for all of us. It is timely, eye-opening, transparent and factual and it deals with the stark reality of our future if we do not make changes quickly (think yesterday). It is important to ensure that we all understand it. Here are 10 terms that really help drive home the messages in the heat report and help us understand the ramifications of inaction.
Senator Graham returns after playing a round of golf with Trump on Oct. 14, 2017 in Washington, DC. Ron Sachs – Pool / Getty Images
Lindsey Graham, the South Carolina Senate Republican who has been a close ally of Donald Trump, did not mince words last week on the climate crisis and what he thinks the president needs to do about it.
A small Bermuda cedar tree sits atop a rock overlooking the Atlantic Ocean. todaycouldbe / iStock / Getty Images Plus
By Marlene Cimons
Kyle Rosenblad was hiking a steep mountain on the island of Maui in the summer of 2015 when he noticed a ruggedly beautiful tree species scattered around the landscape. Curious, and wondering what they were, he took some photographs and showed them to a friend. They were Bermuda cedars, a species native to the island of Bermuda, first planted on Maui in the early 1900s.
krisanapong detraphiphat / Moment / Getty Images
By Grace Francese
You may know that many conventional oat cereals contain troubling amounts of the carcinogenic pesticide glyphosate. But another toxic pesticide may be contaminating your kids' breakfast. A new study by the Organic Center shows that almost 60 percent of the non-organic milk sampled contains residues of chlorpyrifos, a pesticide scientists say is unsafe at any concentration.