This website uses cookies to ensure you get the best experience while browsing it. By clicking 'Got It' you're accepting these terms.
Asia Pulp & Paper Certifiers Distance Themselves from Sustainability Claims
Feb. 15, 2012 08:35AM EST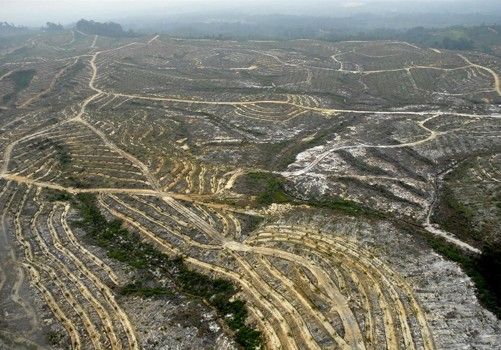 Asia Pulp & Paper (APP) claims of independent sustainability certification for its operations aren't supported by the certification schemes and assessors it has nominated, a World Wildlife Fund (WWF) survey has found.
None of these certifications cover the most controversial operations of the APP's wood suppliers—mass clearing of native forests which are home to critically endangered tigers, elephants and orang-utans and clearing and drainage of peat areas which result in massive greenhouse gas emissions.
The certification schemes cited by APP cover some, but far from all, supplier timber plantations—but none considered whether plantation establishment involved the clearing of high conservation value forest or whether traditional forest owners had given their "free, prior and informed consent" to forest clearance or plantation establishment.
Another blow to APP global greenwash campaign
"None of the certifiers are prepared to back APP's claim that their certifications demonstrate its sustainability. This is another blow to the credibility of APP's massive global greenwash campaign," said WWF International forest programme director Rod Taylor.
On a weekend APP announcement that they would implement measures to ensure U.S. consumers did not have to choose between tigers and toilet paper, Taylor said the company had a long record of broken promises and he would wait for actual evidence of a company halt to natural forest clearing.
"No amount of public relations can change the fact that APP has bulldozed through their own 2004, 2007 and 2009 deadlines to stop feeding Sumatra's natural forests through its pulp mills.
"Recent revelations that APP is developing the world's biggest pulp mill in South Sumatra does not inspire any confidence of the company meeting its 2015 deadline for sustainable sourcing."
Following a recently issued published analysis of the reality behind APP's global greenwash campaign from Sumatra NGO coalition Eyes on the Forest, the company cited several forms of certification and assessment to back its claims of sustainability, stating that—"In fact, APP is regularly assessed and certified by many of the world's leading authorities on sustainable forest management and environmental auditors—including Geneva-based SGS, TUV, AFNOR, the official French auditors for the European ' EcoLabel', PHPL, Indonesian sustainable forest management standard, LEI, Indonesian voluntary sustainable forest management standard, and PEFC Chain-of-Custody, the world's largest forest certification program."
WWF asked the nominated certification schemes and assessors whether they supported the APP claim and also asked for detail of what specific APP products or operations were covered by their certifications. The survey covered the key social and environmental measures of free prior and informed consent by landowners and protection of high conservation value forests for forest operations and forest clearance for plantations.
None of the schemes or assessors endorsed the APP statement, with major certifier SGS noting that "None of the TLTV (legality) evaluations conducted by SGS and the statements issued by SGS provide the company with the right to claim that their operations are 'sustainable forest management' " and "The SGS certificates/statements do not support the claim of 'sustainability."
No certificate or assessment issued evaluated the sustainability of the APP group as a whole. The Indonesian voluntary certification scheme LEI said it "did not have data of all APP operations."
Imported pulp gets certified, Sumatra forests get pulped
Limitations also apply to PEFC Chain-of-Custody certification, often mentioned in APP claims of sustainability. "The PEFC CoC certificates they hold also do not provide any assurance of their own sustainability since these are simply chain of custody and nothing more," said SGS, which conducts the PEFC certifications. "The PEFC certified material they use in their production, thus enabling them to make PEFC certification claims, is all imported from outside Indonesia as by our understanding there are no PEFC certified forests in Indonesia."
Key but neglected dimensions of sustainability were whether conversion to plantation involved the clearing of High Conservation Value (HCV) forest or whether those with traditional forest rights or tenure had given their "free, prior and informed consent" to the conversions. The LEI standard, for example, confirmed that "The decision to establish forest plantation in certain area, either it was converting natural forest with HCV forest or deep peat and how it was conducted in relation to Free, Prior and Informed Consent is beyond LEI's standard coverage."
APP suppliers have a record of clearing areas of HCV forest and of neglecting to recognise or do rigorous HCV assessments. There is also a persistent record of land tenure issues around APP operations.
Sumatra has lost more than half its forests
The WWF survey found that none of the certifications demonstrated the legality of the APP wood supply as a whole. Additionally, SGS noted that some plantations had been established on deep peat (more than three metres deep) but Indonesian law lacked clear definition of the conditions under which this was prohibited.
As well as being legally contentious, clearing and drainage of deep peats is a key factor in elevating Indonesia to the leading ranks of carbon emitters globally and opens coastal areas to the risk of seawater incursions.
Sumatra has lost more than half of its native forests in the last 25 years. The International Union for the Conservation of Nature recently upgraded the Red List of threatened species status of the Sumatra elephant to "critically endangered," citing habitat loss as the main reason. The island's orang-utans and tigers are also under extreme pressure, with recent documented incursions by APP suppliers into reserves for tiger conservation designated by the company itself and featured in its international greenwashing campaign.
"APP's claims of sustainability are not convincing to a host of major companies that have ceased to buy paper products from them," said Taylor. "APP should realise that performance, not promises and propaganda will get the world off its back. A key performance indicator would be for APP pulp mills to immediately halt all use of wood sourced by clearing tropical forests."
For more information, click here.
EcoWatch Daily Newsletter
Extreme weather events supercharged by climate change in 2012 led to nearly 1,000 more deaths, more than 20,000 additional hospitalizations, and cost the U.S. healthcare system $10 billion, a new report finds.
Giant sequoia trees at Sequoia National Park, California. lucky-photographer / iStock / Getty Images Plus
A Bay Area conservation group struck a deal to buy and to protect the world's largest remaining privately owned sequoia forest for $15.6 million. Now it needs to raise the money, according to CNN.
This aerial view shows the Ogasayama Sports Park Ecopa Stadium, one of the venues for 2019 Rugby World Cup. MARTIN BUREAU / AFP / Getty Images
The Rugby World Cup starts Friday in Japan where Pacific Island teams from Samoa, Fiji and Tonga will face off against teams from industrialized nations. However, a new report from a UK-based NGO says that when the teams gather for the opening ceremony on Friday night and listen to the theme song "World In Union," the hypocrisy of climate injustice will take center stage.
Vera_Petrunina / iStock / Getty Images Plus
By Wudan Yan
In June, New York Times journalist Andy Newman wrote an article titled, "If seeing the world helps ruin it, should we stay home?" In it, he raised the question of whether or not travel by plane, boat, or car—all of which contribute to climate change, rising sea levels, and melting glaciers—might pose a moral challenge to the responsibility that each of us has to not exacerbate the already catastrophic consequences of climate change. The premise of Newman's piece rests on his assertion that traveling "somewhere far away… is the biggest single action a private citizen can take to worsen climate change."

Volunteer caucasian woman giving grain to starving African children.
Bartosz Hadyniak / E+ / Getty Images
Food will be scarce, expensive and less nutritious," CNN warns us in its coverage of the UN's new "Climate Change and Land" report. The New York Times announces that "Climate Change Threatens the World's Food Supply."
By Adam Vaughan
Two-thirds of people in the UK think the amount people fly should be reined in to tackle climate change, polling has found.
Climate Week NYC
On Monday, Sept. 23, the Climate Group will kick off its 11th annual Climate Week NYC, a chance for governments, non-profits, businesses, communities and individuals to share possible solutions to the climate crisis while world leaders gather in the city for the UN Climate Action Summit.
By Pam Radtke Russell in New Orleans
Local TV weather forecasters have become foot soldiers in the war against climate misinformation. Over the past decade, a growing number of meteorologists and weathercasters have begun addressing the climate crisis either as part of their weather forecasts, or in separate, independent news reports to help their viewers understand what is happening and why it is important.