This website uses cookies to ensure you get the best experience while browsing it. By clicking 'Got It' you're accepting these terms.
Asia Pulp & Paper Certifiers Distance Themselves from Sustainability Claims
Feb. 15, 2012 08:35AM EST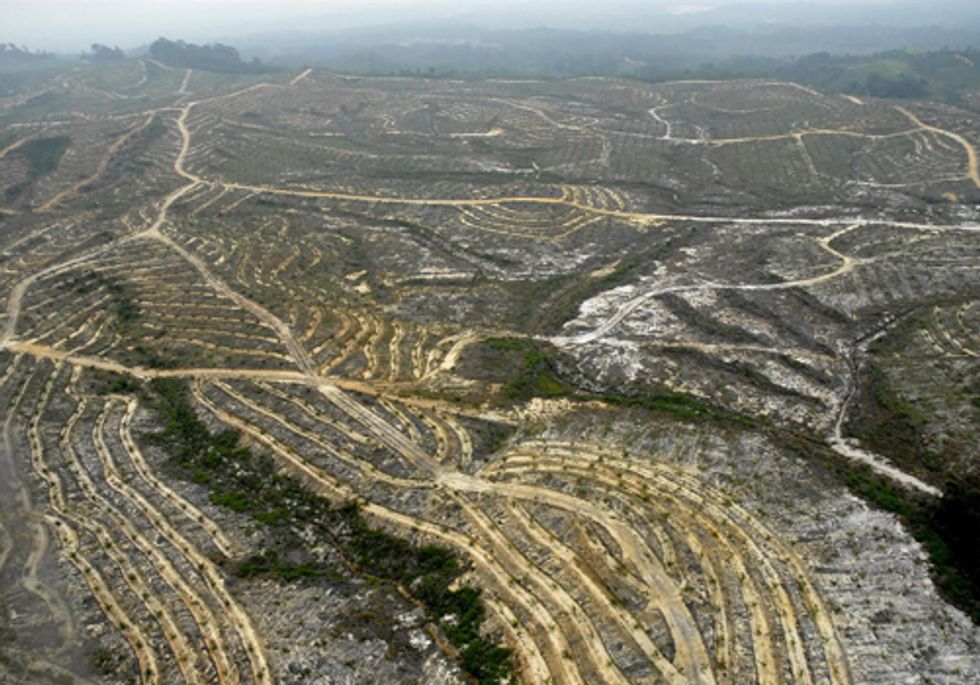 Asia Pulp & Paper (APP) claims of independent sustainability certification for its operations aren't supported by the certification schemes and assessors it has nominated, a World Wildlife Fund (WWF) survey has found.
None of these certifications cover the most controversial operations of the APP's wood suppliers—mass clearing of native forests which are home to critically endangered tigers, elephants and orang-utans and clearing and drainage of peat areas which result in massive greenhouse gas emissions.
The certification schemes cited by APP cover some, but far from all, supplier timber plantations—but none considered whether plantation establishment involved the clearing of high conservation value forest or whether traditional forest owners had given their "free, prior and informed consent" to forest clearance or plantation establishment.
Another blow to APP global greenwash campaign
"None of the certifiers are prepared to back APP's claim that their certifications demonstrate its sustainability. This is another blow to the credibility of APP's massive global greenwash campaign," said WWF International forest programme director Rod Taylor.
On a weekend APP announcement that they would implement measures to ensure U.S. consumers did not have to choose between tigers and toilet paper, Taylor said the company had a long record of broken promises and he would wait for actual evidence of a company halt to natural forest clearing.
"No amount of public relations can change the fact that APP has bulldozed through their own 2004, 2007 and 2009 deadlines to stop feeding Sumatra's natural forests through its pulp mills.
"Recent revelations that APP is developing the world's biggest pulp mill in South Sumatra does not inspire any confidence of the company meeting its 2015 deadline for sustainable sourcing."
Following a recently issued published analysis of the reality behind APP's global greenwash campaign from Sumatra NGO coalition Eyes on the Forest, the company cited several forms of certification and assessment to back its claims of sustainability, stating that—"In fact, APP is regularly assessed and certified by many of the world's leading authorities on sustainable forest management and environmental auditors—including Geneva-based SGS, TUV, AFNOR, the official French auditors for the European ' EcoLabel', PHPL, Indonesian sustainable forest management standard, LEI, Indonesian voluntary sustainable forest management standard, and PEFC Chain-of-Custody, the world's largest forest certification program."
WWF asked the nominated certification schemes and assessors whether they supported the APP claim and also asked for detail of what specific APP products or operations were covered by their certifications. The survey covered the key social and environmental measures of free prior and informed consent by landowners and protection of high conservation value forests for forest operations and forest clearance for plantations.
None of the schemes or assessors endorsed the APP statement, with major certifier SGS noting that "None of the TLTV (legality) evaluations conducted by SGS and the statements issued by SGS provide the company with the right to claim that their operations are 'sustainable forest management' " and "The SGS certificates/statements do not support the claim of 'sustainability."
No certificate or assessment issued evaluated the sustainability of the APP group as a whole. The Indonesian voluntary certification scheme LEI said it "did not have data of all APP operations."
Imported pulp gets certified, Sumatra forests get pulped
Limitations also apply to PEFC Chain-of-Custody certification, often mentioned in APP claims of sustainability. "The PEFC CoC certificates they hold also do not provide any assurance of their own sustainability since these are simply chain of custody and nothing more," said SGS, which conducts the PEFC certifications. "The PEFC certified material they use in their production, thus enabling them to make PEFC certification claims, is all imported from outside Indonesia as by our understanding there are no PEFC certified forests in Indonesia."
Key but neglected dimensions of sustainability were whether conversion to plantation involved the clearing of High Conservation Value (HCV) forest or whether those with traditional forest rights or tenure had given their "free, prior and informed consent" to the conversions. The LEI standard, for example, confirmed that "The decision to establish forest plantation in certain area, either it was converting natural forest with HCV forest or deep peat and how it was conducted in relation to Free, Prior and Informed Consent is beyond LEI's standard coverage."
APP suppliers have a record of clearing areas of HCV forest and of neglecting to recognise or do rigorous HCV assessments. There is also a persistent record of land tenure issues around APP operations.
Sumatra has lost more than half its forests
The WWF survey found that none of the certifications demonstrated the legality of the APP wood supply as a whole. Additionally, SGS noted that some plantations had been established on deep peat (more than three metres deep) but Indonesian law lacked clear definition of the conditions under which this was prohibited.
As well as being legally contentious, clearing and drainage of deep peats is a key factor in elevating Indonesia to the leading ranks of carbon emitters globally and opens coastal areas to the risk of seawater incursions.
Sumatra has lost more than half of its native forests in the last 25 years. The International Union for the Conservation of Nature recently upgraded the Red List of threatened species status of the Sumatra elephant to "critically endangered," citing habitat loss as the main reason. The island's orang-utans and tigers are also under extreme pressure, with recent documented incursions by APP suppliers into reserves for tiger conservation designated by the company itself and featured in its international greenwashing campaign.
"APP's claims of sustainability are not convincing to a host of major companies that have ceased to buy paper products from them," said Taylor. "APP should realise that performance, not promises and propaganda will get the world off its back. A key performance indicator would be for APP pulp mills to immediately halt all use of wood sourced by clearing tropical forests."
For more information, click here.
EcoWatch Daily Newsletter
Doctors report that only 1 in 4 children are getting the recommended 60 minutes of physical activity per day. Ronnie Kaufman / DigitalVision / Getty Images
By Dan Gray
Pediatricians are being urged to start writing "exercise prescriptions" for the children they see in their office.
A First Nations protester walks in front of a train blockade in Tyendinaga, near Belleville, Ontario, Canada on Feb. 21, 2020. LARS HAGBERG / AFP via Getty Images
An indigenous rail blockade that snarled train travel in Canada for more than two weeks came to an end Monday when police moved in to clear protesters acting in solidarity with another indigenous community in British Columbia (B.C.), which is fighting to keep a natural gas pipeline off its land.
A rainbow snake, a rare reptile spotted in a Florida county for the first time in more than 50 years, seen here on July 5, 2013.
Kevin Enge / FWC Fish and Wildlife Research Institute / Flickr
A Florida hiker recently stumbled across a slithering surprise — a rare snake that hadn't been spotted in the area for more than 50 years.
We need our government to do everything it can to stop PFAS contamination and exposure from wreaking havoc in communities across the country. LuAnn Hun /
Unsplash
By Genna Reed
The EPA announced last week that it is issuing a preliminary regulatory determination for public comment to set an enforceable drinking water standard to two of the most common and well-studied PFAS, PFOA and PFOS.
This decision is based on three criteria:
PFOA and PFOS have an adverse effect on public health
PFOA and PFOS occur in drinking water often enough and at levels of public health concern;
regulation of PFOA and PFOS is a meaningful opportunity for reducing the health risk to those served by public water systems.
Charging EVs in Stockholm: But where does a dead battery go? Ranjithsiji / Wikimedia Commons
By Kieran Cooke
Driving an electric-powered vehicle (EV) rather than one reliant on fossil fuels is a key way to tackle climate change and improve air quality — but it does leave the old batteries behind as a nasty residue.