This website uses cookies to ensure you get the best experience while browsing it. By clicking 'Got It' you're accepting these terms.
As Republicans Attack U.S. EPA, Obama Praises Their Work and Pledges Support
Jan. 12, 2012 09:00AM EST
Climate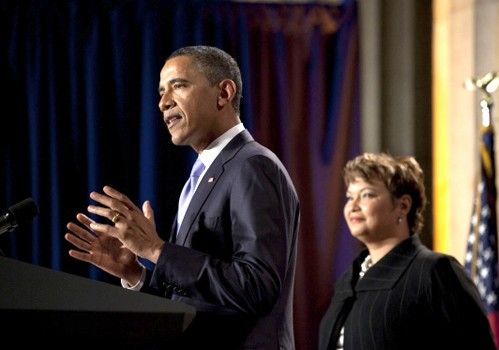 On Jan. 10, President Obama applauded the U.S. Environmental Protection Agency's (EPA) work to protect the environment and human health. As Republicans ramp up attacks on federal oversight of the natural environment in order to gain influence in the Republican primaries, President Obama's speech praises the EPA's work while attacking the notion that vital environmental regulations stand in the way of a robust economy.
Read the complete transcript of President Obama's speech below:
President Obama:
Thank you! Thank you, EPA! (Applause.) Thank you, everybody. Thank you so much. It is wonderful to see you. It is great to see you. Thank you, thank you.
Now, everybody can have a seat. I know Lisa is making you guys all stand up. (Laughter.) But you can all relax.
It is wonderful to be here with all of you. Thank you so much for all the great work you do. I want to first acknowledge your outstanding Administrator, Lisa Jackson. (Applause.) She has done an extraordinary job leading this agency. But here's what I want all of you to know: Not only is she good on policy, not only is she tough and able to present the EPA's mission so effectively to the public, but she also has your back. (Applause.) She is an advocate on behalf of all the people who work so hard here at the EPA. And so you should know that your boss loves you, even if she doesn't always show it, I don't know. (Laughter.)
The main reason I'm here is simple: I just want to say thank you. I want to say thank you to each and every one of you, because the EPA touches on the lives of every single American every single day. You help make sure that the air we breathe, the water we drink, the foods we eat are safe. You protect the environment not just for our children but their children. And you keep us moving towards energy independence.
And it is a vital mission. Over the past three years, because of your hard work, we've made historic progress on all these fronts. Just a few weeks ago, thanks to the hard work of so many of you, Lisa and I was able to announce new common-sense standards to better protect the air we breathe from mercury and other harmful air pollution. And that was a big deal. (Applause.) And part of the reason it was a big deal was because, for over 20 years, special interest groups had successfully delayed implementing these standards when it came to our nation's power plants. And what we said was: "Enough." It's time to get this done.
And because we acted, we're going to prevent thousands of premature deaths, thousands of heart attacks and cases of childhood asthma.
There are families that are going to be directly impacted in a positive way because of the work that you do. Because you kept fighting—and some of you have been fighting this fight for a long time, long before I was here and long before Lisa was here. And so your tenacity and stick-to-itness is making a difference.
Because of you, across the board, we're cutting down on acid rain and air pollution. We're making our drinking water cleaner and safer. We're creating healthier communities. But that's not all. Safeguarding our environment is also about strengthening our economy. I do not buy the notion that we have to make a choice between having clean air and clean water and growing this economy in a robust way. I think that is a false debate. (Applause.)
Think about it—We established new fuel economy standards, a historic accomplishment that is going to slash oil consumption by about 12 billion barrels, dramatically reduces pollution that contributes to climate change, and saves consumers thousands of dollars at the pump, which they can then go spend on something else.
As part of the Recovery Act, you cleaned up contaminated sites across the country, which helped to rid neighborhoods of environmental blight while putting Americans back to work.
We don't have to choose between dirty air and dirty water or a growing economy. We can make sure that we are doing right by our environment and, in fact, putting people back to work all across America. That's part of our mission.
When we put in place new common-sense rules to reduce air pollution, we create new jobs building and installing all sorts of pollution-control technology. When we put in place new emissions standards for our vehicles, we make sure that the cars of tomorrow are going to be built right here in the United States of America, that we're going to win that race.
When we clean up our nation's waterways, we generate more tourists for our local communities. So what's good for the environment can also be good for our economy.
Now, that doesn't mean that there aren't going to be some tensions. That doesn't mean that there aren't going to be legitimate debates that take place. That doesn't mean that it's not important for every single one of us to think about how can we make sure that we are achieving our goals in the smartest way possible, in the most efficient ways possible, in the least bureaucratic ways possible, in the clearest ways possible. That's also part of our mission.
There's not a federal agency that can't get better and be smarter in accomplishing our mission, and we have an obligation every single day to think about how can we do our business a little bit better. How can we make sure the taxpayers are getting every dime's worth that they're paying in order to achieve these important common goals that we have?
But I believe we can do it, and you've shown me that we can do it over these last three years. So I could not be prouder of the work that you all do every single day as federal employees. I know the hours can be long. I know that sometimes spending time getting these policies right means less time at home than you'd like, and you're missing birthday parties, or you're missing a soccer game, and the spouse is not happy with you. I know a little bit about that sometimes. (Laughter.) I know these jobs are demanding.
But I also know what compelled you to enter public service in the first place—and that's the idea that you could make a difference; that you could leave behind a planet that is a little cleaner, a little safer than the one we inherited.
And I have to tell you that part of why I get excited when I see some of the work that you're doing is because our next generation is so much more attuned to these issues than I was when I was growing up. I can tell you when I sit down and I talk to my kids, probably the area where they have the most sophisticated understanding of policy is when it comes to the environment. They understand that the decisions we make now are going to have an impact on their lives for many years to come. And their instincts are right. So your mission is vital.
And just think of what this agency has been able to do over the last four decades. There's so many things we now take for granted. When I hear folks grumbling about environmental policy, you almost want to do a Back to the Future—(laughter)—kind of reminder of folks of what happens when we didn't have a strong EPA. The year before President Nixon created the EPA, the Cuyahoga River was so dirty from industrial pollution and oil slicks that it literally caught on fire. In my hometown, the Chicago River—you probably could not find anything alive in there—(laughter)—four decades ago. Now it's thriving—to the benefit of the city. Today, because of your work, 92 percent of Americans have access to clean water that meets our national health standards.
Before the EPA was created, our cars were spewing harmful lead pollution into the air, with all sorts of impacts, especially on children. Today, because of your work, air pollution is down by more than half, and lead pollution is down more than 90 percent from a generation ago.
So all of you, and all of those who served before you, have made a difference. Our environment is safer because of you. Our country is stronger because of you. Our future is brighter because of you. And I want you to know that you've got a President who is grateful for your work and will stand with you every inch of the way as you carry out your mission to make sure that we've got a cleaner world. (Applause.)
So, thank you. God bless you. God bless the United States of America. Thank you. (Applause.)
For more information, click here.
EcoWatch Daily Newsletter
A. Battenburg / Technical University of Munich
By Sarah Kennedy
Algae in a pond may look flimsy. But scientists are using algae to develop industrial-strength material that's as hard as steel but only a fraction of the weight.
Variety of fermented food korean traditional kimchi cabbage and radish salad. white and red sauerkraut in ceramic plates over grey spotted background. Natasha Breen / REDA&CO / Universal Images Group / Getty Image
Even if you've never taken probiotics, you've probably heard of them.
These supplements provide numerous benefits because they contain live microorganisms, such as bacteria or yeast, which support the healthy bacteria in your gut (1, 2, 3, 4).
Pexels
Singapore will become the first country in the world to place a ban on advertisements for carbonated drinks and juices with high sugar contents, its health ministry announced last week. The law is intended to curb sugar consumption since the country has some of the world's highest diabetes rates per capita, as Reuters reported.
A typical adult takes around 20,000 breaths per day. If you live in a megacity like Beijing, with many of those lungfuls you're likely to inhale a noxious mixture of chemicals and pollutants.
Fred Stone holds his brown swiss cow Lida Rose at his Arundel dairy farm on March 18 after a press conference where he spoke about PFAS chemical contamination in his fields. Gregory Rec / Portland Portland Press Herald via Getty Images
By Susan Cosier
First there was Fred Stone, the third-generation dairy farmer in Maine who discovered that the milk from his cows contained harmful chemicals. Then came Art Schaap, a second-generation dairy farmer in New Mexico, who had to dump 15,000 gallons of contaminated milk a day.
Protesters attend the 32nd annual Fur-Free Friday demonstration on Nov. 23, 2018 in Beverly Hills, California. Ella DeGea / Getty Images
California Governor Gavin Newsom signed into law a bill that that bans the sale and manufacture of fur products in the state. The fur ban, which he signed into law on Saturday, prohibits Californians from selling or making clothing, shoes or handbags with fur starting in 2023, according to the AP.
By Simon Evans
During the three months of July, August and September, renewables generated an estimated total of 29.5 terawatt hours (TWh), compared with just 29.1TWh from fossil fuels, the analysis shows.
A demonstrator waves an Ecuadorian flag during protests against the end of subsidies to gasoline and diesel on Oct. 9 in Quito, Ecuador. Jorge Ivan Castaneira Jaramillo / Getty Images