As Keystone XL Dominoes Fall, Time to Arrest Tar Sands Industry

We've got this.
Thanks to the courageous and indefatigable efforts of pipeline fighters everywhere, the tide has finally turned on Keystone XL. As it becomes increasingly clear that Keystone XL's northern leg is not going through, it is time to set our sights on ending all tar sands exploitation.
The Obama administration's latest election year delay on Keystone North is not a victory, but the dominoes continue to fall. Earlier this year, a citizen lawsuit denied TransCanada a route through Nebraska. Last month, it lost its permit through South Dakota. Now it faces a gauntlet of "Cowboys & Indians" vowing to stop it in its tracks.
We cannot let up until Keystone North is vanquished, but all signs point to President Obama nixing TransCanada's cross-border permit after the November elections. Don't just take my word for it.
On April 23, Rolling Stone contributing editor Jeff Goodell wrote: "I was told recently by members of the administration that the pipeline would, in fact, be rejected." On June 18, former Vice President Al Gore wrote in this same magazine: "[Obama] has signaled that he is likely to reject the absurdly reckless Keystone XL-pipeline proposal."
Both pronouncements come on the heels of former President Jimmy Carter pointedly warning the president that Keystone XL "will define your legacy on one of the greatest challenges humanity has ever faced—climate change."
For a president who has suddenly decided to stake so much of his legacy on addressing the climate crisis, approving Keystone North would destroy any shred of credibility on this issue. It would also put an administration that prides itself on outreach to Native American communities in the position of violating the 1868 Fort Laramie Treaty.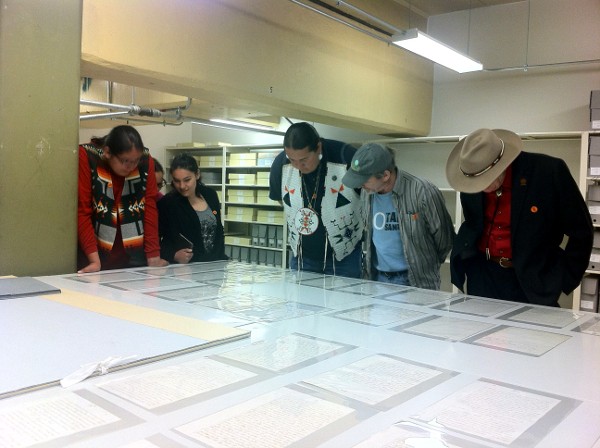 Tom Weis, David Lautenberger, Shane Red Hawk and members of his family and tiyospaye (Lakota for "extended family") viewing the 1868 Treaty of Fort Laramie in the National Archives vault in Washington, DC.
I recently had the honor of viewing the Fort Laramie Treaty with Shane Red Hawk and his family in the National Archives vault. There wasn't time to read every word of the hand-written document, but there was time to absorb the meaning of the "bad man" clause in Article I on the faded first page:
If bad men among the whites, or among other people subject to the authority of the United States, shall commit any wrong upon the person or property of the Indians, the United States will, upon proof made to the agent, and forwarded to the Commissioner of Indian Affairs at Washington city, proceed at once to cause the offender to be arrested and punished according to the laws of the United States.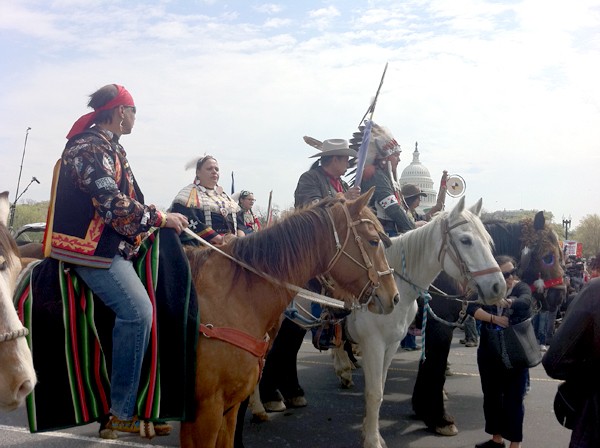 Tribal leaders mounted on horseback in front of the Capitol Building en route to the "Reject and Protect" tipi encampment in Washington, DC.
Because Keystone North would cross treaty territory, its construction would blatantly violate the "bad man" clause, an arrestable offense the Great Sioux Nation will not abide. President Obama knows this because the presidents of the Oglala Sioux and Rosebud Sioux tribes declared on national television their people are "willing to die" to stop it. He also knows this because his senior counselor, John Podesta, visited the "Reject and Protect" tipi encampment on the National Mall in April where this declaration of nonviolent civil resistance was made.
As fate would have it, I found myself standing next to Mr. Podesta at this historic event. I thanked him for his public opposition to Keystone, then asked him to urge the president to use his bully pulpit to speak out against all tar sands exploitation (this includes preventing the tar sands barons from gaining a foothold in Utah's pristine red rocks country).
We should not be doing business with a misanthropic industry that knowingly poisons First Nations communities in Canada, with immoral disregard for its climate impacts on humanity. Fortunately, the U.S. is in a strong position to help starve Alberta's landlocked tar sands beast by stopping the flow of tar sands crossing our border.
Last month, retired Navy SEAL Team 6 Commander David Cooper provided powerful ammunition for doing just that with his warning to the State Department that the Keystone pipeline is highly vulnerable to attack: "We need a serious national conversation about what we do to head off an attack. Until then, I'd offer a saying we used on the SEAL teams: 'If you cannot defend a position, you shouldn't take it'." His threat assessment described as "the most likely scenario" a spill of more than 1 million gallons of "highly toxic" Keystone tar sands oil.
Caution demands that beyond rejecting the Keystone permit, President Obama order national security assessments on all tar sands pipelines crossing our border, and an immediate shutdown of the built-to-spill southern leg of Keystone XL in Texas and Oklahoma.
We need to heed the indictment of the tar sands industry issued by Ponca Nation matriarch and grandmother Casey Camp-Horinek of Oklahoma: "We're suffering from environmental genocide from this extractive industry." The closing ceremony she led on the final day of the "Reject and Protect" tipi encampment was soul-searing. Gathered near the White House, we looked on as she knelt in the grass to pour some sacred water. What poured were her tears. We watched in reverent silence as she cried, and cried. The tears she shed were for all who weep for what is happening to our precious Mother Earth.
No more grandmothers must be made to cry. No more First Nations people must be made to die. The tar sand industry's brutal assault on the human family—and all our relations—must be arrested.
You Might Also Like
MSNBC Shows How Keystone XL Indecision Continues Dividing Communities in Montana, Nebraska and South Dakota
The Keystone XL Video TransCanada Doesn't Want You to See
Disturbing footage of a snake in Goa, India vomiting an empty soft drink bottle highlights the world's mounting plastic pollution crisis.
Keep reading...
Show less
By Melissa Hellmann
When her eldest son was in elementary school in the Oakland Unified School District, Ruth Woodruff became alarmed by the meals he was being served at school. A lot of it was frozen, processed foods, packed with preservatives. At home, she was feeding her children locally sourced, organic foods.
Keep reading...
Show less
May. 28, 2017 01:33PM EST
Laurie Woolever
By James O'Hare
There are 20 million people in the world facing famine in South Sudan, Somalia, Nigeria and Yemen. In developed nations, too, people go hungry. Venezuela, for instance, is enduring food insecurity on a national level as a result of economic crisis and political corruption. In the U.S., the land of supposed excess, 12.7 percent of households were food insecure in 2015, meaning they didn't know where their next meal would come from.
Keep reading...
Show less
May. 28, 2017 01:22PM EST
Melwater, Greenland ice sheet. Diane Tuft
Artists are taking the climate crisis into frame and the results are emotional, beautiful and stirring.
So you've seen the best climate change cartoons and shared them with your friends. You've showed your family the infographics on climate change and health, infographics on how the grid works and infographics about clean, renewable energy. You've even forwarded these official National Oceanic and Atmospheric Administration graphs that explain the 10 clear indicators of climate change to your colleagues at the office.
Keep reading...
Show less
May. 27, 2017 01:11PM EST
As the Trump administration moves full speed ahead on boosting the oil and fossil fuel industry, opposition to increased pipeline construction is cropping up in different communities around the country.
Keep reading...
Show less
May. 27, 2017 01:02PM EST
Minke whale stranding near Havergate Island in Suffolk. MCGA.
By Simon Evans
Last Saturday, two dead whales washed up on the coast of Suffolk, in eastern England, and a third was spotted floating at sea.
What happened next illustrates how news can spread and evolve into misinformation, when reported by journalists rushing to publish before confirming basic facts or sourcing their own quotes.
Keep reading...
Show less
May. 27, 2017 01:22PM EST
By Monica Amarelo and Paul Pestano
Sun safety is a crucial part of any outdoor activity for kids, and sunscreen can help protect children's skin from harmful ultraviolet rays. Kids often get sunburned when they're outside unprotected for longer than expected. Parents need to plan ahead and keep sun protection handy in their cars or bags.
Keep reading...
Show less
May. 27, 2017 01:02PM EST
By Joe McCarthy
A lot of people take part in community clean-up efforts—spending a Saturday morning picking up litter in a park, mowing an overgrown field or painting a fence.
Keep reading...
Show less