This website uses cookies to ensure you get the best experience while browsing it. By clicking 'Got It' you're accepting these terms.
We need democracy like we need water. California primary voters must choose Bernie Sanders or the state will continue to experience a serious drought of both.
Despite California's claims to be an environmental leader, its government has been co-opted by the oil and gas industry and its citizens and climate are suffering. Gov. Brown has turned a blind eye to poor and Latino communities living next to polluting fracking wells and fracking wastewater being used to irrigate crops.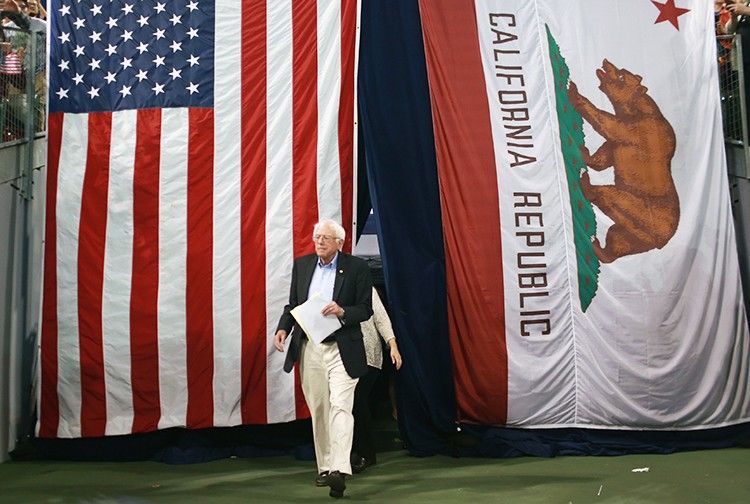 Under a Hillary Clinton presidency, California and the rest of the country would get even more fracking and fracked gas infrastructure. Her campaign took nearly $7 million from oil and gas lobbyists. Her State Department created the Global Shale Gas Initiative to promote fracking in 30 countries. Newly unearthed State Department emails show how aggressive that initiative was, working closely with oil and gas companies and enlisting help from 13 federal agencies to expand fracking into Europe, even where governments opposed it.
As president Bernie Sanders would support state fracking bans, ban fossil fuel extraction on federal lands, end government subsidies for oil and gas companies and bar their lobbyists from the White House. He'd change the Environmental Protection Agency's Clean Power Plan, so it would require reducing methane as well as CO2 emissions and favor building renewables instead of more gas plants.
The choice between these two futures is an existential one. Here's why:
Fracked oil and gas operations leak natural gas, which is mostly methane, a warming agent 86 times more potent than CO2 over 20 years. Industry statistics indicate onshore operations annually emit over four times more natural gas than the massive blowout at the Aliso Canyon storage facility. Just weeks after it was capped, Gov. Brown signed a bill allowing SoCalGas to resume operating there, provided the wells pass safety tests. But they aren't "safe;" they leak. SoCal's Aliso Canyon facility was only the best known leak; CPUC found hundreds of others last year, including a different Aliso Canyon operator caught deliberately venting natural gas in January, in the middle of the blowout.
Meanwhile the industry is pushing more fracked gas pipelines, gas plants and injection wells, which means more leaks. California is green-lighting and enabling the expansion. Over the past year the state even approved fracking wastewater injection wells near fault lines, raising earthquake risks.
If it stays on this path, it will lock in fracked oil and gas for the next 40 years. Then we can forget about California's environmental leader image or meeting Paris climate agreement goals of keeping warming under 2 degrees centigrade (we've already locked in 1.5 degrees, at 2 degrees sea levels rise 5 to 9 meters).
Even as it struggles with Biblical droughts and wildfires, California continues to frack oil wells and expand fracked gas infrastructure, further damaging the climate. This sets a hypocritical example for the rest of the world. As the world's eighth largest economy, California's choices influence others'. As the world's third largest consumer of gasoline and diesel, with the fourth highest per capita GHG emissions, it should make better ones.
California could set a very different example by choosing the only candidate who opposes fracking. Clinton and Brown both worked against concerned citizens trying to ban fracking; Sanders invited us into his office to talk policy. He and we understand we need nothing less than a political revolution to say "no" to big oil and gas and start scaling up renewables now.
So there's more at stake in Tuesday's primary than California's 475 delegates. Whether or not the outcome clinches the nomination, it will send an influential global signal about what Californians are prepared to do about climate change. And as California goes, so goes the planet.
Josh Fox's final film in his GASLAND trilogy How to Let Go of the World and Love All the Things Climate Can't Change opens in the Los Angeles area on June 3 and airs on HBO June 27.
YOU MIGHT ALSO LIKE
Follow the Money: Republican Attorneys General Attack on the Clean Power Plan
Sanders Touts Fracking Ban as Clinton Pushes Renewables Plan Just Days Before California Primary
Washington State Clean Air Rule Defies Court Order
Feds Find Offshore Fracking in the Pacific Would Have No 'Significant' Environmental Impact
EcoWatch Daily Newsletter
Ryan Hagerty / USFWS
It's become a familiar story with the Trump administration: Scientists write a report that shows the administration's policies will cause environmental damage, then the administration buries the report and fires the scientists.
A coalition of some of the largest environmental groups in the country joined forces to file a lawsuit in federal court challenging the Trump administration's maneuver to weaken the Endangered Species Act.
beyond foto / Getty Images
By Kimberly Holland
Children who eat a lot of gluten in their earliest years may have an increased risk of developing celiac disease and gluten intolerance, according to a new study published in JAMATrusted Source.
Joe Raedle / Getty Images
By Jake Johnson
Calling the global climate crisis both the greatest threat facing the U.S. and the greatest opportunity for transformative change, Sen. Bernie Sanders unveiled today a comprehensive Green New Deal proposal that would transition the U.S. economy to 100 percent renewable energy and create 20 million well-paying union jobs over a decade.
The Parties to CITES agreed to list giraffes on Appendix II of the Convention on International Trade in Endangered Species (CITES) today at the World Wildlife Conference or CoP18 in Geneva. Such protections will ensure that all giraffe parts trade were legally acquired and not sourced from the poached giraffes trade and will require countries to make non-detriment findings before allowing giraffe exports. The listing will also enable the collection of international trade data for giraffes that might justify greater protections at both CITES and other venues in the future.

The WHO stressed that more research is needed on the potential health risks of microplastic ingestion. luchschen / iStock / Getty Images Plus
The UN's health agency on Thursday said that microplastics contained in drinking water posed a "low" risk at their current levels.
However, the World Health Organization (WHO) — in its first report on the potential health risks of microplastic ingestion — also stressed more research was needed to reassure consumers.
Brazil's right-wing President Jair Bolsonaro is giving President Trump a run for his money in the alternative facts department.
Washington Gov. Jay Inslee, who made solving the climate crisis the center of his presidential campaign, is dropping out of the 2020 Democratic primary race.