Arnold Schwarzenegger: 'Climate Change Is Not Science Fiction'
Jul. 22, 2015 10:20AM EST
Climate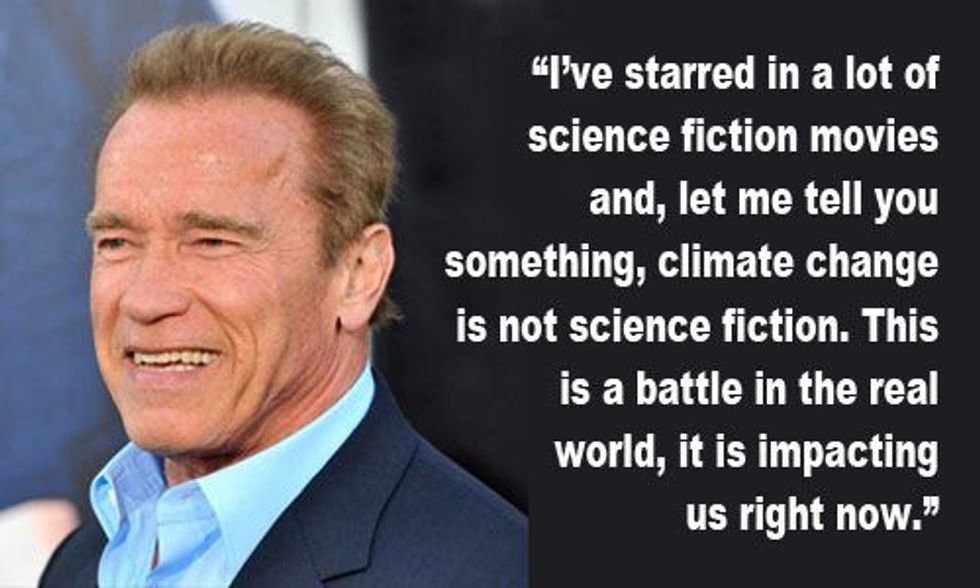 Perhaps the Terminator can accomplish what world leaders have failed to do for more than 20 years: forge a comprehensive treaty to tackle climate change. Arnold Schwarzenegger, the former California Governor and star of Hollywood's Terminator franchise, addressed a gathering of world spiritual and philosophical leaders in Paris on Tuesday organized by the French government.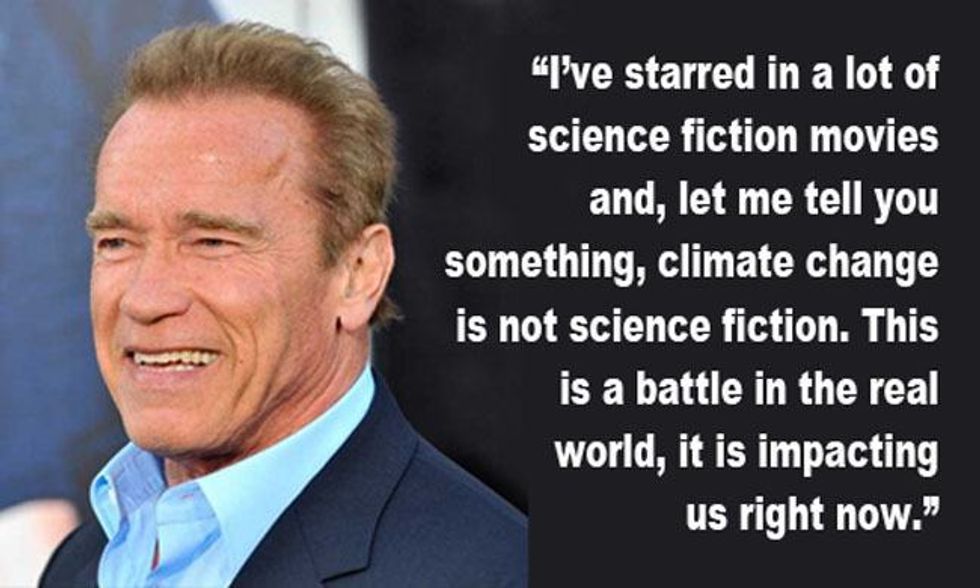 "I've starred in a lot of science fiction movies and, let me tell you something, climate change is not science fiction," said Schwarzenegger. "This is a battle in the real world, it is impacting us right now."
Schwarzenegger's audience, according to the UK Guardian, included "Sheikh Bentounes, leader of the Sufi brotherhood Alawiya" as well as "Daoists, Confucians, shamans, Jesuits [and] Buddhists" who attended the diverse Climate Summit of Conscience in Paris on Tuesday.
"I believe the science is in, the debate is over, and the time for action is now," continued the Austrian-born actor who first achieved fame as a bodybuilder before becoming a movie star and eventually governor of the U.S.'s most populous state. "This is bigger than any movie. This is the challenge of our time. And it is our responsibility to leave this world a better place than we found it, but right now we are failing future generations.
"This year alone we will dump 40 billion tons of carbon emissions into our atmosphere. The World Health Organization says that air pollution causes over 7 million premature deaths every year and all over the world we can see flooding, monster storms, droughts and wildfires that are completely out of control."
Schwarzenegger spoke at the invitation of French President François Hollande whose government organized the conference, the first of its kind. The gathering was intended to build moral momentum ahead of the UN climate negotiations scheduled to take place in Paris beginning Nov. 30.
"The meaning of this meeting is to assemble all of the consciences," said Hollande. "The word 'conscience' impacts every one of us. It's up to every individual to see what he or she can do to save the planet. There are philosophies, there are convictions, there are global diversities that should at a certain point unite, and unite to make decisions."
Despite preliminary climate negotiations held in Bonn, Germany in June, French Foreign Minister Laurent Fabius told journalists Monday that a final climate accord is far off. One major sticking point: developing nations want wealthier countries, like the U.S. who are historically high polluters, to commit more funds to green development and climate preparation.
The Terminator will be back in Paris for UN climate negotiations, again at the invitation of President Hollande.
YOU MIGHT ALSO LIKE
James Hansen: 'Emergency Cooperation Among Nations' Is Needed to Prevent Catastrophic Sea Level Rise
Mayors Flock to Vatican to Sign Pope Francis' Climate Declaration
7 Climate Records Broken in 2014 Indicates Earth Is 'Gravely Ill'
EcoWatch Daily Newsletter
Recent Stories from EcoWatch