Energy
Jan. 22, 2016 09:30AM EST
Armed Ships Embark on Secretive Plutonium Mission From Japan to the U.S.
Two armed ships set off from the northwest of England this week to sail round the world to Japan on a secretive and controversial mission to collect a consignment of plutonium and transport it to the U.S.
The cargo of plutonium, once the most sought-after and valuable substance in the world, is one of a number of ever-growing stockpiles that are becoming an increasing financial and security embarrassment to the countries that own them.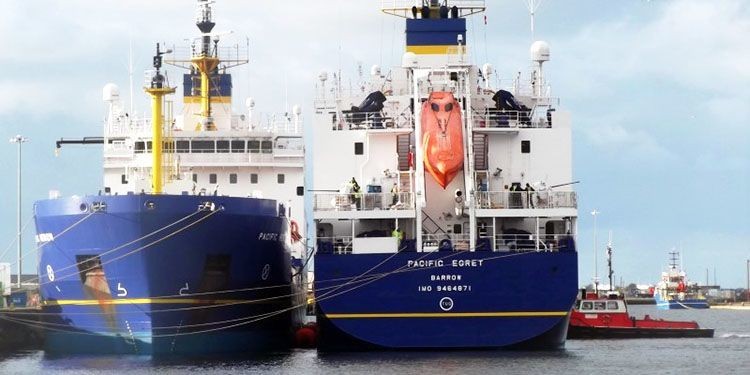 So far, there is no commercially viable use for this toxic metal and there is increasing fear that plutonium could fall into the hands of terrorists or that governments could be tempted to use it to join the nuclear arms race.
All the plans to use plutonium for peaceful purposes in fast breeder and commercial reactors have so far failed to keep pace with the amounts of this highly-dangerous radioactive metal being produced by the countries that run nuclear power stations.
The small amounts of plutonium that have been used in conventional and fast breeder reactors have produced very little electricity—at startlingly high costs.
Out of Harm's Way
Japan, with its 47-ton stockpile, is among the countries that once hoped to turn their plutonium into a power source, but various attempts have failed. The government, which has a firm policy of using it only for peaceful purposes, has nonetheless come under pressure to keep it out of harm's way. Hence, the current plan to ship it to the U.S.
Altogether, 15 countries across the world have stockpiles. They include North Korea, which hopes to turn it into nuclear weapons.
The UK has the largest pile, with 140 tons held at Sellafield in north-west England, where plutonium has been produced at the site's nuclear power plant since the 1950s. The government has yet to come up with a policy on what to do with it—and, meanwhile, the costs of keeping it under armed guard continue to rise.
Like most countries, the UK cannot decide whether it has an asset or a liability. The plutonium does not appear on any balance sheet and the huge costs of storing it safely—to avoid it going critical and causing a meltdown—and guarding it against terrorists are not shown as a cost of nuclear power.
This enables the industry to claim that nuclear is an attractive and clean energy-producing option to help combat climate change.
The two ships that set off from the English port of Barrow-in-Furness this week are the Pacific Egret and Pacific Heron, nuclear fuel carriers fitted with naval cannon on deck. They are operated by Pacific Nuclear Transport Ltd, which ultimately is owned by the British government.
The presence on both ships of a heavily-armed security squad—provided by the Civil Nuclear Constabulary's Strategic Escort Group—and the earlier loading of stores and the craning on board of live ammunition point to a long, security-conscious voyage ahead.
The shipment of plutonium from Japan to the U.S. falls under the U.S.-led Global Threat Reduction Initiative or Material Management & Minimization program, whereby weapons-useable material such as plutonium and highly-enriched uranium is removed from facilities worldwide for safekeeping in the U.S.
The cargo to be loaded onto the two UK ships in Japan consists of some 331kg of plutonium from Japan's Tokai Research Establishment.
This plutonium—a substantial fraction of which was supplied to Japan by the UK decades ago for "experimental purposes" in Tokai's Fast Critical Assembly facility—is described by the U.S. Department of Energy (DOE) as "posing a potential threat to national security, being susceptible to use in an improvised nuclear device and presenting a high risk of theft or diversion." Or, as another U.S. expert put it, "sufficient to make up to 40 nuclear bombs."
Under the U.S.-led program, the plutonium will be transported from Japan to the U.S. port of Charleston and onwards to the Savannah River site in South Carolina.
Tom Clements, director of the public interest group Savannah River Site Watch, has condemned this import of plutonium as a material that will simply be stranded at the site, with no clear disposition path out of South Carolina. He sees it as further evidence that Savannah River is being used as a dumping ground for an extensive range of international nuclear waste.
Prime Terrorist Material
The British group Cumbrians Opposed to a Radioactive Environment has for decades tracked the transport of nuclear materials round the world.
Their spokesman, Martin Forwood, said: "The practice of shipping this plutonium to the U.S. as a safeguard is completely undermined by deliberately exposing this prime terrorist material to a lengthy sea transport, during which it will face everyday maritime risks and targeting by those with hostile intentions.
"We see this as wholly unnecessary and a significant security threat in today's volatile and unpredictable world."
The best option, Cumbrians Opposed to a Radioactive Environment believes, would have been to leave it where it was, under guard.
From DOE documents, this shipment will be the first of a number of planned shipments for what is referred to as "Gap Material Plutonium"—weapons-useable materials that are not covered under other U.S. or Russian programs.
In total, the DOE plans to import up to 900kg of "at risk" plutonium—currently held in seven countries—via 12 shipments over seven years. Other materials include stocks of highly-enriched uranium—the most highly enriched plutonium, (to 93 percent), also being supplied to Japan by the UK.
The voyage from Barrow to Japan takes about six weeks and a further seven weeks from Japan to Savannah River—use of the Panama Canal having been ruled out by the DOE in its documents on the shipment. Previously, the countries near the canal have objected to nuclear transport in their territorial waters.
YOU MIGHT ALSO LIKE 
California to Investigate Exxon on Climate Cover-Up
12 Experts Comment: What Oil Below $30 Means for Efforts to Tackle Climate Change
The Kochs and the Nazis: Book Reveals Billionaires' Father Connection to the Third Reich
5 Disturbing Things Porter Ranch Methane Leak and Flint Water Crisis Have in Common
Jul. 21, 2017 01:50PM EST
Will Rose / Greenpeace
Eleven peaceful activists from the Greenpeace ship Arctic Sunrise have taken to the water in inflatable boats with handheld banners to oppose the Statoil Songa Enabler oil rig, 275 km North off the Norwegian coast, in the Arctic Barents sea.
The banners say: "People Vs. Arctic Oil" and are directed at Statoil and the Norwegian government, which has opened a new, aggressive search for oil in the waters of the Barents Sea.
Keep reading...
Show less
Jul. 21, 2017 10:34AM EST
Dominion Pipeline Monitoring Coalition
The Federal Energy Regulatory Commission (FERC) paved the way Friday for the 600-mile, 42-inch fracked gas Atlantic Coast Pipeline to proceed when it issued the final environmental impact statement (FEIS). A joint project of utility giants Duke Energy and Dominion Energy, the Atlantic Coast Pipeline would move fracked gas from West Virginia into Virginia and North Carolina.
In April, the Sierra Club submitted more than 500 pages of legal and technical comments on FERC's draft EIS, which were joined by more than 18,000 individual comments detailing opposition to the project. The pipeline has been met with widespread opposition, with more than 1,000 people participating in public hearings across the three affected states. The Sierra Club recently requested that FERC issue a new environmental review document analyzing information that came in after or late in, the public comment process.
Keep reading...
Show less
Jul. 21, 2017 08:25AM EST
Greenpeace / PolluterWatch
By Jessica Corbett
"It's time Rex Tillerson step down or be removed," said Gigi Kellett of Corporate Accountability International, following an announcement on Thursday that ExxonMobil will pay $2 million for violating U.S. sanctions against Russian officials while the now-secretary of state was the company's CEO.
"ExxonMobil demonstrated reckless disregard for U.S. sanction requirements," according to enforcement filing released by the Treasury Department's Office of Foreign Assets Control (OFAC), which issued the penalty. Though the fine is reportedly the maximum penalty allowed, it's pittance to one of the world's most profitable and powerful corporations, which last year reported a profit of $7.8 billion.
Keep reading...
Show less
Jul. 21, 2017 11:15AM EST
New analysis from Amory B. Lovins debunks the notion that highly unprofitable, economically distressed nuclear plants should be further subsi­dized to meet financial, security, reliability and climate goals. The analysis, which will appear shortly in The Electricity Journal, shows that closing costly-to-run nuclear plants and reinvesting their saved operating costs in energy efficiency provides cheaper elec­tricity, increases grid reliability and security, reduces more carbon, and preserves (not distorts) market integrity—all without subsidies.

Keep reading...
Show less
Jul. 21, 2017 08:44AM EST
Oil Change International / Twitter
By Christian Detisch and Seth Gladstone
In the wake of Senate Republicans' ever-deepening debacle over their flailing attempts to strip health insurance from 22 million people, Majority Leader Mitch McConnell is desperate to do something—anything—to show that he can get legislation passed. To this end, he's bypassing the standard committee review process to push a complex 850+ page energy bill straight to the full Senate floor. Perhaps not surprisingly, this legislation, the Energy and Natural Resources Act of 2017, would be a disaster for public health and our climate.
Keep reading...
Show less
Jul. 21, 2017 08:11AM EST
Rooftop solar panels on a beach house in southern Florida. TAI VIINIKKA / CC BY-NC-ND 2.0
A new law passed this week in South Miami will require all new homes built in the city to install solar panels. The measure, which was inspired by a proposal from a teenage climate activist, will go into effect in September.
The text of the ordinance details the climate impacts facing South Miami.
Keep reading...
Show less
Jul. 21, 2017 10:27AM EST
www.youtube.com
Keep reading...
Show less
Jul. 21, 2017 08:49AM EST
iStock
By Katherine Paul and Ronnie Cummins
A recent series of articles by a Washington Post reporter could have some consumers questioning the value of the U.S. Department of Agriculture's (USDA) organic seal. But are a few bad eggs representative of an entire industry?
Consumers are all for cracking down on the fraudulent few who, with the help of Big Food, big retail chains and questionable certifiers give organics a bad name. But they also want stronger standards, and better enforcement—not a plan to weaken standards to accommodate "Factory Farm Organic."
Keep reading...
Show less


Get EcoWatch in your inbox