This website uses cookies to ensure you get the best experience while browsing it. By clicking 'Got It' you're accepting these terms.
It's always gratifying to see something you planted bearing fruit, isn't it? That's how we're feeling at Washington Toxics Coalition (WTC) these days. After being an instrumental part in passing Washington State's landmark Children's Safe Products Act (CSPA), as well as a toxics-in-packaging law, we're beginning to see just what is in the children's products and packaging we bring into our homes.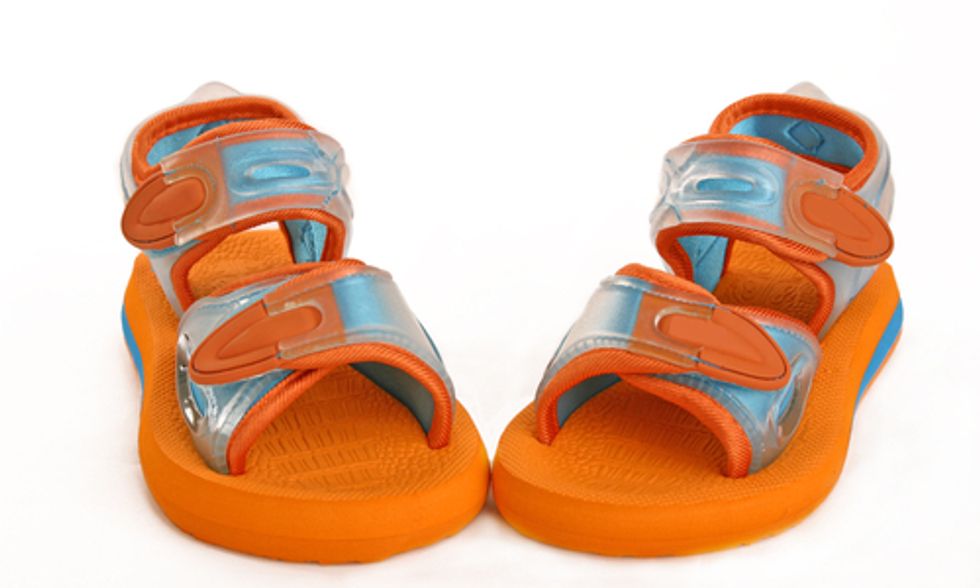 Photo courtesy of Shutterstock
Under Washington's CSPA, manufacturers of children's products are required to report whether products they sell in Washington contain chemicals on a list of 66 Chemicals of High Concern to Children. Other states are working to replicate Washington's program.
Thanks to Washington's Department of Ecology (Ecology), consumers anywhere can find out what toxic chemicals were found in more than 200 children's products, including clothing and shoes. Ecology tested these products distributed by retailers to see if their products are in compliance with the law.
The most shocking result was for a pair of baby shoes with orange soles and little brown plastic straps. The orange soles were tested at a whopping 44 percent phthalates!
Scientific evidence links phthalates to hormone disruption and other serious health problems. Phthalates are chemicals added to plastic to make it soft and pliable. The CSPA set limits in children's products on six of the most commonly used phthalates and 44 percent phthalates in the little orange shoes is an amount grossly over state and federal limits for phthalates. This particular pair of baby shoes is designed for warm weather wear, so the high-phthalate soles could lay directly on baby's skin for hours a day.
But that's not all. Ecology's testing also showed that:
Phthalates linked to hormone disruption and other health problems were found in some bath toys and children's cosmetics, other footwear and fragrances marketed for children.

Phthalates were also found in very high levels in much of the plastic packaging that children's products come in.

Hormone-disrupting parabens were found in many baby lotions, children's lip glosses and lip balms, baby wipes and Halloween makeup. 

Lead, which is known to cause neuro-developmental effects in children was found in children's cosmetics, footwear, plastic jewelry and Halloween accessories.

Copper and zinc, which are toxic threats to Puget Sound, are found in many metal zippers, buttons and other metal parts of children's clothing and packaging and in metal jewelry. 
WTC applauds the Department of Ecology's work and lauds our state's Children's Safe Products Act—our nation's most comprehensive chemical reporting law. This law helps reveal to the public the extent to which toxic chemicals are used in the manufacture of children's products. Before this law was passed, the public simply did not have this information.
But WTC believes these chemicals should not be in children's products in the first place. Ecology's reports only underscore the fact that we need stronger laws at the state and federal levels that require testing, restrict harmful chemicals and preserve state's rights to regulate them.
Click here to see WTC's report on testing we conducted on phthalates in fragrances marketed to tweens to gauge manufacturers' compliance with the Children's Safe Products Act. To see our two reports summarizing manufacturer reports on Chemicals of High Concern to Children under the Children's Safe Products Act, click here and here.
If you'd like to see Ecology's product testing reports, click here.
There you will see links to each report. You can also see the full reporting list of Chemicals of High Concern to Children, and a link to the database of reports manufacturers have made to Washington State under the Children's Safe Products Act.
——–
YOU MIGHT ALSO LIKE
30% Jump in Autism Rates Brings Greater Urgency to Toxic Chemical Reform
The Skinny on Children and Toxic Turf
——–
EcoWatch Daily Newsletter
Ocean pollution concept with plastic and garbage.
Anton Petrus
/ Moment / Getty Images
Nestlé cannot claim that its Ice Mountain bottled water brand is an essential public service, according to Michigan's second highest court, which delivered a legal blow to the food and beverage giant in a unanimous decision.
A number of supermarkets across the country have voluntarily issued a recall on sushi, salads and spring rolls distributed by Fuji Food Products due to a possible listeria contamination, as CBS News reported.
A U.S. Border Patrol agent gathers personal effects from immigrants before they are transferred to a McAllen processing center on July 02, 2019 in Los Ebanos, Texas. John Moore / Getty Images
Poverty and violence in Central America are major factors driving migration to the United States. But there's another force that's often overlooked: climate change.
Retired Lt. Cmdr. Oliver Leighton Barrett is with the Center for Climate and Security. He says that in Guatemala, Honduras and El Salvador, crime and poor economic conditions have long led to instability.
"And when you combine that with protracted drought," he says, "it's just a stressor that makes everything worse."
Barrett says that with crops failing, many people have fled their homes.
"These folks are leaving not because they're opportunists," he says, "but because they are in survival mode. You have people that are legitimate refugees."
So Barrett supports allocating foreign aid to programs that help people in drought-ridden areas adapt to climate change.
"There are nonprofits that are operating in those countries that have great ideas in terms of teaching farmers to use the land better, to harvest water better, to use different variety of crops that are more resilient to drought conditions," he says. "Those are the kinds of programs I think are needed."
So he says the best way to reduce the number of climate change migrants is to help people thrive in their home countries.
Reporting credit: Deborah Jian Lee / ChavoBart Digital Media.
Reposted with permission from Yale Climate Connections.
Chris Pratt arrives to the Los Angeles premiere of "Jurassic World: Fallen Kingdom" on June 12, 2018 in Los Angeles, California. Michael Tran / FilmMagic / Getty Images

Chris Pratt was called out on social media by Game of Thrones star Jason Momoa after Pratt posted an image "low key flexing" with a single-use plastic water bottle.