This website uses cookies to ensure you get the best experience while browsing it. By clicking 'Got It' you're accepting these terms.
Consumers Against Toxic Apparel (CATA) increases awareness and educates consumers about the dangers of toxic apparel, connects the organic apparel community by partnering with organic companies nationwide and creates a resource that allows consumers to save money on their purchases. It's the first campaign in the U.S. designed to bring attention to the growing concerns surrounding the non-regulated practices in the textile industry involving the saturated use of toxic chemicals in clothes.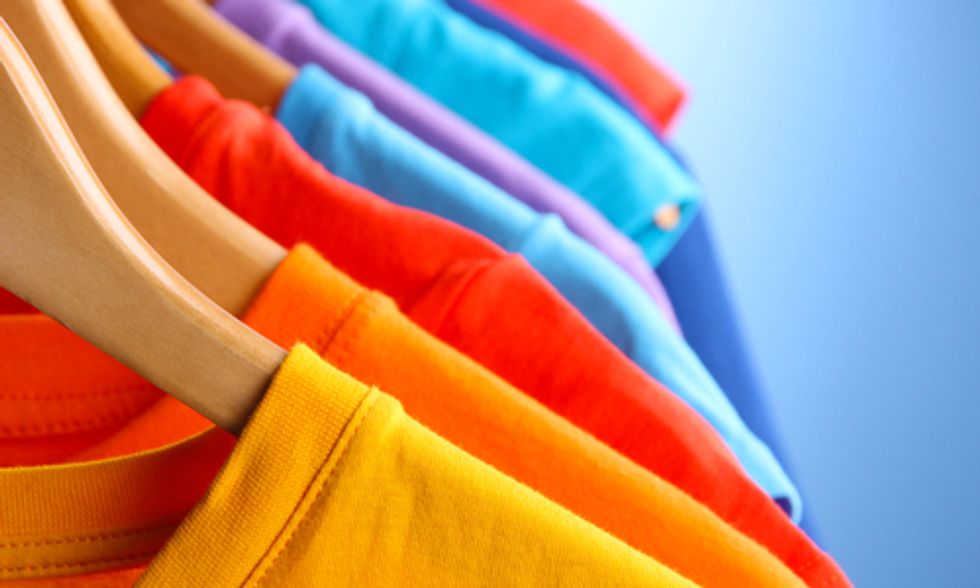 How toxic are your clothes? Photo courtesy of Shutterstock
Instead of focusing on the big dirty textile industry and asking them to change the way they produce clothes, CATA is creating a community of small companies' already producing clean, safe, organic and natural apparel. The key goal is to make it easy for conscious consumers to source and buy organic clothes—and also to show consumers who believe organic clothing is ugly, boring and unfashionable just how pretty, colorful and stylish the selections are today.
Most consumers have no idea what the phrase "organic apparel" really means. Organic apparel is fiber grown without the use of pesticides, herbicides and synthetic fertilizers. Organic fibers include cotton, linen, hemp and wool. In order for these natural fibers to be classified as organic they must go through rigorous third party certification. There are other natural fibers, such as nettle, soy, vegan silk, peace and wild harvested silk, that are not organically classified but make excellent sustainable choices for clothes provided they are dyed using natural or low impact dyes.
Why is the way we produce clothes such a big deal?
It has become a big deal because of the health implications associated with toxic apparel, the environmental impact, as well as the sustainability factor. How much longer can we produce things that are harmful to humans, animals and our environment that will never go away? The rhetorical question is Why would we? when nature has provided in abundance everything we need to dress well. The life cycle of textiles affects everyone and everything on Earth from start to finish and beyond disposal. It all begins with the fiber/fabric type.
Natural fibers are much better for us simply because they feel good against our skin and natural—like an extension of who we are, courtesy of Mother Nature. Synthetic fabrics are restrictive and binding. They affect proper muscle movement and hold sweat against our skin. They're created in a laboratory using hazardous and dangerous chemicals. The fiber is man-made and feels quite unnatural. Its creation is derived by combining thousands of chemicals together in a controlled laboratory process all while producing carcinogenic hazardous waste, contaminated water, air pollution and even climate change. Synthetic fibers include polyester, rayon, acrylic, nylon, acetate, ploynosic, vinyl and microfibers. Through clever marketing, other fabric types such as modal, viscose, tencel and loycell have been introduced by the industry as natural fibers and compared to the real ones.
The fashion and textile industry has made it more difficult for most consumers to know the truth. It is true; the raw material used to create these fabrics is natural. The fabrics are created from beech trees. Beech trees are wood, but that's where the natural aspect ends. The process used to create the fiber is the same process used to create rayon. It involves the use of caustic soda, ammonia, carbon disulphide, acetone and sulphuric acid. The energy used to produce the fiber is exhaustive and the overall waste affects the environment causing everything from mutation to reproductive and developmental problems in wildlife. Currently, bamboo fiber is considered to be the answer to eco-fashion and sustainability. It is a rapidly growing natural grass. However, the process to produce bamboo is also the same as rayon. Bamboo can be produced by using less toxic means and there are a handful of companies doing so, but not enough to impact the industry to-date. Many in the industry are hopeful this will soon change and bamboo will become a major player in the clean apparel market. Bamboo provides many positive benefits to soil and air. It is well worth our efforts to produce it more responsibly.
What does it all mean?
Synthetic fabrics prohibit our bodies from naturally breathing and sweating. When we sweat, toxins are removed through our skin, the largest organ. This natural process enables us to maintain a healthy immune system and fight disease. Man-made fibers are produced from petrochemicals such as petroleum, coal, dihydric alcohol, terepthalic acid, natural gas and agricultural by-products (things not intended by nature to be against our skin). Research has linked synthetic fabrics to chronic illness and disease. These fabrics and the finishes on them are attributed to cancer, neurological brain disorder, infertility, leukemia, Parkinson's disease, severe skin ulcerations, contact dermatitis and much more.
The overlooked environmental cost of disposable toxic fashion
2010 figures from the U.S. Environmental Protection Agency reported that Americans discarded 13.1 million tons of textiles. Only 15 percent was reclaimed by recycling, while 11.1 million tons was dumped in landfills across the country. There are approximately 3,581 active landfills in the U.S. and 10,000 inactive. Textile waste occupies 126 cubic yards of space each year. These textiles are rapidly increasing the amount of methane gas—a harmful greenhouse gas affecting climate change. In addition 17-20 percent of industrial freshwater waste pollution is caused from dying.
Estimates find that 10-15 percent of total dyestuff is released into the environment each year. That's equivalent to 280,000 tons of hazardous, toxic waste. Today, 43 percent of conventional cotton is GMO (genetically modified organism) requiring more and stronger chemicals to grow, further depleting the quality of soil. Soil quality and carbon play a vital role in global warming. In China, more than 20 percent of the groundwater and 40 percent of the surfacewater is contaminated from textile manufacturing. How much more can the planet take before our natural resources are depleted or rendered useless for living a quality life?
CATA is designed to initiate real-time change by connecting consumers with companies currently producing organic apparel. Currently, CATA has brought together 15 organic apparel companies creating a core resource for consumers, offering everything from underwear to kids' clothes and full wardrobing. The roster of companies include SOS from Texas, Foxfibre, Vreises Limited, Vital Hemp, Sassis Organic Clothing, Indigenous Fair Trade Organic Fashion, Fed by Threads, Synergy Organic Clothing, Silver Needle & Thread, Xylem Organic Clothing, Fiercely Green, Earth Creations, Imagine GreenWear, bgreen Apparel and Tag Custom Bridal. The CATA Community of Partners is committed to doing business with conscience before profits, eventually creating a paradigm shift in the way we produce clothes. It's time to put your money where your heart is.
EcoWatch Daily Newsletter
Pie Ranch in San Mateo, California, is a highly diverse farm that has both organic and food justice certification. Katie Greaney
By Elizabeth Henderson
Farmworkers, farmers and their organizations around the country have been singing the same tune for years on the urgent need for immigration reform. That harmony turns to discord as soon as you get down to details on how to get it done, what to include and what compromises you are willing to make. Case in point: the Farm Workforce Modernization Act (H.R. 5038), which passed in the House of Representatives on Dec. 11, 2019, by a vote of 260-165. The Senate received the bill the next day and referred it to the Committee on the Judiciary, where it remains. Two hundred and fifty agriculture and labor groups signed on to the United Farm Workers' (UFW) call for support for H.R. 5038. UFW President Arturo Rodriguez rejoiced:
A woman walks to her train in Grand Central Terminal as New York City attempts to slow down the spread of coronavirus through social distancing on March 27. John Lamparski / Getty Images
By Julia Conley
A council representing more than 800,000 doctors across the U.S. signed a letter Friday imploring President Donald Trump to reverse his call for businesses to reopen by April 12, warning that the president's flouting of the guidance of public health experts could jeopardize the health of millions of Americans and throw hospitals into even more chaos as they fight the coronavirus pandemic.
polaristest / Flickr / CC BY-NC-ND 2.0
By Melissa Kravitz Hoeffner
Over six gallons of water are required to produce one gallon of wine. "Irrigation, sprays, and frost protection all [used in winemaking] require a lot of water," explained winemaker and sommelier Keith Wallace, who's also a professor and the founder of the Wine School of Philadelphia, the largest independent wine school in the U.S. And water waste is just the start of the climate-ruining inefficiencies commonplace in the wine industry. Sustainably speaking, climate change could be problematic for your favorite glass of wine.
Pixabay
Spinach is a true nutritional powerhouse, as it's rich in vitamins, minerals, and antioxidants.
Pexels
By Jeff Turrentine
From day to day, our public health infrastructure — the people and systems we've put in place to keep populations, as opposed to individuals, healthy — largely goes unnoticed. That's because when it's working well, its success takes the form of utter normalcy.