Are You Ready to Power Your Car With the Sun?
Even Eloise, who is four and three quarters years old, knows that certain things just go well together. Like peanut butter and jelly. Or solar power and electric vehicles (EV). In this newly released video, she tells us why.
The good news—the great news—is that the ability to power our cars by the energy of the sun is becoming increasingly easy and affordable. A partnership called Drive Green For Life formed among the solar installer SunPower, Ford Motor Company and the Sierra Club makes it easier for folks to drive on sunshine.
Here's how it works: you visit your local Ford dealership and test-drive the plug-in hybrids C-Max Energi and Fusion or the full battery electric Focus—all great plug-in cars to consider. If you do purchase or lease a Ford EV, you can save in energy costs and slash even more carbon emissions by using a solar system to charge your vehicle and your home. If this sounds appealing to you, then contact SunPower to sign up for a free solar evaluation. If you do end up purchasing or leasing a solar system, then you'll get a $750 rebate and the Sierra Club will get a $500 donation from SunPower.
It's a five-way win for the consumer, SunPower, Ford, Sierra Club and our planet.
The partnership isn't limited to new purchases. If you already happen to drive a Ford EV, then you can go right to contacting SunPower for a solar evaluation.
As the Sierra Club continues to build public support for 100 percent clean energy with our new #ReadyFor100 and Electric Vehicles campaigns, the Drive Green for Life partnership offers our supporters an incentive to go 100 percent clean themselves by powering their EVs with solar, all while also supporting our critical work urging cities, governments, businesses and local communities to commit to renewable power.
December 2015's record-breaking EV sales (after a strong November showing, too) demonstrate that a clean transportation future is well on its way and 2016 could be a big year for EVs and their happy drivers. With more than a half a million U.S. households with rooftop solar, it's not surprising that many of these people see the benefits of driving electric. When the Center for Sustainable Energy interviewed plug-in car drivers in California, they found that 32 percent of them had rooftop solar on their homes. That's huge! But, with EV sales making up less than one percent of total U.S. auto sales, we have a long ways to go.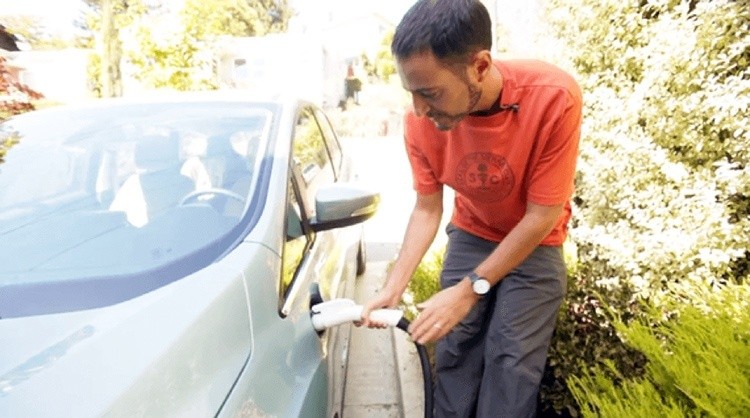 Fortunately, there are a lot of EVs on the market at different price points and federal and some state tax credits and rebates—coupled with lower fueling costs—make EVs a smart financial choice. Additionally, solar power is getting notably cheaper. If you lease a solar system, you can start reducing your energy bills right away. If you purchase solar, the pack-back period or the period of time it takes to make back the money spent on solar through electricity savings, is now faster than ever. In fact, from early 2011 to early 2014, the average price of household solar dropped 50 percent. Even with today's low gas prices, the Department of Energy notes it's much cheaper to power your car on electricity than gasoline.
"As an electric vehicle owner with solar panels on my home, I can personally attest to the satisfaction that comes from being able to power our family's car and home electricity needs at once," Sunwoo Kahng, a Sierra Club supporter who lives in Newton, Massachusetts told me. "It feels great to simultaneously slash our carbon emissions and energy costs."
Solar drops the carbon footprint—or carbon skid marks—from your EV to nearly nil. In my region of New England, if you drive a plug-in Ford Focus and have conventional electricity, you're reducing your carbon emissions by about 65 percent compared to driving a Honda Civic. (See the Sierra Club's online EV Guide where you can calculate this for your own state and with any plug-in car in mind). But with solar, those emissions decrease astronomically.
There are a lot of wonderful EV options available, but Ford electric cars and SunPower solar systems are terrific examples of products that will help people live greener while saving some green. In signing up for the program, people will also support the Sierra Club's work to move beyond fossil fuels while expanding and accelerating our development of clean, renewable energy.
Even preschoolers like Eloise know that EVs and sunshine are a match made in heaven. Drive Green For Life makes moving toward 100 percent clean energy for our electricity and our transportation simpler than you think. To learn more about how you can drive on sunshine, check out more information on Drive Green For Life here.
Follow Gina Coplon-Newfield on Twitter.
YOU MIGHT ALSO LIKE 
How Money in Politics Is Killing Rooftop Solar in Nevada
Linking Investors to Renewable Energy Opportunities in Emerging Markets Is Key to COP21 Success
Kelly Slater: World's 'Best Man-Made Wave' Is Powered 100% by the Sun
World's Largest Offshore Wind Farm Will Power More Than 1 Million Homes
Bill Maher is sick of billionaires' obsession with Mars, more like "Mars-a-Lago," he said.
In a new animation produced by ATTN:, the popular talk show host of Real Time, discusses the perils of our planet, including how "climate change is killing us."
Keep reading...
Show less
Dr. Benjamin D. Santer, research scientist
A group of prominent climate scientists have written a study explicitly refuting statements made by the U.S. Environmental Protection Agency Administrator Scott Pruitt on climate data. During his Senate confirmation hearing, Pruitt claimed in a written response that satellite data shows a "leveling off" of warming over the past two decades.
Keep reading...
Show less
By David Pomerantz
The Nevada Assembly passed a bill Wednesday that would dramatically increase the growth of renewable energy in the state, but Sheldon Adelson, the casino magnate and major donor to Donald Trump, is attempting to prevent the bill from becoming law.
Keep reading...
Show less
Matt Crossick
By Yosola Olorunshola
Whether it's through fashion or protest, Vivienne Westwood is not a woman afraid of making a statement.
On May 23, she rocked up to the residence of the Archbishop of Canterbury in London with a special guest—the Grim Reaper—to issue a strong statement on the Church of England's position on fracking.
Keep reading...
Show less
Military veterans from across Virginia released a letter Thursday opposing two proposed fracked-gas pipelines: Dominion Energy's Atlantic Coast Pipeline and EQT's Mountain Valley Pipeline. These pipelines would cross through pristine areas of Virginia, taking private property by use of eminent domain, removing mountain ridgetops and threatening valuable drinking water resources. The veterans view this as contrary to their service to protect and defend the freedom and security of American citizens.

Keep reading...
Show less
By Paul Brown
The food industry and big agricultural concerns are driving climate change and at the same time threatening to undermine efforts to feed the world's growing population, according to GRAIN, an organization that supports small farmers.
Particularly singled out for criticism are the large chemical fertilizer producers that have gained access to the United Nations talks on climate change. GRAIN accuses them of behaving like the fossil fuel companies did in the 1990s, pushing false information in the hope of delaying real action on climate change.
Keep reading...
Show less
May. 24, 2017 06:55PM EST
By Sydney Robinson
President Trump has no doubt been given a long list of extravagant, elaborate gifts in his lifetime, but the gift given to him today by Pope Francis may not make it on his most favorite list.
Keep reading...
Show less
May. 24, 2017 07:17PM EST
By John Rogers
Maybe it's because I first started working on clean energy while serving in the Peace Corps he founded, or maybe it's my years of working on these issues from his home state. But I can't help thinking about the 100th anniversary of John F. Kennedy's birth, and connecting his stirring rhetoric to the energy challenges of our times.
Here's what our 35th president might have said about the challenges of energy transition and the opportunities in clean energy:
"Change is the law of life. And those who look only to the past or present are certain to miss the future."
Keep reading...
Show less


Get EcoWatch in your inbox