This website uses cookies to ensure you get the best experience while browsing it. By clicking 'Got It' you're accepting these terms.


The best of EcoWatch, right in your inbox. Sign up for our email newsletter!
Are You Ready to Power Your Car With the Sun?
Feb. 11, 2016 09:10AM EST
Business
Even Eloise, who is four and three quarters years old, knows that certain things just go well together. Like peanut butter and jelly. Or solar power and electric vehicles (EV). In this newly released video, she tells us why.
The good news—the great news—is that the ability to power our cars by the energy of the sun is becoming increasingly easy and affordable. A partnership called Drive Green For Life formed among the solar installer SunPower, Ford Motor Company and the Sierra Club makes it easier for folks to drive on sunshine.
Here's how it works: you visit your local Ford dealership and test-drive the plug-in hybrids C-Max Energi and Fusion or the full battery electric Focus—all great plug-in cars to consider. If you do purchase or lease a Ford EV, you can save in energy costs and slash even more carbon emissions by using a solar system to charge your vehicle and your home. If this sounds appealing to you, then contact SunPower to sign up for a free solar evaluation. If you do end up purchasing or leasing a solar system, then you'll get a $750 rebate and the Sierra Club will get a $500 donation from SunPower.
It's a five-way win for the consumer, SunPower, Ford, Sierra Club and our planet.
The partnership isn't limited to new purchases. If you already happen to drive a Ford EV, then you can go right to contacting SunPower for a solar evaluation.
As the Sierra Club continues to build public support for 100 percent clean energy with our new #ReadyFor100 and Electric Vehicles campaigns, the Drive Green for Life partnership offers our supporters an incentive to go 100 percent clean themselves by powering their EVs with solar, all while also supporting our critical work urging cities, governments, businesses and local communities to commit to renewable power.
December 2015's record-breaking EV sales (after a strong November showing, too) demonstrate that a clean transportation future is well on its way and 2016 could be a big year for EVs and their happy drivers. With more than a half a million U.S. households with rooftop solar, it's not surprising that many of these people see the benefits of driving electric. When the Center for Sustainable Energy interviewed plug-in car drivers in California, they found that 32 percent of them had rooftop solar on their homes. That's huge! But, with EV sales making up less than one percent of total U.S. auto sales, we have a long ways to go.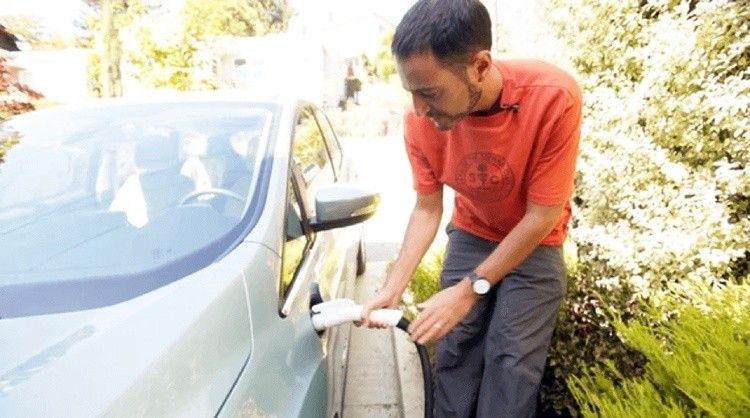 Fortunately, there are a lot of EVs on the market at different price points and federal and some state tax credits and rebates—coupled with lower fueling costs—make EVs a smart financial choice. Additionally, solar power is getting notably cheaper. If you lease a solar system, you can start reducing your energy bills right away. If you purchase solar, the pack-back period or the period of time it takes to make back the money spent on solar through electricity savings, is now faster than ever. In fact, from early 2011 to early 2014, the average price of household solar dropped 50 percent. Even with today's low gas prices, the Department of Energy notes it's much cheaper to power your car on electricity than gasoline.
"As an electric vehicle owner with solar panels on my home, I can personally attest to the satisfaction that comes from being able to power our family's car and home electricity needs at once," Sunwoo Kahng, a Sierra Club supporter who lives in Newton, Massachusetts told me. "It feels great to simultaneously slash our carbon emissions and energy costs."
Solar drops the carbon footprint—or carbon skid marks—from your EV to nearly nil. In my region of New England, if you drive a plug-in Ford Focus and have conventional electricity, you're reducing your carbon emissions by about 65 percent compared to driving a Honda Civic. (See the Sierra Club's online EV Guide where you can calculate this for your own state and with any plug-in car in mind). But with solar, those emissions decrease astronomically.
There are a lot of wonderful EV options available, but Ford electric cars and SunPower solar systems are terrific examples of products that will help people live greener while saving some green. In signing up for the program, people will also support the Sierra Club's work to move beyond fossil fuels while expanding and accelerating our development of clean, renewable energy.
Even preschoolers like Eloise know that EVs and sunshine are a match made in heaven. Drive Green For Life makes moving toward 100 percent clean energy for our electricity and our transportation simpler than you think. To learn more about how you can drive on sunshine, check out more information on Drive Green For Life here.
Follow Gina Coplon-Newfield on Twitter.
YOU MIGHT ALSO LIKE 
How Money in Politics Is Killing Rooftop Solar in Nevada
Linking Investors to Renewable Energy Opportunities in Emerging Markets Is Key to COP21 Success
Kelly Slater: World's 'Best Man-Made Wave' Is Powered 100% by the Sun
World's Largest Offshore Wind Farm Will Power More Than 1 Million Homes
EcoWatch Daily Newsletter
Pxhere
By Richard Denison
Readers of this blog know how concerned EDF is over the Trump EPA's approval of many dozens of new chemicals based on its mere "expectation" that workers across supply chains will always employ personal protective equipment (PPE) just because it is recommended in the manufacturer's non-binding safety data sheet (SDS).
By Grant Smith
From 2009 to 2012, Gregory Jaczko was chairman of the Nuclear Regulatory Commission, which approves nuclear power plant designs and sets safety standards for plants. But he now says that nuclear power is too dangerous and expensive — and not part of the answer to the climate crisis.
A lake in Rocky Mountain National Park. Brett Walton / Circle of Blue
By Brett Walton
When Greg Wetherbee sat in front of the microscope recently, he was looking for fragments of metals or coal, particles that might indicate the source of airborne nitrogen pollution in Rocky Mountain National Park. What caught his eye, though, were the plastics.
Gabriele Holtermann Gorden / Pacific Press / LightRocket / Getty Images
In a big victory for animals, Prada has announced that it's ending its use of fur! It joins Coach, Jean Paul Gaultier, Giorgio Armani, Versace, Ralph Lauren, Vivienne Westwood, Michael Kors, Donna Karan and many others PETA has pushed toward a ban.
This is a victory more than a decade in the making. PETA and our international affiliates have crashed Prada's catwalks with anti-fur signs, held eye-catching demonstrations all around the world, and sent the company loads of information about the fur industry. In 2018, actor and animal rights advocate Pamela Anderson sent a letter on PETA's behalf urging Miuccia Prada to commit to leaving fur out of all future collections, and the iconic designer has finally listened.
Amer Ghazzal / Barcroft Media / Getty Images
If people in three European countries want to fight the climate crisis, they need to chill out more.
That's the conclusion of a new study from think tank Autonomy, which found that Germany, the UK and Sweden all needed to drastically reduce their workweeks to fight climate change.
Amazon Employees for Climate Justice held a press conference after the annual shareholder meeting on May 22. Amazon Employees for Climate Justice
An artist's rendering of the recomposition facility. MOLT Studios
Washington became the first U.S. state to legalize human composting Tuesday, offering residents a more environmentally friendly way to dispose of their remains, AFP reported.
Mr.TinDC / Flickr / CC BY-ND 2.0
Many nutrients are essential for good health.