This website uses cookies to ensure you get the best experience while browsing it. By clicking 'Got It' you're accepting these terms.
Are You Poisoning Your Children Without Even Knowing It?
Oct. 04, 2012 01:23PM EST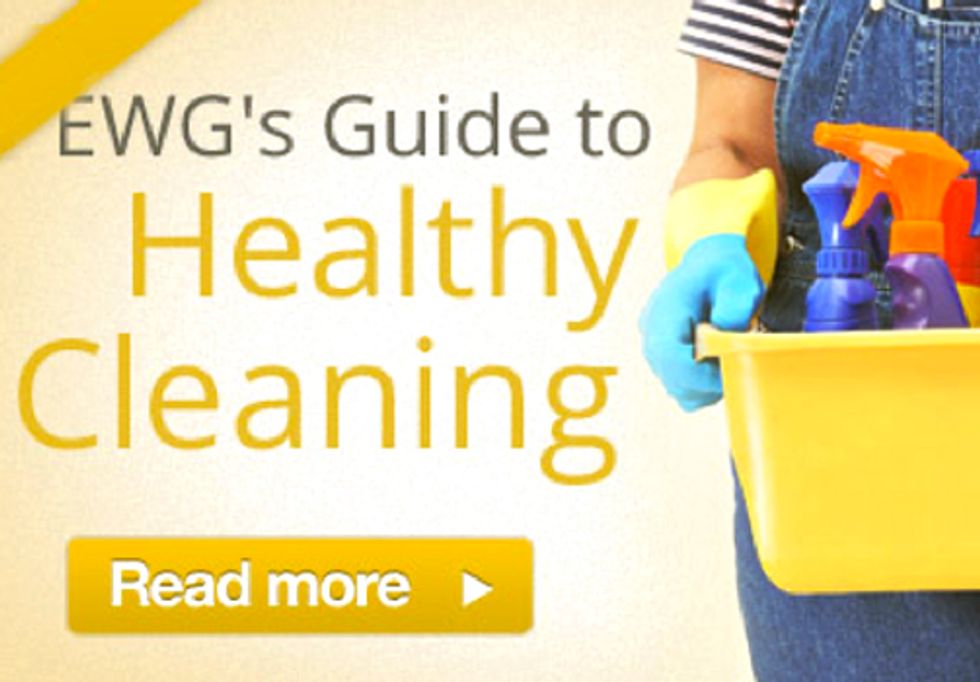 In a dramatic illustration of why it is essential that makers of cleaning products fully disclose their ingredients on product labels, the release of Environmental Working Group's (EWG) Guide to Healthy Cleaning has resulted in the revelation that more than half of a line of cleaners marketed to parents of babies contain an ingredient that releases formaldehyde, a known human carcinogen.
The company is New York state-based BabyGanics, whose representative has described its products as "so safe that you can even drink them" in a video posted online. In the video uploaded by BabyTVcom on Feb. 13, 2008, he then drank from a bottle of a BabyGanics cleaner.
EWG's Guide to Healthy Cleaning, which gave more than 2,000 products grades of A-to-F based on the potential hazards of their ingredients and the completeness of their ingredient disclosures, gave "F" scores to a number of BabyGanics products because of poor disclosure. After the company contacted EWG and protested its grades, it agreed to post a full ingredient list on its website. This list, in turn, revealed that more than half of its products contain a preservative called HHT (Hexahydro-1,3,5-tris(2-hydroxyethyl)-s-triazine), which releases formaldehyde during product use. As a result, those products will continue to be graded "F" on the EWG guide until their formulations are changed.
Executives of BabyGanics told EWG that the company is making plans to remove the preservative from its entire line.
"Consumers should be wary of products that release formaldehyde because it is a carcinogen that experts believe is unsafe even in small amounts," said Johanna Congleton, a senior scientist at EWG. "It would be hard to find anyone, especially parents, who believe it's acceptable for products marketed as safe to use around babies to contain a substance known to release a known human carcinogen."
The BabyGanics revelation is a dramatic reminder that consumers cannot take companies' labeling and marketing claims at face value.
"As a mother of two young children, I am shocked that companies don't have to tell consumers what's in their cleaning products," said Heather White, EWG's chief of staff and general counsel. "So many families buy these products because they think they are safe, when in fact they contain chemicals that could pose serious dangers, including cancer. My advice to consumers is simple – don't buy products labeled only with generic terms like 'surfactants' or 'preservatives.' Companies need to tell us exactly what's in the products they're selling. We have a right to know what chemicals we're bringing into our homes in the products we buy. And EWG's Guide to Healthy Cleaning was created to help consumers exercise that right."
The BabyGanics line is sold by national retailers such as Babies R Us and Bed, Bath & Beyond.
EWG's guide has highlighted how many cleaning products contain toxic chemicals and how difficult it is for even careful consumers to find out exactly what's in them. Many companies use generic names like "surfactants" and "mineral salts" to describe some of their ingredients. Current federal law does not require disclosure of ingredients on the vast majority of cleaning products. EWG's rating system and the information provided by the guide is challenging other companies to reevaluate what they put in their products and to detail that information on their product labels and on their web sites.
EWG plans to do further research to evaluate more closely the use of toxic preservatives in household cleaning products.
EcoWatch Daily Newsletter
Democratic presidential candidate, former Vice President Joe Biden speaks during a campaign town hall meeting at Vista Grande Jan. 28 in Clinton, Iowa. The Iowa caucuses are February 3. Chip Somodevilla / Getty Images
Joe Biden put his hand on the chest of an Iowa voter and told the man to vote for someone else when the voter asked the former vice president about his plans to replace gas pipelines, The Independent reported.
Greening the barren mountain has helped recharge groundwater levels in the villages. Photo by Gurvinder Singh. Mongabay India
Jamini Mohan Mahanty is out for a morning walk every day. At 91, he is hale and hearty. A resident of Jharbagda village in Purulia district, West Bengal, Mahanty thanks the "green mountain" in his village for having added some extra years to his life.

A wild Woodland Bison walks in the Arctic wilderness. RyersonClark / iStock / Getty Images Plus
Visitors to the Hollywood & Highland mall in Hollywood wear face masks on Jan. 27 . Five people in the U.S. have tested positive for the deadly strain of Coronavirus, one each in Washington, Illinois and Arizona, and two in Southern California, according to the U.S. Centers for Disease Control and Prevention. ROBYN BECK / AFP / Getty Images
Insects play a vital role in ecosystems and humans are particularly dependent on them for food.
Dmitry Grigoriev / Unsplash
By Ajit Niranjan
Seven 'no-regret' actions could rescue insects on the road to extinction, a new roadmap for conservation says, helping ecosystems even where a lack of research means scientists cannot prove benefits to individual species.