Are You Drinking Teflon Contaminated Water?
The bad news about a toxic chemical used to make Teflon keeps getting worse.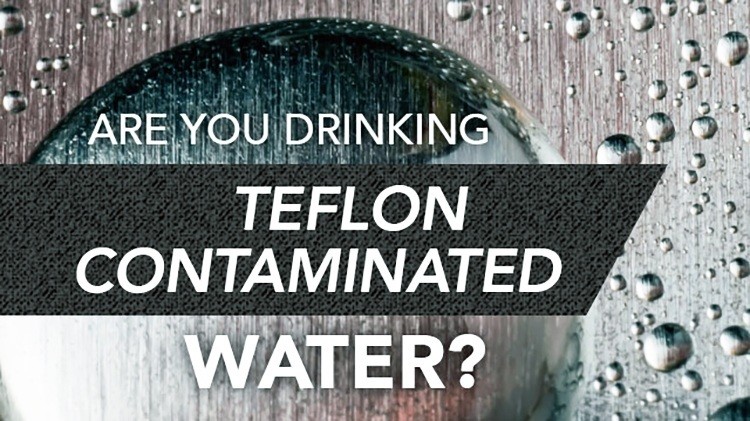 Perfluorooctanoic acid or PFOA, was used for decades by DuPont and other companies to make non-stick, waterproof and stain-resistant products. PFOA and related chemicals, which studies show can cause cancer and reproductive disorders, pollute virtually all Americans' blood and pass from mother to child in the womb. Last summer scientists at Harvard and the University of Massachusetts found that PFOA is hazardous at the tiniest doses—hundreds of times smaller than what the U.S. Environmental Protection Agency (EPA) says is safe.
How could it get worse? Consider:
Long known to severely contaminate drinking water near a DuPont plant in Parkersburg, West Virginia, PFOA was recently found at high levels in the water supplies of Hoosick Falls, New York and nearby North Bennington, Vermont. Health officials say residents should not use contaminated water for drinking, cooking or brushing teeth.
In Hoosick Falls, the EPA warned residents not to drink water with more 100 parts per trillion of PFOA—four times lower than the agency's current non-enforceable health advisory level. But because EPA did not consider the most recent science, the new level is still 100 times higher than what the Harvard-UMass study said is safe.
California state scientists just listed PFOA and its chemical cousin, PFOS, as high priority for review and potential addition to the state's official registry of chemicals known to cause reproductive disorders. PFOA contaminates 14 California water systems serving more than 1.4 million people—more than any other state—and adding it to the registry under the state's Safe Drinking Water Act could require expensive treatment of those systems to reduce the pollution.
EPA-mandated testing continues to find PFOA in more public water supplies nationwide.
Last August EWG reported that EPA's sampling program found PFOA in 94 water systems serving more than 6.5 million people in 27 states. Since then, reports to EPA by by local utilities have upped the number to 103 water supplies serving nearly 7 million people. (Contamination was not reported from any additional states).
The recently reported PFOA contamination includes: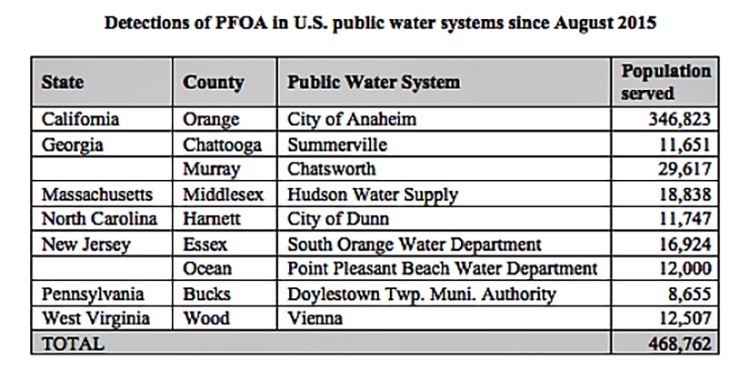 Last summer's testing results reported no water systems contaminated with PFOA above the EPA's previous advisory level, eight systems have had test results at or above the lower level EPA recommended in Hoosick Falls.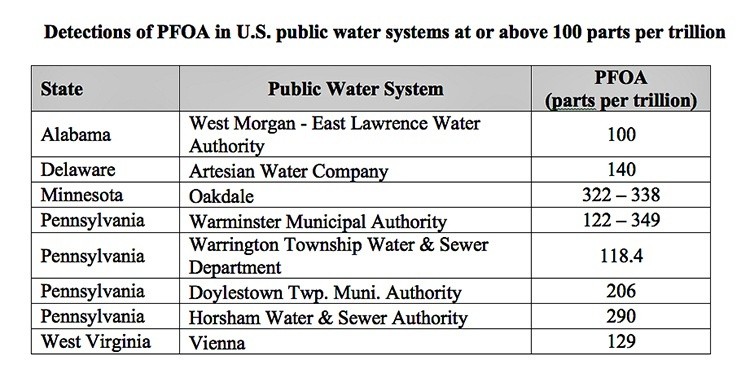 Keep in mind that the new level from EPA is still much higher than the safe level in the Harvard-UMass study. With evidence mounting that EPA's advisory level is too weak, states are taking action. Besides California's nomination of PFOA to its list of reproductive toxins, the Vermont Department of Public Health considered recent science and set a much more conservative drinking water advisory level: 20 parts per trillion, a standard by which every PFOA-contaminated water supply reported to EPA's is unsafe.
What's more, EPA's testing program only covers water system serving more than 10,000 people, which is why the contamination in Hoosick Falls and North Bennington was not detected. EWG again calls on DuPont and all other former makers of PFOA to immediately disclose all locations where the chemical was produced, used or dumped and for local, state and federal officials to make sure the water in each place is tested.
YOU MIGHT ALSO LIKE
DARK Act Heads to Senate, Bill Would Block Mandatory GMO Labeling
Vandana Shiva: Make Monsanto Pay
FDA Officially Belongs to Big Pharma With Senate Confirmation of Dr. Robert Califf
Johnson & Johnson to Pay $72 Million in Lawsuit Linking Talcum Powder to Ovarian Cancer
Glyphosate, the main ingredient in Monsanto's widely used herbicide Roundup, will be added July 7 to California's list of chemicals known to the state to cause cancer, according to a Reuters report Tuesday. This news comes after the company's unsuccessful attempt to block the listing in trial court and requests for stay were denied by a state appellate court and California's Supreme Court.
California's Office of Environmental Health Hazard Assessment (OEHHA) announced the designation on Monday under the Safe Drinking Water and Toxic Enforcement Act of 1986, or Proposition 65.
Keep reading...
Show less
www.facebook.com
Keep reading...
Show less
Researchers from the Marine Animal Response Society examine one of the dead right whales. Marine Animal Response Society
Canadian government officials and marine biologists are investigating the mysterious deaths of six North American right whales. The endangered animals all turned up dead between June 6 and June 23 in the Gulf of St. Lawrence, off Canada's southeastern coast.
North Atlantic right whales are the rarest of all large whale species and among the rarest of all marine mammal species, with only about 450 right whales in the North Atlantic.
Keep reading...
Show less
Scott Pruitt testifies during his Senate confirmation hearing for EPA administrator, January 2017.
The U.S. Environmental Protection Agency's (EPA) chief of staff pressured the leader of its Board of Scientific Counselors to change her congressional testimony to downplay the impact of the agency's mass dismissal of scientists from the board, the New York Times reports.
Keep reading...
Show less
By Jason Mark
Sequoiadendron giganteum. That's the scientific name for the giant sequoia: the mammoth trees found in California's Sierra Nevada that are the largest organisms on Earth, and among the longest-lived. Biologists estimate that about half of all sequoias live in Giant Sequoia National Monument, a 328,000-acre preserve in the Southern Sierra Nevada established by President Clinton in 2000.
Now that national monument is in jeopardy.
Keep reading...
Show less
By Andy Rowell
Donald Trump this week is launching an "energy week," pushing the argument that the U.S. will become a net exporter of oil and gas.
The president and his cronies are talking about a new era of "U.S. energy dominance," which could stretch for decades to come. However, no one believes the president anymore.
Keep reading...
Show less
UN
By Colleen Curry
The United Nations has designated 23 new sites around the world to its World Network of Biosphere reserves—stunning natural landscapes that balance environmental and human concerns and strive for sustainability.
The forests, beaches and waterways were added to the list this year at the International Coordinating Council of the Man and the Biosphere Programme meeting in Paris earlier this month.
Keep reading...
Show less
Jun. 26, 2017 01:48PM EST
www.elysee.fr
By Andy Rowell
There is a growing feeling within European capitals that a quiet, but deeply positive, revolution is happening under Emmanuel Macron in France.
Macron's opinion poll rating is high, especially boosted in how the young French president has reacted to Donald Trump on the international stage.
Keep reading...
Show less
Jun. 26, 2017 12:32PM EST
www.facebook.com
Keep reading...
Show less