This website uses cookies to ensure you get the best experience while browsing it. By clicking 'Got It' you're accepting these terms.
Are Tick Bites Causing Your Food Allergies?
Aug. 13, 2014 08:22AM EST
Health + Wellness
Reposted with permission from Rodale News.
They may be little, but those tiny, blood-sucking ticks can cause big problems with your health, including Lyme disease, babesiosis, bartonella, anaplasmosis, Rocky Mountain spotted fever and ehrlichiosis. And the list of tick-related ills just keeps growing. Doctors are now confirming a link between lone star tick bites and cases of severe red meat allergies plaguing patients in Southeastern states. Victims of the odd tick bite side effect have been reported in places like Tennessee, North Carolina and Virginia, but doctors say the problem is spreading up the Eastern Seaboard fast.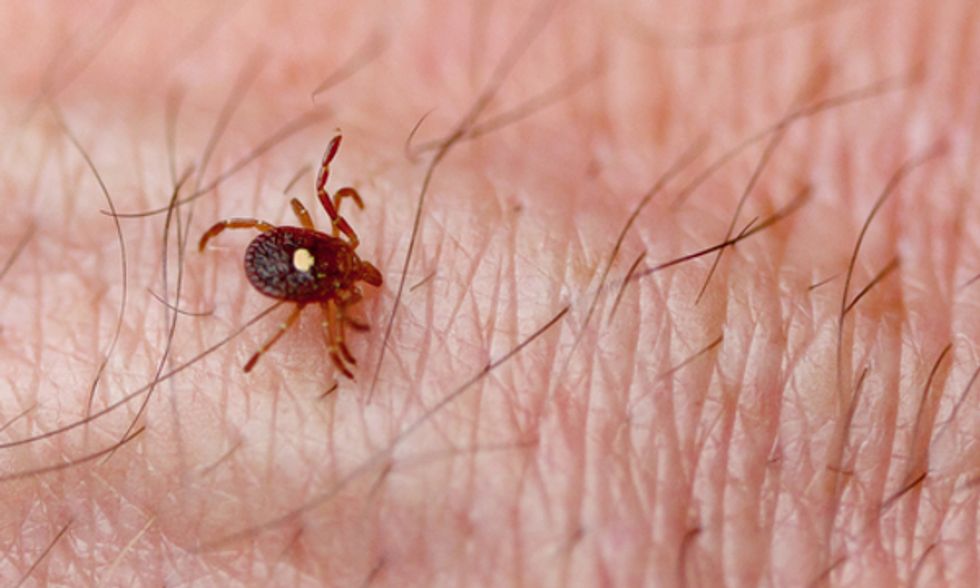 Doctors are now confirming a link between lone star tick bites and cases of severe red meat allergies. Photo courtesy of Shutterstock
According to Robert Valet, MD, assistant professor of medicine at Vanderbilt's Asthma, Sinus and Allergy Program (A.S.A.P.), some patients are developing post-tick-bite allergies to the alpha-gal sugar present in red meat, causing symptoms ranging from diarrhea, difficulty breathing and a drop in blood pressure, to hives and swelling. Some patients are reacting to milk.
"It is not completely understood exactly how the allergy starts," explains Dr. Valet. "The thought is that the tick has the alpha-gal sugar in its gut and introduces it as part of the allergic bite, and that causes the production of the allergy antibody that then cross-reacts to the meat."
Since the alpha-gal is stored in the animal fat, which takes several hours to digest, people with the allergy can go into delayed anaphylactic shock anywhere from four to six hours after eating red meat, making it difficult to diagnose. "It certainly is a big disruption for a lot of people's lives," explains Dr. Valet. "Things like your classic barbecue really become off limits."
Repeated tick bites can raise the level of allergy antibody, so Valet warns people with this allergy to avoid even small quantities of red meat and milk. He also suggests carrying an EpiPen in case a person suffers from an exposure and needs to self-treat.
Whether you're affected by the allergy or not, it's important to practice good tick-avoidance procedures:
Strip down as soon as you step inside.
Remove your clothing, toss it in the washing machine and jump in the shower as soon as you walk inside the house after spending time outdoors. Be sure to then throw your freshly washed clothing into the dryer to kill any lurking ticks.
Get to know your private parts well.
Your groin maintains the perfect humidity for ticks looking to hide in moist, dark areas. The bugs also attach to the back of men's scrotums or women's bikini lines, so be sure to perform a thorough check of your groin and buttocks area at least once a day using a magnifying glass and/or mirror to see more hidden areas.
Treat your shoes.
Although we don't normally recommend chemical treatment, we understand how debilitating tick-borne diseases can be. So rather than applying toxic DEET directly on your skin, try getting a pair of outdoor gardening or workout shoes treated with Insect Shield instead.
Plant some beautyberry bushes.
The leaves of the American beautyberry bush possess tick-repelling qualities, so try working a few into your landscape.
Clean up your woodpile.
Moist, wooded areas are most inviting for ticks. Sunny, dry conditions are not. So keep any woodpiles outside in a spot that gets lots of sun to dry them out faster.
You Might Also Like
8 Summertime Woes That Will Only Get Worse With Climate Change
You Might Be Allergic to Climate Change
Cancer-Causing Chemical in Shampoos Subject of Ground-Breaking Legal Agreement
EcoWatch Daily Newsletter
Traffic moves across the Brooklyn Bridge on Aug. 2, 2018 in New York City. Drew Angerer / Getty Images
The Trump administration is expected to unveil its final replacement of Obama-era fuel-efficiency standards for cars and light trucks Tuesday in a move likely to pump nearly a billion more tons of carbon dioxide into the atmosphere over the lifetime of those less-efficient vehicles.
U.S. President Donald Trump listens as Anthony Fauci, Director of the National Institute of Allergy and Infectious Diseases speaks in the Rose Garden for the daily coronavirus briefing at the White House on March 29 in Washington, DC. Tasos Katopodis / Getty Images
By Jake Johnson
Just over a month after proclaiming that the number of coronavirus cases in the U.S. would soon "be down to close to zero," President Donald Trump said during a press briefing on the White House lawn Sunday that limiting U.S. deaths from the pandemic to between 100,000 and 200,000 people would mean his administration and the country as a whole did "a very good job."
Dicamba is having a devastating impact in Arkansas and neighboring states. A farmer in Mississippi County, Arkansas looks at rows of soybean plants affected by dicamba. The Washington Post / Getty Images
Documents unearthed in a lawsuit brought by a Missouri farmer who claimed that Monsanto and German chemical maker BASF's dicamba herbicide ruined his peach orchard revealed that the two companies knew their new agricultural seed and chemical system would likely damage many U.S. farms, according to documents seen by The Guardian.
Washington State Governor Jay Inslee and other leaders speak to the press on March 28, 2020 in Seattle. Karen Ducey / Getty Images