This website uses cookies to ensure you get the best experience while browsing it. By clicking 'Got It' you're accepting these terms.
Are There GMOs in Your Favorite Beer?
Jun. 25, 2014 11:32AM EST
Food
Americans love their beer. But because of the way beer is currently regulated in the U.S., there is no way to know for sure which ingredients are added to a particular brand unless its manufacturer voluntarily labels them—and most don't.
A recent inquiry into the ingredient contents of several major beer brands has revealed the presence of questionable additives like genetically modified organisms (GMOs) that are nowhere to be found on the labels. More than just simple water, barley malt, hops and yeast, many of America's favorite beers contain hidden flavor enhancers and preservatives that could pose a health threat.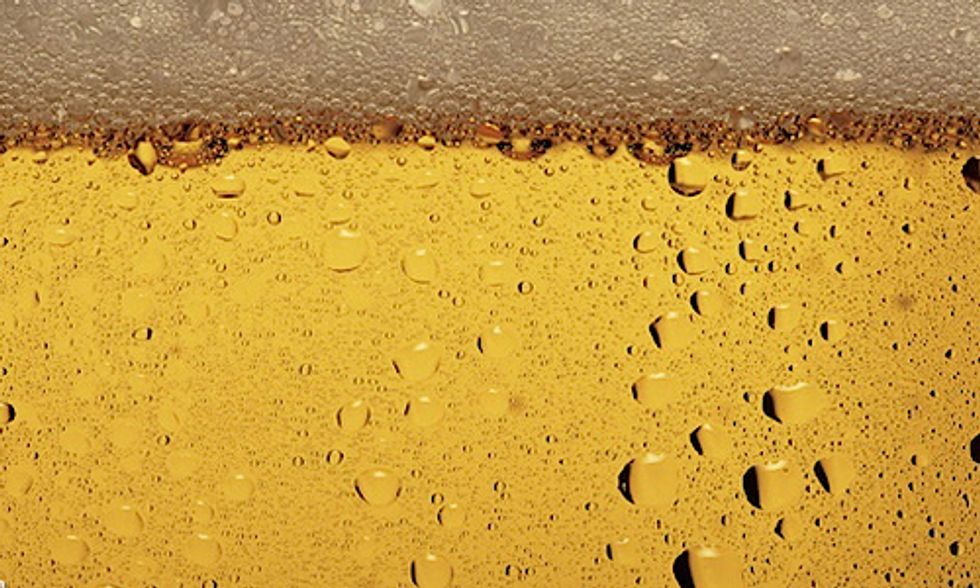 Vani Hari, also known as the Food Babe, recently sent an email to MillerCoors on June 3 asking about the ingredients in popular Miller and Coors products. She was told that the company's beers contain a mixture of the usual beer ingredients alongside corn syrup, a refined corn derivative that typically comes from GM corn.
"Our Beers are essentially a mixture of natural ingredients: water, malted barley, corn syrup, hops and yeast," reads the email response from MillerCoors. The letter goes on to explain what each of the ingredients is for, placing specific emphasis on corn syrup as giving beer "a milder and lighter-bodied flavor."
Fair enough. Except that the MillerCoors website, along with the company's Facebook page, omit corn syrup altogether as an ingredient. The MillerCoors "Beer Nutrition Facts and Codes" website page only lists water, barley malt, corn, yeast, and hops as ingredients, with no mention anywhere of corn syrup.
Why is this important? As you may already know, whole GM corn is currently not allowed to be sold on the consumer market—only corn derivatives like corn syrup are permitted for commercial sale. Whole corn is also entirely different from corn syrup, which is a highly-refined sugar linked to obesity and heart disease.
This mismatch of information between what the MillerCoors website states about the ingredients in its products compared to what a company spokesperson stated in an email to the Food Babe is deeply concerning, as it demonstrates a lack of transparency when it comes to the contents of beer.
Beer Is Regulated by the Department of the Treasury, Not the FDA
Though it is consumed like any other food, beer is surprisingly not regulated by the U.S. Food and Drug Administration (FDA). Instead, it is regulated by a division of the Department of the Treasury known as the Alcohol and Tobacco Tax and Trade Bureau (TTB), which does not require that the ingredients of beer be disclosed to consumers.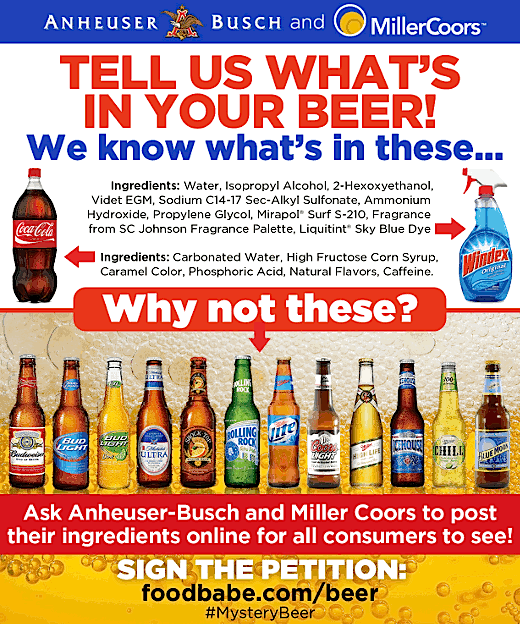 Because of this, beer companies can get away with adding all sorts of flavor enhancers, stabilizers and other chemicals to beer products without beer-drinkers knowing about it. This means that GM corn-derived additives like corn syrup, for instance, are often hiding in beer without proper labeling.
"There is a long list of ingredients allowed in beer—like high fructose corn syrup, artificial flavors, stabilizers that are linked to intestinal inflammation, artificial colors, ingredients found in airplane deicing liquid, genetically modified ingredients, even fish swim bladders," wrote the Food Babe.
In the case of MillerCoors, which just so happens to be the beer company that responded first to the Food Babe, this is openly admitted on the company's website—though in a tricky way. On the same nutrition facts and codes page, MillerCoors admits that water, barley malt, corn, yeast and hops are the "main ingredients" in its beers, which suggests that there are certain non-main ingredients that are being withheld.
The Food Babe has created a petition which seeks to expand transparency in the beer industry for the sake of public health. 
EcoWatch Daily Newsletter
By Fino Menezes
Everyone adores dolphins. Intelligent, inquisitive and playful, these special creatures have captivated humans since the dawn of time. But dolphins didn't get to where they are by accident — they needed to develop some pretty amazing superpowers to cope with their environment.
Protesters face off against security during the Dakota Access Pipeline protests. ROBYN BECK / AFP / Getty Images
In just two weeks, three states have passed laws criminalizing protests against fossil fuel infrastructure.
Donald Trump and Anthony Fauci, director of the National Institute of Allergy and Infectious Diseases, listen to White House coronavirus response coordinator Deborah Birx speak in the Rose Garden for the daily coronavirus briefing at the White House on March 29, 2020 in Washington, DC. Tasos Katopodis / Getty Images
President Donald Trump has bowed to the advice of public health experts and extended social distancing measures designed to slow the spread of the new coronavirus till at least April 30.
Pexels
By Charli Shield
At unsettling times like the coronavirus outbreak, it might feel like things are very much out of your control. Most routines have been thrown into disarray and the future, as far as the experts tell us, is far from certain.
Pie Ranch in San Mateo, California, is a highly diverse farm that has both organic and food justice certification. Katie Greaney
By Elizabeth Henderson
Farmworkers, farmers and their organizations around the country have been singing the same tune for years on the urgent need for immigration reform. That harmony turns to discord as soon as you get down to details on how to get it done, what to include and what compromises you are willing to make. Case in point: the Farm Workforce Modernization Act (H.R. 5038), which passed in the House of Representatives on Dec. 11, 2019, by a vote of 260-165. The Senate received the bill the next day and referred it to the Committee on the Judiciary, where it remains. Two hundred and fifty agriculture and labor groups signed on to the United Farm Workers' (UFW) call for support for H.R. 5038. UFW President Arturo Rodriguez rejoiced: