This website uses cookies to ensure you get the best experience while browsing it. By clicking 'Got It' you're accepting these terms.
Are There GMOs in Your Favorite Beer?
Jun. 25, 2014 10:32AM EST
Food
Americans love their beer. But because of the way beer is currently regulated in the U.S., there is no way to know for sure which ingredients are added to a particular brand unless its manufacturer voluntarily labels them—and most don't.
A recent inquiry into the ingredient contents of several major beer brands has revealed the presence of questionable additives like genetically modified organisms (GMOs) that are nowhere to be found on the labels. More than just simple water, barley malt, hops and yeast, many of America's favorite beers contain hidden flavor enhancers and preservatives that could pose a health threat.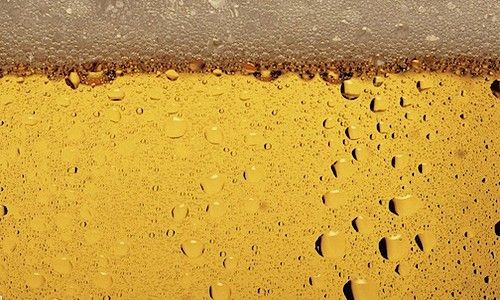 Vani Hari, also known as the Food Babe, recently sent an email to MillerCoors on June 3 asking about the ingredients in popular Miller and Coors products. She was told that the company's beers contain a mixture of the usual beer ingredients alongside corn syrup, a refined corn derivative that typically comes from GM corn.
"Our Beers are essentially a mixture of natural ingredients: water, malted barley, corn syrup, hops and yeast," reads the email response from MillerCoors. The letter goes on to explain what each of the ingredients is for, placing specific emphasis on corn syrup as giving beer "a milder and lighter-bodied flavor."
Fair enough. Except that the MillerCoors website, along with the company's Facebook page, omit corn syrup altogether as an ingredient. The MillerCoors "Beer Nutrition Facts and Codes" website page only lists water, barley malt, corn, yeast, and hops as ingredients, with no mention anywhere of corn syrup.
Why is this important? As you may already know, whole GM corn is currently not allowed to be sold on the consumer market—only corn derivatives like corn syrup are permitted for commercial sale. Whole corn is also entirely different from corn syrup, which is a highly-refined sugar linked to obesity and heart disease.
This mismatch of information between what the MillerCoors website states about the ingredients in its products compared to what a company spokesperson stated in an email to the Food Babe is deeply concerning, as it demonstrates a lack of transparency when it comes to the contents of beer.
Beer Is Regulated by the Department of the Treasury, Not the FDA
Though it is consumed like any other food, beer is surprisingly not regulated by the U.S. Food and Drug Administration (FDA). Instead, it is regulated by a division of the Department of the Treasury known as the Alcohol and Tobacco Tax and Trade Bureau (TTB), which does not require that the ingredients of beer be disclosed to consumers.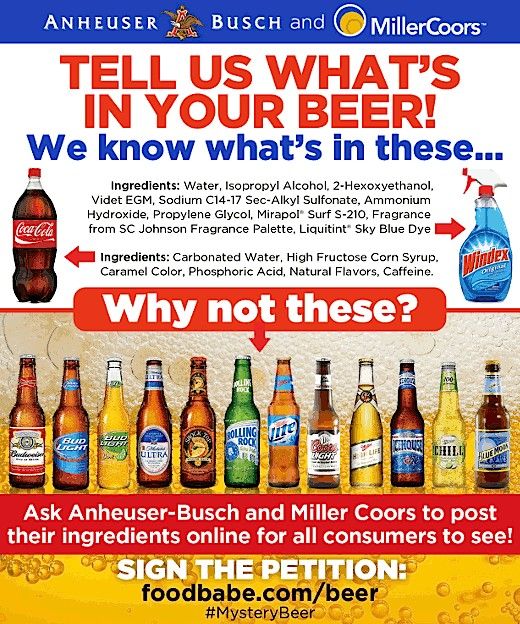 Because of this, beer companies can get away with adding all sorts of flavor enhancers, stabilizers and other chemicals to beer products without beer-drinkers knowing about it. This means that GM corn-derived additives like corn syrup, for instance, are often hiding in beer without proper labeling.
"There is a long list of ingredients allowed in beer—like high fructose corn syrup, artificial flavors, stabilizers that are linked to intestinal inflammation, artificial colors, ingredients found in airplane deicing liquid, genetically modified ingredients, even fish swim bladders," wrote the Food Babe.
In the case of MillerCoors, which just so happens to be the beer company that responded first to the Food Babe, this is openly admitted on the company's website—though in a tricky way. On the same nutrition facts and codes page, MillerCoors admits that water, barley malt, corn, yeast and hops are the "main ingredients" in its beers, which suggests that there are certain non-main ingredients that are being withheld.
The Food Babe has created a petition which seeks to expand transparency in the beer industry for the sake of public health. 
EcoWatch Daily Newsletter
A glacier is seen in the Kenai Mountains on Sept. 6, near Primrose, Alaska. Scientists from the U.S. Geological Survey have been studying the glaciers in the area since 1966 and their studies show that the warming climate has resulted in sustained glacial mass loss as melting outpaced the accumulation of new snow and ice. Joe Raedle / Getty Images
By Mark Mancini
On Aug. 18, Iceland held a funeral for the first glacier lost to climate change. The deceased party was Okjökull, a historic body of ice that covered 14.6 square miles (38 square kilometers) in the Icelandic Highlands at the turn of the 20th century. But its glory days are long gone. In 2014, having dwindled to less than 1/15 its former size, Okjökull lost its status as an official glacier.
Members of Chicago Democratic Socialists of America table at the Logan Square Farmers Market on Aug. 18. Alex Schwartz
By Alex Schwartz
Among the many vendors at the Logan Square Farmers Market on Aug. 18 sat three young people peddling neither organic vegetables, gourmet cheese nor handmade crafts. Instead, they offered liberation from capitalism.
Hackney primary school students went to the Town Hall on May 24 in London after school to protest about the climate emergency. Jenny Matthews / In Pictures / Getty Images
Bird watching in the U.S. may be a lot harder than it once was, since bird populations are dropping off in droves, according to a new study.
Amazon CEO Jeff Bezos announces the co-founding of The Climate Pledge at the National Press Club on Sept. 19 in Washington, DC. Paul Morigi / Getty Images for Amazon
The day before over 1,500 Amazon.com employees planned a walkout to participate in today's global climate strike, CEO Jeff Bezos unveiled a sweeping plan for the retail and media giant to be carbon neutral by 2040, 10 years ahead of the Paris agreement schedule.
For the past seven years, the Anishinaabe people have been facing the largest tar sands pipeline project in North America. We still are. In these dying moments of the fossil fuel industry, Water Protectors stand, prepared for yet another battle for the water, wild rice and future of all. We face Enbridge, the largest pipeline company in North America, and the third largest corporation in Canada. We face it unafraid and eyes wide open, for indeed we see the future.
The climate crisis often intensifies systems of oppression. Rieko Honma / Stone / Getty Images Plus
By Mara Dolan
We see the effects of the climate crisis all around us in hurricanes, droughts, wildfires, and rising sea levels, but our proximity to these things, and how deeply our lives are changed by them, are not the same for everyone. Frontline groups have been leading the fight for environmental and climate justice for centuries and understand the critical connections between the climate crisis and racial justice, economic justice, migrant justice, and gender justice. Our personal experiences with climate change are shaped by our experiences with race, gender, and class, as the climate crisis often intensifies these systems of oppression.