This website uses cookies to ensure you get the best experience while browsing it. By clicking 'Got It' you're accepting these terms.
Are There GMOs in Your Favorite Beer?
Jun. 25, 2014 10:32AM EST
Americans love their beer. But because of the way beer is currently regulated in the U.S., there is no way to know for sure which ingredients are added to a particular brand unless its manufacturer voluntarily labels them—and most don't.
A recent inquiry into the ingredient contents of several major beer brands has revealed the presence of questionable additives like genetically modified organisms (GMOs) that are nowhere to be found on the labels. More than just simple water, barley malt, hops and yeast, many of America's favorite beers contain hidden flavor enhancers and preservatives that could pose a health threat.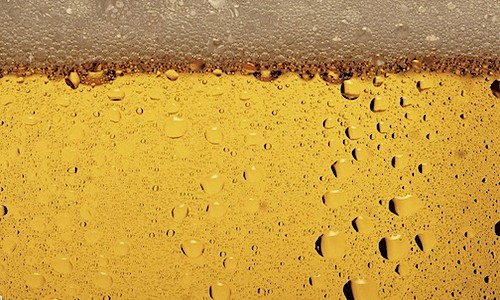 Vani Hari, also known as the Food Babe, recently sent an email to MillerCoors on June 3 asking about the ingredients in popular Miller and Coors products. She was told that the company's beers contain a mixture of the usual beer ingredients alongside corn syrup, a refined corn derivative that typically comes from GM corn.
"Our Beers are essentially a mixture of natural ingredients: water, malted barley, corn syrup, hops and yeast," reads the email response from MillerCoors. The letter goes on to explain what each of the ingredients is for, placing specific emphasis on corn syrup as giving beer "a milder and lighter-bodied flavor."
Fair enough. Except that the MillerCoors website, along with the company's Facebook page, omit corn syrup altogether as an ingredient. The MillerCoors "Beer Nutrition Facts and Codes" website page only lists water, barley malt, corn, yeast, and hops as ingredients, with no mention anywhere of corn syrup.
Why is this important? As you may already know, whole GM corn is currently not allowed to be sold on the consumer market—only corn derivatives like corn syrup are permitted for commercial sale. Whole corn is also entirely different from corn syrup, which is a highly-refined sugar linked to obesity and heart disease.
This mismatch of information between what the MillerCoors website states about the ingredients in its products compared to what a company spokesperson stated in an email to the Food Babe is deeply concerning, as it demonstrates a lack of transparency when it comes to the contents of beer.
Beer Is Regulated by the Department of the Treasury, Not the FDA
Though it is consumed like any other food, beer is surprisingly not regulated by the U.S. Food and Drug Administration (FDA). Instead, it is regulated by a division of the Department of the Treasury known as the Alcohol and Tobacco Tax and Trade Bureau (TTB), which does not require that the ingredients of beer be disclosed to consumers.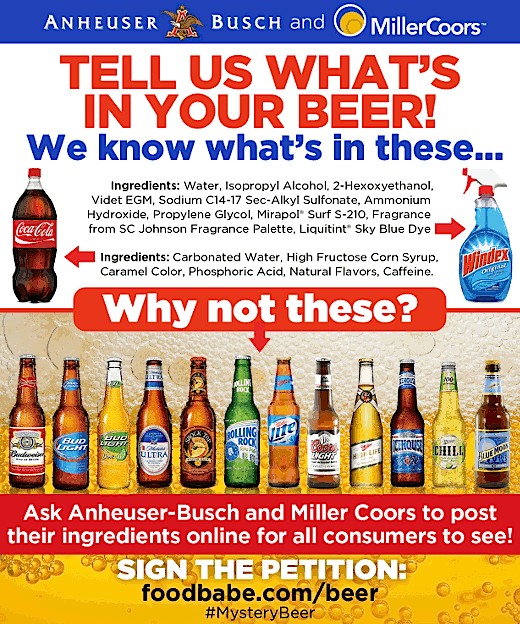 Because of this, beer companies can get away with adding all sorts of flavor enhancers, stabilizers and other chemicals to beer products without beer-drinkers knowing about it. This means that GM corn-derived additives like corn syrup, for instance, are often hiding in beer without proper labeling.
"There is a long list of ingredients allowed in beer—like high fructose corn syrup, artificial flavors, stabilizers that are linked to intestinal inflammation, artificial colors, ingredients found in airplane deicing liquid, genetically modified ingredients, even fish swim bladders," wrote the Food Babe.
In the case of MillerCoors, which just so happens to be the beer company that responded first to the Food Babe, this is openly admitted on the company's website—though in a tricky way. On the same nutrition facts and codes page, MillerCoors admits that water, barley malt, corn, yeast and hops are the "main ingredients" in its beers, which suggests that there are certain non-main ingredients that are being withheld.
The Food Babe has created a petition which seeks to expand transparency in the beer industry for the sake of public health. 
AleksandarNakic / Getty Images
By Kate Murphy
No matter the time of year, there's always a point in each season when my skin decides to cause me issues. While these skin issues can vary, I find the most common issues to be dryness, acne and redness.

David Woodfall / The Image Bank / Getty Images
By Sam Nickerson
The U.S. Environmental Protection Agency (EPA) in April 2018 proposed relaxing standards related to how it assesses the effects of exposure to low levels of toxic chemicals on public health.
Now, correspondence obtained by the LA Times revealed just how deeply involved industry lobbyists and a controversial, industry-funded toxicologist were in drafting the federal agency's proposal to scrap its current, protective approach to regulating toxin exposure.
Steve Irwin poses with a three foot long alligator at the San Francisco Zoo on June 26, 2002. Justin Sullivan / Getty Images
February 22 is the birthday of conservationist and beloved TV personality "Crocodile Hunter" Steve Irwin, who would have been 57 years old today.
Irwin's life was tragically cut short when the barb from a stingray went through his chest while he was filming in 2006, but his legacy of loving and protecting wildlife lives on, most recently in a Google Doodle today honoring his birthday.
Left: Youtube / Screenshot, Right: alle12 / Getty Images
By Dan Nosowitz
That video showed the extrusion of a bubblegum-pink substance oozing into a coiled pile, something between Play-Doh, sausage, and soft-serve strawberry ice cream. Branded "pink slime"—the name came from an email sent by a USDA microbiologist in 2002—this stuff was actually beef, destined for supermarkets and fast-food burgers.
Climate activist Greta Thunberg addresses the European Commission on Feb. 21 in Brussels, Belgium. Sylvain Lefevre / Getty Images
By Julia Conley
Sixteen-year-old climate action leader Greta Thunberg stood alongside European Commission President Jean-Claude Juncker Thursday in Brussels as he indicated—after weeks of climate strikes around the world inspired by the Swedish teenager—that the European Union has heard the demands of young people and pledged more than $1 trillion over the next seven years to address the crisis of a rapidly heating planet.

In the financial period beginning in 2021, Juncker said, the EU will devote a quarter of its budget to solving the crisis.