Are Pipeline Spills Good for the Economy?

Energy giant Kinder Morgan was recently called insensitive for pointing out that "Pipeline spills can have both positive and negative effects on local and regional economies, both in the short- and long-term." The company wants to triple its shipping capacity from the Alberta tar sands to Burnaby, in part by twinning its current pipeline. Its National Energy Board submission states, "Spill response and cleanup creates business and employment opportunities for affected communities, regions and cleanup service providers."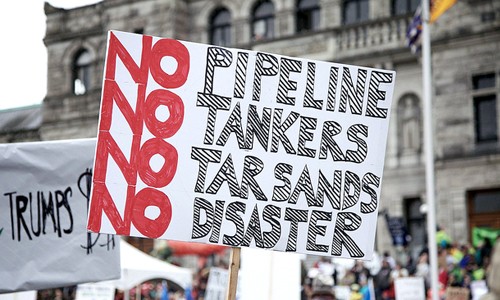 It may seem insensitive, but it's true. And that's the problem. Destroying the environment is bad for the planet and all the life it supports, including us. But it's often good for business. The 2010 BP oil spill in the Gulf of Mexico added billions to the U.S. gross domestic product! Even if a spill never occurred (a big "if", considering the records of Kinder Morgan and other pipeline companies), increasing capacity from 300,000 to 890,000 barrels a day would go hand-in-hand with rapid tar sands expansion and more wasteful, destructive burning of fossil fuels—as would approval of Enbridge Northern Gateway and other pipeline projects, as well as increased oil shipments by rail.
The company will make money, the government will reap some tax and royalty benefits and a relatively small number of jobs will be created. But the massive costs of dealing with a pipeline or tanker spill and the resulting climate change consequences will far outweigh the benefits. Of course, under our current economic paradigm, even the costs of responding to global warming impacts show as positive growth in the GDP—the tool we use to measure what passes for progress in this strange worldview. 
And so it's full speed ahead and damn the consequences. Everything is measured in money. B.C.'s economy seems sluggish? Well, obviously, the solution is to get fracking and sell the gas to Asian markets. Never mind that a recent study, commissioned by the Canadian government, concludes we don't know enough about the practice to say it's safe, the federal government has virtually no regulations surrounding it and provincial rules "are not based on strong science and remain untested." Never mind that the more infrastructure we build for polluting, climate-disrupting fossil fuels, the longer it will take us to move away from them. There's easy money to be had—for someone.
We need to do more than just get off fossil fuels, although that's a priority. We need to conserve, cut back and switch to cleaner energy sources. In Canada, we need a national energy strategy. And guess what? That will create lasting jobs! But we must also find better ways to run our societies than relying on rampant consumption, planned obsolescence, excessive and often-pointless work and an economic system that depends on damaging ways and an absurd measurement to convince us it somehow all amounts to progress.
It's not about going back to the Dark Ages. It's about realizing that a good life doesn't depend on owning more stuff, scoring the latest gadgets or driving bigger, faster cars. Our connections with family, friends, community and nature are vastly more important.
Yes, we need oil and gas, and will for some time. Having built our cities and infrastructure to accommodate cars rather than people, we can't turn around overnight. But we can stop wasting our precious resources. By conserving and switching to cleaner energy, we can ensure we still have oil and gas long into the future, perhaps long enough to learn to appreciate the potential of what's essentially energy from the sun, stored and compressed over millions of years. If we dig it up and sell it so it can be burned around the world, we consign ourselves to a polluted planet ravaged by global warming, with nothing to fall back on when fossil fuels are gone.
Scientists around the world have been warning us for decades about the consequences of our wasteful lifestyles, and evidence for the ever-increasing damage caused by pollution and climate change continues to grow. But we have to do more than just wean ourselves off fossil fuels. We must also look to economic systems, progress measurements and ways of living that don't depend on destroying everything the planet provides to keep us healthy and alive. 
Written with Contributions from David Suzuki Foundation Senior Editor Ian Hanington.
——–
YOU ALSO MIGHT LIKE
Warren Buffett to Close One of Nation's Dirtiest Coal Plants in Favor of Solar Energy
Why Obama 'Absolutely' Wants to Go Off on Climate Deniers
Residents in Colorado Town File Class-Action Lawsuit Against State and Governor to Uphold Fracking Ban
——– 
Laurie Woolever
By James O'Hare
There are 20 million people in the world facing famine in South Sudan, Somalia, Nigeria and Yemen. In developed nations, too, people go hungry. Venezuela, for instance, is enduring food insecurity on a national level as a result of economic crisis and political corruption. In the U.S., the land of supposed excess, 12.7 percent of households were food insecure in 2015, meaning they didn't know where their next meal would come from.
Keep reading...
Show less
Melwater, Greenland ice sheet. Diane Tuft
Artists are taking the climate crisis into frame and the results are emotional, beautiful and stirring.
So you've seen the best climate change cartoons and shared them with your friends. You've showed your family the infographics on climate change and health, infographics on how the grid works and infographics about clean, renewable energy. You've even forwarded these official National Oceanic and Atmospheric Administration graphs that explain the 10 clear indicators of climate change to your colleagues at the office.
Keep reading...
Show less
May. 27, 2017 01:11PM EST
As the Trump administration moves full speed ahead on boosting the oil and fossil fuel industry, opposition to increased pipeline construction is cropping up in different communities around the country.
Keep reading...
Show less
May. 27, 2017 01:02PM EST
Minke whale stranding near Havergate Island in Suffolk. MCGA.
By Simon Evans
Last Saturday, two dead whales washed up on the coast of Suffolk, in eastern England, and a third was spotted floating at sea.
What happened next illustrates how news can spread and evolve into misinformation, when reported by journalists rushing to publish before confirming basic facts or sourcing their own quotes.
Keep reading...
Show less
May. 27, 2017 01:22PM EST
By Monica Amarelo and Paul Pestano
Sun safety is a crucial part of any outdoor activity for kids, and sunscreen can help protect children's skin from harmful ultraviolet rays. Kids often get sunburned when they're outside unprotected for longer than expected. Parents need to plan ahead and keep sun protection handy in their cars or bags.
Keep reading...
Show less
May. 27, 2017 01:02PM EST
By Joe McCarthy
A lot of people take part in community clean-up efforts—spending a Saturday morning picking up litter in a park, mowing an overgrown field or painting a fence.
Keep reading...
Show less
May. 26, 2017 03:22PM EST
Rink Glacier in western Greenland, with a meltwater lake visible center. NASA/OIB
Scientists have had their eyes on Greenland as its iconic glaciers have begun disappearing due to a warming climate. But, what they didn't expect to see was a whole new type of melting.
Keep reading...
Show less
May. 26, 2017 03:40PM EST
A coalition of conservation groups and others announced Thursday that a historic number of comments and petitions of support have been submitted to the U.S. Department of the Interior in support of Bears Ears National Monument. Despite the entirely inadequate 15-day comment period ending on May 26, more than 685,000 comments in support of Bears Ears National Monument have been collected.
Keep reading...
Show less


Get EcoWatch in your inbox