This website uses cookies to ensure you get the best experience while browsing it. By clicking 'Got It' you're accepting these terms.
Are People Living Near Fracking Sites Getting Sick?
Apr. 24, 2013 02:08PM EST
Energy

On April 11,Colorado State Rep. Joann Ginal's (D-Fort Collins) House Bill 1275 was heard, and died, in committee in the Colorado State Legislature. Rep Ginal's bill asked and proposed to answer a very honest and simple question, "Are people living near oil and gas drilling and fracking getting sicker than people who don't?" And, the bill would have provided that information to the public in a short timeframe.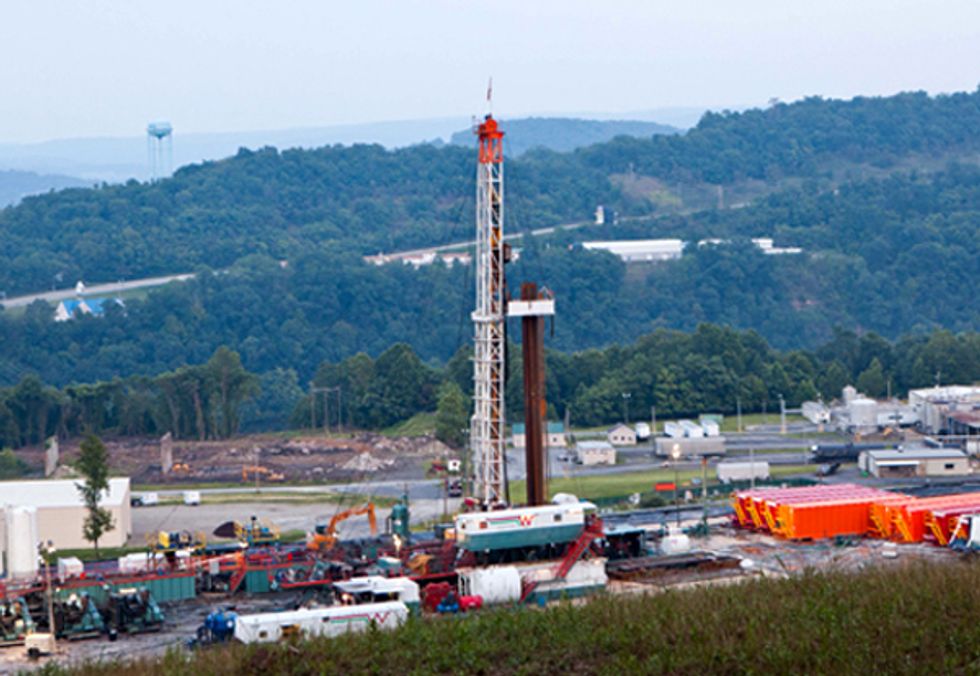 Clean Water Action has a door-to-door campaign in the Denver metro area and across the northern Front Range where fracking is moving into suburban neighborhoods. We hear a lot of stories on people's doorsteps and we hear lots of stories from our colleagues involved in this issue. The stories we hear are similar to those reported in the newspaper and offered as testimony at recent meetings of the Colorado Oil and Gas Commission—people believe they are getting sick because of drilling and fracking near their homes, schools and neighborhoods.
The most common health complaints and concerns from people worrying about oil and gas drilling and fracking are neurological (headaches, dizziness), respiratory (cough, nose bleeds) and gastro-intestinal (stomach aches, diarrhea). In addition, people have concerns about long-term disease rates of exposure to cancer-causing fracking chemicals in the air and water. We also hear stories about people simply moving out of their homes and neighborhoods when fracking moves in.
And so Rep. Ginal's bill, which would have created and paid for a public health report on this topic, would seem to address a simple question in a short timeframe that is on the minds of tens-of-thousands of Colorado families across the Front Range. Nearly two dozen people testified in favor of the bill—some were medical professionals, including the Boulder County Health Dept., others were citizens who had experienced health issues as a result of drilling and fracking, and others were retired professional scientists.
What was striking, however, was who testified against the bill. First, was the oil and gas industry, whose testimony surprised no one. Of course, they have a vested financial interest in making sure the information Rep. Ginal hoped to gather would not be gathered or become public in the short term. After all, if people living near drilling and fracking are getting sicker, what might ensue? More local bans? More zoning regulations? A statewide ban?
Second, and very striking, was testimony from Dr. Chris Urbina, director of the Colorado Department of Public Health and Environment (CDPHE). That's right—the person who is in charge of ensuring that the Colorado public and environment is protected and healthy testified against a bill that would have let the public know if people living near drilling and fracking are getting sicker.
Dr. Urbina was appointed by Governor Hickenlooper, and Dr. Urbina also sits on the Colorado Oil and Gas Conservation Commission, the statewide body that regulates drilling and fracking. Of course, Governor Hickenlooper's extreme biases on this topic are well known—he starred in a radio ad that was accused of providing false information to the public and was paid for by the natural gas industry, he bragged in front of a U.S. Senate subcommittee that he drank Halliburton's new "green" frack fluid, and he's vowed to sue any city (including Fort Collins) that bans fracking. Governor Hickenlooper used to work for the oil and gas industry.
Dr. Urbina testified that, in his opinion, his department was already embarking on a better long-term study than Rep. Ginal's bill would have done, and so therefore the committee should vote against Rep. Ginal's bill—his study would be complete in five years, whereas hers would have been complete in 18 months. HB 1275 died, on a five to six vote, with five Republicans and one Democrat voting against it—the Democrat lives in Weld County (Rep. Dave Young) which has more active oil and gas wells (18,000) than any county in the U.S. and derives a significant portion of its county income from oil and gas money. And, Rep. Young cited Dr. Urbina's testimony as his reason to vote against the bill.
Rep. Ginal's bill would have added significant new information to the public dialogue across the Front Range about the potential health impacts of drilling and fracking, and that information would have come forward in 18 months. Further, although this issue is on the minds of a vast number of Coloradans, HB 1275 was the only bill proposed in the 2013 Colorado legislature that dealt with the health impacts of fracking. Hundreds of new wells are being drilled and fracked every year with many of those butting right up against suburban Colorado. But because of Governor Hickenlooper and his CDPHE appointee, it will now be five years before the state's study is complete, and before you will know whether people living near drilling and fracking are getting sicker than those who don't.
In the meantime, you only have two choices—take your chances and stay in your home as your neighborhood is fracked, or speak with your feet and move. If you don't like those two choices, tough luck, because Governor Hickenlooper and his appointee, Dr. Urbina, killed this bill and your opportunity to make an informed and timely decision about your family's health.
Visit EcoWatch's FRACKING page for more related news on this topic.
——–
Sign the petition today, telling President Obama to enact an immediate fracking moratorium:

EcoWatch Daily Newsletter
Farm waste being prepared for composting. USDA / Lance Cheung

By Tim Lydon
Can the United States make progress on its food-waste problems? Cities like San Francisco — and a growing list of actions by the federal government — show that it's possible.
Pexels
By C. Michael White
More than two-thirds of Americans take dietary supplements. The vast majority of consumers — 84 percent — are confident the products are safe and effective.
The common giant tree frog from Madagascar is one of many species impacted by recent climate change. John J. Wiens /
EurekAlert!
The human-caused climate crisis could cause the extinction of 30 percent of the world's plant and animal species by 2070, even accounting for species' abilities to disperse and shift their niches to tolerate hotter temperatures, according to a study published this week in the journal Proceedings of the National Academy of Sciences.

SolStock / Moment / Getty Images

By Tyler Wells Lynch
For years, Toni Genberg assumed a healthy garden was a healthy habitat. That's how she approached the landscaping around her home in northern Virginia. On trips to the local gardening center, she would privilege aesthetics, buying whatever looked pretty, "which was typically ornamental or invasive plants," she said. Then, in 2014, Genberg attended a talk by Doug Tallamy, a professor of entomology at the University of Delaware. "I learned I was actually starving our wildlife," she said.