Are Mushrooms the Future of Zero Waste Packaging?
A concept we're hearing more and more about is "zero waste." Many businesses, organizations and events are putting in place reuse and recycling measures that are causing the amount of trash they're sending to landfills to plummet. It also means rethinking the products we use in the first place so we can use less of things with no recycle potential. That's why bans on single-use plastic bags  are being enacted around the globe and efforts are being made to discourage consumption of products like bottled water that come in one-use plastic containers.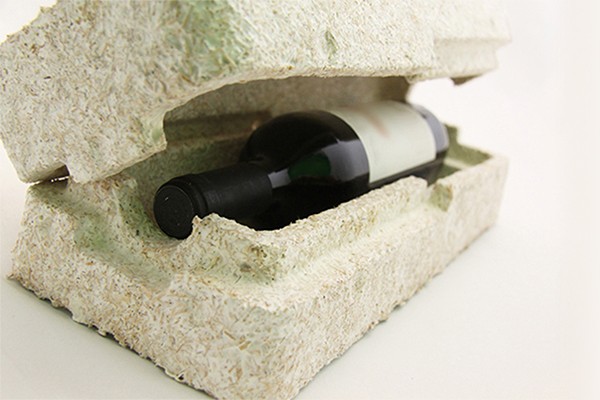 Some innovative companies are coming up with other products to replace those that might have had a long lifespan in a landfill. One such product is Mushroom Packaging, conceived and created by Ecovative Design, a company formed by a pair of students at New York's Renssalaer Polytechnic Institute in 2007. The company is making compostable bioplastics using mushroom mycelium and agricultural "waste" to create an alternative to traditional foam packaging such as fast food containers and packing peanuts. And Mushroom Materials are climate friendly. Unlike plastics, they involve no petroleum-based chemicals sourced from fossil fuels whose extraction fuels climate change
"Welcome to the Mushroom Age," the company says. "Let's look back on the Stone Age, the Metal Age and the Plastic Age. Materials have defined the world and how we live for millennia. Welcome to the Mushroom Age ... giving back to Mother Nature, for a change. Ecovative is a material science company developing a new class of home-compostable bioplastics based on mycelium, a living organism. Mushroom Materials are high-performance, environmentally responsible alternatives to traditional plastic foam packaging, insulation, and other synthetic materials."
OK, "Mushroom Age" may be overstating it but the company's idea is intriguing and it's proving workable. Mushroom Materials provides molded protective packaging to ship a range of products from wines to furniture delicate electronics. They perform just like those non-biodegradable plastic foam pieces, only they're home compostable. So instead of throwing them in the wastebasket, you can toss them in your composting bin with your vegetable scraps.
Home decor chain Crate & Barrel began its efforts to reduce waste and recycle in 2001 when it stopped using petroleum-based packing peanuts to ship customer orders. When it went looking for fully compostable packaging to protect its steel bookcases, it turned to Ecovative and Mushroom Materials.
"Since beginning their use of Mushroom Packaging corner blocks, Crate & Barrel has reported no damages," says Ecovative. "Customers can reuse the standard corner blocks or compost them at home."
Mushroom Materials also creates plastic-replacement materials for longer term use. They developed a material that can replace plastics in automobile interiors to protect passengers. And the company has developed a home insulation product from agricultural wastes that would avoid the negative environmental impacts of petrochemical-based insulation materials.
"In nature, there is no waste," says Ecovative's Sam Harrington. "Everything is food for something else. Tree 'waste' (aka leaves) feed bugs and mushrooms, which feed animals, and animal 'waste' fertilizes the trees (and also feeds bugs and mushrooms). But today, we humans are increasingly reliant on materials like plastic that don't fit into natural systems. The beauty of Mushroom Packaging is that it will break down naturally at low temperatures at home. It's made of materials that grow on farms and in forests, and there's nothing artificial about it. From the Earth, to the Earth … and that makes us feel good."
YOU MIGHT ALSO LIKE
Watch Bill Gates Drink Water From Human Waste
Can Shoes Generate Renewable Energy with Every Step We Take?
Wind Turbine Trees Generate Renewable Energy for Urban Settings
Stomach contents of an albatross chick photographed in the Pacific in 2009. Chris Jordan / U.S. Fish & Wildlife Service HQ
By Tim Radford
Scientists have calculated yet another item on the human shopping list that makes up the modern world: plastics. They have estimated the mass of all the plastic bottles, bags, cups, toys, instruments and fabrics ever produced and tracked its whereabouts, as yet another index of the phenomenal change to the face of the planet made by recent human advance.
Altogether, since about 1950, with the birth of a new industry, more than 8.3 billion tonnes (or 9.1 tons) of synthetic organic polymers have been generated, distributed and discarded. Of that total, 6.3 billion tonnes are classified as waste.
Keep reading...
Show less
By Jessica Corbett
As Senate Democrats stay silent on an energy bill that environmental groups call "a pro-fracking giveaway to oil and gas interests that would commit America to decades more of dangerous fossil fuel dependence," Sen. Bernie Sanders (I-Vt.) is receiving applause for speaking out against it.
"As a nation, our job is to move away from fossil fuels toward sustainable energy and energy efficiency. This bill does the opposite," Sanders said in a statement.
Keep reading...
Show less
ExxonMobil filed suit against the federal government last week, claiming that a $2 million fine levied against the company by the Treasury Department is "unlawful" and "capricious."
The Treasury Department fined Exxon Thursday morning, alleging that the oil giant displayed "reckless disregard" of U.S.-Russian sanctions in its dealings with Russian company Rosneft in 2014 under CEO Rex Tillerson.
Keep reading...
Show less
By Andy Rowell
For years, environmentalists have warned that due to climate change, there will be billions of barrels of oil that we will never be able to burn. These reserves will become what has increasingly been called "stranded assets."
To give you one example: In a new report, Friends of the Earth argued that "The coal, oil and gas in reserves already in production and development globally is more than we can afford to burn. There is no room for any new coal, oil or gas exploration and production.
Keep reading...
Show less
Craftsman tiny house by Zyl Vardos. Abel Zyl / Shuttertstock
Late last year, the tiny house community celebrated a watershed moment—an official appendix in the 2018 version of the International Residential Code, the model building code used by most jurisdictions in the U.S.
"There are many things that are monumental in the adoption of tiny house construction codes by the IRC," cheered Thom Stanton, the CEO of small space developer, Timber Trails. "Among them, that architects, designers, builders, community developers and (maybe most importantly) zoning officials have a means of recognizing tiny houses as an official form of permissible dwelling."
Keep reading...
Show less
www.youtube.com
The colossal mass of throwaway plastic—from straws to bags to bottles—has grown much faster than recycling and disposal efforts can contain it. You might even say this is obvious, no matter where you look.
As a result, places that were once considered pristine—such as Antarctica and the ocean floors of Australia—have become inundated with plastic waste.
Check out this video from National Geographic to watch underwater photographer Huai Su film a diver collecting an endless amount of plastic bottles that litter the seafloor off Xiaoliuqiu Island, Taiwan.
A reef off the coast of Cancún will become the first in the world with its own insurance policy, testing a new strategy meant to encourage local investment in the wellbeing of the reef.
Under the policy, created by insurance company Swiss Re and the Nature Conservancy, local hotels and other organizations dependent on tourism will pay into the policy, receiving reimbursements to repair the reef and local beaches after natural disasters.
Keep reading...
Show less
www.youtube.com
The Northeast Organic Farming Association of New York (NOFA-NY) denounced the USDA's permit for the world's first open-air trials of the Genetically Engineered (GE) Diamondback moth to be released in Geneva, New York.

This announcement came concurrently with the availability of a final environmental assessment and finding of no significant impact for the field release of the GE Diamondback moths. NOFA-NY considers the Environmental Assessment lacking comprehensive health and environmental details.
Keep reading...
Show less