This website uses cookies to ensure you get the best experience while browsing it. By clicking 'Got It' you're accepting these terms.
Are Mushrooms the Future of Zero Waste Packaging?
Jan. 10, 2015 11:47AM EST
Business
A concept we're hearing more and more about is "zero waste." Many businesses, organizations and events are putting in place reuse and recycling measures that are causing the amount of trash they're sending to landfills to plummet. It also means rethinking the products we use in the first place so we can use less of things with no recycle potential. That's why bans on single-use plastic bags  are being enacted around the globe and efforts are being made to discourage consumption of products like bottled water that come in one-use plastic containers.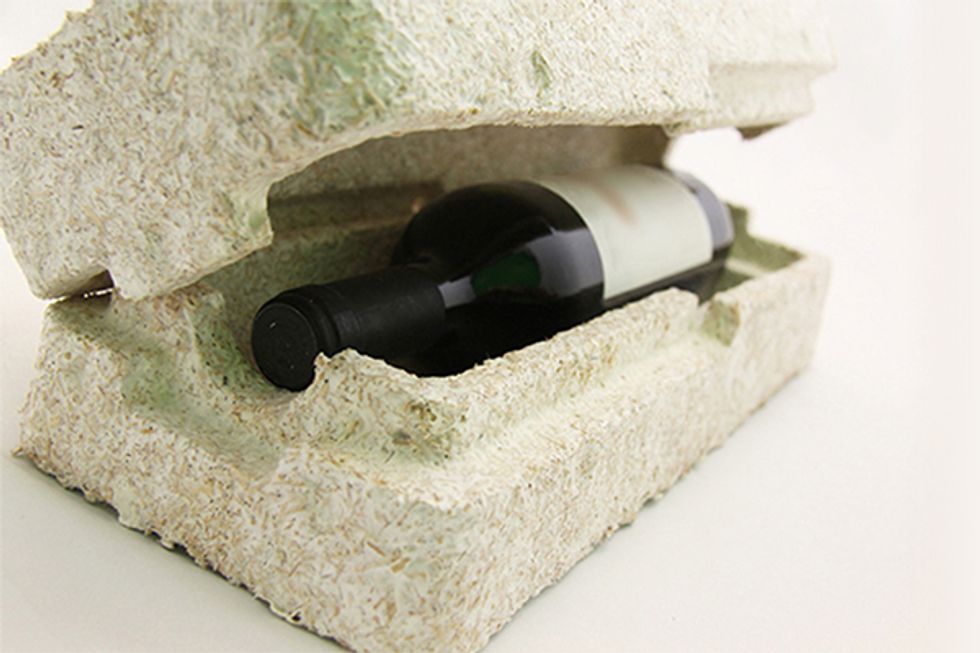 Some innovative companies are coming up with other products to replace those that might have had a long lifespan in a landfill. One such product is Mushroom Packaging, conceived and created by Ecovative Design, a company formed by a pair of students at New York's Renssalaer Polytechnic Institute in 2007. The company is making compostable bioplastics using mushroom mycelium and agricultural "waste" to create an alternative to traditional foam packaging such as fast food containers and packing peanuts. And Mushroom Materials are climate friendly. Unlike plastics, they involve no petroleum-based chemicals sourced from fossil fuels whose extraction fuels climate change
"Welcome to the Mushroom Age," the company says. "Let's look back on the Stone Age, the Metal Age and the Plastic Age. Materials have defined the world and how we live for millennia. Welcome to the Mushroom Age ... giving back to Mother Nature, for a change. Ecovative is a material science company developing a new class of home-compostable bioplastics based on mycelium, a living organism. Mushroom Materials are high-performance, environmentally responsible alternatives to traditional plastic foam packaging, insulation, and other synthetic materials."
OK, "Mushroom Age" may be overstating it but the company's idea is intriguing and it's proving workable. Mushroom Materials provides molded protective packaging to ship a range of products from wines to furniture delicate electronics. They perform just like those non-biodegradable plastic foam pieces, only they're home compostable. So instead of throwing them in the wastebasket, you can toss them in your composting bin with your vegetable scraps.
Home decor chain Crate & Barrel began its efforts to reduce waste and recycle in 2001 when it stopped using petroleum-based packing peanuts to ship customer orders. When it went looking for fully compostable packaging to protect its steel bookcases, it turned to Ecovative and Mushroom Materials.
"Since beginning their use of Mushroom Packaging corner blocks, Crate & Barrel has reported no damages," says Ecovative. "Customers can reuse the standard corner blocks or compost them at home."
Mushroom Materials also creates plastic-replacement materials for longer term use. They developed a material that can replace plastics in automobile interiors to protect passengers. And the company has developed a home insulation product from agricultural wastes that would avoid the negative environmental impacts of petrochemical-based insulation materials.
"In nature, there is no waste," says Ecovative's Sam Harrington. "Everything is food for something else. Tree 'waste' (aka leaves) feed bugs and mushrooms, which feed animals, and animal 'waste' fertilizes the trees (and also feeds bugs and mushrooms). But today, we humans are increasingly reliant on materials like plastic that don't fit into natural systems. The beauty of Mushroom Packaging is that it will break down naturally at low temperatures at home. It's made of materials that grow on farms and in forests, and there's nothing artificial about it. From the Earth, to the Earth … and that makes us feel good."
YOU MIGHT ALSO LIKE
Watch Bill Gates Drink Water From Human Waste
Can Shoes Generate Renewable Energy with Every Step We Take?
Wind Turbine Trees Generate Renewable Energy for Urban Settings
EcoWatch Daily Newsletter
Aerial shot top view Garbage trucks unload garbage to a recycle in the vicinity of the city of Bangkok, Thailand. bugto / Moment / Getty Images
German researchers have identified a strain of bacterium that not only breaks down toxic plastic, but also uses it as food to fuel the process, according to The Guardian.
The Environmental Protection Agency (EPA) issued a policy memo yesterday that is an expansive relaxation of legally mandated regulations on polluting industries, saying that industries may have trouble adhering to the regulations while they are short-staffed during the coronavirus global pandemic, according to the AP.
Hurricane Dorian was one of the 2019 Atlantic hurricane season's most devastating storms. NASA
2019 marked the fourth year in a row that the Atlantic hurricane season saw above-average activity, and it doesn't look like 2020 will provide any relief.
The deep, open ocean may seem like an inhospitable environment, but many species like human-sized Humboldt squids are well-adapted to the harsh conditions. 1,500 feet below the ocean's surface, these voracious predators could be having complex conversations by glowing and changing patterns on their skin that researchers are just beginning to decipher.
A worker distributes disinfection wipes at a farmers market at Richard Tucker Park in New York City on March 21, 2020. Lev Radin / Pacific Press / LightRocket via Getty Images
Not many restaurants will be able to survive coronavirus, and this is a personal, social and national tragedy.
I'm worried about farmers markets too.