This website uses cookies to ensure you get the best experience while browsing it. By clicking 'Got It' you're accepting these terms.
Are Microplastics in Your Salmon Filet?
Aug. 17, 2015 11:30AM EST
Want some microplastic with your salmon dinner?
Probably not. But since the plastic is so tiny, you might not even know it's there. That could be a problem, since microplastics contain concentrated pollutants.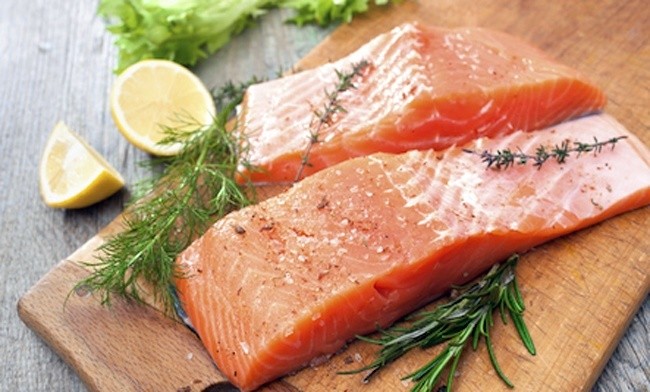 Salmon are not the only wildlife eating plastic. Researchers have found plastic in whales, mussels and oysters.
How does this happen?
It starts with the billions of tiny plastic particles that are getting into every ocean on the planet, even those far from where people live, like the Arctic. Plastic is not biodegradable, but it does break down into little pieces—pieces that fish often mistake for food.
A lot of plastic garbage inevitably ends up in the oceans; the accumulation of billions of tons of plastic trash in what are known as gyres has been well documented. Plastic bottles, bottle caps, jugs, toys and even furniture pieces get washed into the oceans. But these aren't the only source of oceanic plastic trash. Facewash, toothpaste and other consumer products may contain plastic microbeads. The beads provide scrubbing power, but when they get washed down the drain, they're too tiny to be filtered out by water treatment plants. They end up in rivers, lakes, streams and yes, the ocean, where they will float for years and years, maybe until sea creatures eat them.
Unfortunately, you as a consumer would have no idea if the salmon you buy in the store has consumed plastic. But chances are, it has, either by mistaking it for food and eating it directly, or by feeding on zooplankton that have eaten the plastic.
While there's not yet much research on how much plastic we're ingesting from our food, a study co-authored by Dr. Peter Ross, an ocean pollution researcher at the Vancouver Aquarium's Marine Science Center, reports that salmon young and old may be consuming enough microplastic to kill them.
"These particles could pose a serious risk of physical harm to the marine animals that consume them, potentially blocking their gut or leaching chemicals into their bodies," Ross told the Burnaby News Leader.
Those chemicals come from other pollutants in the water. Microplastic is actually very absorbent and picks up the chemicals it is floating in. So it's not just the plastic a fish is eating, but all of the contaminants in that plastic as well. That goes for us, too, if we eat a fish that's eaten plastic particles.
"Micropolastics—microscopic particles of plastic debris—are of increasing concern because of their widespread presence in the oceans and the potential physical and toxicological risks they pose to organisms," reported researchers at the Sea Education Association at Woods Hole, Massachusetts.
Salmon are not the only wildlife eating plastic. Researchers have found plastic in whales, mussels and oysters. Since 2012, scientists from the Marine & Environmental Research Institute in Blue Hill, Maine have been monitoring plastics and microplastics in waters around the state. They found an average of 27 plastic fragments in every liter of seawater from Blue Hill Bay, reported the Bangor Daily News. "Oysters had the largest number of microplastic fragments, averaging 177 pieces per oyster."
What Can You Do?
Stop using products that contain plastic microbeads
Read the label before you buy. Skip products that include "microbeads," polyethylene, or polypropylene in their ingredients list. Replace scrubbing body washes with a sponge or wash cloth. They're reusable and will save you money, as well as be better for you and the planet.
Use reusable bags and containers, not throwaways
Think about all the plastic grocery bags, take-out food containers and other plastic packaging you use. How much can you reduce your own plastic consumption by using reusables? Get some great ideas from Beth Terry at My Plastic Free Life.
Promote plastic take-back programs for plastics that are currently not recyclable
Manufacturers of plastic products should be responsible for taking them back to prevent them from getting loose in the environment. Computer manufacturers reclaim their electronics. Why can't plastic manufacturers do the same?
Encourage governments to ban the sale of products that contain microbeads
Several states are in the process of considering bans, but more need to take up the cause.
YOU MIGHT ALSO LIKE
Farmed Salmon Rejected Over Huge Spike in Antibiotic Use Due to Bacterial Outbreak
Tips for Avoiding BPA in Canned Food
Prince William and British naturalist David Attenborough attend converse during the World Economic Forum annual meeting, on January 22 in Davos, Switzerland. Fabrice Cofferini /AFP / Getty Images
Britain's Prince William interviewed famed broadcaster David Attenborough on Tuesday at the World Economic Forum's annual meeting in Switzerland.
During the sit-down, the 92-year-old naturalist advised the world leaders and business elite gathered in Davos this week that we must respect and protect the natural world, adding that the future of its survival—as well as humanity's survival—is in our hands.
Electric vehicle sales took off in 2018, with a record two million units sold around the world, according to a new Deloitte analysis.
What's more, the accounting firm predicts that another 21 million electric cars will be on the road globally over the next decade due to growing market demand for clean transportation, government subsidies, as well as bans on fossil fuel cars.
Teenager Alex Weber and friends collected nearly 40,000 golf balls hit into the ocean from a handful of California golf courses.
Alex Weber /
CC BY-ND
Southwest Greenland had the most consistent ice loss from 2003 to 2012. Eqalugaarsuit, Ostgronland, Greenland on Aug. 1, 2018.
Rob Oo / CC BY 2.0
Greenland is melting about four times faster than it was in 2003, a new study published Monday in the Proceedings of the National Academy of Sciences found, a discovery with frightening implications for the pace and extent of future sea level rise.
"We're going to see faster and faster sea level rise for the foreseeable future," study lead author and Ohio State University geodynamics professor Dr. Michael Bevis said in a press release. "Once you hit that tipping point, the only question is: How severe does it get?"
Finally, some good news about the otherwise terrible partial government shutdown. A federal judge ruled that the Trump administration cannot issue permits to conduct seismic testing during the government impasse.
The Justice Department sought to delay—or stay—a motion filed by a range of coastal cities, businesses and conservation organizations that are suing the Trump administration over offshore oil drilling, Reuters reported. The department argued that it did not have the resources it needed to work on the case due to the shutdown.
Most people have heard of the Amazon, South America's famed rainforest and hub of biological diversity. Less well known, though no less critical, is the Pantanal, the world's largest tropical wetland.
Like the Amazon, the Pantanal is ecologically important and imperiled. Located primarily in Brazil, it also stretches into neighboring Bolivia and Paraguay. Covering an area larger than England at more than 70,000 square miles, the massive wetland provides irreplaceable ecosystem services that include the regulation of floodwaters, nutrient renewal, river flow for navigability, groundwater recharge and carbon sequestration. The wetland also supports the economies of the four South American states it covers.
Demonstrators participate in a protest march over agricultural policy on Jan. 19 in Berlin, Germany. Carsten Koall / Getty Images Europe
By Andrea Germanos
Organizers said 35,000 people marched through the streets of the German capital on Saturday to say they're "fed up" with industrial agriculture and call for a transformation to a system that instead supports the welfare of the environment, animals and rural farmers.

The fire that erupted after a pipeline explosion in Mexico Friday. FRANCISCO VILLEDA / AFP / Getty Images
By Patrick Rogers
If you have ever considered making the switch to an environmentally friendly electric vehicle, don't drag your feet. Though EV prices are falling, and states are unveiling more and more public charging stations and plug-in-ready parking spots, the federal government is doing everything it can to slam the brakes on our progress away from gas-burning internal combustion engines. President Trump, likely pressured by his allies in the fossil fuel industry, has threatened to end the federal tax credits that have already helped put hundreds of thousands of EVs on the road—a move bound to harm not only our environment but our economy, too. After all, the manufacturing and sale of EVs, hybrids, and plug-in hybrids supported 197,000 jobs in 2017, according to the most recent U.S. Energy and Employment Report.