This website uses cookies to ensure you get the best experience while browsing it. By clicking 'Got It' you're accepting these terms.
Are Microplastics in Your Salmon Filet?
Aug. 17, 2015 12:30PM EST
Food
Want some microplastic with your salmon dinner?
Probably not. But since the plastic is so tiny, you might not even know it's there. That could be a problem, since microplastics contain concentrated pollutants.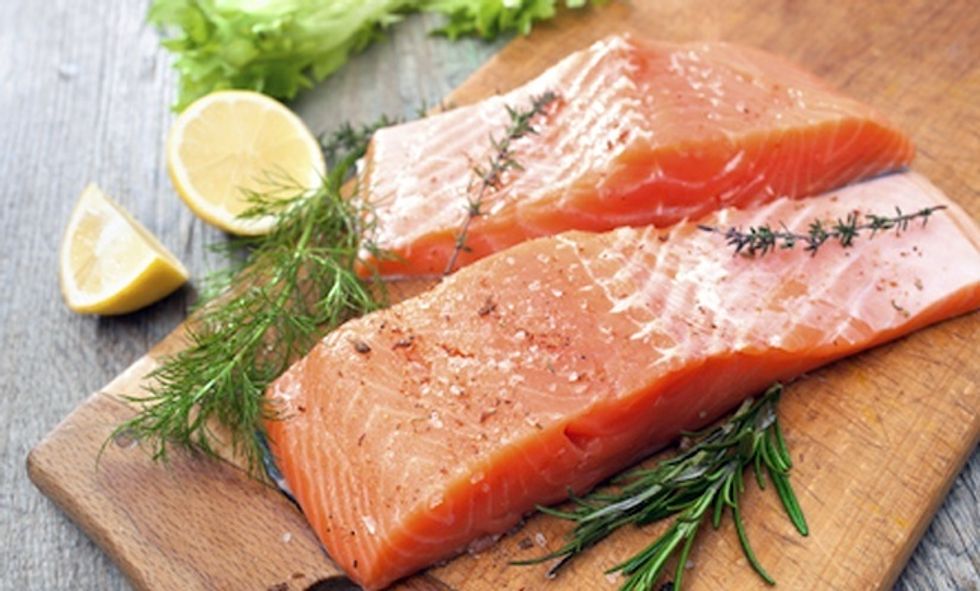 Salmon are not the only wildlife eating plastic. Researchers have found plastic in whales, mussels and oysters.
How does this happen?
It starts with the billions of tiny plastic particles that are getting into every ocean on the planet, even those far from where people live, like the Arctic. Plastic is not biodegradable, but it does break down into little pieces—pieces that fish often mistake for food.
A lot of plastic garbage inevitably ends up in the oceans; the accumulation of billions of tons of plastic trash in what are known as gyres has been well documented. Plastic bottles, bottle caps, jugs, toys and even furniture pieces get washed into the oceans. But these aren't the only source of oceanic plastic trash. Facewash, toothpaste and other consumer products may contain plastic microbeads. The beads provide scrubbing power, but when they get washed down the drain, they're too tiny to be filtered out by water treatment plants. They end up in rivers, lakes, streams and yes, the ocean, where they will float for years and years, maybe until sea creatures eat them.
Unfortunately, you as a consumer would have no idea if the salmon you buy in the store has consumed plastic. But chances are, it has, either by mistaking it for food and eating it directly, or by feeding on zooplankton that have eaten the plastic.
While there's not yet much research on how much plastic we're ingesting from our food, a study co-authored by Dr. Peter Ross, an ocean pollution researcher at the Vancouver Aquarium's Marine Science Center, reports that salmon young and old may be consuming enough microplastic to kill them.
"These particles could pose a serious risk of physical harm to the marine animals that consume them, potentially blocking their gut or leaching chemicals into their bodies," Ross told the Burnaby News Leader.
Those chemicals come from other pollutants in the water. Microplastic is actually very absorbent and picks up the chemicals it is floating in. So it's not just the plastic a fish is eating, but all of the contaminants in that plastic as well. That goes for us, too, if we eat a fish that's eaten plastic particles.
"Micropolastics—microscopic particles of plastic debris—are of increasing concern because of their widespread presence in the oceans and the potential physical and toxicological risks they pose to organisms," reported researchers at the Sea Education Association at Woods Hole, Massachusetts.
Salmon are not the only wildlife eating plastic. Researchers have found plastic in whales, mussels and oysters. Since 2012, scientists from the Marine & Environmental Research Institute in Blue Hill, Maine have been monitoring plastics and microplastics in waters around the state. They found an average of 27 plastic fragments in every liter of seawater from Blue Hill Bay, reported the Bangor Daily News. "Oysters had the largest number of microplastic fragments, averaging 177 pieces per oyster."
What Can You Do?
Stop using products that contain plastic microbeads
Read the label before you buy. Skip products that include "microbeads," polyethylene, or polypropylene in their ingredients list. Replace scrubbing body washes with a sponge or wash cloth. They're reusable and will save you money, as well as be better for you and the planet.
Use reusable bags and containers, not throwaways
Think about all the plastic grocery bags, take-out food containers and other plastic packaging you use. How much can you reduce your own plastic consumption by using reusables? Get some great ideas from Beth Terry at My Plastic Free Life.
Promote plastic take-back programs for plastics that are currently not recyclable
Manufacturers of plastic products should be responsible for taking them back to prevent them from getting loose in the environment. Computer manufacturers reclaim their electronics. Why can't plastic manufacturers do the same?
Encourage governments to ban the sale of products that contain microbeads
Several states are in the process of considering bans, but more need to take up the cause.
YOU MIGHT ALSO LIKE
Farmed Salmon Rejected Over Huge Spike in Antibiotic Use Due to Bacterial Outbreak
Tips for Avoiding BPA in Canned Food
EcoWatch Daily Newsletter
polaristest / Flickr / CC BY-NC-ND 2.0
By Melissa Kravitz Hoeffner
Over six gallons of water are required to produce one gallon of wine. "Irrigation, sprays, and frost protection all [used in winemaking] require a lot of water," explained winemaker and sommelier Keith Wallace, who's also a professor and the founder of the Wine School of Philadelphia, the largest independent wine school in the U.S. And water waste is just the start of the climate-ruining inefficiencies commonplace in the wine industry. Sustainably speaking, climate change could be problematic for your favorite glass of wine.
Pixabay
Spinach is a true nutritional powerhouse, as it's rich in vitamins, minerals, and antioxidants.
Pexels
By Jeff Turrentine
From day to day, our public health infrastructure — the people and systems we've put in place to keep populations, as opposed to individuals, healthy — largely goes unnoticed. That's because when it's working well, its success takes the form of utter normalcy.
By Eoin Higgins
A viral video showing cell phone data collected by location accuracy company X-Mode from spring break partiers potentially spreading the coronavirus around the U.S. has brought up questions of digital privacy even as it shows convincingly the importance of staying home to defeat the disease.
Aerial shot top view Garbage trucks unload garbage to a recycle in the vicinity of the city of Bangkok, Thailand. bugto / Moment / Getty Images
German researchers have identified a strain of bacterium that not only breaks down toxic plastic, but also uses it as food to fuel the process, according to The Guardian.