This website uses cookies to ensure you get the best experience while browsing it. By clicking 'Got It' you're accepting these terms.
Are Microplastics in Your Salmon Filet?
Aug. 17, 2015 11:30AM EST
Want some microplastic with your salmon dinner?
Probably not. But since the plastic is so tiny, you might not even know it's there. That could be a problem, since microplastics contain concentrated pollutants.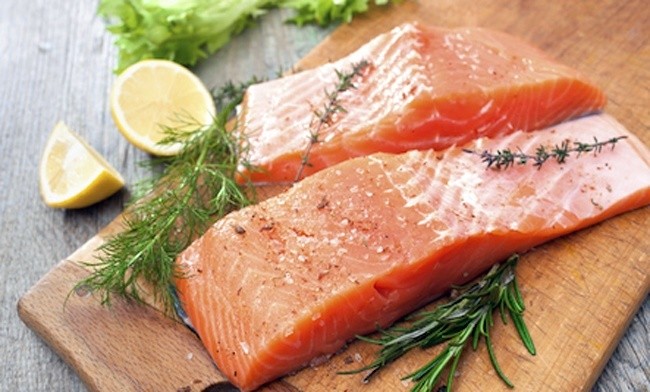 Salmon are not the only wildlife eating plastic. Researchers have found plastic in whales, mussels and oysters.
How does this happen?
It starts with the billions of tiny plastic particles that are getting into every ocean on the planet, even those far from where people live, like the Arctic. Plastic is not biodegradable, but it does break down into little pieces—pieces that fish often mistake for food.
A lot of plastic garbage inevitably ends up in the oceans; the accumulation of billions of tons of plastic trash in what are known as gyres has been well documented. Plastic bottles, bottle caps, jugs, toys and even furniture pieces get washed into the oceans. But these aren't the only source of oceanic plastic trash. Facewash, toothpaste and other consumer products may contain plastic microbeads. The beads provide scrubbing power, but when they get washed down the drain, they're too tiny to be filtered out by water treatment plants. They end up in rivers, lakes, streams and yes, the ocean, where they will float for years and years, maybe until sea creatures eat them.
Unfortunately, you as a consumer would have no idea if the salmon you buy in the store has consumed plastic. But chances are, it has, either by mistaking it for food and eating it directly, or by feeding on zooplankton that have eaten the plastic.
While there's not yet much research on how much plastic we're ingesting from our food, a study co-authored by Dr. Peter Ross, an ocean pollution researcher at the Vancouver Aquarium's Marine Science Center, reports that salmon young and old may be consuming enough microplastic to kill them.
"These particles could pose a serious risk of physical harm to the marine animals that consume them, potentially blocking their gut or leaching chemicals into their bodies," Ross told the Burnaby News Leader.
Those chemicals come from other pollutants in the water. Microplastic is actually very absorbent and picks up the chemicals it is floating in. So it's not just the plastic a fish is eating, but all of the contaminants in that plastic as well. That goes for us, too, if we eat a fish that's eaten plastic particles.
"Micropolastics—microscopic particles of plastic debris—are of increasing concern because of their widespread presence in the oceans and the potential physical and toxicological risks they pose to organisms," reported researchers at the Sea Education Association at Woods Hole, Massachusetts.
Salmon are not the only wildlife eating plastic. Researchers have found plastic in whales, mussels and oysters. Since 2012, scientists from the Marine & Environmental Research Institute in Blue Hill, Maine have been monitoring plastics and microplastics in waters around the state. They found an average of 27 plastic fragments in every liter of seawater from Blue Hill Bay, reported the Bangor Daily News. "Oysters had the largest number of microplastic fragments, averaging 177 pieces per oyster."
What Can You Do?
Stop using products that contain plastic microbeads
Read the label before you buy. Skip products that include "microbeads," polyethylene, or polypropylene in their ingredients list. Replace scrubbing body washes with a sponge or wash cloth. They're reusable and will save you money, as well as be better for you and the planet.
Use reusable bags and containers, not throwaways
Think about all the plastic grocery bags, take-out food containers and other plastic packaging you use. How much can you reduce your own plastic consumption by using reusables? Get some great ideas from Beth Terry at My Plastic Free Life.
Promote plastic take-back programs for plastics that are currently not recyclable
Manufacturers of plastic products should be responsible for taking them back to prevent them from getting loose in the environment. Computer manufacturers reclaim their electronics. Why can't plastic manufacturers do the same?
Encourage governments to ban the sale of products that contain microbeads
Several states are in the process of considering bans, but more need to take up the cause.
YOU MIGHT ALSO LIKE
Farmed Salmon Rejected Over Huge Spike in Antibiotic Use Due to Bacterial Outbreak
Tips for Avoiding BPA in Canned Food
EcoWatch Daily Newsletter
Offutt Air Force Base after flooding on March 17. U.S. Air Force / TSgt. Rachelle Blake
A regenerating stand of rainforest in northern Costa Rica. Matthew Fagan / CC BY-ND
By Matthew Fagan, Leighton Reid and Margaret Buck Holland
Tropical forests globally are being lost at a rate of 61,000 square miles a year. And despite conservation efforts, the global rate of loss is accelerating. In 2016 it reached a 15-year high, with 114,000 square miles cleared.
At the same time, many countries are pledging to restore large swaths of forests. The Bonn Challenge, a global initiative launched in 2011, calls for national commitments to restore 580,000 square miles of the world's deforested and degraded land by 2020. In 2014 the New York Declaration on Forests increased this goal to 1.35 million square miles, an area about twice the size of Alaska, by 2030.
Compassion Over Killing
By Cheryl Leahy
Do you think almond milk comes from a cow named Almond? Or that almonds lactate? The dairy industry thinks you do, and that's what it's telling the Food and Drug Administration (FDA).
For years, the dairy industry has been flexing its lobbying muscle, pressuring states and the federal government to restrict plant-based companies from using terms like "milk" on their labels, citing consumer confusion.
By Jeremy Deaton
A driver planning to make the trek from Denver to Salt Lake City can look forward to an eight-hour trip across some of the most beautiful parts of the country, long stretches with nary a town in sight. The fastest route would take her along I-80 through southern Wyoming. For 300 miles between Laramie and Evanston, she would see, according to a rough estimate, no fewer than 40 gas stations where she could fuel up her car. But if she were driving an electric vehicle, she would see just four charging stations where she could recharge her battery.
d3sign / Moment / Getty Images
Common sense should not be taken for granted when people are discussing nutrition.
A fire erupted Sunday at a petrochemical plant in Deer Park, Texas.
NowThis News / YouTube screenshot
By Andrea Germanos
A petrochemical plant near Houston continued to burn for a second day on Monday, raising questions about the quality and safety of the air.

The Deer Park facility is owned by Intercontinental Terminals Company (ITC), which said the fire broke out at roughly 10:30 a.m. Sunday. Seven tanks are involved, the company said, and they contain naptha, xylene, "gas blend stocks" and "base oil."
"It's going to have to burn out at the tank," Ray Russell, communications officer for Channel Industries Mutual Aid, which is aiding the response effort, said at a news conference. It could take "probably two days" for that to happen, he added.
The hillsides dyed orange with poppies may look like something out of a dream, but for the Southern California town of Lake Elsinore, that dream quickly turned into a nightmare.
The town of 66,000 people was inundated with around 50,000 tourists coming to snap pictures of the golden poppies growing in Walker Canyon as part of a superbloom of wildfires caused by an unusually wet winter, BBC News reported. The visitors trampled flowers and caused hours of traffic, The Guardian reported.
The Humane Society of the United States uncovered a one-year pesticide test on 36 beagles contracted by Dow AgroSciences at a Michigan lab.
The Humane Society of the United States / YouTube screenshot
A controversial pesticide test that would have resulted in the deaths of 36 beagles has been stopped, the Humane Society of the United States (HSUS) and the company behind the test announced Monday. The announcement comes less than a week after HSUS made the test public when it released the results of an investigation into animal testing at Charles River Laboratories in Michigan.
"We have immediately ended the study that was the subject of attention last week and will make every effort to rehome the animals that were part of the study," Corteva Agriscience, the agriculture division of DowDupont, said in a statement announcing its decision.