This website uses cookies to ensure you get the best experience while browsing it. By clicking 'Got It' you're accepting these terms.
Are Lavender and Tea Tree Essential Oils Hormone Disruptors?
Jan. 05, 2016 12:54PM EST
Health + Wellness
When three little boys began growing breasts, their mothers were understandably concerned. Breast growth, known as gynecomastia, is not uncommon in boys during puberty, but it is extremely uncommon prior to puberty.
Since estrogen causes breast growth and the boys' hormone levels were normal, their doctor, Clifford Bloch, looked for potential endocrine disruptors that caused the problem. He concluded that lavender and tea tree essential oils were the culprits.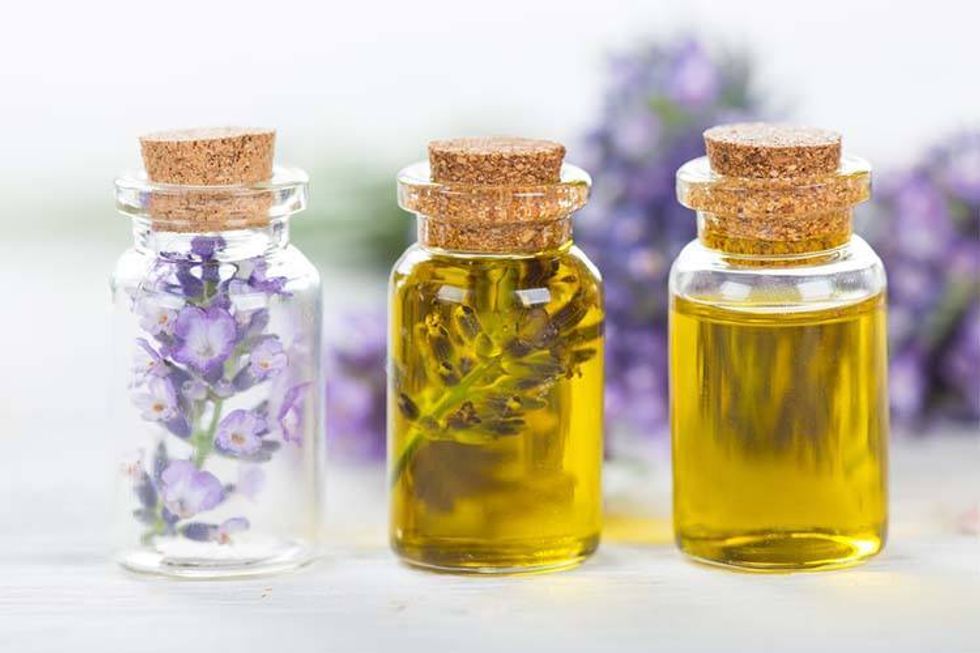 Photo credit: Shutterstock
Bloch and researchers at the National of Environmental Health Sciences published the findings of their 2007 study in the New England Journal of Medicine. The National Institutes of Health then published an alert that lavender and tea tree oils may cause breast growth in boys.
Since then, the fragrance and aromatherapy industries have hit back, with a 2013 blog post and a 2013 study finding that lavender oil is not an endocrine disruptor as alleged. That year, three other industry-linked scientists published a letter to the editor in the journal Reproductive Toxicology refuting 2007 finding that essential oils "affect puberty."
If you use essential oils, especially the two common ones named in the controversy, you might wonder if it is safe to use lavender and tea tree essential oils. To reach a conclusion, one must examine the evidence presented in 2007. Three boys, ages 4, 7 and 10, came to Bloch with breast growth. The younger two were prepubescent, but the oldest of the three was in the earliest stage of puberty and his growing breasts were as large as those of a girl entering puberty.
All three children used lavender products regularly: a "healing balm" for the 4-year-old, lavender and tea tree shampoo and styling gel for the 10-year-old and lavender lotion and soap for the 7-year-old. The 7-year-old's fraternal twin brother also used the lavender lotion, but not the soap.
The physician recommended the boys stop using the products, and the breast growth resolved in a matter of months. Bloch worked with a research team to test the common ingredient in the suspected products: lavender essential oil. They also tested tea tree oil.
To perform the test, they exposed cells responsive to estrogen to each of the essential oils diluted in a solvent, as well as the solvent alone and estrogen itself. They compared the cells' response to the essential oils to their response to estrogen (as a positive control) and the solvent alone (as a negative control). They performed the test at different concentrations, ranging from 0.005 percent to 0.025 percent by volume for each essential oil. Above these concentrations, the essential oils were toxic to the cells.
The essential oils had a statistically significant effect on the cells, although not as great an effect as estrogen itself. Their study confirms that "lavender oil and tea tree oil possess weak estrogenic and anti-androgenic activities that may contribute to an imbalance in estrogen and androgen pathway signaling."
Additionally, the scientists referred to previous studies finding estrogenic activity in essential oils, such as a 2002 study that found estrogenic activity in some common essential oil constituents (chemicals frequently found in essential oils).
It took six years, but those who make their living from essential oils hit back. In a post on the National Association for Holistic Aromatherapy website, Robert Tisserand, a shareholder of First Natural Brands, provided a rebuttal. His claims in part rest on low levels of exposure the boys in the initial study must have had. He notes that products like soap and shampoo are washed off before the essential oils could have been absorbed through the skin and questions how much essential oils were in the products or if they were in them at all. Yet this does not explain the estrogenic activity of the essential oils when they were tested in the lab.
The study published that year by the Research Institute for Fragrance Materials tested the essential oils themselves. Researchers exposed baby female rats to lavender essential oils at high doses—6,000 and 30,000 times the estimated maximum levels a human would be exposed to through bath and beauty products. As positive and negative controls, researchers used estrogen and corn oil.
At the end of the study, the researchers found that the group of rats given estrogen gained more weight than the control group and those given lavender essential oil. When given the lavender essential oil, in fact, weight gain decreased in the rats. Additionally, they measured the weight of the rats' uteruses and found that those given estrogen were heavier than the others.
The study concludes that lavender essential oil at these high doses has no estrogenic activity. However, they add that the decrease in weight gain when the rat pups were given the essential oil is likely indicates "systemic toxicity."
Recall that in the 2007 study, high concentrations of lavender essential oil were toxic to the cells tested. What would a study find if it used lower doses of lavender essential oils—doses more similar to what a human using lavender bath products is actually exposed to?
Furthermore, the two studies used lavender essential oils from different manufacturers. This leads to the next avenue of doubt in the validity of the finding that lavender and tea tree essential oils are endocrine disruptors. Were the essential oils contaminated in any way?
Studies of other essential oils have found contamination with pesticides and endocrine-disrupting phthalates. Phthalates are a group of chemicals used to make plastics pliable and they can have some estrogenic activity.
A study of essential oils from a wildcrafted plant in Iran mentions phthalate contamination in the plants themselves due to pollution in the water and soil. However, another study of citrus essential oils from Italy found that the phthalate contamination came from plastic used in processing.
Tisserand, along with an Australian researcher and the CEO of the Australian Tea Tree Industry Association, brought up the possibility of contamination in their co-authored 2013 letter to the editor. They criticize the initial 2007 study for using non-organic essential oils, which may have been contaminated and for not analyzing their chemical compositions. They also point out that studies of estrogenic activity of essential oils could find false positive results because they use plastic containers in the lab. The plastic containers could leach estrogenic nonylphenols and phthalates into the essential oils.
In sum, there is no definitive answer as to whether or not lavender and tea tree oils are endocrine disruptors. Given that the initial study was published nine years ago, it appears researchers are in no hurry to find definitive answers and the only rebuttals that have come forward are from those with a clear and obvious conflict of interest.
Wading into the scientific literature on essential oils leaves one with two clear takeaways. First, given the potential for contamination, buying organic essential oils is never a bad idea. Second, there are far more studies showing the beneficial health effects of essential oils than the potential negative ones.
YOU MIGHT ALSO LIKE 
Teflon's Toxic Legacy: DuPont Knew for Decades It Was Contaminating Water Supplies
10 Coolest Eco Products of 2015
4 Non-Toxic Ways to Protect Your Skin During Cold Winter Months
EcoWatch Daily Newsletter
By Jennifer Molidor, PhD
Climate change, habitat loss and pollution are overwhelming our planet. Thankfully, these enormous threats are being met by a bold new wave of environmental activism.
President Donald Trump mocked water-efficiency standards in new constructions last week. Trump said, "People are flushing toilets 10 times, 15 times, as opposed to once. They end up using more water. So, EPA is looking at that very strongly, at my suggestion." Trump asked the Environmental Protection Agency (EPA) for a federal review of those standards since, he claimed with no evidence, that they are making bathrooms unusable and wasting water, as NBC News reported.
(L) Rushing waters of Victoria Falls at Mosi-oa-Tunya National Park, Zimbabwe pictured in January 2018. Edwin Remsberg / VW PICS / UIG / Getty Images (R) Stark contrast of Victory Falls is seen on Nov. 13, 2019 after drought has caused a decline. ZINYANGE AUNTONY / AFP / Getty Images
Monsanto's former chairman and CEO Hugh Grant speaks about "The Coming Agricultural Revolution" on May 17, 2016.
Fortune Brainstorm E / Flickr
By Carey Gillam
Former Monsanto Chairman and CEO Hugh Grant will have to testify in person at a St. Louis-area trial set for January in litigation brought by a cancer-stricken woman who claims her disease was caused by exposure to the company's Roundup herbicide and that Monsanto covered up the risks instead of warning consumers.
A volcano erupts on New Zealand's Whakaari/White Island on Dec. 9, 2019.
Michael Schade / Twitter
A powerful volcano on Monday rocked an uninhabited island frequented by tourists about 30 miles off New Zealand's coast. Authorities have confirmed that five people died. They expect that number to rise as some are missing and police officials issued a statement that flights around the islands revealed "no signs of life had been seen at any point,", as The Guardian reported.