This website uses cookies to ensure you get the best experience while browsing it. By clicking 'Got It' you're accepting these terms.
This week in Heimdal, North Dakota another "bomb train" derailed and exploded. These dangerous trains carrying crude-oil fracked in the Bakken Shale are rolling through the backyards of America, across rivers and streams and into major cities like Pittsburgh, Pennsylvania and Albany, New York.
Our Video of the Week from documentary filmmaker Jon Bowermaster exposes the daily threat that many Americans are now living with as the oil and gas industry continues its desperate and dangerous expansion of extreme fossil fuel development in America.
You can see if dangerous bomb trains are rolling through your town here.
Lee's from Pittsburgh, so we looked them up first. Pittsburgh was the first city in the world to ban fracking and many of the most passionate fractivists on Earth come from Western Pennsylvania.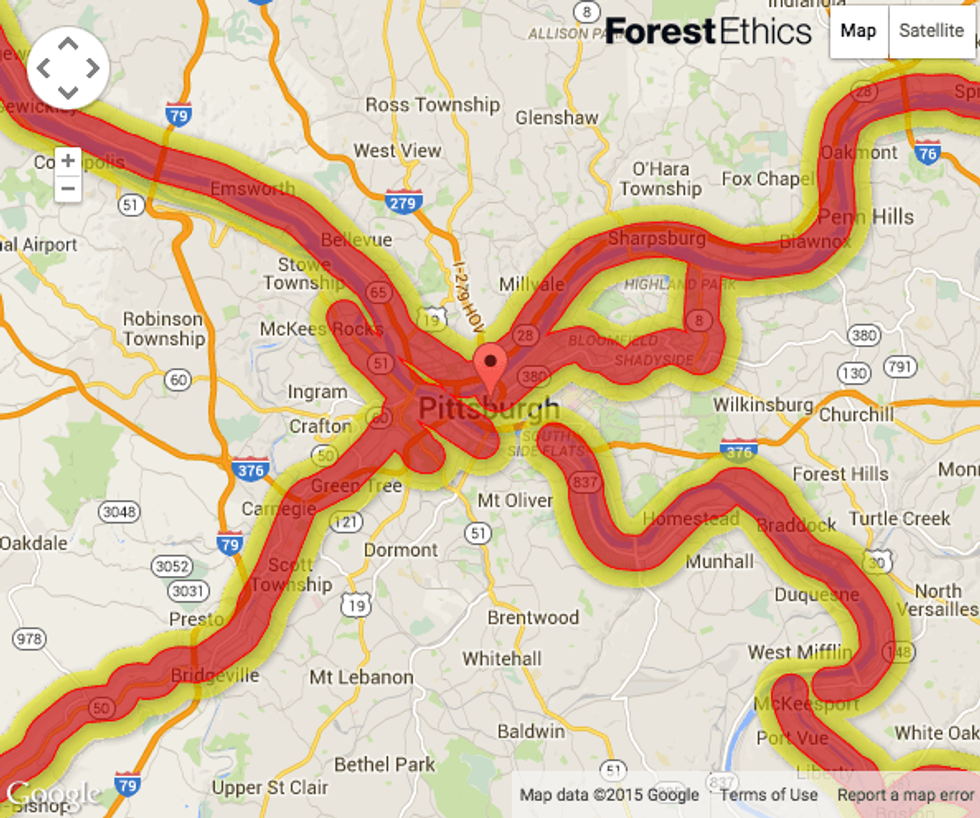 The red is 0.5 Mile U.S. Department of Transportation Evacuation Zone for Oil Train Derailments and the yellow is 1.0 Mile U.S. Department of Transportation Potential Impact Zone in Case of Oil Train Fire.
It's a terrifying map to look at.
We've been looking at a lot of maps recently. Maps of bomb train routes. Maps of proposed pipelines and other infrastructure projects like LNG ports and gas-fired power plants. Maps of fracking wells and areas where fracking earthquakes are popping up like crazy.
Looking at all these maps, We see each community that has been put on the fossil fuel chopping block and think about the people we know who are now forced to live their lives in these danger zones. Looking at map after map, we can also see the bigger picture of fossil fuel domination as it expands across our country, a dangerous web of pipelines and train tracks that connect fracking well pads to the rest of the world, threatening us all.
Seeing the bigger picture is a powerful thing. That's why were starting a new series on our blog: Map of the Week. Our first post has a bunch of startling maps that show how these bomb trains may be running right through your town.
YOU MIGHT ALSO LIKE
Yet Another Oil Bomb Train Explosion Proves New Regulations Fail to Protect Us
Coloradans Give Gov. Hickenlooper and State Legislature an 'F' for Failing to Address Fracking
Texas Passes Ban on Fracking Bans (Yes, You Read that Right)
EcoWatch Daily Newsletter
The Opera House is seen with smoke haze which enveloped Sydney Harbor on Dec. 10 in Sydney, Australia. Smoke haze hangs over the city as the New South Wales fire danger risk is raised from 'very high' to 'severe'. James D. Morgan / Getty Images
The brushfires raging through New South Wales have shrouded Australia's largest city in a blanket of smoke that pushed the air quality index 12 times worse than the hazardous threshold, according to the Australia Broadcast Corporation (ABC).
People walk across the bridge near Little Raven Court in downtown Denver. Younger Americans increasingly prefer to live in walkable neighborhoods. Helen H. Richardson / The Denver Post via Getty Images
By David B. Goldstein
Energy efficiency is the cornerstone of any country's plan to fight the climate crisis. It is the cheapest option available, and one that as often as not comes along with other benefits, such as job creation, comfort and compatibility with other key solutions such as renewable energy. This has been recognized by the International Energy Agency (IEA) for at least a decade.
Activists from Extinction Rebellion New York City engaged in nonviolent direct action to confront climate change outside City Hall on April 17, 2019. Erik McGregor / Pacific Press / LightRocket via Getty Images
By Andrea Germanos

Over 500 groups on Monday rolled out an an action plan for the next president's first days of office to address the climate emergency and set the nation on a transformative path towards zero emissions and a just transition in their first days in office.

The Ladakh region of India, pictured above, is a part of the Himalayan mountain region of the upper Indus Valley which is the most vulnerable water tower, according to researchers. Suttipong Sutiratanachai / Moment / Getty Images
Jet stream triggered heat waves could threaten food production in several important breadbaskets, including central North America.
Carl Wycoff /
CC BY 2.0
Researchers have pinpointed a previously underexamined threat to global food production, and they warn it will only get worse as the climate crisis intensifies.