This website uses cookies to ensure you get the best experience while browsing it. By clicking 'Got It' you're accepting these terms.
Basil seeds have been used traditionally in Ayurvedic and Chinese medicine and now they're starting to get noticed in the West. Although research is still emerging to support the various health claims surrounding basil seeds, they definitely look like a healthy seed worth adding to your diet.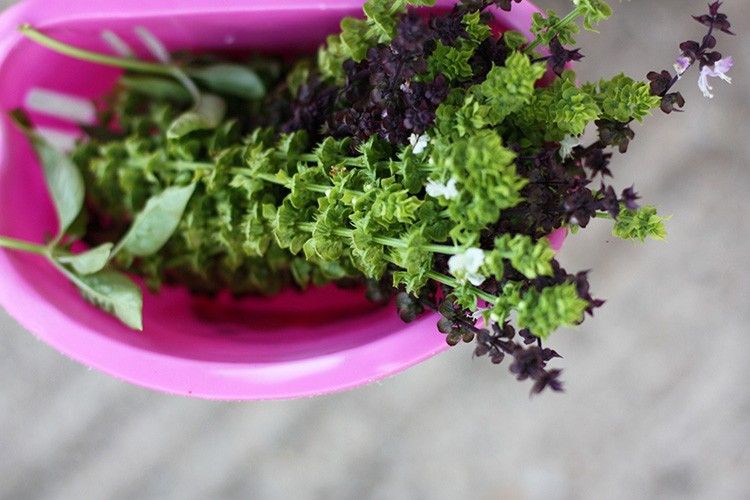 Which Basil Seeds?
The basil seeds that are used for eating are the seeds from the sweet basil plant, Ocimum basilicum. They are also called Thai basil seeds, falooda, sabja, subza, selasih or tukmaria.
This is different from the holy basil plant, Ocimum tenuiflorum, which is also called tulsi. The leaves and oil of holy basil are used in Ayurvedic medicine for many purposes, but typically not the seeds.
Sweet basil seeds are a similar size as chia seeds. The difference is basil seeds are completely black and tear-shaped, whereas chia seeds are typically mottled shades of grey with brown and have a more rounded shape.
Like chia, basil seeds become gelatinous when soaked in water. They are used in drinks in many Asian countries for thickening as well as for health.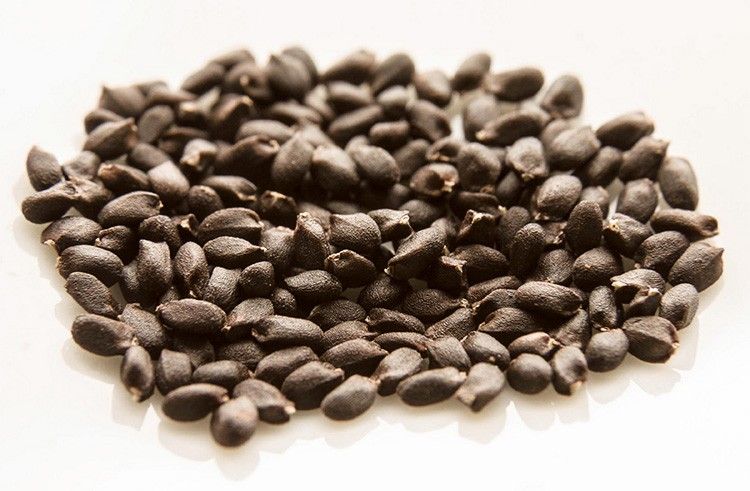 Potential Health Benefits of Basil Seeds
Basil seeds are reported to have antioxidant, anticancer, antiviral, antibacterial, antispasmodic and antifungal properties.
Very little scientific research has been done on basil seeds to date. This may be because there is not a large market for the seeds yet. But some preliminary research looks promising.
Blood Sugar Regulation: According to the Sutter Gould Medical Foundation, basil seeds may help control blood sugar in people with type 2 diabetes.
Digestion Help: When soaked, the fiber in the outer coat of basil seeds becomes mucus-like A few studies suggest that this fiber has a laxative effect. Basil seeds are also used to relieve stomach cramps, flatulence, constipation and indigestion.
Appetite Control: It's suggested that the fiber in the soaked seeds has the effect of making you feel more full. This could help reduce your appetite and assist with weight loss.
Respiratory Aid: Traditionally, basil seeds are used to treat colds, flu, coughs and asthma.
Stress Relief: Consumption of basil seeds is said to have an uplifting effect on your mood and can help with mental fatigue, depression and migraine headaches.
Skin Treatments: Basil seeds can be crushed into oil as a skin treatment for wounds, cuts or skin infections.
Lowering Cholesterol Levels: A study in Thailand described how sweet basil seeds could be used to reduce cholesterol levels in patients.
Genitourinary Infections: Due to their reported antibacterial effects, basil seeds supposedly help with issues such as bladder infections and vaginal infections.
Nutritional Breakdown
A detailed nutritional study of basil seeds is currently not available. But like other seeds, basil seeds contain all the concentrated nutrients and building blocks needed to grow a new plant.
No toxicity or any harmful effects have ever been found for basil seeds. They're recognized as safe to eat.
Their basic nutritional make-up compared to chia seeds is:
| | | |
| --- | --- | --- |
| | Basil Seeds | Chia Seeds |
| Carbohydrates | 42 percent | 30 percent |
| Fats | 25 percent | 34 percent |
| Protein | 20 percent | 24 percent |
How to Prepare and Use Basil Seeds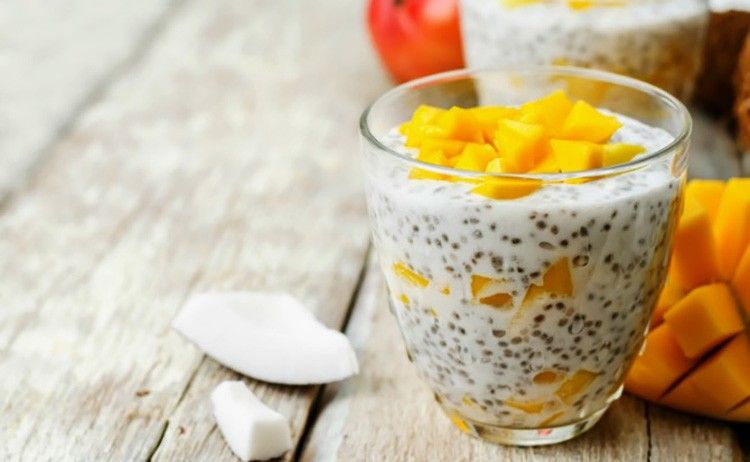 If you have any favorite recipes that use chia seeds, you can easily replace the chia with basil seeds. They have very similar thickening properties. For instance, chia puddings are a popular dish that can be easily made with basil seeds instead.
Basil seeds actually soak up water faster than chia. Basil will soften within about 5 minutes, whereas chia can take up to an hour to soften. Both seeds will create a thick, gelatinous mixture.
You can use the soaked basil seeds right away if you're in a hurry, but it's recommended to soak basil seeds for at least a couple hours before using them. This will ensure their digestive enzymes are fully released.
You can use the soaked seeds with their jelly-like coat or rinse and strain the seeds if you want to get rid of the coating.
These are a few different ways you can start eating basil seeds:
Add them to drinks, such as fruit juices, coconut milk or teas.
Blend them into smoothies.
Sprinkle on top of salads.
Mix into vegan cheeses or cream sauces.
Use them in desserts where you would use tapioca or other thickeners.
Combine with yogurt and fruit.
Avoid giving drinks or desserts with whole, soaked basil seeds to children or anyone with swallowing difficulties. They could possibly choke on the swollen seeds, especially if they're clumped together.
Basil seeds may be carried in your local natural or Asian foods stores. If you can't find them locally, they are available online. Desserts and frozen, canned or fresh drinks with basil seeds may also be available in some parts of the United States and other countries.
Another option is to collect the seeds from your own sweet basil plants if you grow them. Just let the plants flower and develop seeds. Once they mature, you can easily put the flowers in a paper bag, close and shake it, then remove the flower debris at the top of the bag. The heavier seeds should fall off and collect at the bottom of the bag.
YOU MIGHT ALSO LIKE
5 Ways Fruit and Veggies Can Replace Medications
12 Fruits and Veggies You Should Always Buy Organic
9 Health Benefits to Adding Avocado Oil to Your Diet
EcoWatch Daily Newsletter
Damage at the Malheur National Wildlife Refuge from the 2016 occupation. USFWS
By Tara Lohan
When armed militants with a grudge against the federal government seized the Malheur National Wildlife Refuge in rural Oregon back in the winter of 2016, I remember avoiding the news coverage. Part of me wanted to know what was happening, but each report I read — as the occupation stretched from days to weeks and the destruction grew — made me so angry it was hard to keep reading.
Computer model projection of temperature anomalies across Europe on June 27. Temperature scale in °C. Tropicaltidbits.com
A searing heat wave has begun to spread across Europe, with Germany, France and Belgium experiencing extreme temperatures that are set to continue in the coming days.
Simple swaps that cut down on kitchen trash.
Sponsored
By Kayla Robbins
Along with the bathroom, the kitchen is one of the most daunting areas to try and make zero waste.
Skull morphology of hybrid "narluga" whale. Nature / Mikkel Høegh Post
In the 1980s, a Greenlandic subsistence hunter shot and killed a whale with bizarre features unlike any he had ever seen before. He knew something was unique about it, so he left its abnormally large skull on top of his toolshed where it rested until a visiting professor happened upon it a few years later.
A house under construction with plastic bottles filled with sand to build shelters that better withstand the climate of the country where temperatures reach up to 50° C Awserd in the Saharawi refugee camp Dakhla on Dec. 31, 2018 in Tindouf, Algeria. Stefano Montesi / Corbis / Getty Images
A UN expert painted a bleak picture Tuesday of how the climate crisis could impact global inequality and human rights, leading to a "climate apartheid" in which the rich pay to flee the consequences while the rest are left behind.

The Oregon Senate Chamber. Cacophony / CC BY 3.0
Artist's conception of solar islands in the open ocean. PNAS
Millions of solar panels clustered together to form an island could convert carbon dioxide in seawater into methanol, which can fuel airplanes and trucks, according to new research from Norway and Switzerland and published in the Proceedings of the National Academy of Sciences journal, PNAS, as NBC News reported. The floating islands could drastically reduce greenhouse gas emissions and dependence on fossil fuels.
Marcos Alves / Moment Open / Getty Images
More than 40 percent of insects could go extinct globally in the next few decades. So why did the U.S. Environmental Protection Agency (EPA) last week OK the 'emergency' use of the bee-killing pesticide sulfoxaflor on 13.9 million acres?
EcoWatch teamed up with Center for Biological Diversity via EcoWatch Live on Facebook to find out why. Environmental Health Director and Senior Attorney Lori Ann Burd explained how there is a loophole in the The Federal Insecticide, Fungicide, and Rodenticide Act under section 18, "that allows for entities and states to request emergency exemptions to spraying pesticides where they otherwise wouldn't be allowed to spray."