This website uses cookies to ensure you get the best experience while browsing it. By clicking 'Got It' you're accepting these terms.
Are America's Nutrition Professionals in the Pocket of Big Food?
Jan. 24, 2013 09:31AM EST
GMO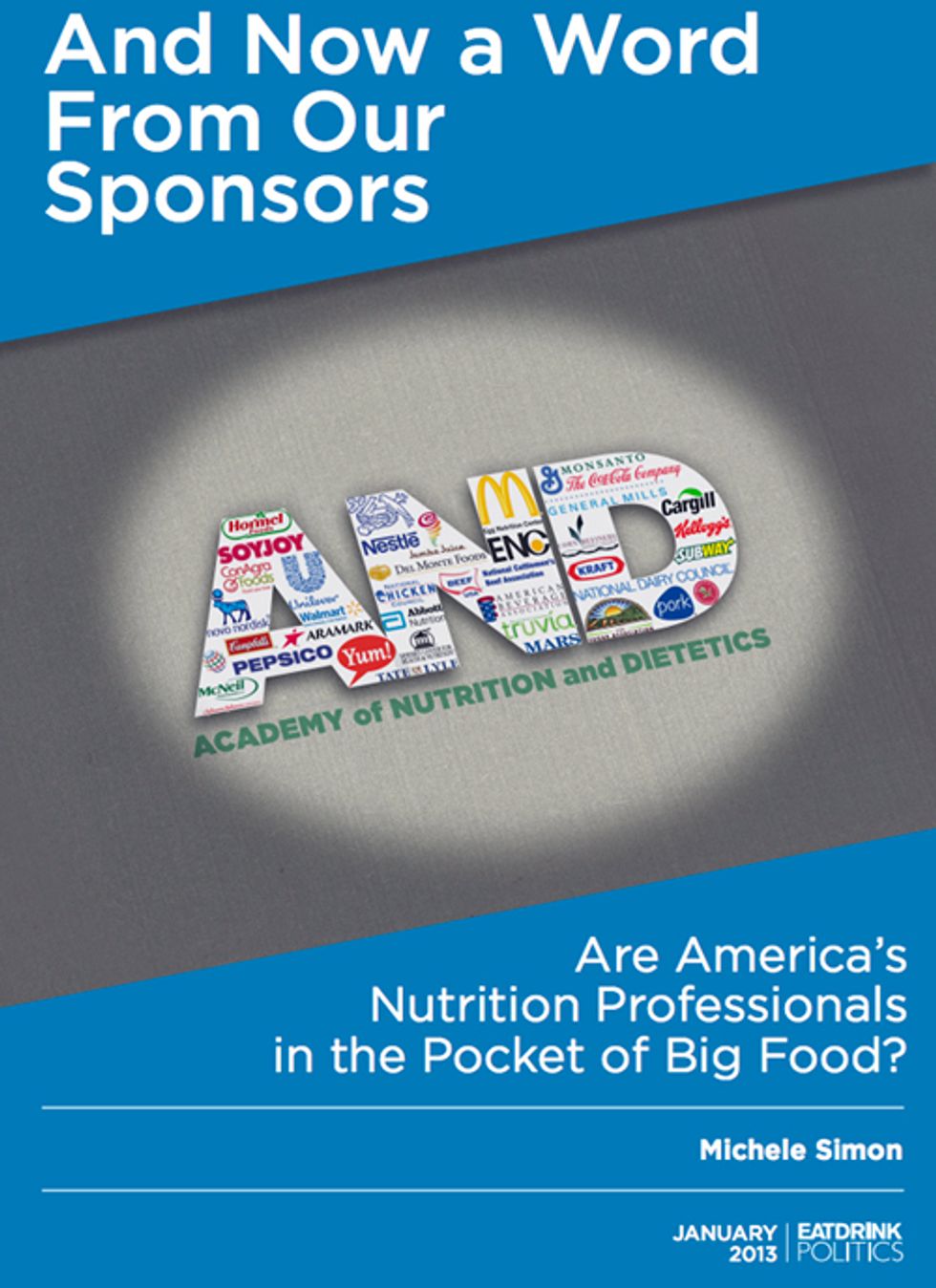 Ever have that creeping feeling that those in charge of watching over our food supply or making recomendations about what constitutes a healthy diet have lost their way? Sadly, the Academy of Nutrition and Dietetics' looks like it has fallen sway to big money corporate contributions and sponsorships from Big Food like junk food giants Coke, Pepsi and Nestlé.
Public health attorney and author Michele Simon asks: Are America's nutrition professionals in the pocket of Big Food?
Here's what she had to say:
While the Academy of Nutrition and Dietetics' 74,000-member trade group partners with the likes of Coke and Hershey's, the nation's health continues to suffer from poor diet.
The largest trade group of nutrition professionals—the Academy of Nutrition and Dietetics—has a serious credibility problem. In a damning report released yesterday, industry watchdog Eat Drink Politics examines the various forms of corporate sponsorship by Big Food that are undermining the integrity of those professionals most responsible for educating Americans about healthy eating.
The report details, for example, how registered dietitians can earn continuing education units from Coca-Cola, in which they learn that sugar is not a problem for children and how Nestlé, the world's largest food company can pay $50,000 to host a two-hour "nutrition symposium" at the Academy's annual meeting. Additional disturbing findings from the report include:
Beginning in 2001, the Academy listed 10 food industry sponsors; the 2011 annual report lists 38, a more than three-fold increase;
Companies on the Academy's list of approved continuing education providers include Coca-Cola, Kraft Foods, Nestlé and PepsiCo;
At the 2012 annual meeting, 18 organizations—less than five percent of all exhibitors—captured 25 percent of the total exhibitor space. Only two out of the 18 represented whole, non-processed foods;
The Corn Refiners Association (lobbyists for high fructose corn syrup) sponsored three "expo impact" sessions at the 2012 annual meeting;
A majority of registered dietitians surveyed found three current Academy sponsors "unacceptable" (Coca-Cola, Mars, and PepsiCo);
80 percent of registered dietitians said sponsorship implies Academy endorsement of that company and their products;
The Academy has not supported controversial nutrition policies that might upset corporate sponsors, such as limits on soft drink sizes, soda taxes, or Genetically Modified Organisms (GMO) labels;
Sponsors and their activities appear to violate the Academy's own sponsorship guidelines.
Among the report's recommendations are for the Academy to:
1) provide greater transparency on corporate funding sources;
2) gather input from all members on corporate sponsorship;
3) reject all corporate-sponsored education; and
4) provide better leadership on controversial nutrition policy issues.
Registered dietitian and academy member Andy Bellatti, who has long criticized his professional group's conflicted corporate sponsorships said:
Michele Simon's report on the Academy of Nutrition and Dietetics is thoroughly researched and expertly points out the different ways in which the nation's leading nutrition organization harms its reputation, efficacy and members by forming partnerships with food companies that care more about selling products than they do about improving the health of Americans. Anyone concerned about public health will realize that the Academy of Nutrition and Dietetics is in dire need of systemic change if it hopes to take a leadership role and be taken seriously as the home base of the nation's nutrition experts.
Visit EcoWatch's FOOD page for more related news on this topic.
EcoWatch Daily Newsletter
The Visible Infrared Imaging Radiometer Suite on the Suomi NPP satellite acquired this image of forest fire smoke hovering over North America on Aug. 15, 2018. NASA Earth Observatory
New York City isn't known for having the cleanest air, but researchers traced recent air pollution spikes there to two surprising sources — fires hundreds of miles away in Canada and the southeastern U.S.
If temperatures continue to rise, the world is at risk from global
sea-level rise
, which will flood many coastal cities as seen above in Bangladesh. NurPhoto / Contributor / Getty Images
The mounting climate emergency may spur the next global financial crisis and the world's central banks are woefully ill equipped to handle the consequences, according to a new book-length report by the Bank for International Settlements (BIS), as S&P Global reported. Located in Basel, Switzerland, the BIS is an umbrella organization for the world's central banks.
Two ice fishers with a truck cut a hole in the ice near an ice fishing hut on frozen Lake Winnebago.
Richard Hamilton Smith / Corbis NX / Getty Images
By Susan Cosier
Come February in Wisconsin, almost everything will be covered in ice and snow. In little shanties on frozen Lake Winnebago, a 30-by-13-mile lake in the eastern part of the state, fishers will keep watch over rectangular holes cut into the ice with a chainsaw. When they spot a fin passing below, they'll jab their spears down deep. The lucky ones will earn themselves a lake sturgeon, a species that has prowled the earth's waters for more than 150 million years.
Fresno, California, seen above, is receiving $66 million for walking trails, sidewalks, bike lanes, and more. DenisTangneyJr / iStock / Getty Images
Grecia Elenes grew up in Fresno, California. She says some parts of the city have been neglected for decades. When she moved back after college she realized nothing has changed.
People are seen embracing at Numeralla Rural Fire Brigade near the scene of a water tanker plane crash on Jan. 23 in Cooma, Australia. Three American firefighters have have died after their C-130 water tanker plane crashed while battling a bushfire near Cooma in southern NSW this afternoon. Jenny Evans / Getty Images
Three U.S. firefighters gave their lives battling Australia's historic wildfires Thursday when their airborne water tanker crashed.