This website uses cookies to ensure you get the best experience while browsing it. By clicking 'Got It' you're accepting these terms.
Arctic Reality: If We Want to Limit Global Warming We Cannot Drill for Oil in the Chukchi Sea
Sep. 07, 2015 10:21AM EST
Energy
Last week, President Obama made the most extensive presidential visit to Alaska ever. He hiked on a glacier, met with Native Alaskans and became the first president ever to visit the Arctic Circle. Throughout, he was calling attention to the real, on-the-ground effects of climate change. That makes sense given that Alaska is being affected by global warming more dramatically and more swiftly than any other state.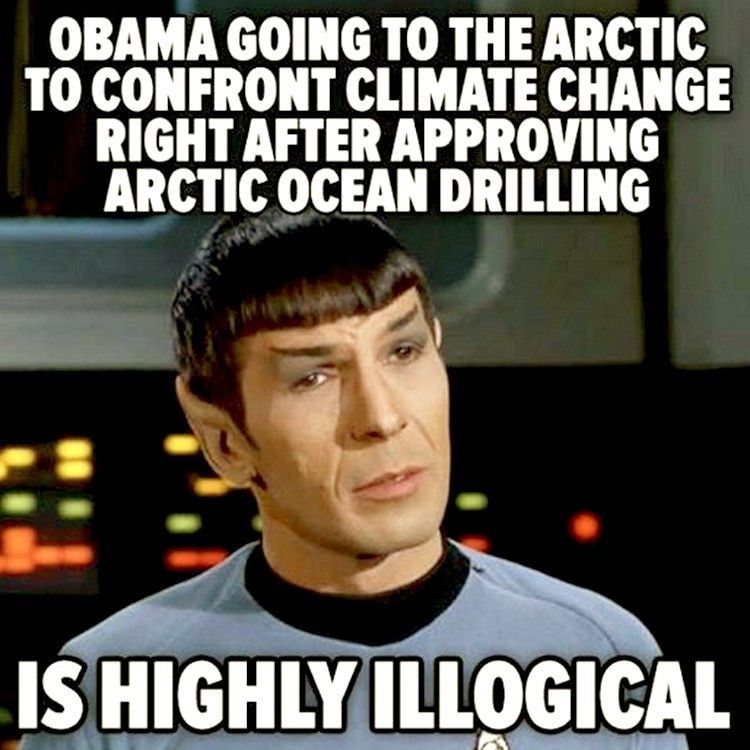 Alaska has already warmed 3.1 degrees Fahrenheit in the last 60 years according to the U.S. National Climate Assessment. This year alone, wildfires in the state have burned more than 5 million acres. Ironically, this is happening in a state that is uniquely dependent on the oil and gas industries. Yet allowing those industries to extract all of Alaska's considerable fossil fuel reserves would not only destroy much of its incredible wilderness but also lead to even worse climate disruption—not just for Alaska, but for the world:
"Our results suggest that, globally, a third of oil reserves, half of gas reserves and over 80% of current coal reserves should remain unused from 2010 to 2050 in order to meet the target of 2 degrees Celsius," Paul Ekins and Christophe McGlade wrote in the journal Nature earlier this year. "We show that development of resources in the Arctic and any increase in unconventional oil production are incommensurate with efforts to limit average global warming to 2 degrees Celsius." [3.6 degrees Fahrenheit]
It's that simple: If we want to limit global warming then we cannot continue developing new fossil fuel resources in the Arctic. That reality is what President Obama and his administration ignored by allowing Shell Oil to proceed with drilling in the Chukchi Sea this summer. They also ignored the reality that a spill in Arctic seas would be an unprecedented environmental disaster. Or, perhaps it's fairer to say that they decided it was a risk they were willing to take. On that point, we can only hope they get lucky—although if Shell continues drilling, the administration's own calculations show that the odds are not in their favor, with a 75 percent chance of a major spill.
As Rebecca Solnit poignantly wrote in The Guardian, "There is an ugly irony about extracting oil from one of the places already threatened by the effects of burning fossil fuel—where the summer ice is much reduced and temperatures are shooting up: you make the place complicit in its own destruction."
President Obama said it himself almost a year ago: "We are the first generation to feel the effect of climate change and the last generation who can do something about it." President Obama has stepped up in many ways—with the Clean Power Plan, with stronger fuel-economy measures, and other initiatives. Those are all good but, in this case, good isn't good enough. Our generation needs greatness. Mistakes like opening the Arctic to new drilling are no way to get there.
YOU MIGHT ALSO LIKE
Bonn Climate Talks Fail to Deliver Common Grounds Undermining Hopes of Meaningful Deal in Paris
Obama Snaps Epic Selfie With Bear Grylls in Alaska
Even Wall Street Asks: 'Why Would You Not?' Take Action on Climate Change
EcoWatch Daily Newsletter
Tuna auctions are a tourist spectacle in Tokyo. Outside the city's most famous fish market, long queues of visitors hoping for a glimpse of the action begin to form at 5 a.m. The attraction is so popular that last October the Tsukiji fish market, in operation since 1935, moved out from the city center to the district of Toyosu to cope with the crowds.

gmnicholas / E+ / Getty Images
Kristan Porter grew up in a fishing family in the fishing community of Cutler, Maine, where he says all roads lead to one career path: fishing. (Porter's father was the family's lone exception. He suffered from terrible seasickness, and so became a carpenter.) The 49-year-old, who has been working on boats since he was a kid and fishing on his own since 1991, says that the recent warming of Maine's cool coastal waters has yielded unprecedented lobster landings.
Aerial view of lava flows from the eruption of volcano Kilauea on Hawaii, May 2018. Frizi / iStock / Getty Images
Hawaii's Kilauea volcano could be gearing up for an eruption after a pond of water was discovered inside its summit crater for the first time in recorded history, according to the AP.
The Eqip Sermia Glacier is seen behind a moraine left exposed by the glacier's retreat during unseasonably warm weather on Aug. 1 at Eqip Sermia, Greenland. Sean Gallup / Getty Images
hadynyah / E+ / Getty Images
By Johnny Wood
The Ganges is a lifeline for the people of India, spiritually and economically. On its journey from the Himalayas to the Bay of Bengal, it supports fishermen, farmers and an abundance of wildlife.
The river and its tributaries touch the lives of roughly 500 million people. But having flowed for millennia, today it is reaching its capacity for human and industrial waste, while simultaneously being drained for agriculture and municipal use.
Here are some of the challenges the river faces.
By Jake Johnson
As a growing number of states move to pass laws that would criminalize pipeline protests and hit demonstrators with years in prison, an audio recording obtained by The Intercept showed a representative of a powerful oil and gas lobbying group bragging about the industry's success in crafting anti-protest legislation behind closed doors.
Reposted with permission from our media associate Common Dreams.

DESIREE MARTIN / AFP / Getty Images
Wildfires raging on Gran Canaria, the second most populous of Spain's Canary Islands, have forced around 9,000 people to evacuate.