This website uses cookies to ensure you get the best experience while browsing it. By clicking 'Got It' you're accepting these terms.
Arctic Ocean: Carbon Sink or Carbon Source?
Dec. 04, 2013 12:54PM EST
Climate
By Jennifer Chu
For the past three decades, as the climate has warmed, the massive plates of sea ice in the Arctic Ocean have shrunk: in 2007, scientists observed nearly 50 percent less summer ice than had been seen in 1980.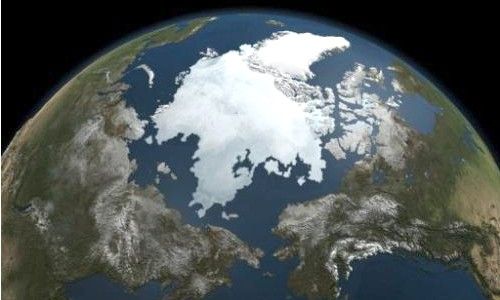 Dramatic changes in ice cover have, in turn, altered the Arctic ecosystem—particularly in summer months, when ice recedes and sunlight penetrates surface waters, spurring life to grow. Satellite images have captured large blooms of phytoplankton in Arctic regions that were once relatively unproductive. When these organisms die, a small portion of their carbon sinks to the deep ocean, creating a sink, or reservoir, of carbon.
Now researchers at Massachusetts Institute of Technology  (MIT) have found that with the loss of sea ice, the Arctic Ocean is becoming more of a carbon sink. The team modeled changes in Arctic sea ice, temperatures, currents and flow of carbon from 1996 to 2007, and found that the amount of carbon taken up by the Arctic increased by one megaton each year.
But the group also observed a somewhat paradoxical effect: A few Arctic regions where waters were warmest were actually less able to store carbon. Instead, these regions—such as the Barents Sea, near Greenland—were a carbon source, emitting carbon dioxide to the atmosphere.
While the Arctic Ocean as a whole remains a carbon sink, MIT principal research scientist Stephanie Dutkiewicz says places like the Barents Sea paint a more complex picture of how the Arctic is changing with global warming.
"People have suggested that the Arctic is having higher productivity, and therefore higher uptake of carbon," Dutkiewicz says. "What's nice about this study is, it says that's not the whole story. We've begun to pull apart the actual bits and pieces that are going on."
A paper by Dutkiewicz and co-authors Mick Follows and Christopher Hill of MIT, Manfredi Manizza of the Scripps Institute of Oceanography, and Dimitris Menemenlis of NASA's Jet Propulsion Laboratory is published in the journal Global Biogeochemical Cycles.
The Ocean's Carbon Cycle
The cycling of carbon in the oceans is relatively straightforward: as organisms like phytoplankton grow in surface waters, they absorb sunlight and carbon dioxide from the atmosphere. Through photosynthesis, carbon dioxide builds cell walls and other structures; when organisms die, some portion of the plankton sink as organic carbon to the deep ocean. Over time, bacteria eat away at the detritus, converting it back into carbon dioxide that, when stirred up by ocean currents, can escape into the atmosphere.
The MIT group developed a model to trace the flow of carbon in the Arctic, looking at conditions in which carbon was either stored or released from the ocean. To do this, the researchers combined three models: a physical model that integrates temperature and salinity data, along with the direction of currents in a region; a sea ice model that estimates ice growth and shrinkage from year to year; and a biogeochemistry model, which simulates the flow of nutrients and carbon, given the parameters of the other two models.
The researchers modeled the changing Arctic between 1996 and 2007 and found that the ocean stored, on average, about 58 megatons of carbon each year—a figure that increased by an average of one megaton annually over this time period.
These numbers, Dutkiewicz says, are not surprising, as the Arctic has long been known to be a carbon sink. The group's results confirm a widely held theory: with less sea ice, more organisms grow, eventually creating a bigger carbon sink.
A New Counterbalance
However, one finding from the group muddies this seemingly linear relationship. Manizza found a discrepancy between 2005 and 2007, the most severe periods of sea ice shrinkage. While the Arctic lost more ice cover in 2007 than in 2005, less carbon was taken up by the ocean in 2007—an unexpected finding, in light of the theory that less sea ice leads to more carbon stored.
Manizza traced the discrepancy to the Greenland and Barents seas, regions of the Arctic Ocean that take in warmer waters from the Atlantic (in warmer environments, carbon is less soluble in seawater). Manizza observed this scenario in the Barents Sea in 2007, when warmer temperatures caused more carbon dioxide to be released than stored.
The results point to a subtle balance: an ocean's carbon flow depends on both water temperature and biological activity. In warmer waters, carbon is more likely to be expelled into the atmosphere; in waters with more biological growth—for example, due to less sea ice—carbon is more likely to be stored in ocean organisms.
In short, while the Arctic Ocean as a whole seems to be storing more carbon than in previous years, the increase in the carbon sink may not be as large as scientists had previously thought.
"The Arctic is special in that it's certainly a place where we see changes happening faster than anywhere else," Dutkiewicz says. "Because of that, there are bigger changes in the sea ice and biology, and therefore possibly to the carbon sink."
Manizza adds that while the remoteness of the Arctic makes it difficult for scientists to obtain accurate measurements, more data from this region "can both inform us about the change in the polar area and make our models highly reliable for policymaking decisions."
This research was supported by the National Science Foundation and the National Oceanic and Atmospheric Administration.
Visit EcoWatch's WATER and CLIMATE CHANGE pages for more related news on this topic.

EcoWatch Daily Newsletter
A glacier is seen in the Kenai Mountains on Sept. 6, near Primrose, Alaska. Scientists from the U.S. Geological Survey have been studying the glaciers in the area since 1966 and their studies show that the warming climate has resulted in sustained glacial mass loss as melting outpaced the accumulation of new snow and ice. Joe Raedle / Getty Images
By Mark Mancini
On Aug. 18, Iceland held a funeral for the first glacier lost to climate change. The deceased party was Okjökull, a historic body of ice that covered 14.6 square miles (38 square kilometers) in the Icelandic Highlands at the turn of the 20th century. But its glory days are long gone. In 2014, having dwindled to less than 1/15 its former size, Okjökull lost its status as an official glacier.
Members of Chicago Democratic Socialists of America table at the Logan Square Farmers Market on Aug. 18. Alex Schwartz
By Alex Schwartz
Among the many vendors at the Logan Square Farmers Market on Aug. 18 sat three young people peddling neither organic vegetables, gourmet cheese nor handmade crafts. Instead, they offered liberation from capitalism.
Hackney primary school students went to the Town Hall on May 24 in London after school to protest about the climate emergency. Jenny Matthews / In Pictures / Getty Images
Bird watching in the U.S. may be a lot harder than it once was, since bird populations are dropping off in droves, according to a new study.
Amazon CEO Jeff Bezos announces the co-founding of The Climate Pledge at the National Press Club on Sept. 19 in Washington, DC. Paul Morigi / Getty Images for Amazon
The day before over 1,500 Amazon.com employees planned a walkout to participate in today's global climate strike, CEO Jeff Bezos unveiled a sweeping plan for the retail and media giant to be carbon neutral by 2040, 10 years ahead of the Paris agreement schedule.
For the past seven years, the Anishinaabe people have been facing the largest tar sands pipeline project in North America. We still are. In these dying moments of the fossil fuel industry, Water Protectors stand, prepared for yet another battle for the water, wild rice and future of all. We face Enbridge, the largest pipeline company in North America, and the third largest corporation in Canada. We face it unafraid and eyes wide open, for indeed we see the future.
The climate crisis often intensifies systems of oppression. Rieko Honma / Stone / Getty Images Plus
By Mara Dolan
We see the effects of the climate crisis all around us in hurricanes, droughts, wildfires, and rising sea levels, but our proximity to these things, and how deeply our lives are changed by them, are not the same for everyone. Frontline groups have been leading the fight for environmental and climate justice for centuries and understand the critical connections between the climate crisis and racial justice, economic justice, migrant justice, and gender justice. Our personal experiences with climate change are shaped by our experiences with race, gender, and class, as the climate crisis often intensifies these systems of oppression.