This website uses cookies to ensure you get the best experience while browsing it. By clicking 'Got It' you're accepting these terms.
Arctic Drilling: A Giant Gamble for the Planet and Shell's Bottom Line
Aug. 31, 2015 07:47AM EST
Energy
It's a gamble—some would say a giant gamble. Before even one litre of oil has been found, the Anglo-Dutch Shell group is believed to have spent more than US$7 billion—just making preparations for its latest Arctic venture.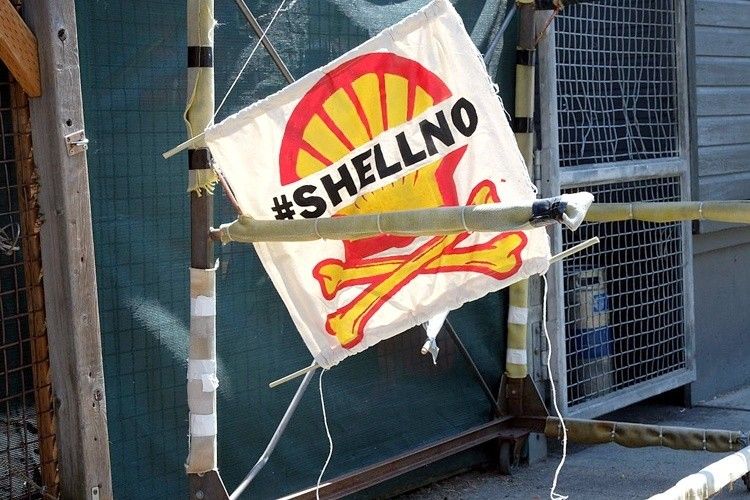 Shell is betting on finding the oil industry's Holy Grail: according to 2008 estimates by the U.S. Geological Survey, the Arctic contains more than 20 percent of the world's remaining hydrocarbon resources—including at least 90 billion barrels of oil.
If Shell does strike oil in big quantities maybe its gamble will pay off—and its anxious shareholders can look forward to handsome payouts.
But the whole venture is a high-risk business. The decision by the U.S. administration to allow Shell to start drilling in the Chukchi Sea, off the coast of Alaska, is highly controversial.
Environmentalists and scientists say any further exploitation of fossil fuels must be halted in order to limit the rise in average global temperatures to within 2°C of pre-industrial levels and avert serious climate change.
Possible Catastrophe
Drilling conditions in the Arctic can be treacherous: in 2012 a Shell rig which had been drilling for oil in the Beaufort Sea off Alaska ran aground in a storm and had to scrapped. Any oil spill in the ecologically rich waters of the Arctic could be catastrophic.
Hillary Clinton, President Obama's former secretary of state and now a presidential contender, criticizes Washington for allowing Shell to drill.
"The Arctic is a unique treasure," she says. "Given what we know, it's not worth the risk of drilling."
Shell says its operations meet the highest standards. "We owe it to the Arctic, its inhabitants, and the world to work with great care as we search for oil and gas resources and develop those at the request of governments across the region," the company says.
The financial rationale of Shell's move is also being questioned. Drilling in the Arctic is an expensive business and involves complex logistical challenges.
Stubbornly Low
Analysts say so-called unconventional oil—crude recovered from difficult environments such as the Arctic—needs to command a price of between US$70 and US$100 a barrel to make its recovery economical.
At present, though oil demand is strong, there are deep uncertainties about future economic growth, particularly in China. Oil is staying stubbornly below US$50 per barrel. The big oil producers such as Saudi Arabia have not, as in the past, lowered output in order to shore up prices.
A tentative agreement between western nations and Iran on nuclear issues is likely to mean new supplies of Iranian crude hitting the international market, putting further downward pressure on prices. Despite continue bombing and communal strife, Iraq is gearing up its oil production.
One of the major factors influencing the downward movement of oil prices over recent years has been the development of the U.S. fracking industry, with vast amounts of oil and gas recovered from shale deposits deep underground.
Perhaps Shell—and big producer countries like Saudi Arabia—foresee an end to the fracking boom.
Fracking Slows
As recovery from shale deposits becomes more difficult and prices remain low, fracking is not enjoying the explosive growth it saw a few years ago.
Some drilling sites in the U.S. states of Texas and North Dakota are being abandoned. Several of the smaller fracking companies—which borrowed large amounts during the good times to finance their operations—have gone bust.
But there is still a global glut of oil: the International Energy Agency says there is unlikely to be a rebound in oil prices any time soon.
The drilling season in the Arctic is brief: the days shorten quickly and the ice begins to form. Shell—and its shareholders—will be hoping for quick returns.
International negotiators preparing for the climate summit in Paris later this year are calling for urgent action to head off global warming. There are many who hope Shell's exploration activities will not succeed—and that the Arctic hydrocarbons stay where they are, thousands of feet below the seabed.
YOU MIGHT ALSO LIKE
Bill McKibben: Picturing the End of Fossil Fuels
Activists Take to the Sea to Help Stop Future Oil Spills
President Obama, Your Climate Legacy Lies with Keeping Fossil Fuels in the Ground
EcoWatch Daily Newsletter
People carry children on a flooded street in Almoradi, Spain on Sept. 13. JOSE JORDAN / AFP / Getty Images
Large food companies are following in the footsteps of fast-food restaurants such as Burger King and KFC by offering meat alternatives. Getty Images
By Elizabeth Pratt
Hormel, Kellogg's, and Kroger are among the large companies now planning to offer "fake meat" products at grocery stores.
Experts say the trend toward plant-based meats coincides with consumers' desires to eat less meat.
However, experts urge consumers to closely check package labels as a product isn't necessarily healthy just because it's described as plant-based.
In grocery stores and fast-food outlets around the U.S., a revolution is taking place.
Colombia rainforest. Marcel Oosterwijk / CC BY-SA 2.0
Many of us think of the Amazon as an untouched wilderness, but people have been thriving in these diverse environments for millennia. Due to this long history, the knowledge that Indigenous and forest communities pass between generations about plants, animals and forest ecology is incredibly rich and detailed and easily dwarfs that of any expert.
picture-alliance / Newscom / R. Ben Ari
By Wesley Rahn
Plastic byproducts were found in 97 percent of blood and urine samples from 2,500 children tested between 2014 and 2017, according to a study by the German Environment Ministry and the Robert Koch Institute.

Pexels
Medically reviewed by Daniel Bubnis, MS, NASM-CPT, NASE Level II-CSS
Hot yoga has become a popular exercise in recent years. It offers many of the same benefits as traditional yoga, such as stress reduction, improved strength, and flexibility.
Lara Hata / iStock / Getty Images
By SaVanna Shoemaker, MS, RDN, LD
Rice is a staple in many people's diets. It's filling, inexpensive, and a great mild-tasting addition to flavorful dishes.
An image of the trans-alaskan oil pipeline that carries oil from the northern part of Alaska all the way to valdez. This shot is right near the arctic national wildlife refuge. kyletperry / iStock / Getty Images Plus
The Trump administration has initialized the final steps to open up nearly 1.6 million acres of the protected Alaskan National Wildlife Refuge to allow oil and gas drilling.