Energy
Mar. 15, 2016 03:51PM EST
Arctic and Gulf Still Open to Offshore Drilling in Obama's 5-Year Draft Plan
Today, the Bureau of Ocean Energy Management (BOEM) released a draft five-year plan for 2017-2022 that closes the Atlantic Ocean for oil and gas drilling leases, citing strong local opposition along with market dynamics and conflicts with military and commercial use. The plan also proposes 10 new leases in the Gulf of Mexico and three in the Arctic Ocean, but says that a no-lease option will be possible for the Arctic Ocean in the final plan.
Along with its new proposal, BOEM also released a Draft Environmental Impact Statement that examines the program's potential impacts on the environment. The five-year plan will be open for comment until June 16 and the Draft Environmental Impact Statement, which will be released March 18, will be open for comment until May 2.
We are pleased that President Obama responded to concerns of businesses and residents along the East Coast by removing the Atlantic Ocean from the areas open to offshore drilling. This is wonderful news for the Atlantic coast economy and millions of Americans who want to keep treasured beaches from Florida to Virginia oil free. That said, to avoid catastrophic climate change, we need to keep a vast majority of fossil fuel reserves in the ground. This requires decisive action, including stopping offshore drilling in the Gulf of Mexico and Arctic Ocean.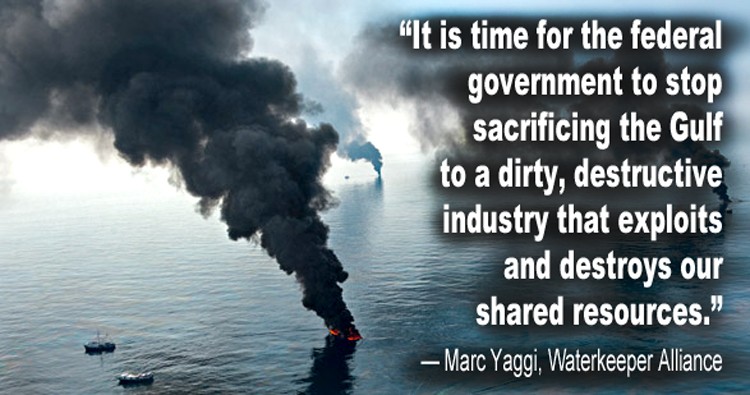 The five-year plan would still allow drilling in the Gulf and the Arctic. This endangers the fragile Arctic ecosystem and subjects the already battered Gulf coast to further risk from fossil fuel disasters. How can President Obama allow more oil and gas drilling when we have a decade-long ongoing oil spill that the government won't force Taylor Energy to fix and are still struggling to recover from the damages that Deepwater Horizon inflicted on our waters, wildlife and economy? It is time for the federal government to stop sacrificing the Gulf to a dirty, destructive industry that exploits and destroys our shared resources.
YOU MIGHT ALSO LIKE
Obama to Limit Arctic, Atlantic Offshore Oil Drilling as Part of New Five-Year Plan
People Power: Virginians Say No to Offshore Oil and Gas Drilling
Is Fracking Industry Too Wounded to Respond as Oil Prices Bottom Out?
'Monsanto Rider' Would Shield Chemical Giant From Liability for Injuries Caused by PCBs in Public Schools
Oil in the Niger Delta. Amnesty International Canada
By Andy Rowell
The decades-long struggle for social and environmental justice in the Niger Delta continues, largely unseen by the wider world.
On Aug. 11, hundreds of people from the Niger Delta stormed the Belema flow station gas plant owned by Shell in the Rivers State region of the Delta. The plant transports crude oil to the Bonny Light export terminal, from where it is shipped overseas.
Keep reading...
Show less
Rainforest Action Network / Flickr

The National Academy of Sciences, Engineering and Medicine said in a statement the Interior Department has directed it to cease its study on the potential health risks for people living near surface coal mines in Central Appalachia.
The Interior Department, which committed more than $1 million to the study last year, has begun an agency-wide review of grants over $100,000 because of the "Department's changing budget situation."
Keep reading...
Show less
California Energy Commission
California and North Carolina's electricity grids faced no disruptions during Monday's solar eclipse, which many saw as a test for the future when solar power will command a greater share of the energy mix.
"It bodes well for renewable energy on the grid during an event like this," said Eric Schmitt, a vice-president at California Independent System Operator that delivers most of the state's electricity.
Keep reading...
Show less
Bob Wick / Bureau of Land Management
Keep reading...
Show less
www.youtube.com
Are you ready to watch the Great American Eclipse of 2017? Will you be in the path of totality? Do you have your safety glasses ready?
Well, however you decide to watch the solar eclipse today, NASA TV will be showing the "Eclipse Across America" with live video of the celestial event. The feed is already live with lots of handy information about today's unprecedented eclipse. So be sure to watch above.
Enjoy!
Energy
Aug. 21, 2017 08:43AM EST
www.youtube.com
"One out of three Americans lives within 50 miles of high-level nuclear waste, some of which, like Plutonium, is lethally dangerous and will be around for an incredible longtime," John Oliver explained last night on Last Week Tonight.
According to the Nuclear Energy Institute, there is more than 71,000 tons of nuclear waste stranded at 104 reactors. "It was a problem we should have solved in the 1980s," Oliver said, "much like a Rubik's Cube."
Despite years of using nuclear energy, the country still doesn't have a permanent facility for its storage, the comedian said. Oliver proposed what the U.S. really needs is some kind of "nuclear toilet."
Watch above.
Popular
Aug. 21, 2017 10:55AM EST
C: Gage Skidmore
By Andy Rowell
As Trump's presidency spirals like a toxic vortex from one crisis to another, and with the global news media reacting to one venomous tweet after another, it is easy to miss the slow assault against science and the environment that continues below the radar.
The crisis for Trump could get a whole lot worse, with his ex-Chief of Staff, Steve Bannon, who was sacked last week, promising that he was "prepared to go to war with his adversaries in the White House."
Keep reading...
Show less
Coal power is getting buried in China—both literally and figuratively.
Earlier this week, a new floating solar farm went live in the Chinese city of Huainan above a retired coal mine, China Daily reported.
Keep reading...
Show less