This website uses cookies to ensure you get the best experience while browsing it. By clicking 'Got It' you're accepting these terms.
Arctic and Gulf Still Open to Offshore Drilling in Obama's 5-Year Draft Plan
Mar. 15, 2016 03:51PM EST
Today, the Bureau of Ocean Energy Management (BOEM) released a draft five-year plan for 2017-2022 that closes the Atlantic Ocean for oil and gas drilling leases, citing strong local opposition along with market dynamics and conflicts with military and commercial use. The plan also proposes 10 new leases in the Gulf of Mexico and three in the Arctic Ocean, but says that a no-lease option will be possible for the Arctic Ocean in the final plan.
Along with its new proposal, BOEM also released a Draft Environmental Impact Statement that examines the program's potential impacts on the environment. The five-year plan will be open for comment until June 16 and the Draft Environmental Impact Statement, which will be released March 18, will be open for comment until May 2.
We are pleased that President Obama responded to concerns of businesses and residents along the East Coast by removing the Atlantic Ocean from the areas open to offshore drilling. This is wonderful news for the Atlantic coast economy and millions of Americans who want to keep treasured beaches from Florida to Virginia oil free. That said, to avoid catastrophic climate change, we need to keep a vast majority of fossil fuel reserves in the ground. This requires decisive action, including stopping offshore drilling in the Gulf of Mexico and Arctic Ocean.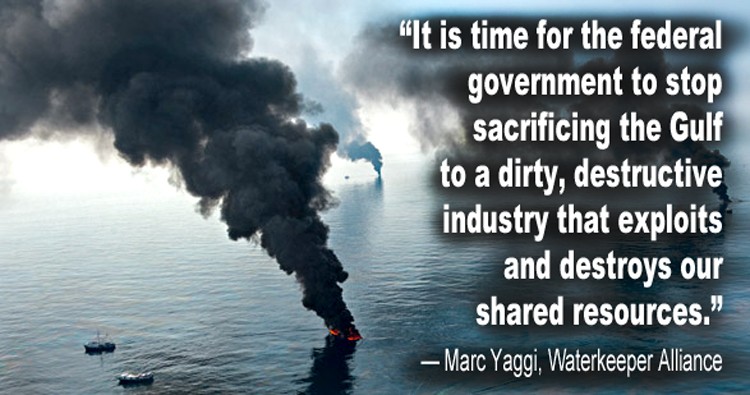 The five-year plan would still allow drilling in the Gulf and the Arctic. This endangers the fragile Arctic ecosystem and subjects the already battered Gulf coast to further risk from fossil fuel disasters. How can President Obama allow more oil and gas drilling when we have a decade-long ongoing oil spill that the government won't force Taylor Energy to fix and are still struggling to recover from the damages that Deepwater Horizon inflicted on our waters, wildlife and economy? It is time for the federal government to stop sacrificing the Gulf to a dirty, destructive industry that exploits and destroys our shared resources.
YOU MIGHT ALSO LIKE
Obama to Limit Arctic, Atlantic Offshore Oil Drilling as Part of New Five-Year Plan
People Power: Virginians Say No to Offshore Oil and Gas Drilling
Is Fracking Industry Too Wounded to Respond as Oil Prices Bottom Out?
'Monsanto Rider' Would Shield Chemical Giant From Liability for Injuries Caused by PCBs in Public Schools
Teenager Alex Weber and friends collected nearly 40,000 golf balls hit into the ocean from a handful of California golf courses.
Alex Weber /
CC BY-ND
Southwest Greenland had the most consistent ice loss from 2003 to 2012. Eqalugaarsuit, Ostgronland, Greenland on Aug. 1, 2018.
Rob Oo / CC BY 2.0
Greenland is melting about four times faster than it was in 2003, a new study published Monday in the Proceedings of the National Academy of Sciences found, a discovery with frightening implications for the pace and extent of future sea level rise.
"We're going to see faster and faster sea level rise for the foreseeable future," study lead author and Ohio State University geodynamics professor Dr. Michael Bevis said in a press release. "Once you hit that tipping point, the only question is: How severe does it get?"
Finally, some good news about the otherwise terrible partial government shutdown. A federal judge ruled that the Trump administration cannot issue permits to conduct seismic testing during the government impasse.
The Justice Department sought to delay—or stay—a motion filed by a range of coastal cities, businesses and conservation organizations that are suing the Trump administration over offshore oil drilling, Reuters reported. The department argued that it did not have the resources it needed to work on the case due to the shutdown.
Most people have heard of the Amazon, South America's famed rainforest and hub of biological diversity. Less well known, though no less critical, is the Pantanal, the world's largest tropical wetland.
Like the Amazon, the Pantanal is ecologically important and imperiled. Located primarily in Brazil, it also stretches into neighboring Bolivia and Paraguay. Covering an area larger than England at more than 70,000 square miles, the massive wetland provides irreplaceable ecosystem services that include the regulation of floodwaters, nutrient renewal, river flow for navigability, groundwater recharge and carbon sequestration. The wetland also supports the economies of the four South American states it covers.
Demonstrators participate in a protest march over agricultural policy on Jan. 19 in Berlin, Germany. Carsten Koall / Getty Images Europe
By Andrea Germanos
Organizers said 35,000 people marched through the streets of the German capital on Saturday to say they're "fed up" with industrial agriculture and call for a transformation to a system that instead supports the welfare of the environment, animals and rural farmers.

The fire that erupted after a pipeline explosion in Mexico Friday. FRANCISCO VILLEDA / AFP / Getty Images
By Patrick Rogers
If you have ever considered making the switch to an environmentally friendly electric vehicle, don't drag your feet. Though EV prices are falling, and states are unveiling more and more public charging stations and plug-in-ready parking spots, the federal government is doing everything it can to slam the brakes on our progress away from gas-burning internal combustion engines. President Trump, likely pressured by his allies in the fossil fuel industry, has threatened to end the federal tax credits that have already helped put hundreds of thousands of EVs on the road—a move bound to harm not only our environment but our economy, too. After all, the manufacturing and sale of EVs, hybrids, and plug-in hybrids supported 197,000 jobs in 2017, according to the most recent U.S. Energy and Employment Report.
By Jason Bittel
Formidable predators stalk the forests between Panama and northern Argentina. They are sometimes heard but never seen. They are small but feisty and have even been documented trying to take down a tapir, which can top out at nearly 400 pounds. Chupacabras? No.
U.S. Army member helps clear debris from Tyndall Air Force Base following Hurricane Michael.
U.S. Army