This website uses cookies to ensure you get the best experience while browsing it. By clicking 'Got It' you're accepting these terms.
Arctic 30 Told They Are Not Free to Leave Russia
Dec. 13, 2013 09:02AM EST
Energy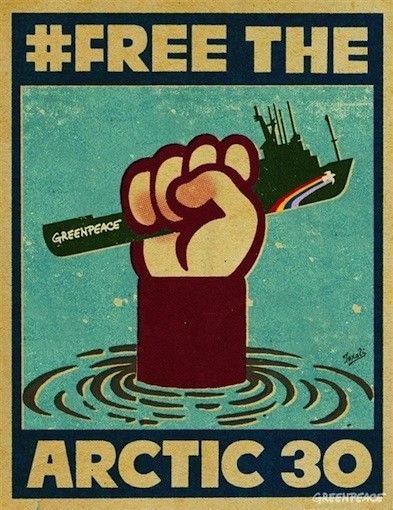 The Russian authorities have told the Arctic 30 that they cannot leave the country, defying the ruling of an international court which ordered that they should be allowed to go home immediately.
Russia's powerful Investigative Committee has written to one of the 30—Anne Mie Jensen from Denmark—indicating that they are not free to leave the country. Lawyers for Greenpeace expect all of the non-Russian defendants to be treated in the same way by the authorities, meaning they would now be forced to stay in St. Petersburg for the foreseeable future.
Last week lawyers for the Arctic 30 asked the Committee to contact the Federal Migration Service (FMS) and request visas for the non-Russians, so they can leave Russia and return if summoned by the authorities. But in its letter to Anne Mie, the Committee says it is not willing to ask the FMS to issue the visas. The FMS has previously said it will not issue visas until it receives a direct request from the Investigative Committee.
Arctic 30 lawyers also sought an assurance from the Investigative Committee that it would give at least one month's notice when it wanted to interview the Greenpeace defendants—otherwise they would risk inadvertently breaking their bail conditions if they returned home to their families. In its letter to Anne Mie the Committee says it will not provide the requested notice.
Peter Willcox is Captain of the Arctic Sunrise—the ship seized by Russia after a peaceful protest at an oil platform in the Pechora Sea—and is one of the Arctic 30 currently restricted to the city of St. Petersburg. Willcox said:
I am ready to go home to my family.We were seized in international waters and brought to Russia against our will, then charged with a crime we didn't commit and kept in jail for two months. A respected international court says we should be allowed to go home, so do numerous Presidents and Prime Ministers, but we can't get visas to leave the country, and even if we could there's no guarantee the Investigative Committee won't schedule an interview for the day I get home, forcing me to break my bail conditions. This is either a mistake and we're caught in a vicious bureaucratic circle, or it's a deliberate snub against international law. Either way this is a farce.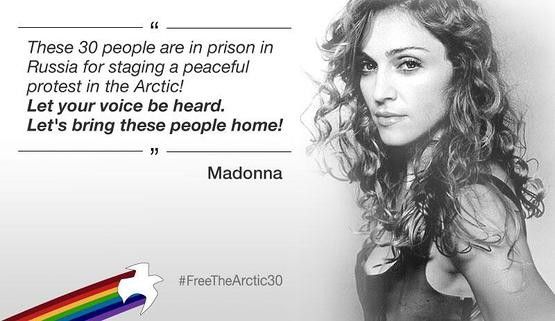 A ruling in November by the International Tribunal for the Law of the Sea (ITLOS)—made up of twenty-one eminent judges—ordered Russia to allow the Arctic 30 to leave the country immediately and to release the Greenpeace ship Arctic Sunrise, as soon as a bond of 3.6 million Euros in the form of a bank guarantee was paid. That bond was posted by the Government of the Netherlands—where the Arctic Sunrise is registered—on Nov. 29. Russia is now in defiance of that order.
Greenpeace International legal counsel Daniel Simons said:
The Russian Federation is now in clear breach of a binding order of an international tribunal. As President Vladimir Putin stated in his famous open letter to the American people on Syria, 'The law is still the law, and we must follow it whether we like it or not.' In his State of the Nation speech yesterday in Moscow, he added: 'We try not to lecture anyone but promote international law.' It's time for the authorities to act in that spirit and allow the Arctic 30 to go home to their families immediately.
In its letter to Anne Mie the Investigative Committee said it would not release the Arctic Sunrise because its continued seizure was authorized by a Russian court.
An amnesty decree likely to be voted on by the Duma (Russian parliament) this month could still see legal proceedings against the Arctic 30 dropped. A draft of the decree submitted by President Putin does not include the Arctic 30, although a small amendment by the Duma would see them covered by the amnesty.
Visit EcoWatch's ENERGY page for more related news on this topic.

EcoWatch Daily Newsletter
Tuna auctions are a tourist spectacle in Tokyo. Outside the city's most famous fish market, long queues of visitors hoping for a glimpse of the action begin to form at 5 a.m. The attraction is so popular that last October the Tsukiji fish market, in operation since 1935, moved out from the city center to the district of Toyosu to cope with the crowds.

gmnicholas / E+ / Getty Images
Kristan Porter grew up in a fishing family in the fishing community of Cutler, Maine, where he says all roads lead to one career path: fishing. (Porter's father was the family's lone exception. He suffered from terrible seasickness, and so became a carpenter.) The 49-year-old, who has been working on boats since he was a kid and fishing on his own since 1991, says that the recent warming of Maine's cool coastal waters has yielded unprecedented lobster landings.
Nicole Greenfield is a writer at NRDC whose articles on religion, the environment, popular culture and social justice have appeared in many publications.
Aerial view of lava flows from the eruption of volcano Kilauea on Hawaii, May 2018. Frizi / iStock / Getty Images
Hawaii's Kilauea volcano could be gearing up for an eruption after a pond of water was discovered inside its summit crater for the first time in recorded history, according to the AP.
The Eqip Sermia Glacier is seen behind a moraine left exposed by the glacier's retreat during unseasonably warm weather on Aug. 1 at Eqip Sermia, Greenland. Sean Gallup / Getty Images
hadynyah / E+ / Getty Images
By Johnny Wood
The Ganges is a lifeline for the people of India, spiritually and economically. On its journey from the Himalayas to the Bay of Bengal, it supports fishermen, farmers and an abundance of wildlife.
The river and its tributaries touch the lives of roughly 500 million people. But having flowed for millennia, today it is reaching its capacity for human and industrial waste, while simultaneously being drained for agriculture and municipal use.
Here are some of the challenges the river faces.
Protesters gathered outside US Bank and Wells Fargo locations around the U.S. to protest investment in the Dakota Access Pipeline on Dec. 1, 2016. This photo is from a protest outside US Bank in south Minneapolis, Minnesota.
Fibonacci Blue / CC BY 2.0
By Jake Johnson
As a growing number of states move to pass laws that would criminalize pipeline protests and hit demonstrators with years in prison, an audio recording obtained by The Intercept showed a representative of a powerful oil and gas lobbying group bragging about the industry's success in crafting anti-protest legislation behind closed doors.
Reposted with permission from our media associate Common Dreams.

DESIREE MARTIN / AFP / Getty Images
Wildfires raging on Gran Canaria, the second most populous of Spain's Canary Islands, have forced around 9,000 people to evacuate.