This website uses cookies to ensure you get the best experience while browsing it. By clicking 'Got It' you're accepting these terms.


The best of EcoWatch, right in your inbox. Sign up for our email newsletter!
Approval of Bee-Killing Pesticides Challenged in Court
Jul. 09, 2014 11:05AM EST
Environmental and food safety groups yesterday challenged California's illegal practice of approving new agricultural uses for neonicotinoid pesticides despite mounting evidence that the pesticides are devastating honey bees.
Pesticide Action Network, Center for Food Safety and Beyond Pesticides, represented by Earthjustice, filed the legal challenge in the California Superior Court for the County of Alameda, urging the California Department of Pesticide Regulation (DPR) to stop approving neonicotinoid pesticides pending its completion of a comprehensive scientific review of impacts to honeybees. The DPR began its scientific review in early 2009 after it received evidence that neonicotinoids are killing bees, but five years later, the DPR has yet to take meaningful action to protect bees.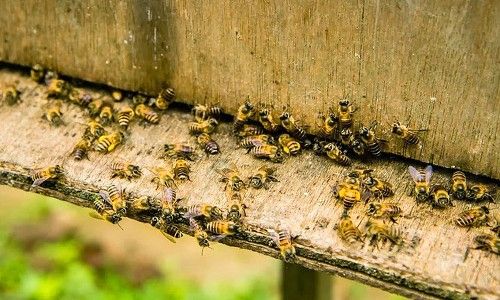 Meanwhile, the DPR has continued to allow increased use of neonicotinoids in California. Yesterday's lawsuit challenges the DPR's June 13 decision to expand the use of two powerful neonicotinoid insecticides—sold under the trademarks Venom Insecticide and Dinotefuran 20SG —despite the agency's still-pending review of impacts to pollinators. The case underscores these larger problems with the DPR's unwillingness to comply with laws enacted to ensure that pesticides do not threaten human health, agriculture or the environment.
"State officials have approved pesticides time and time again, despite mounting scientific research and real-world evidence that neonicotinoids pose harm to bees," said Paul Towers, organizing and media director for Pesticide Action Network. "With no action in sight, we must take the state to court to protect bees, beekeepers and our food system."
A growing body of independent science links a class of pesticides called neonicotinoids (neonics) to bee declines, both alone and in combination with other factors like disease and malnutrition. Twenty-nine independent scientists conducted a global review of 800 independent studies and found overwhelming evidence of pesticides linked to bee declines. Oregon officials also determined the neonic dinotefuran was the cause of two massive bumblebee kills in the state last year. In February 2014, the groups submitted a letter calling on the California DPR not to allow greater use of this pesticide. 
"Unless halted, the use of these pesticides threatens not only the very survival of our pollinators, but the fate of whole ecosystems," said Andrew Kimbrell, executive director of Center for Food Safety. "Scientists have consistently documented widespread environmental contamination from neonicotinoids as they build up in our soil and waterways, especially in California. The DPR has a responsibility to step in and say no," 
"Bee and other pollinator populations are declining at unprecedented rates," said Jay Feldman, executive director of Beyond Pesticides. "They cannot afford to be subject to a toxic treadmill that fails to consider the full spectrum of cumulative impacts and risks threatening their very existence. The treadmill must be stopped."
"DPR has been saying for five years that neonicotinoid pesticides may be killing California's honey bees, and yet the agency allows more and more of these pesticides to be used each year," said Greg Loarie, an attorney at Earthjustice representing the groups who filed yesterday's lawsuit. "It's past time for DPR to fix its broken evaluation system and protect our bees and our agricultural economy. It obviously will take legal action to accomplish this."
One in every three bites of food depends on bees for pollination, and the annual value of pollination services worldwide are estimated at more than $125 billion. In the U.S., pollination contributes $20-30 billion in agricultural production annually. And in California alone, almonds crops—entirely dependent on bees for pollination—are valued at more than $3 billion.
In December 2013, the European Union began a two-year moratorium on three of the most widely used neonicotinoids. Yet the U.S. Environmental Protection Agency, working in coordination with Canadian and California officials, has refused to take any action until at least 2018.
Disappointed with the lack of a clear timeline for evaluating the harms of the pesticides, California legislators are currently advancing a bill (AB 1789) that would compel the DPR to finish its review of neonicotinoids within the next two years. The bill will be taken up again when the legislature returns from recess in August.
EcoWatch Daily Newsletter
Mr.TinDC / Flickr / CC BY-ND 2.0
Many nutrients are essential for good health.
By Pat Thomas
Throughout the U.S., major food brands are trying to get rid of GMO ingredients — not necessarily for the right reasons, but because nearly half of consumers say they avoid them in their food, primarily for health reasons.
But the CEO of Impossible Foods, purveyor of the Impossible Burger, is bucking that trend.
People in more than 100 countries are expected to take part in well over 1,000 strikes on May 24 to demand climate action from their governments. @ExtinctionR / Twitter
DoneGood
By Cullen Schwarz
Ethical shopping is a somewhat new phenomenon. We're far more familiar with the "tried and tested" methods of doing good, like donating our money or time.
Asian elephants frolic in Kaudulla Wewa at Kaudulla National Park in central Sri Lanka.
David Stanley /
CC BY 2.0
When it comes to saving some of the planet's largest animals, a group of researchers says that old methods of conservation just won't cut it anymore.
smcgee / Flickr / CC BY-NC 2.0
Several New York City Starbucks exposed customers to a potentially deadly pesticide, two lawsuits filed Tuesday allege.
Drinks with plastic straws on sale at London's Borough Market. Susie Adams / Getty Images
The UK government has set a date for a ban on the sale of single use plastics, The Guardian reported Wednesday. From April 2020, the sale of plastic straws, drink stirrers and cotton buds with plastic stems will be prohibited in England.