Apple's Commitment to Run All Data Centers on 100% Renewable Energy Continues With New Announcement
Feb. 24, 2015 12:14PM EST
Business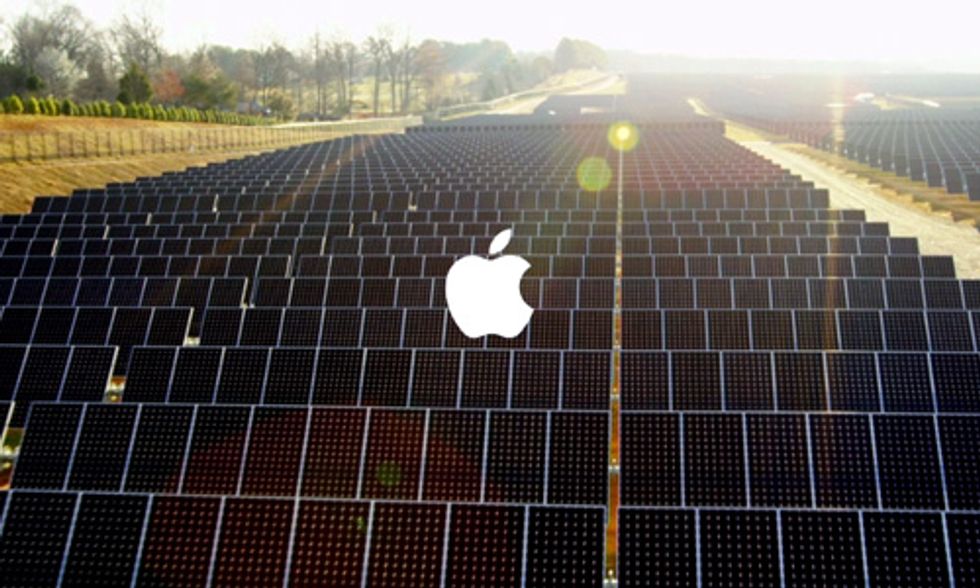 The green energy news continues to pour out of Apple headquarters.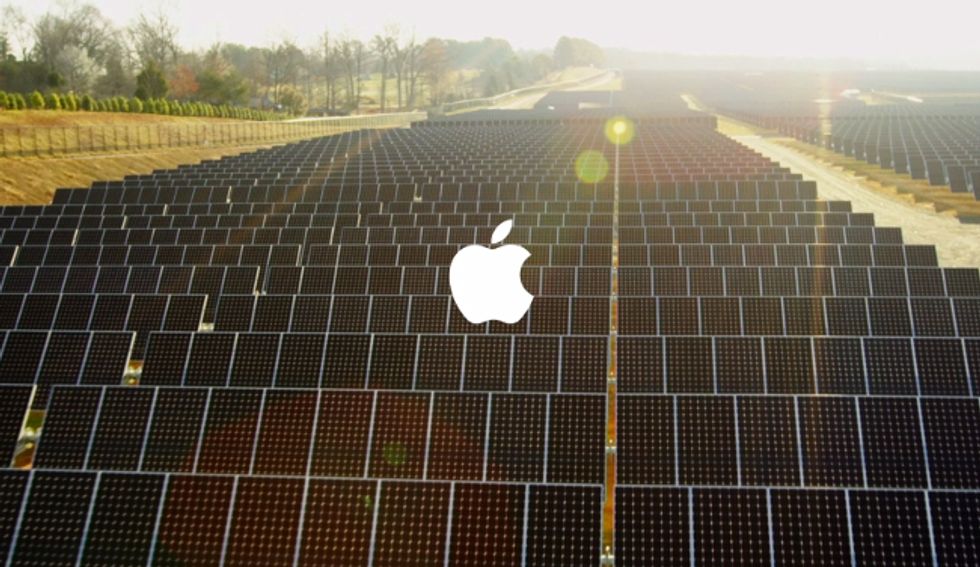 Apple boasts that all its data centers are now powered by green, renewable energy. It's just added two more projects to the list. The company is planning to spend $1.7 million euros (about $1,93o,oooUSD) to build state-of-the-art data centers in Athenry in County Galway, western Ireland and Viborg in Jutland, central Denmark, that will run on 100 percent renewable energy. They'll be powering services such as the iTunes shop, Siri and iMessage for the European market.
"We are grateful for Apple's continued success in Europe and proud that our investment supports communities across the continent," said Apple CEO Tim Cook. "This significant new investment represents Apple's biggest project in Europe to date. We're thrilled to be expanding our operations, creating hundreds of local jobs and introducing some of our most advanced green building designs yet."
The two facilities will not only be entirely powered by renewable energy—most likely wind—but will also look for other ways to lower their environmental impact and work with partners on renewable energy projects. In Athenry, Apple plans to recover land that was used for growing non-native trees for harvesting and plant native trees there, along with community walking trails and an education center for local schools. The new Viborg center will be located next to one of Denmark's largest electrical substations to eliminate the need for additional generators. The facility will also capture excess heat from its equipment and conduct it into the district heating system to warm homes in the nearby community.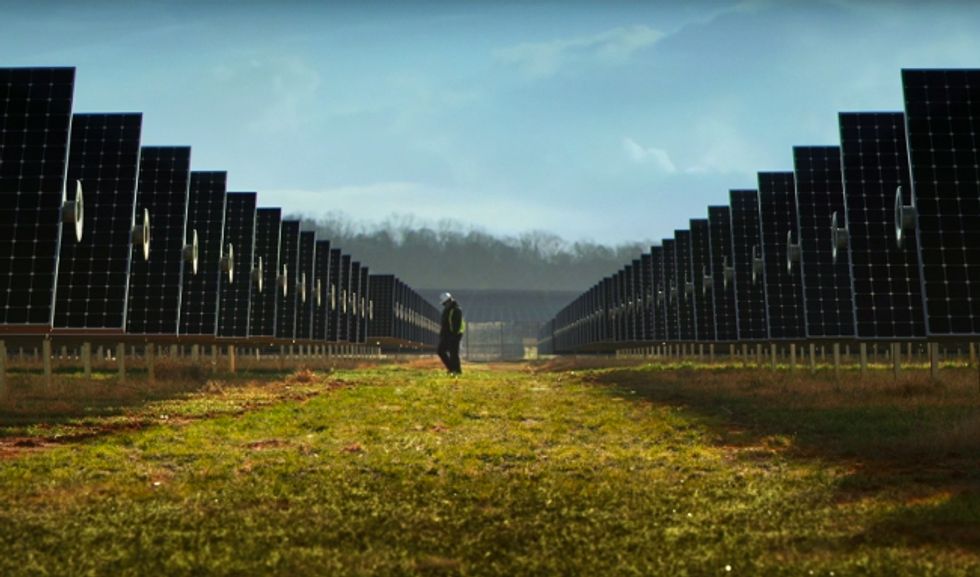 New data centers in Ireland and Denmark will add to Apple's portfolio of all-renewably powered facilities around the world. Photo credit: Apple
This latest news follows on the heels of Apple's announcement two weeks ago of a $850 million investment in a solar farm in California that will power its new campus in Silicon Valley, all its California offices and data centers, and its data center in Newark.
"We believe that innovation is about leaving the world better than we found it, and that the time for tackling climate change is now," said Lisa Jackson, Apple's vice president of environmental initiatives. "We're excited to spur green industry growth in Ireland and Denmark and develop energy systems that take advantage of their strong wind resources. Our commitment to environmental responsibility is good for the planet, good for our business and good for the European economy."
The data centers in Ireland and Denmark are both scheduled to open in 2017.
YOU MIGHT ALSO LIKE
Tim Cook: New Solar Farm Will Be Apple's 'Biggest, Boldest and Most Ambitious Project Ever'
Kaiser Doubles Down on Investments in Renewables to Reduce Impacts of Climate Change
Air France airplanes parked at the Charles de Gaulle/Roissy airport on March 24, 2020. SAMSON / AFP via Getty Images
France moved one step closer this weekend to banning short-haul flights in an attempt to fight the climate crisis.
A bill prohibiting regional flights that could be replaced with an existing train journey of less than two and a half hours passed the country's National Assembly late on Saturday, as Reuters reported.
"We know that aviation is a contributor of carbon dioxide and that because of climate change we must reduce emissions," Industry Minister Agnes Pannier-Runacher told Europe 1 radio, according to Reuters.
The measure now has to pass the French Senate, then return to the lower house for a final vote. It would end regional flights between Paris's Orly airport and cities like Nantes and Bordeaux, The Guardian explained. It would not, however, impact connecting flights through Paris's Charles de Gaulle/Roissy airport.
The bill is part of a legislative package which aims to reduce France's emissions by 40 percent of 1990 levels by 2030, Reuters reported. It is a watered-down version of a proposal suggested by France's Citizens' Convention on Climate, BBC News explained. This group, which was formed by President Emmanuel Macron in 2019 and included 150 ordinary citizens, had put forward a ban on flights that could be replaced with an existing train journey of under four hours.
However, the journey length was lowered after protests from KLM-Air France, which had suffered heavy losses due to the coronavirus pandemic, and regions who were concerned about being left out of national transit networks, as The Guardian explained.
"We have chosen two and a half hours because four hours risks isolating landlocked territories including the greater Massif Central, which would be iniquitous," transport minister Jean-Baptiste Djebbari said, as The Guardian reported.
However, some environmental and consumer groups objected to the changes. The organization UFC-Que Choisir compared plane routes with equivalent train journeys of under four hours and found that the plane trips emitted an average of 77 times more carbon dioxide per passenger than the train journeys. At the same time, the train alternatives were cheaper and only as much as 40 minutes longer.
"[T]he government's choice actually aims to empty the measure of its substance," the group said, according to The Guardian.
The new measure also opens the French government to charges of hypocrisy. It bailed out Air France-KLM to the tune of a seven-billion euro loan last year, though it did require the airline to drop some domestic routes as a condition. Then, days before the measure passed, it more than doubled its stake in the airline, BBC News reported. However, Pannier-Runacher insisted to Europe 1 radio that it was possible to balance fighting climate change and supporting struggling businesses.
"Equally, we must support our companies and not let them fall by the wayside," she said, as Reuters reported.
This is not the first time that climate measures and aviation bailouts have coincided in the wake of the coronavirus pandemic. Austrian Airlines replaced its Vienna-Salzburg flight with additional train service after it received government money dependent on cutting greenhouse gas emissions, BBC News reported.
The number of flights worldwide declined almost 42 percent in 2020 when compared with 2019. It is expected that global aviation may not fully recover until 2024, according to Reuters.
EcoWatch Daily Newsletter
A woman looks at a dead gray whale on the beach in the SF Bay area on May 23, 2019; a new spate of gray whales have been turning up dead near San Francisco. Justin Sullivan / Getty Images
Four gray whales have washed up dead near San Francisco within nine days, and at least one cause of death has been attributed to a ship strike.
A small tourist town has borne the brunt of a cyclone which swept across the West Australian coast.
ABC News (Australia) / YouTube
A general view shows the remains of a dam along a river in Tapovan, India, on February 10, 2021, following a flash flood caused by a glacier break on February 7. Sajjad Hussain / AFP / Getty Images
By Rishika Pardikar
Search operations are still underway to find those declared missing following the Uttarakhand disaster on 7 February 2021.
This story originally appeared in Eos and is republished here as part of Covering Climate Now, a global journalism collaboration strengthening coverage of the climate story.
Indigenous youth, organizers with the Dakota Access and Line 3 pipeline fights and climate activists march to the White House to protest against pipeline projects on April 1, 2021. Bill Clark / CQ-Roll Call, Inc via Getty Images
By Jessica Corbett
Indigenous leaders and climate campaigners on Friday blasted President Joe Biden's refusal to shut down the Dakota Access Pipeline during a court-ordered environmental review, which critics framed as a betrayal of his campaign promises to improve tribal relations and transition the country to clean energy.