Apple Removes Two Toxic Chemicals From iPhone and iPad Manufacturing Process
Aug. 15, 2014 11:49AM EST
Business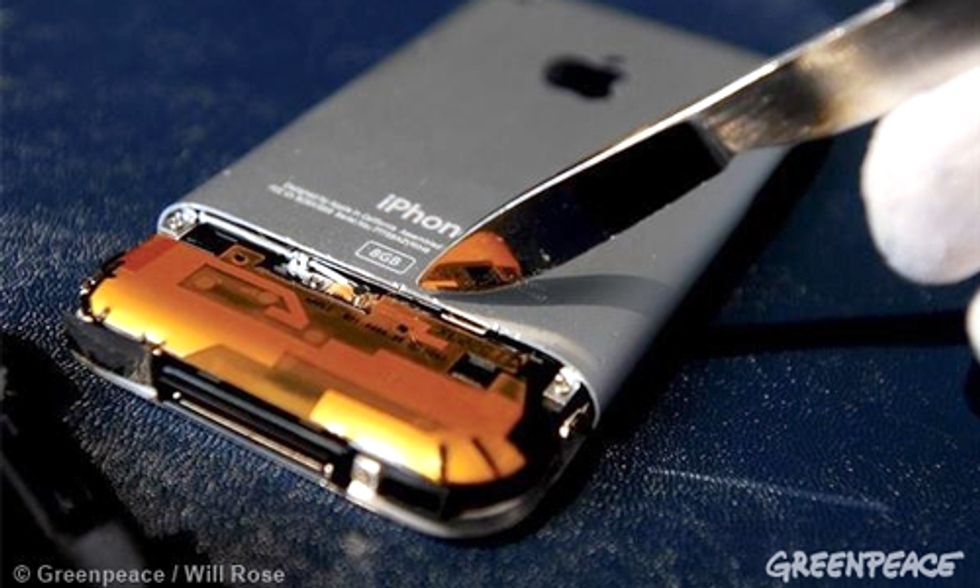 Sometimes friendly persuasion works.
Apple has listened to the concerns of worker rights and green economy advocacy groups, announcing this week that it has banned a pair of potentially toxic chemicals from its production lines in China.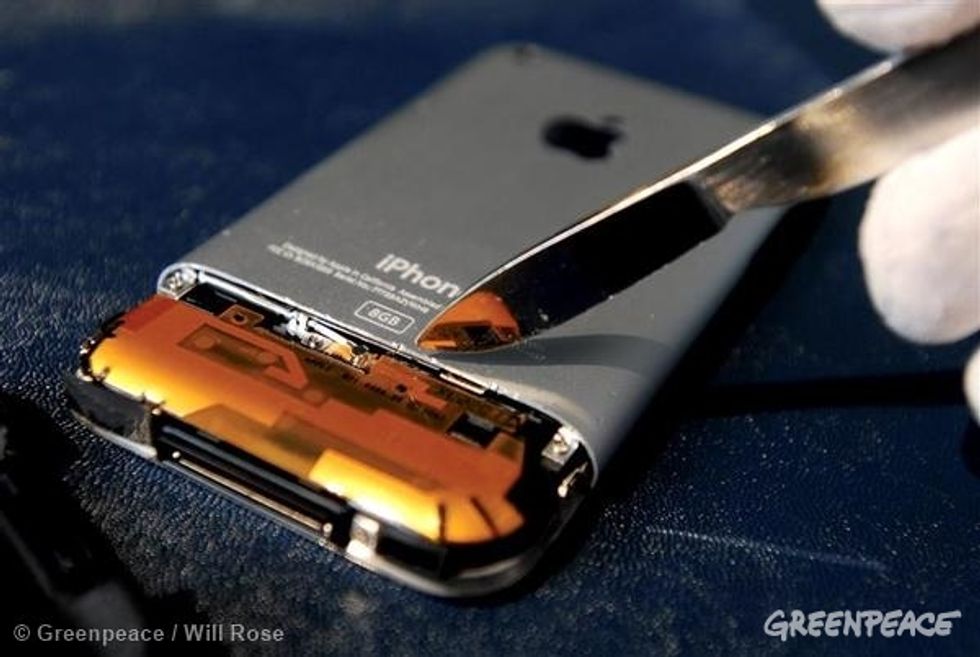 According to Greenpeace International:
"Apple announced a new commitment to tackle hazardous chemicals in its manufacturing supply chain. This included a ban on two dangerous chemical substances—benzene and n-hexane—often used in cleaning agents. This news comes after months of public pressure, including a petition from China Labor Watch and Green America who called on Apple to address concerns about worker safety in its product supply chain."
In addition, Apple became one of the largest companies to make public its Regulated Substances Specification, a list of restricted substances for suppliers. The list encourages companies to speed up reducing and eliminating hazardous substances.
Green America's Bad Apple: End Smartphone Sweatshop campaign FAQ explains their concerns:
"Smartphones, like many electronics, are regularly made in factories where workers do not have adequate training or protective gear for handling toxic substances. Exposure to dangerous chemicals can lead to cancer, leukemia, nerve damage, liver and kidney failure, and reproductive health issues, depending on the chemical and level of exposure. Apple must commit to eliminating benzene and other chemicals known to be harmful to human health from its supply chain to prevent more workers from losing their lives or livelihoods because of occupational illnesses from making iPhones."
The group responded to this week's announcement from Apple with cautious optimism.
"This announcement and the preceding investigation shows that Apple listens to its customers," said Green America's Elizabeth O'Connell. "However, Apple needs to go further to create a safe environment at all factories in their supply chain for the health and safety of all 1.5 million workers."
Green America is continuing to press Apple to monitor and disclose all the chemicals used in its manufacturing process, including those used by other companies in its supply chain.
YOU MIGHT ALSO LIKE
Health Impacts on Prep Plant Workers From Coal Cleaning Chemicals
Global Toxic Emergency Created by the Electronics We Buy
EcoWatch Daily Newsletter
Recent Stories from EcoWatch