This website uses cookies to ensure you get the best experience while browsing it. By clicking 'Got It' you're accepting these terms.
Apple Imagines You Charging Your iPhone, iPad or MacBook Directly From a Solar Panel
Nov. 08, 2013 10:24AM EST
Business
Recent moves by Apple Inc. show the company might be on the verge of offering customers a way to charge their iPhones, iPad, MacBooks and other devices by plugging in directly to solar panels.
Apple filed a patent application with the U.S. Patent & Trademark Office (USPTO) Oct. 31, Power Management Systems for Accepting Adapter and Solar Power in Electronic Devices. The filing describes a system that would enable the company's most popular devices to accept energy directly from a solar panel using existing components instead of relying a converter.
The power management system would include a system microcontroller (SMC) and a charger. The solar-to-voltage conversion would take place internally. Power could be received from a photovoltaic solar panel or a power adapter that converts alternating current (AC) mains electricity into direct current (DC) and/or a voltage that is compatible with the device's battery, according to the filing.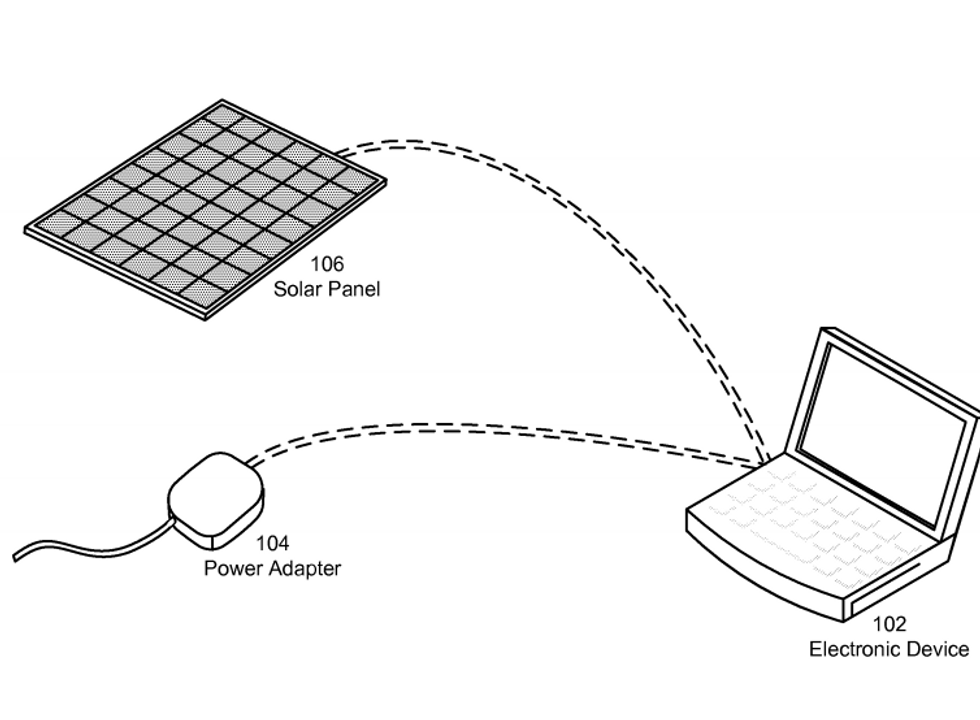 Graphic credit: Apple/U.S. Patent & Trademark Office
"During operation, the power management system accepts power from at least one of a power adapter and a solar panel," according to the patent, written by a trio of Apple engineers. "Next, the power management system supplies the power to components in the electronic device without using a converter circuit between the solar panel and the power management system."
Apple's technology would require users to have access to portable solar panels, which can be designed to look like small mats, devices about the same size as an iPhone or an even a suction cup. Most of these products sell for $100 or more.
"The key to this patent is that the system described is both composed of readily available power management techniques achievable with existing hardware, and; able to be built using componentry that takes up very little space, making it theoretically possible to integrate it into existing device designs without much modification," surmised Darrell Etherington of TechCrunch. "Both of those indicate that Apple could build this into products sooner, rather than later, should it choose to go that route."
Apple has been filing for solar-related patents since at least 2006. According to AppleInsider, the company also previously explored covering iPod or iPhone with solar cells.
Visit EcoWatch's PRODUCTS page for more related news on this topic.

EcoWatch Daily Newsletter
A new study shows that half of all Arctic warming and corresponding sea-loss during the late 20th century was caused by ozone-depleting substances. Here, icebergs discharged from Greenland's Jakobshavn Glacier. Kevin Krajick / Earth Institute /
EurekAlert!
The world awakened to the hole in the ozone layer in 1985, which scientists attributed it to ozone-depleting substances. Two years later, in Montreal, the world agreed to ban the halogen compounds causing the massive hole over Antarctica. Research now shows that those chemicals didn't just cut a hole in the ozone layer, they also warmed up the Arctic.
Diane Wilson holds up a bag full of nurdles she collected from one of Formosa's outfall areas on Jan. 15. Julie Dermansky / DeSmogBlog
On the afternoon of Jan. 15, activist Diane Wilson kicked off a San Antonio Estuary Waterkeeper meeting on the side of the road across from a Formosa plastics manufacturing plant in Point Comfort, Texas.
After Wilson and the waterkeeper successfully sued Formosa in 2017, the company agreed to no longer release even one of the tiny plastic pellets known as nurdles into the region's waterways. The group of volunteers had assembled that day to check whether the plant was still discharging these raw materials of plastics manufacturing.
Malaysian Environment Minister Yeo Bee Yin (front 2nd L) and officials inspect a container containing plastic waste shipment on Jan. 20, 2020 before sending back to the countries of origin. AFP via Getty Images
The Southeast Asian country Malaysia has sent 150 shipping containers packed with plastic waste back to 13 wealthy countries, putting the world on notice that it will not be the world's garbage dump, as CNN reported. The countries receiving their trash back include the United States, the United Kingdom, France and Canada.
Trump leaves after delivering a speech at the Congress Centre during the World Economic Forum annual meeting in Davos on Jan. 21, 2020. JIM WATSON / AFP via Getty Images