Appalachians Unite in Calling for an End to Extreme Fossil Fuel Extraction
Mar. 19, 2013 11:31AM EST
Energy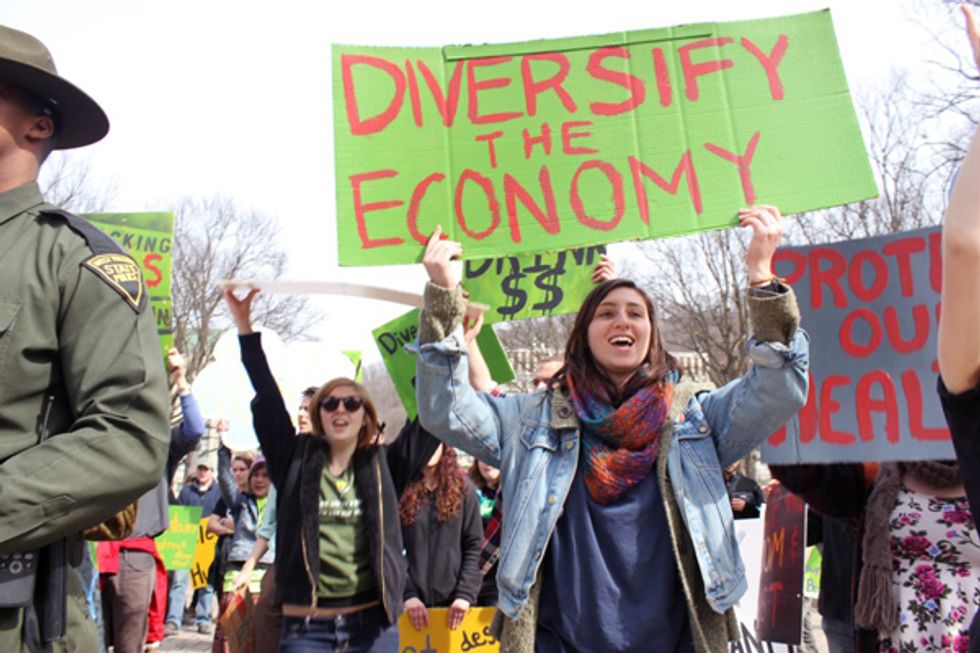 The movement against extreme energy and extraction in Appalachia is uniting like never before. Last week, more than 100 coalfield and gasfield activists, and youth allies from across the country stormed the West Virginia State Capitol building in Charleston, and spoke against the industries that are poisoning their communities.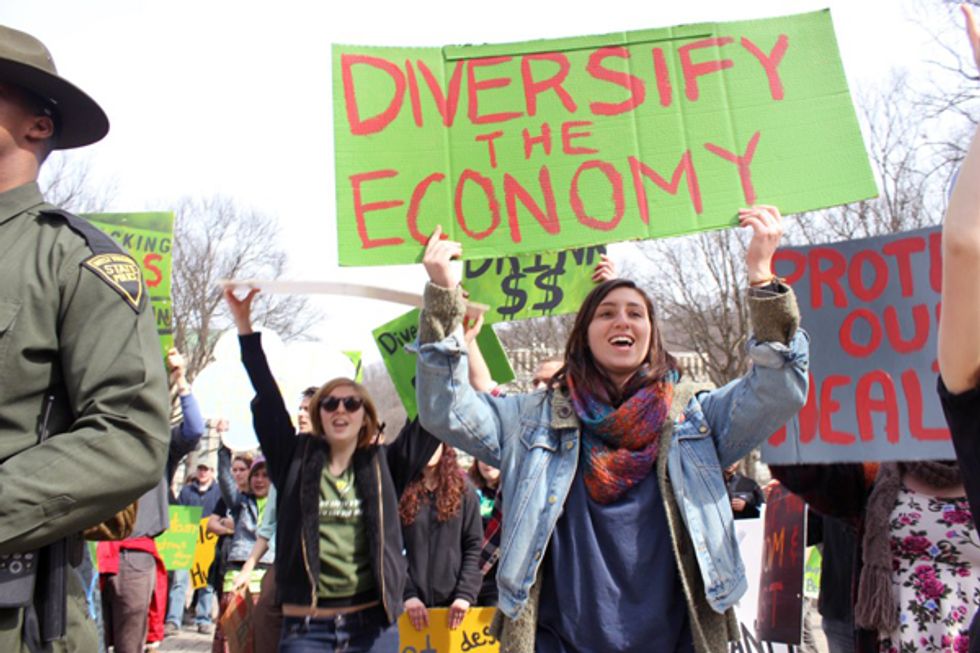 The protest started in the capitol courtyard and was led by local residents. Deirdre Lally, an activist from the Pennsylvania gasfields, said to the crowd:
"We are here to show that we are united and saying 'no' to all dirty and deadly industries. What we want is a clean and healthy economy in West Virginia, Pennsylvania and beyond, an economy that doesn't poison our water, toxify our air, sicken our bodies and fracture our communities … The West Virginia governor, just like our governor in Pennsylvania, has blood on his hands. They have followed the orders of polluting industries. They have acted as traitors to the people who elected them."
Next, Dustin Steele of Mingo County, West Virginia, took the megaphone:
"A few months ago, a delegation of coalfield residents like myself tried to meet with the governor to talk about economic diversification, about preventing the boom and bust cycle that's afflicted West Virginia for the past 125 years, that's left our people addicted to drugs and with some of the highest poverty rates in the nation."
Steele echoed the late Judy Bonds to drive their point home:
"If coal is so great, why are all these hillbillies so poor?"
Activists then took the main stairs up into the capitol, and led chants inside the capitol rotunda. As their voices echoed through the heart of the building, a banner was unfurled over the balcony, that read:
"Support the People, not the Polluters."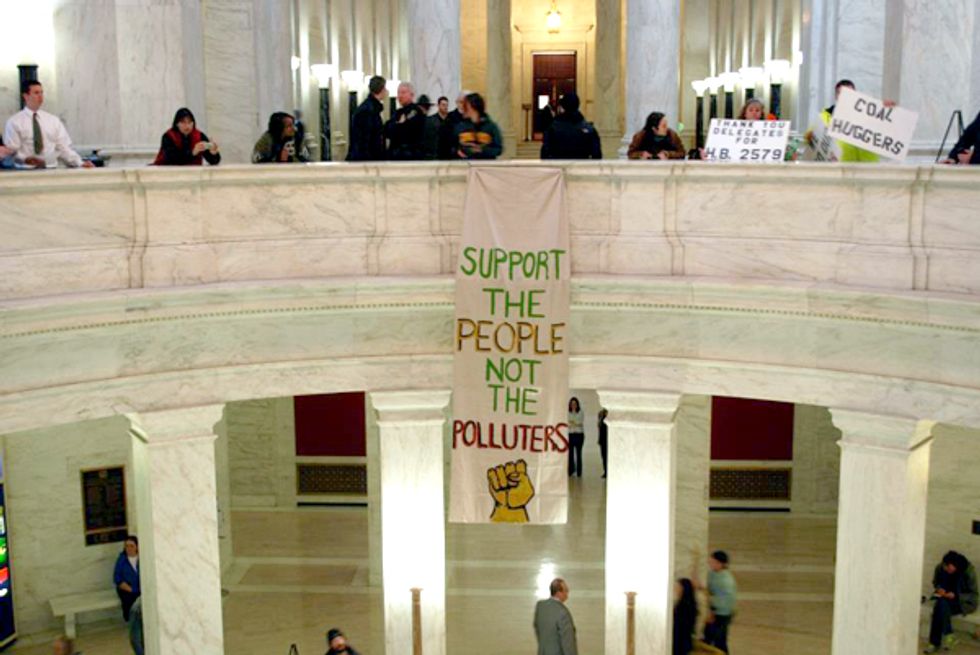 Fired up, the crowd marched to the entrance of the governor's office, chanting:
"Hey, Governor Tomblin, stop mountain bombing!"
Dustin White, from Boone County, WV, took the megaphone and reminded us why we were there:
"It is not our patriotic duty to die for gas or coal. We will stand up and demand a better West Virginia. We will fight. We will fight for clean air. We will fight for clean water. We will fight for our history and our future.  And one day we will win."
Junior Walk, from Boone County, WV, made it clear that the governor could expect to see more of these protests outside of his office:
"We will be back in more numbers until this stops. We're not gonna stop."
Activists at the protest expressed their anger at a recent onslaught of proposed legislation, that would undercut West Virginia's already meek pollution control standards, including HB 2579, a bill that would slash water safeguards for selenium poisoning. Protesters pointed to the all-but-defeated resource planning bill—HB 2803—which would encourage the use of energy efficiency measures to create jobs and meet electricity demand, as a far more appropriate course of action for the state legislature.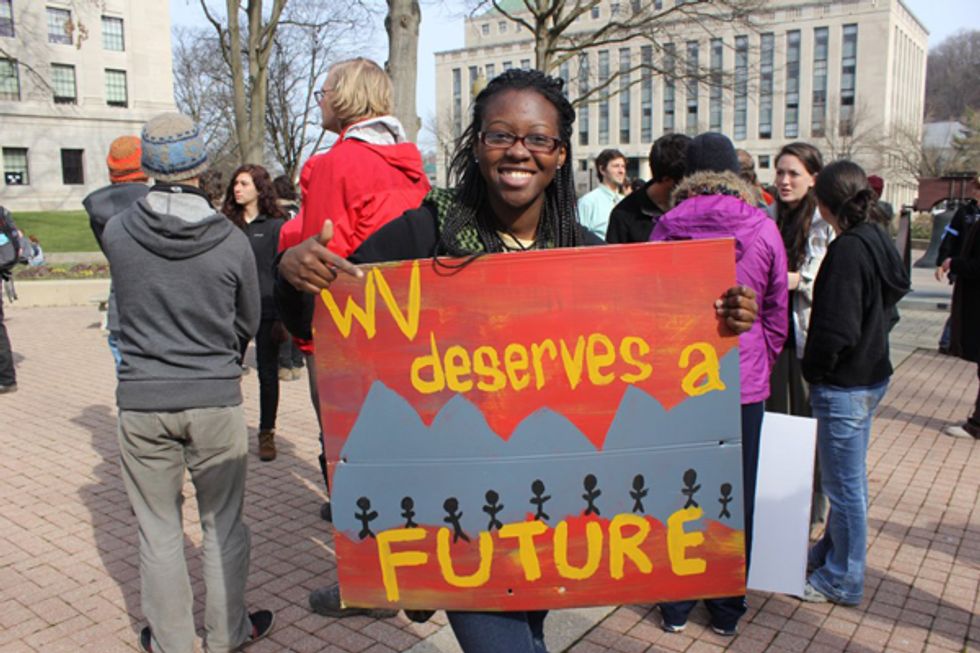 This rally is the start of many spring and summer actions against extreme energy planned in Appalachia and around the nation. If you feel inspired to get involved, sign up  and stay tuned for Mountain Justice Summer.
Many of the students that attended the protest are involved in campus groups that are leading fossil fuel divestment campaigns.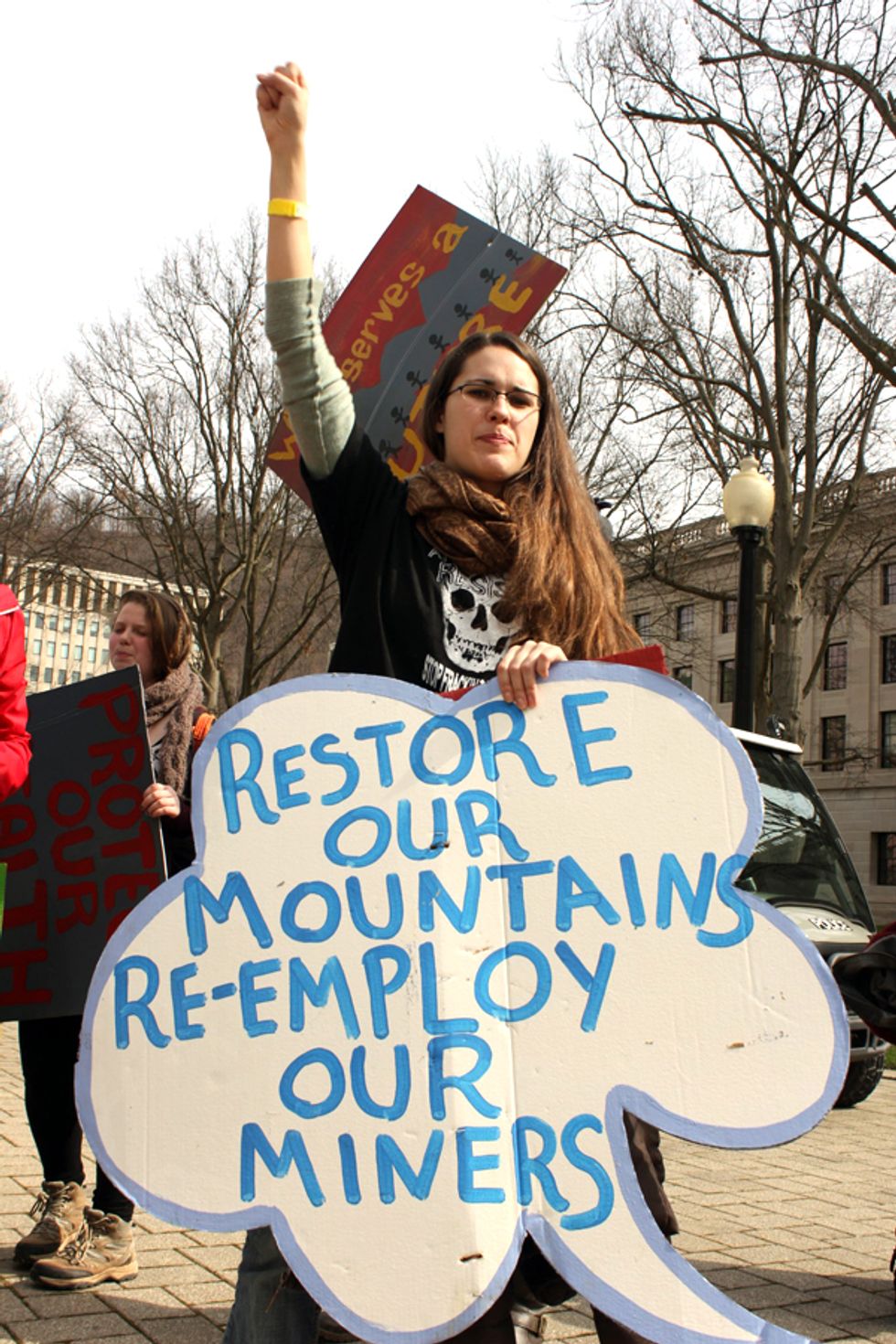 Visit EcoWatch's COAL and FRACKING pages for more related news on this topic.
——–
Sign the petition today, telling President Obama to enact an immediate fracking moratorium:

EcoWatch Daily Newsletter
Related Articles from EcoWatch
Recent Stories from EcoWatch