This website uses cookies to ensure you get the best experience while browsing it. By clicking 'Got It' you're accepting these terms.
'Apocalyptic' Inferno Engulfs Canadian Tar Sands City
May. 04, 2016 04:47PM EST
Climate
A raging wildfire in a Canadian tar sands town has forced tens of thousands of evacuations and destroyed several residential neighborhoods, offering a bleak vision of a fiery future if the fossil fuel era is not brought to an end.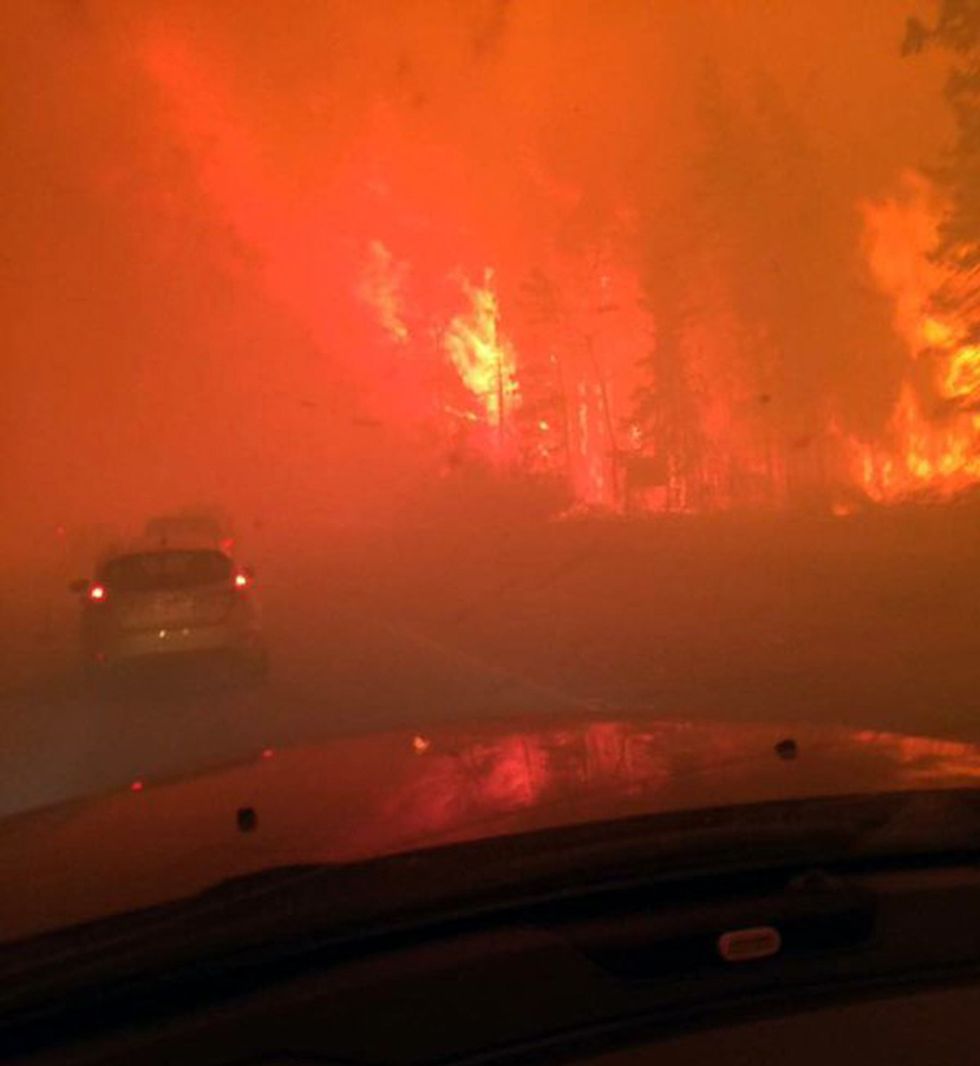 The blaze in Fort McMurray, Alberta, started over the weekend, doubled in size on Monday, and grew into an inferno on Tuesday. It is expected to worsen on Wednesday as strong wind gusts and record high temperatures persist.
"It's apocalyptic," John O'Connor, a family physician who has treated patients with health problems in the region related to tar sands pollution, told the National Observer.
"There was smoke everywhere and it was raining ash," evacuee Shams Rehman said to the Globe and Mail after he and his family reached an evacuation center in the resort town of Lac La Biche, Alberta. "I've never seen anything like it."
Brian Jean, the leader of Alberta's opposition party and a resident of the city, said much of downtown Fort McMurray was going up in flames: "My home of the last 10 years and the home I had for 15 years before that are both destroyed."
According to the Edmonton Journal:
Officials estimate 17,000 citizens fled north to industry sites. Another 35,000 headed south, including 18,000 people enroute to Edmonton.
Traffic was bumper-to-bumper as people packed families and pets into cars, trucks and campers. Line-ups snaked around gas stations and late in the evening, RCMP were advising they would travel the highway with gas to assist stranded motorists. Wednesday morning, the Alberta government took to social media to say that it would be escorting a fuel tanker along Highway 63 to help people who were still waiting for gas.
No casualties have been reported.
Fire season came early to Western Canada this year; already there have been 311 fires in Alberta, according to the province's Ministry of Agriculture and Forestry, and approximately 192 fires in British Columbia.
Experts attribute the early onset and extremity of the fires to human-caused climate change, exacerbated by a strong El Niño effect, which led to a drier and warmer winter with lower-than-average snowfall.
"Because spring came about a month early here, we are already in the middle of our prime fire season for the spring," Mike Flannigan, a wildfire expert at the University of Alberta, told Global News. "Given the already dry conditions means it's easier for fires, once they sustain themselves, to go underground until it gets windy and they re-appear."
Furthermore, University of Lethbridge professor Judith Kulig told the publication, "the whole aspect of climate change and global warming...is then interrelated [to] things such as insect infestation, so pine beetle increases because it's not a cold enough winter. The trees are infested and drier and more prone to fire."
At Climate Central on Wednesday, senior science writer Brian Kahn put it succinctly:
The wildfire is the latest in a lengthening lineage of early wildfires in the northern reaches of the globe that are indicative of a changing climate. As the planet continues to warm, these types of fires will likely only become more common and intense as spring snowpack disappears and temperatures warm.
Fort McMurray is home to the Athabasca tar sands, the largest single oil deposit in the world, containing an estimated 174 trillion barrels of bitumen. Tar sands oil production is the fastest growing source of greenhouse gas (GHG) emissions in Canada, and greatly increases the country's contribution to global warming.
YOU MIGHT ALSO LIKE
New Record Set for World's Cheapest Solar, Knocks Coal and Gas Prices Out of the Park
Bill McKibben: It's Time to Turn Up the Heat on Those Who Are Wrecking Planet Earth
Koch Brothers Struggle to Block Climate Action in State Legislatures
EcoWatch Daily Newsletter
Ocean pollution concept with plastic and garbage.
Anton Petrus
/ Moment / Getty Images
Nestlé cannot claim that its Ice Mountain bottled water brand is an essential public service, according to Michigan's second highest court, which delivered a legal blow to the food and beverage giant in a unanimous decision.
A number of supermarkets across the country have voluntarily issued a recall on sushi, salads and spring rolls distributed by Fuji Food Products due to a possible listeria contamination, as CBS News reported.
A U.S. Border Patrol agent gathers personal effects from immigrants before they are transferred to a McAllen processing center on July 02, 2019 in Los Ebanos, Texas. John Moore / Getty Images
Poverty and violence in Central America are major factors driving migration to the United States. But there's another force that's often overlooked: climate change.
Retired Lt. Cmdr. Oliver Leighton Barrett is with the Center for Climate and Security. He says that in Guatemala, Honduras and El Salvador, crime and poor economic conditions have long led to instability.
"And when you combine that with protracted drought," he says, "it's just a stressor that makes everything worse."
Barrett says that with crops failing, many people have fled their homes.
"These folks are leaving not because they're opportunists," he says, "but because they are in survival mode. You have people that are legitimate refugees."
So Barrett supports allocating foreign aid to programs that help people in drought-ridden areas adapt to climate change.
"There are nonprofits that are operating in those countries that have great ideas in terms of teaching farmers to use the land better, to harvest water better, to use different variety of crops that are more resilient to drought conditions," he says. "Those are the kinds of programs I think are needed."
So he says the best way to reduce the number of climate change migrants is to help people thrive in their home countries.
Reporting credit: Deborah Jian Lee / ChavoBart Digital Media.
Reposted with permission from Yale Climate Connections.
Chris Pratt arrives to the Los Angeles premiere of "Jurassic World: Fallen Kingdom" on June 12, 2018 in Los Angeles, California. Michael Tran / FilmMagic / Getty Images

Chris Pratt was called out on social media by Game of Thrones star Jason Momoa after Pratt posted an image "low key flexing" with a single-use plastic water bottle.