This website uses cookies to ensure you get the best experience while browsing it. By clicking 'Got It' you're accepting these terms.
'Apocalyptic' Inferno Engulfs Canadian Tar Sands City
May. 04, 2016 04:47PM EST
Climate
A raging wildfire in a Canadian tar sands town has forced tens of thousands of evacuations and destroyed several residential neighborhoods, offering a bleak vision of a fiery future if the fossil fuel era is not brought to an end.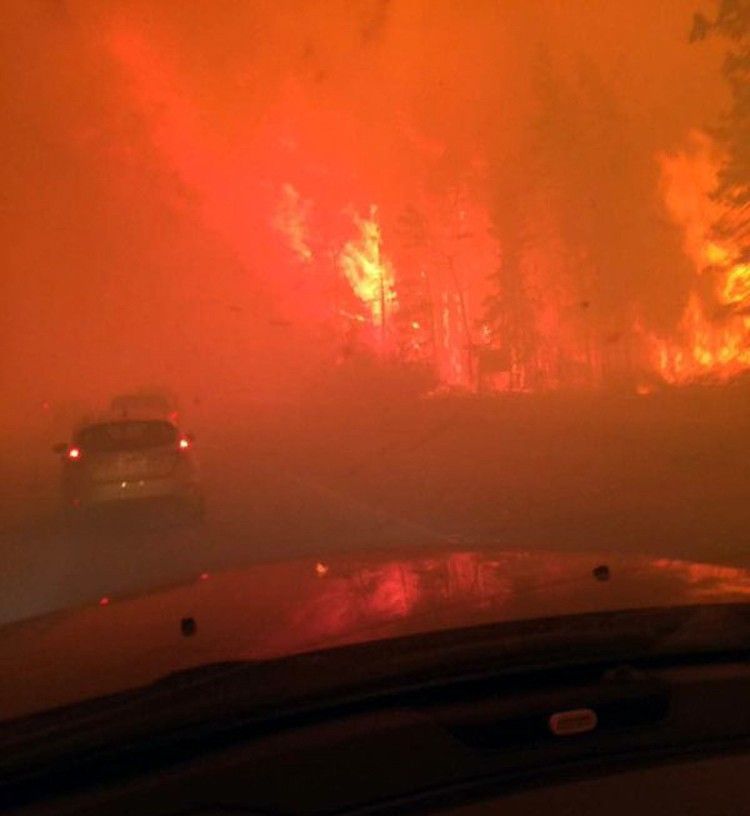 The blaze in Fort McMurray, Alberta, started over the weekend, doubled in size on Monday, and grew into an inferno on Tuesday. It is expected to worsen on Wednesday as strong wind gusts and record high temperatures persist.
"It's apocalyptic," John O'Connor, a family physician who has treated patients with health problems in the region related to tar sands pollution, told the National Observer.
"There was smoke everywhere and it was raining ash," evacuee Shams Rehman said to the Globe and Mail after he and his family reached an evacuation center in the resort town of Lac La Biche, Alberta. "I've never seen anything like it."
Brian Jean, the leader of Alberta's opposition party and a resident of the city, said much of downtown Fort McMurray was going up in flames: "My home of the last 10 years and the home I had for 15 years before that are both destroyed."
According to the Edmonton Journal:
Officials estimate 17,000 citizens fled north to industry sites. Another 35,000 headed south, including 18,000 people enroute to Edmonton.
Traffic was bumper-to-bumper as people packed families and pets into cars, trucks and campers. Line-ups snaked around gas stations and late in the evening, RCMP were advising they would travel the highway with gas to assist stranded motorists. Wednesday morning, the Alberta government took to social media to say that it would be escorting a fuel tanker along Highway 63 to help people who were still waiting for gas.
No casualties have been reported.
Fire season came early to Western Canada this year; already there have been 311 fires in Alberta, according to the province's Ministry of Agriculture and Forestry, and approximately 192 fires in British Columbia.
Experts attribute the early onset and extremity of the fires to human-caused climate change, exacerbated by a strong El Niño effect, which led to a drier and warmer winter with lower-than-average snowfall.
"Because spring came about a month early here, we are already in the middle of our prime fire season for the spring," Mike Flannigan, a wildfire expert at the University of Alberta, told Global News. "Given the already dry conditions means it's easier for fires, once they sustain themselves, to go underground until it gets windy and they re-appear."
Furthermore, University of Lethbridge professor Judith Kulig told the publication, "the whole aspect of climate change and global warming...is then interrelated [to] things such as insect infestation, so pine beetle increases because it's not a cold enough winter. The trees are infested and drier and more prone to fire."
At Climate Central on Wednesday, senior science writer Brian Kahn put it succinctly:
The wildfire is the latest in a lengthening lineage of early wildfires in the northern reaches of the globe that are indicative of a changing climate. As the planet continues to warm, these types of fires will likely only become more common and intense as spring snowpack disappears and temperatures warm.
Fort McMurray is home to the Athabasca tar sands, the largest single oil deposit in the world, containing an estimated 174 trillion barrels of bitumen. Tar sands oil production is the fastest growing source of greenhouse gas (GHG) emissions in Canada, and greatly increases the country's contribution to global warming.
YOU MIGHT ALSO LIKE
New Record Set for World's Cheapest Solar, Knocks Coal and Gas Prices Out of the Park
Bill McKibben: It's Time to Turn Up the Heat on Those Who Are Wrecking Planet Earth
Koch Brothers Struggle to Block Climate Action in State Legislatures
EcoWatch Daily Newsletter
Artist's conception of solar islands in the open ocean. PNAS
Millions of solar panels clustered together to form an island could convert carbon dioxide in seawater into methanol, which can fuel airplanes and trucks, according to new research from Norway and Switzerland and published in the Proceedings of the National Academy of Sciences journal, PNAS, as NBC News reported. The floating islands could drastically reduce greenhouse gas emissions and dependence on fossil fuels.
Marcos Alves / Moment Open / Getty Images
More than 40 percent of insects could go extinct globally in the next few decades. So why did the U.S. Environmental Protection Agency (EPA) last week OK the 'emergency' use of the bee-killing pesticide sulfoxaflor on 13.9 million acres?
EcoWatch teamed up with Center for Biological Diversity via EcoWatch Live on Facebook to find out why. Environmental Health Director and Senior Attorney Lori Ann Burd explained how there is a loophole in the The Federal Insecticide, Fungicide, and Rodenticide Act under section 18, "that allows for entities and states to request emergency exemptions to spraying pesticides where they otherwise wouldn't be allowed to spray."
Simple swaps that cut down on kitchen trash.
Sponsored
By Kayla Robbins
Along with the bathroom, the kitchen is one of the most daunting areas to try and make zero waste.
View of downtown Miami, Florida from Hobie Island on Feb. 2, 2019.
Michael Muraz / Flickr
The Democratic candidates for president descended upon Miami for a two-night debate on Wednesday and Thursday. Any candidate hoping to carry the state will have to make the climate crisis central to their campaign, as The New York Times reported.
By Sharon Kelly
On Monday, the Wall Street Journal featured a profile of Scott Sheffield, CEO of Pioneer Natural Resources, whose company is known among investors for its emphasis on drawing oil and gas from the Permian basin in Texas using horizontal drilling and hydraulic fracturing, or fracking.
Pexels
By Craig K. Chandler
The federal government has available to it, should it choose to use them, a wide range of potential climate change management tools, going well beyond the traditional pollution control regulatory options. And, in some cases (not all), without new legislative authorization.
Denis Poroy / Getty Images
By Dan Gray
Processed foods, in their many delicious forms, are an American favorite.
But new research shows that despite increasing evidence on just how unhealthy processed foods are, Americans have continued to eat the products at the same rate.
By Sarah Steffen
With a profound understanding of their environmental surroundings, indigenous communities around the world are often cited as being pivotal to tackling climate change.