AP Investigation Reveals Olympic Athletes Will Swim in 'Raw Sewage' in Rio Waterways
Jul. 31, 2015 08:32AM EST
Health + Wellness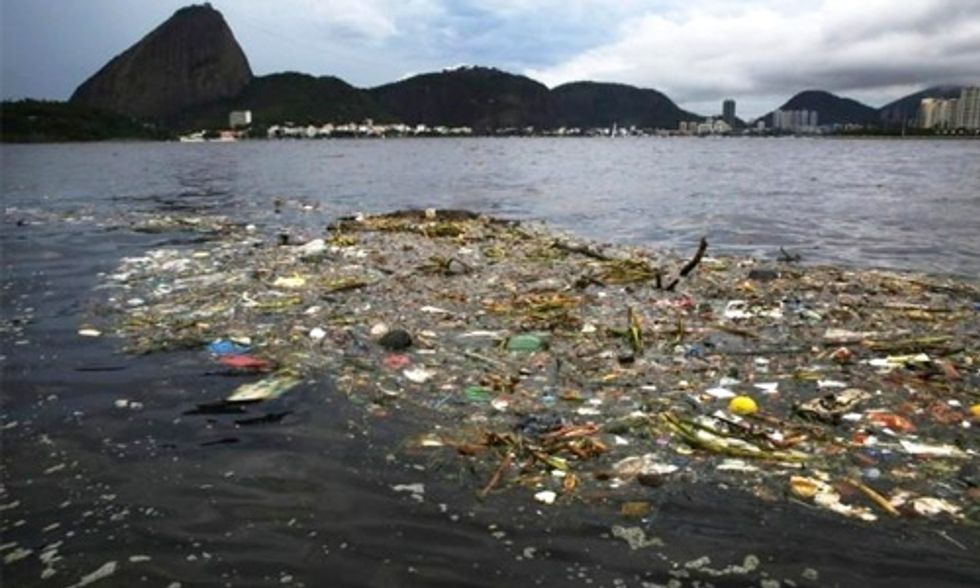 Olympic athletes are gearing up for the 2016 Olympics, which will be held in Rio de Janeiro, Brazil, but a recent AP investigation revealed some startling news: "Athletes in next year's Summer Olympics here will be swimming and boating in waters so contaminated with human feces that they risk becoming violently ill and unable to compete in the games, an Associated Press investigation has found."
Olympic sailors call Rio waters a sewer. Brazil enviro chief dives in to prove otherwise. http://t.co/5pezUeclfN pic.twitter.com/FbEcp028mc

— Jim Roberts (@nycjim) May 5, 2015
The investigation into the water quality in Olympic and Paralympic venues found "dangerously high levels of viruses and bacteria from human sewage."
"Much of the sewage in Rio, a city of 12 million, goes untreated and garbage pickup is spotty, so tons of raw sewage and trash flow into Guanabara Bay, as well as the city's lakes, lagoons and even its celebrated beaches," says Mashable.  
Many officials are obviously concerned about the safety of the athletes, many of whom have already fallen ill with fevers, vomiting and diarrhea, according to the AP. The investigation is the first to look for both bacteria and viruses present in the water. Brazilian officials and the medical director of the International Olympic Committee claim that the water is on track to be safe for the competitors, but neither Brazil nor the Olympic Committee test for viruses, only bacteria.
"Olympic athletes are almost certain to come into contact with disease-causing viruses that in some tests measured up to 1.7 million times the level of what would be considered hazardous on a Southern California beach," according to the AP investigation.
"What you have there is basically raw sewage," John Griffith, a marine biologist at the Southern California Coastal Water Research Project, told the AP. "It's all the water from the toilets and the showers and whatever people put down their sinks, all mixed up, and it's going out into the beach waters. Those kinds of things would be shut down immediately if found here," he said, referring to the U.S.
Ten thousand athletes from 205 countries are expected to compete in the Olympics, but it's not as if officials have a year to address the issue. Olympic hopefuls will be competing in qualifying events this Sunday with more events later in August. And, according to the AP, it doesn't just affect swimmers—"Athletes in sailing, canoeing and to a lesser degree rowing often get drenched when competing, and breathe in mist as well."
"The test results found high counts of active and infectious human adenoviruses, which multiply in the intestinal and respiratory tracts of people," according to the AP investigation. "These are viruses that are known to cause respiratory and digestive illnesses, including explosive diarrhea and vomiting, but can also lead to more serious heart, brain and other diseases."
"Everybody runs the risk of infection in these polluted waters," Dr. Carlos Terra, a Rio-based doctor, told the AP.
"If I were going to be in the Olympics," said Griffith, "I would probably go early and get exposed and build up my immunity system to these viruses before I had to compete, because I don't see how they're going to solve this sewage problem."
Dangerous Raw Sewage Levels For Summer Olympic Waters In Rio http://t.co/xJS8D7TLf7 #Rio2016 #RioDeJaneiro pic.twitter.com/dlVGJUjr9Z

— DiplyNews (@DiplyNews) July 30, 2015
Government officials have jumped into the water where athletes will be competing to show that it is perfectly safe. The problem is that foreigners will not have the built up immunity to these bacteria and viruses. Ivan Bulaja, the Croatian-born coach of Austria's 49er-class sailing team, can confirm that. "This is by far the worst water quality we've ever seen in our sailing careers," Bulaja told the AP. Several members of his team have been out for multiple days after falling ill with vomiting and diarrhea.
The problem has been well known for years. The New York Times highlighted Rio's awful water quality last year. And the issue dates back even further. Rio's waste management crisis has spiraled out of control with the city's rampant population growth in recent decades. Despite the Brazilian government's promise to improve the city's waterways ahead of the games through a $4 billion government expansion of basic sanitation infrastructure, there is "very little to show for it," reports the AP.
"Brazilian authorities promised the moon in order to win their Olympic bid and as usual they're not making good on those promises," Mario Moscatelli, a biologist who has spent 20 years lobbying for a cleanup of Rio's waterways, told the AP. "I'm sad but not surprised."
Rio Mayor Eduardo Paes told the AP the Olympic games have been "a wasted opportunity" as far as efforts to clean up the waterways are concerned.
YOU MIGHT ALSO LIKE
Will Walter Palmer Be Charged for Killing Cecil the Lion?
Richard Branson: Don't Turn Shark Encounter Into an Excuse to Kill More Sharks
EcoWatch Daily Newsletter
Recent Stories from EcoWatch