This website uses cookies to ensure you get the best experience while browsing it. By clicking 'Got It' you're accepting these terms.
Anti-GMO Label Lobby Spent As Much in Q1 2014 As All of 2013 to Block Americans' Right to Know
Jul. 29, 2014 03:52PM EST
Food
Companies and organizations opposed to labeling foods that contain genetically engineered (GE) ingredients disclosed $9 million in lobbying expenditures that made reference to GE labeling in the first quarter of 2014—nearly as much as they spent in all of 2013.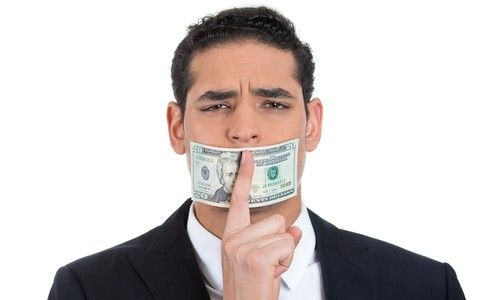 Food industry lobbying in Congress dwarfed that of supporters of GE labeling. Photo courtesy of Shutterstock
The burst of lobbying by food and biotechnology companies was partly designed to muster Congressional support for legislation that would block states from requiring GE labeling on food packages. That bill, dubbed the Deny Americans the Right to Know (DARK) Act by advocates of GE labeling, was introduced on April 9 by Rep. Mike Pompeo (R-Kan.).
In May, Vermont became the first state to enact legislation to require GE labeling, although industry has filed suit in an effort to block it. Connecticut and Maine have passed GE labeling laws that would go into effect if other northeastern states pass similar legislation.
Oregon and Colorado voters will consider GE labeling ballot initiatives this fall, and labeling bills have been introduced in 30 other states in 2013 and 2014.
Food and biotechnology companies and organizations disclosed $9.3 million in lobbying expenditures in 2013 that made reference to GE labeling and $9 million in the first quarter of 2014 alone. The forms cite lobbying on GE labeling as well as other policy issues.
In particular, the Grocery Manufacturers Association disclosed $1.2 million in lobbying expenditures that made reference to GE labeling in the first quarter of 2014. The Association's member organizations separately disclosed another $4.3 million in lobbying expenditures that made reference to GE labeling in the first quarter, including $3.9 million by beverage giants Coca-Cola and Pepsi.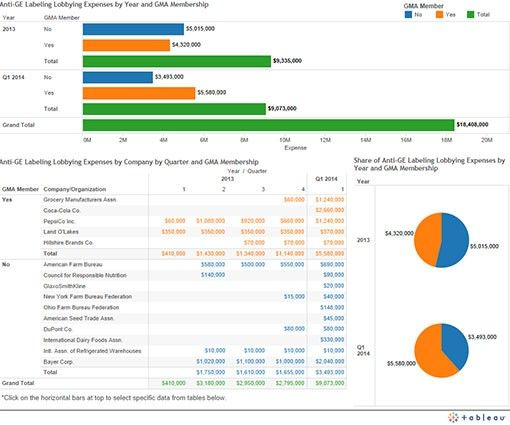 Food industry lobbying in Congress dwarfed that of supporters of GE labeling, who disclosed $1.6 million in lobbying expenditures that made reference to GE labeling in 2013 and just over $400,000 in the first quarter of this year—just one-eighth as much as the opponents. Advocates of GE labeling are supporting legislation introduced by Rep. Peter DeFazio (R-Ore.) and Sen. Barbara Boxer (D-Calif.) that would require GE labeling nationwide.
Several companies that produce genetically engineered seeds and herbicides—including Monsanto, Syngenta and Dow AgroSciences—did not report lobbying specifically on either piece of legislation on their 2013 disclosure forms or in the first quarter of 2014. Instead, their reports cited general advocacy on "biotechnology and biotech product issues," "biotech innovation and regulation" and "biotechnology acceptance." This language could easily include GE labeling, but that wouldn't be obvious to the general public.
Lobbying expenditures for the second quarter of 2014 were due July 21, and the new data will be available by the end of July.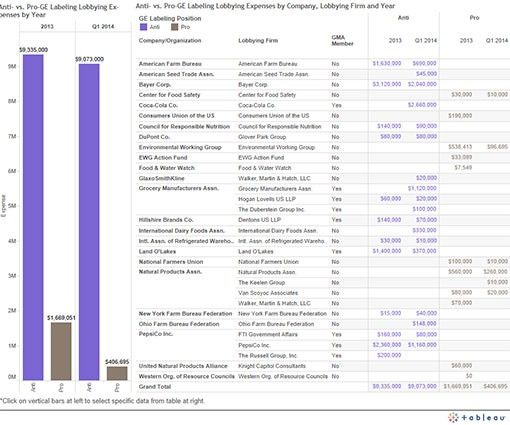 Food and biotechnology companies' political action committees also reported giving $221,345 in campaign contributions to Pompeo and 22 of the 26 members of Congress who co-sponsored the DARK Act (as of July 9). Eight of them, including Pompeo, serve on the House Energy and Commerce Committee, which has jurisdiction over GE labeling.
Pompeo was the second-largest recipient of these campaign contributions, and Monsanto's own PAC was the most generous PAC contributor.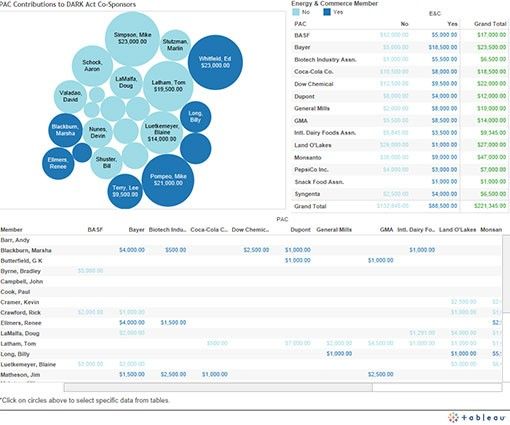 In addition to disclosing $18.4 million in lobbying expenditures that made reference to GE labeling in 2013 and the first quarter of 2014, GE labeling opponents spent $67.9 million to defeat ballot initiatives in California and Washington. Environmental Working Group did not tally funds expended to lobby state legislatures.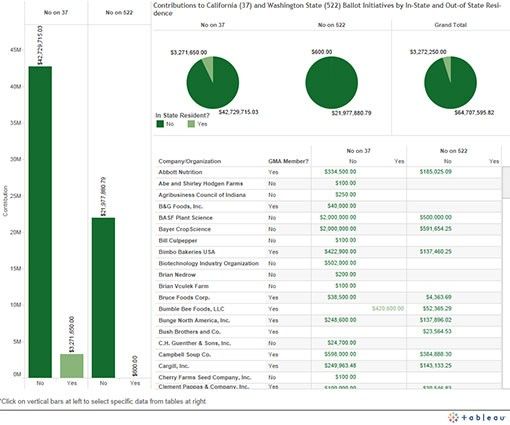 The DARK Act would block any state from requiring GE labels on packaged foods. In addition, it would also allow foods containing genetically engineered ingredients to be labeled as "natural" and limit the Food and Drug Administration (FDA)'s ability to mandate GE labeling nationally.
Instead, the DARK Act would codify existing FDA rules that permit voluntary GE and non-GE labels. To date, no food manufacturer has voluntarily disclosed the presence of GE ingredients in its products.
Americans overwhelmingly support the right to know whether there are genetically engineered ingredients in their food, and recent polls in Oregon and Colorado found that more than three-quarters of voters in those states feel the same way.
You Might Also Like
'Big Food' Ready for Costly Battle as States Consider GMO Labeling Bills
GMO Grass: Coming to a Lawn Near You?
Wave of GMO Labeling Victories Emboldens Movement to Take Back Food Democracy
EcoWatch Daily Newsletter
Oil palm plantations in northeastern Borneo, state of Sabah, Malaysia. Recently planted oil palms can be seen in the bright green grassy areas and a tiny bit of natural rainforest still struggles for survival farther away. Vaara / E+ / Getty Images
A fuel truck carries fuel into a fracking site past the warning signs Jan. 27, 2016 near Stillwater, Oklahoma. J Pat Carter / Getty Images
By Jessica Corbett
For more than three decades, the U.S. government has mismanaged toxic oil and gas waste containing carcinogens, heavy metals and radioactive materials, according to a new Earthworks report — and with the country on track to continue drilling and fracking for fossil fuels, the advocacy group warns of growing threats to the planet and public health.
European Union blue and gold flags flying at the European Commission building in Brussels, Belgium. 35007/ iStock / Getty Images Plus
Newly adopted guidelines set forth by the European Commission Tuesday aim to tackle climate change by way of the financial sector. The move comes to bolster the success of the Sustainable Action Plan published last year to reorient capital flows toward sustainable investment and manage financial risks from climate change, environmental degradation and social issues.
Prime Minister Justin Trudeau delivering remarks to supporters at a Liberal Climate Action Rally in Toronto, Ontario on March 4. Arindam Shivaani / NurPhoto / Getty Images
Canadian Prime Minister Justin Trudeau announced Tuesday that his government would once again approve the expansion of the Trans Mountain pipeline, which would triple the amount of oil transported from Alberta's tar sands to the coast of British Columbia (BC).
An exhausted polar bear wanders the streets of Norilsk, a Siberian city hundreds of miles from its natural habitat. IRINA YARINSKAYA / AFP / Getty Images

An exhausted, starving polar bear has been spotted wandering around the Siberian city of Norilsk, Reuters reported Tuesday. It is the first time a polar bear has entered the city in more than 40 years.
Bumblebees flying and pollinating a creeping thyme flower. emeliemaria / iStock / Getty Images
It pays to pollinate in Minnesota.