Fracking
19 November 2013
Anti-Fracking Groups Call on NC Governor to Protect Homeowners' Property Rights
Today the No Toxic Trespass—No Fracking Way tour rolled into Sanford, NC. At a press conference at the Lee County Courthouse, the Blue Ridge Environmental Defense League called upon Gov. McCrory (R-NC) to defend the state's rural and suburban communities from the fracking industry's seizure of landowners' rights.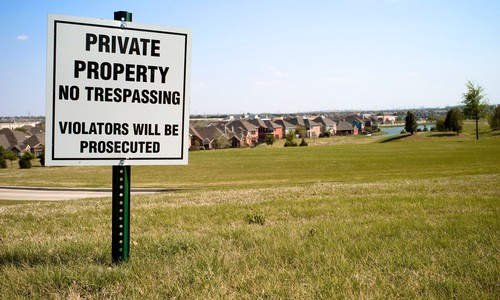 Photo courtesy of Shutterstock
Lou Zeller, executive director of the Blue Ridge Environmental Defense League, spoke about the injustices of forced pooling and split estates, and said, "We know that mineral rights under hundreds of homes in North Carolina have been severed and retained by developers hoping to cash in on hydrofracking."
Lois Gibbs, executive director of the national Center for Health, Environment and Justice, spoke of the human consequences of fracking she has seen in states which allow the practice: "Fracking will kill the environment. Fracking will poison the water. And fracking will rob you of your right to privacy in your own home."
Zeller gave examples of homeowners in North Carolina who have already had their mineral rights taken without their knowledge and added, "This may be just the tip of the fracking iceberg." 
Thousands of acres of such property have been identified in Lee County alone. There are housing developments in Moore, Chatham and Harnett counties, the Triangle, the Triad, and the Charlotte-Mecklenburg areas that may have severed properties, which could add thousands of acres more.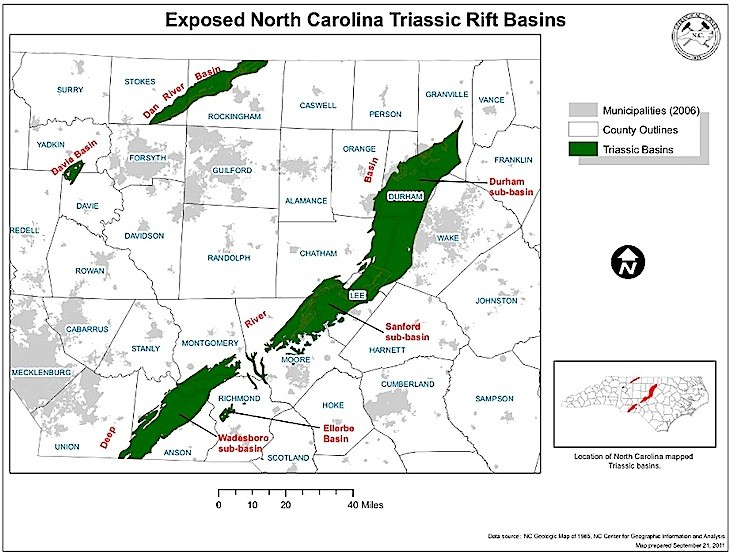 In a letter to the Gov. McCrory delivered today, the league requested a meeting with him to determine what his administration is prepared to do to protect residents living in the potential fracking zones of North Carolina, asking: "Will you take action to protect the property rights of citizens of this state?"
"Blue Ridge Environmental Defense League is now working with landowners in the identified shale basins, as well as those in unexplored areas," concluded Zeller. "We help them find out if the mineral rights to their property have been severed. If you want help, give us a call."
Forced pooling is the practice of compelling private landowners to have oil or gas under their homes and farms extracted and sold to commercial oil or gas production companies. Another practice, known as severed property or split estates, allows developers to keep or obtain mineral rights underneath privately owned land.
Tomorrow the No Toxic Trespass—No Fracking Way tour will be in Pittsboro for a public forum at Central Carolina Community College. The Center for Health, Environment and Justice and the Blue Ridge Environmental Defense League launched the four-day barnstorming tour of cities and towns across North Carolina's potential fracking zone on Monday.
Spanning the state with a series of local events, the tour features the nationally-recognized mother of the grassroots environmental movement, Lois Gibbs, who organized her community of Love Canal, NY, and triumphed in establishing the Superfund for toxic chemical cleanups.
Visit EcoWatch's FRACKING page for more related news on this topic.

Wikimedia Commons
By Stacy Malkan
Neil deGrasse Tyson has inspired millions of people to care about science and imagine themselves as participants in the scientific process. What a hopeful sign it is to see young girls wearing t-shirts emblazoned with the words, "Forget princess, I want to be an astrophysicist."
Keep reading...
Show less
www.youtube.com
By Andy Rowell
Any day now we will truly witness climate change in action. Within days at worst, maybe weeks at best, scientists predict that a huge section of the Larsen C ice shelf in Antarctica will break off into the ocean, in what is called a major "carving" event.
Keep reading...
Show less
www.youtube.com
President Trump visited Cedar Rapids, Iowa on June 21 to speak to a large crowd in the U.S. Cellular Center at a political rally organized by his campaign.
As Trevor Noah noted during The Daily Show episode last night (starts at 2:25), the real reason Trump has these rallies is to "get back in front of his loyal crowds and feed of their energy." Noah believes that "Trump supporters are so on board with their dude he can say anything and they'll come along for the ride."
Keep reading...
Show less
The Kamuthi solar plant in the southern Indian state of Tamil Nadu.
The rapid growth in renewable energy continues to put a dent in the demand for coal.
Coal India, the world's biggest coal mining company and producer of 82 percent of the country's coal, announced the closure of 37 mines that are financially "unviable."
Keep reading...
Show less
www.youtube.com
By Katie O'Reilly
Two years ago—long before coal became one of the most dominant and controversial symbols of the 2016 presidential election—Bloomberg Philanthropies approached production company RadicalMedia with the idea of creating a documentary exploring the U.S. coal mining industry. Last spring, they brought on Emmy-nominated director Michael Bonfiglio, tasked with forging a compelling story out of the multitudes of facts, statistics and narratives underlying the declining industry.
Keep reading...
Show less
Mayors for 100% Clean Energy
Keep reading...
Show less
www.youtube.com
Thanks to Newsy for their coverage on Thursday's news that the U.S. Fish and Wildlife Service removed grizzly bears in the Greater Yellowstone region from the Endangered Species List.
Watch above as Newsy explains that the decision comes despite serious concerns from the environmental and scientific community, and Tribal Nations about a declining, isolated grizzly bear population with diminishing food resources and record-high mortalities.
Keep reading...
Show less
www.facebook.com
By Francine Kershaw
Seismic airguns exploding in the ocean in search for oil and gas have devastating impacts on zooplankton, which are critical food sources for marine mammals, according to a new study in Nature. The blasting decimates one of the ocean's most vital groups of organisms over huge areas and may disrupt entire ecosystems.
And this devastating news comes on the heels of the National Marine Fisheries Service's proposal to authorize more than 90,000 miles of active seismic blasting. Based on the results of this study, the affected area would be approximately 135,000 square miles.
Keep reading...
Show less
By Jill Richardson
Is coconut oil:
good for you
bad for you
neither good nor bad
scientists don't know
The subject of this question is the source of a disagreement. Initially, the question was thought to be settled decades ago, when scientist Ancel Keys declared all saturated fats unhealthy. Coconut oil, which is solid at room temperature, is a saturated fat.
Keep reading...
Show less


Get EcoWatch in your inbox