Anti-Fracking Group Pressures Pennsylvania Governor Candidates For Moratorium Commitments
Apr. 16, 2014 04:36PM EST
Energy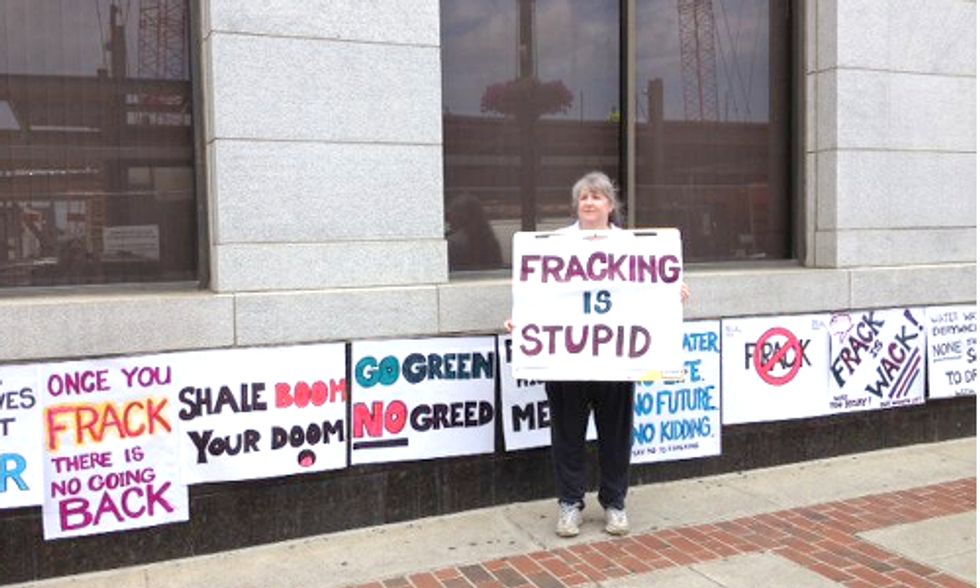 From filmmakers to grassroots advocates, excitement is bubbling for primary election day in Pennsylvania.
That's because a campaign called Pa. Voters Against Fracking just might force the fracking moratorium they have wanted for so long in a state where business is booming, but people of all ages are suffering from the toxic effects. The campaign, which was launched and announced Wednesday by Food & Water Watch Fund, the political arm of Food & Water Watch, was designed to place pressure on Democratic gubernatorial candidates to publicly declare that they will institute a moratorium on new fracking operations if elected.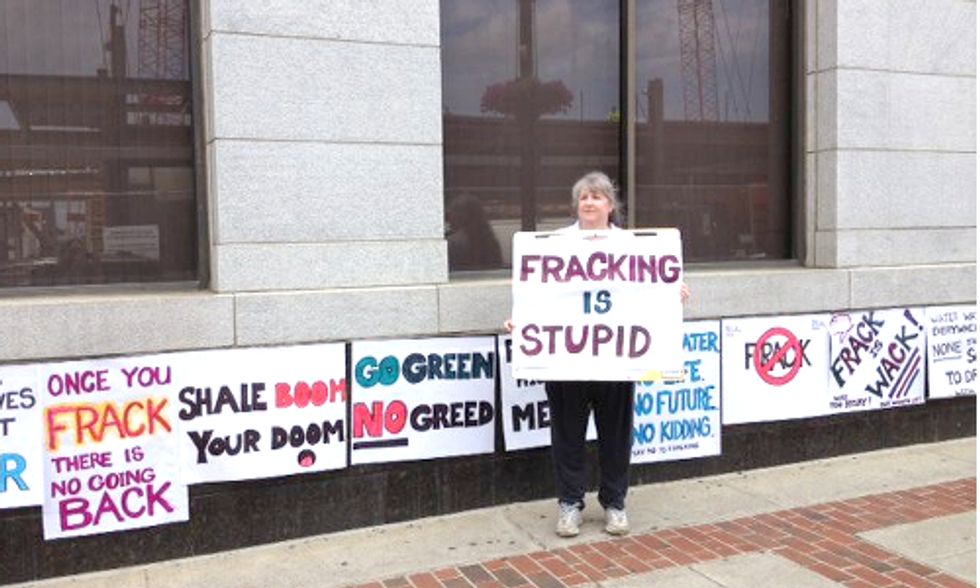 "The movement against fracking is strong, and we intend to show that strength as primary election day approaches," said Sam Bernhardt, senior Pennsylvania organizer for Food & Water Watch Fund. "For the first time, a political operation will now be able to harness the energy of the huge grassroots anti-fracking movement and channel it directly into swinging what will surely be a wide-open race with a very tight margin of victory.
"Let me be clear: we are putting those candidates who stand in support of fracking on notice."
The group is also calling for a "Pledge to Halt Fracking," which would require the candidates for governor and lieutenant governor to insist on the state Department of Environmental Protection to stop issuing drilling permits until the practice is scientifically declared to be safe. Anybody who has been paying attention knows that won't happen.
The group secured its first pledge signee—Brad Koplinski, a Harrisburg city councilman and candidate for lieutenant governor.
"The only sensible position on fracking in Pennsylvania is an immediate moratorium," said Josh Fox, the award-winning filmmaker of Gasland and Gasland Part II. "I have investigated the harms of drilling and fracking in Pennsylvania for five years and the results are conclusive: everywhere this industry goes, it destroys the environment and the integrity of the community and makes life very difficult and dangerous for people. Add to this the very dire need to stop drilling for fossil fuels because of climate change and you get a very simple answer: continued drilling and fracking is irresponsible and damaging to this and future generations. It must be stopped and the shift to renewable energy must be made as fast as possible, it's a no-brainer."
Last June, the state Democratic Committee voted 115 to 81 in support of a fracking moratorium. Additionally, a Muhlenberg College poll showed that 58 percent of residents supported a moratorium.
"We're thrilled that Brad Koplinski is listening to what Pennsylvanians are telling him," said Karen Feridun of Berks Gas Truth, who led the charge to pass the Democratic committee resolution. "His decision to sign the pledge is smart policy and smart politics."
——–
YOU ALSO MIGHT LIKE
PA Fracking Moratorium Gains Momentum
New Study Shows Proximity to Fracking Sites Increases Risk of Birth Defects
Case Studies Show How Shale Boom Hurt Health and Infrastructure of Four Communities
——–
EcoWatch Daily Newsletter