This website uses cookies to ensure you get the best experience while browsing it. By clicking 'Got It' you're accepting these terms.
Anti-Fracking and No Nukes Activists Join Forces Demanding Renewable Energy Revolution
Feb. 05, 2015 08:59AM EST

Our Earth is being destroyed by fracking and nukes.
These two vampire technologies suck the energy out of our planet while permanently poisoning our air, water, food and livelihoods.
The human movements fighting them have been largely separate over the years.
No more.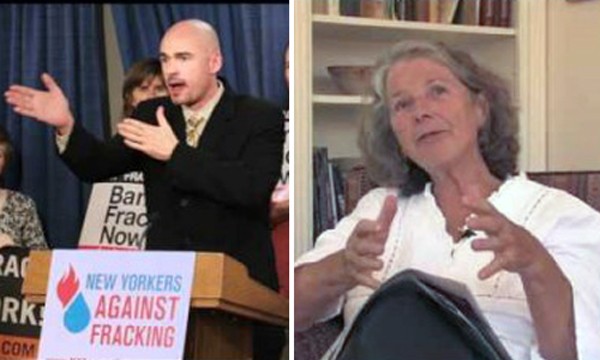 In the wake of Fukushima, the global campaign to bury atomic power has gained enormous strength. All Japan's 54 reactors remain shut. Germany is amping up its renewable energy generation with a goal of 80 percent or more by 2050. Four U.S. reactors under construction are far over budget and behind schedule. Five old ones have closed in the last two years.
In New England and elsewhere, as the old nukes go down, safe energy activists shift their attention to the deadly realities of fossil fuel extraction.
The issues are familiar. Fracking in particular poisons our water and spews out huge quantities of lethal radiation. Ironically, in Ohio and elsewhere, the seismic instability it creates threatens atomic reactors still in operation.
In California, the burgeoning movement to shut the two remaining nukes at Diablo Canyon has run parallel with the powerful grassroots opposition to fracking. In both cases, water issues in this drought-plagued state have moved front and center.
Now the gap is being bridged. In a passionate hour-long dialog on saving our Earth, long-time anti-fracking activist David Braun speaks with Linda Seeley of the San Luis Obispo Mothers for Peace, the legendary grassroots group that has fought Diablo Canyon for more than four decades.
In their Solartopian radio conversation, and in a call to convene this coming spring, we see the seeds of an intertwined alliance that can help save our Earth:
YOU MIGHT ALSO LIKE
I'm Marching for Real Climate Leadership: Stop Fracking California
Worst Fracking Wastewater Spill in North Dakota Leaks 3 Million Gallons Into River
Plus, learn if there's one that's best for your health.
Catherine Falls Commercial / Moment / Getty Images
An invasive Amynthas worm, also known as a crazy snake worm, Asian jumping worm and Alabama jumper Tom Potterfield / Flickr
By Jason Bittel
My wife and I built a house two years ago on a few acres of woodland outside of Pittsburgh. The backyard is full of maples, poplars, briars and common spicebush. Two-lined salamanders and grumpy-looking crayfish wade among the rocks in the small stream that runs down the edge of the property. Deer, raccoon and opossum tracks appear regularly in the snow and mud. Sometimes, my trail-cam even catches a pair of gray foxes as they slink through the night.
AleksandarNakic / Getty Images
By Kate Murphy
No matter the time of year, there's always a point in each season when my skin decides to cause me issues. While these skin issues can vary, I find the most common issues to be dryness, acne and redness.

David Woodfall / The Image Bank / Getty Images
By Sam Nickerson
The U.S. Environmental Protection Agency (EPA) in April 2018 proposed relaxing standards related to how it assesses the effects of exposure to low levels of toxic chemicals on public health.
Now, correspondence obtained by the LA Times revealed just how deeply involved industry lobbyists and a controversial, industry-funded toxicologist were in drafting the federal agency's proposal to scrap its current, protective approach to regulating toxin exposure.
Steve Irwin poses with a three foot long alligator at the San Francisco Zoo on June 26, 2002. Justin Sullivan / Getty Images
February 22 is the birthday of conservationist and beloved TV personality "Crocodile Hunter" Steve Irwin, who would have been 57 years old today.
Irwin's life was tragically cut short when the barb from a stingray went through his chest while he was filming in 2006, but his legacy of loving and protecting wildlife lives on, most recently in a Google Doodle today honoring his birthday.