This website uses cookies to ensure you get the best experience while browsing it. By clicking 'Got It' you're accepting these terms.
Anti-Fracking and No Nukes Activists Join Forces Demanding Renewable Energy Revolution
Feb. 05, 2015 08:59AM EST
Energy

Our Earth is being destroyed by fracking and nukes.
These two vampire technologies suck the energy out of our planet while permanently poisoning our air, water, food and livelihoods.
The human movements fighting them have been largely separate over the years.
No more.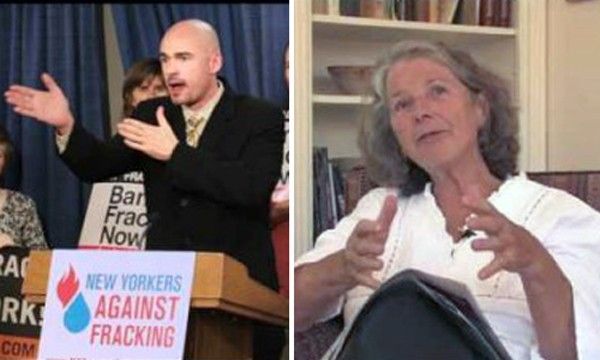 In the wake of Fukushima, the global campaign to bury atomic power has gained enormous strength. All Japan's 54 reactors remain shut. Germany is amping up its renewable energy generation with a goal of 80 percent or more by 2050. Four U.S. reactors under construction are far over budget and behind schedule. Five old ones have closed in the last two years.
In New England and elsewhere, as the old nukes go down, safe energy activists shift their attention to the deadly realities of fossil fuel extraction.
The issues are familiar. Fracking in particular poisons our water and spews out huge quantities of lethal radiation. Ironically, in Ohio and elsewhere, the seismic instability it creates threatens atomic reactors still in operation.
In California, the burgeoning movement to shut the two remaining nukes at Diablo Canyon has run parallel with the powerful grassroots opposition to fracking. In both cases, water issues in this drought-plagued state have moved front and center.
Now the gap is being bridged. In a passionate hour-long dialog on saving our Earth, long-time anti-fracking activist David Braun speaks with Linda Seeley of the San Luis Obispo Mothers for Peace, the legendary grassroots group that has fought Diablo Canyon for more than four decades.
In their Solartopian radio conversation, and in a call to convene this coming spring, we see the seeds of an intertwined alliance that can help save our Earth:
YOU MIGHT ALSO LIKE
I'm Marching for Real Climate Leadership: Stop Fracking California
Worst Fracking Wastewater Spill in North Dakota Leaks 3 Million Gallons Into River
EcoWatch Daily Newsletter
Lara Hata / iStock / Getty Images
By SaVanna Shoemaker, MS, RDN, LD
Rice is a staple in many people's diets. It's filling, inexpensive, and a great mild-tasting addition to flavorful dishes.
An image of the trans-alaskan oil pipeline that carries oil from the northern part of Alaska all the way to valdez. This shot is right near the arctic national wildlife refuge. kyletperry / iStock / Getty Images Plus
The Trump administration has initialized the final steps to open up nearly 1.6 million acres of the protected Alaskan National Wildlife Refuge to allow oil and gas drilling.
Kaboompics / Pexels
Tensions between lawmakers and several large manufacturing companies came to a head on Capitol Hill this week during a hearing on toxic fluorochemicals in U.S. drinking water.
A male african lion plays with his 4 month old cub at Big Marsh in Serengeti National Park, Tanzania. Nick Garbutt / Barcroft Media / Getty Images
A Florida man has been allowed to import a Tanzanian lion's skin, skull, claws and teeth, a first since the animal was listed as threatened under the Endangered Species Act, according to US Fish and Wildlife Service records uncovered by the Center for Biological Diversity through the Freedom of Information Act.
A fracked natural gas well in northwest Louisiana has been burning for two weeks after suffering a blowout. A state official said the fire will likely burn for the next month before the flames can be brought under control by drilling a relief well.
The universe is expanding much quicker than previously thought, according to researchers in Germany, leading scientists to suggest it may be more than 2 billion years younger than past estimates.