This website uses cookies to ensure you get the best experience while browsing it. By clicking 'Got It' you're accepting these terms.
Antarctic Sea Ice Loss and Media's Art of Climate Distraction
Sep. 22, 2012 01:00PM EST
Climate
In order to distract from the announcement this week that Arctic sea ice is at a record low, right-wing media are pointing to Antarctic sea ice as proof that climate change isn't occurring. But Antarctic sea ice gains have been slight, whereas Arctic ice decline—a key indicator of climate change—has been extreme. Furthermore, scientists have long expected the Arctic to experience the first impacts of climate change, and still project that in the long run, sea ice in both regions will decline as greenhouse gas concentrations increase.
On Sept. 16, the National Snow and Ice Data Center announced that Arctic sea ice reached its minimum extent for the year and the lowest seasonal minimum measured since record keeping began in 1979. But in a blog post published the day of that record low, climate contrarian Steven Goddard changed the subject, asserting that Antarctic ice on "day 256" (Sept. 12 in a leap year) was the highest ever recorded for that date, and the eighth highest daily recording ever. A few days earlier, contrarian Anthony Watts cited satellite readings showing "mass gains of the Antarctic ice sheet" to similar end.
Heartland Institute fellow and Forbes contributor James Taylor quickly seized on the argument, complaining that instead of covering the Antarctic, news reporters were "breathlessly spreading fear and warning of calamity because Arctic sea ice recently set a 33-year low." Investor's Business Daily used the Antarctic ice growth to pass judgment on "global warming alarmists" for noting record summer temperatures across much of the U.S. and concluded "The alarmists' bible has turned out to be full of false prophets."
But the low Arctic sea ice came on the heels of a "record-breaking summer," and it is lower than any since observation began "by a wide margin." According to a NASA release on the record, the difference between the new Arctic sea ice extent and the old mark is larger than the state of Texas, whereas, as National Snow & Ice Date Center [NSIDC] Director Mark Serreze told LiveScience, "Antarctic sea ice hasn't seen these big reductions we've seen in the Arctic."
Indeed, the daily sea ice extent for the Arctic is well outside of two standard deviations from the 1997-2000 average, while the Antarctic daily sea ice extent is only slightly outside of this range for 2012: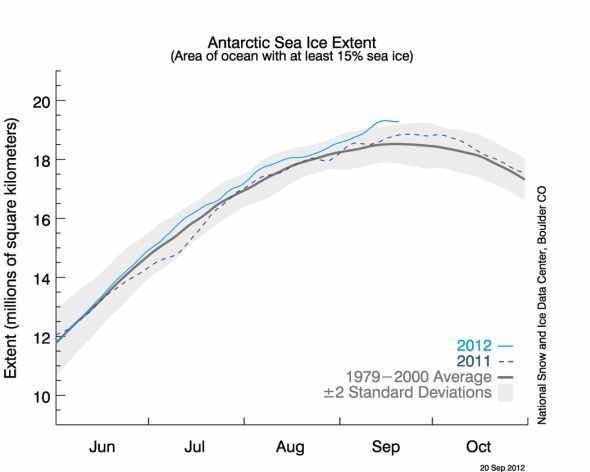 And according to a study published in Nature of 69 sites around the Arctic, the drop in late summer sea ice in the Arctic is unprecedented in over a thousand years: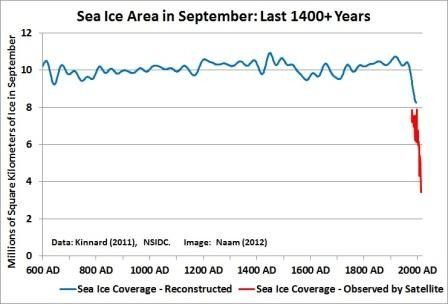 What's more, according to SkepticalScience, "[r]eporting on Antarctic ice often fails to recognize the difference between sea ice and land ice,"—the latter is decreasing even as the former increases slightly.
And the observed Antarctic sea ice gains don't explain away climate change. According to a 2010 study published in the Proceedings of the National Academy of Sciences,  there has been a "substantial warming trend for the second half of the 20th century" for the sea surface temperature in the Southern Ocean, which encircles Antarctica. But this warming has actually been associated with an "increase of the Antarctic sea ice for the past three decades," in part because it has led to increased precipitation in the form of snow in that region. The study, which was authored by Jiping Liu and Judith Curry, a climatologist who has been critical of the IPCC, concluded that "[w]ith increased loading of greenhouse gases in the atmosphere through the 21st century, the models show an accelerated warming in the Southern Ocean" and a "projected decline of the Antarctic sea ice."
According to NSIDC's Walt Meier, that study was in line with past predictions and "conventional wisdom," contrary to IBD's implication that last week's news emerged suddenly to ruin the "global warming story." On the other hand, the drop in Arctic sea ice occurred much more rapidly than many scientists expected, as they told The Washington Post:
"We are now in uncharted territory," said Mark Serreze, NSIDC director. "While we've long known that as the planet warms up, changes would be seen first and be most pronounced in the Arctic, few of us were prepared for how rapidly the changes would actually occur."

The National Oceanic and ­Atmospheric Administration reported that the ice loss during August occurred at the fastest clip on record for the month, the ice shrinking at the rate of 35,400 square miles per day.

"Climate models have predicted a retreat of the Arctic sea ice; but the actual retreat has proven to be much more rapid than the predictions," said Claire Parkinson, a climate scientist at NASA.
Some scientists predict that we could see an ice-free Arctic in the summer as soon as four years from now, though most current models project that this will happen in 30 to 40 years. According to a Fish and Wildlife Service assessment, "it is unlikely that polar bears can survive in ice-free water," and this drop in sea ice could lead to weather extremes.
Visit EcoWatch's CLIMATE CHANGE page for more related news on this topic.
EcoWatch Daily Newsletter
Artist's conception of solar islands in the open ocean. PNAS
Millions of solar panels clustered together to form an island could convert carbon dioxide in seawater into methanol, which can fuel airplanes and trucks, according to new research from Norway and Switzerland and published in the Proceedings of the National Academy of Sciences journal, PNAS, as NBC News reported. The floating islands could drastically reduce greenhouse gas emissions and dependence on fossil fuels.
Marcos Alves / Moment Open / Getty Images
More than 40 percent of insects could go extinct globally in the next few decades. So why did the U.S. Environmental Protection Agency (EPA) last week ok the 'emergency' use of the bee-killing pesticide sulfoxaflor on 13.9 million acres?
EcoWatch teamed up with Center for Biological Diversity via EcoWatch Live on Facebook to find out why. Environmental Health Director and Senior Attorney Lori Ann Burd explained how there is a loophole in the The Federal Insecticide, Fungicide, and Rodenticide Act under section 18, "that allows for entities and states to request emergency exemptions to spraying pesticides where they otherwise wouldn't be allowed to spray."
Simple swaps that cut down on kitchen trash.
Sponsored
By Kayla Robbins
Along with the bathroom, the kitchen is one of the most daunting areas to try and make zero waste.
View of downtown Miami, Florida from Hobie Island on Feb. 2, 2019.
Michael Muraz / Flickr
The Democratic candidates for president descended upon Miami for a two-night debate on Wednesday and Thursday. Any candidate hoping to carry the state will have to make the climate crisis central to their campaign, as The New York Times reported.
By Sharon Kelly
On Monday, the Wall Street Journal featured a profile of Scott Sheffield, CEO of Pioneer Natural Resources, whose company is known among investors for its emphasis on drawing oil and gas from the Permian basin in Texas using horizontal drilling and hydraulic fracturing, or fracking.
Pexels
By Craig K. Chandler
The federal government has available to it, should it choose to use them, a wide range of potential climate change management tools, going well beyond the traditional pollution control regulatory options. And, in some cases (not all), without new legislative authorization.
Denis Poroy / Getty Images
By Dan Gray
Processed foods, in their many delicious forms, are an American favorite.
But new research shows that despite increasing evidence on just how unhealthy processed foods are, Americans have continued to eat the products at the same rate.
By Sarah Steffen
With a profound understanding of their environmental surroundings, indigenous communities around the world are often cited as being pivotal to tackling climate change.