This website uses cookies to ensure you get the best experience while browsing it. By clicking 'Got It' you're accepting these terms.
Antarctic Sea Ice Loss and Media's Art of Climate Distraction
Sep. 22, 2012 01:00PM EST
Climate
In order to distract from the announcement this week that Arctic sea ice is at a record low, right-wing media are pointing to Antarctic sea ice as proof that climate change isn't occurring. But Antarctic sea ice gains have been slight, whereas Arctic ice decline—a key indicator of climate change—has been extreme. Furthermore, scientists have long expected the Arctic to experience the first impacts of climate change, and still project that in the long run, sea ice in both regions will decline as greenhouse gas concentrations increase.
On Sept. 16, the National Snow and Ice Data Center announced that Arctic sea ice reached its minimum extent for the year and the lowest seasonal minimum measured since record keeping began in 1979. But in a blog post published the day of that record low, climate contrarian Steven Goddard changed the subject, asserting that Antarctic ice on "day 256" (Sept. 12 in a leap year) was the highest ever recorded for that date, and the eighth highest daily recording ever. A few days earlier, contrarian Anthony Watts cited satellite readings showing "mass gains of the Antarctic ice sheet" to similar end.
Heartland Institute fellow and Forbes contributor James Taylor quickly seized on the argument, complaining that instead of covering the Antarctic, news reporters were "breathlessly spreading fear and warning of calamity because Arctic sea ice recently set a 33-year low." Investor's Business Daily used the Antarctic ice growth to pass judgment on "global warming alarmists" for noting record summer temperatures across much of the U.S. and concluded "The alarmists' bible has turned out to be full of false prophets."
But the low Arctic sea ice came on the heels of a "record-breaking summer," and it is lower than any since observation began "by a wide margin." According to a NASA release on the record, the difference between the new Arctic sea ice extent and the old mark is larger than the state of Texas, whereas, as National Snow & Ice Date Center [NSIDC] Director Mark Serreze told LiveScience, "Antarctic sea ice hasn't seen these big reductions we've seen in the Arctic."
Indeed, the daily sea ice extent for the Arctic is well outside of two standard deviations from the 1997-2000 average, while the Antarctic daily sea ice extent is only slightly outside of this range for 2012: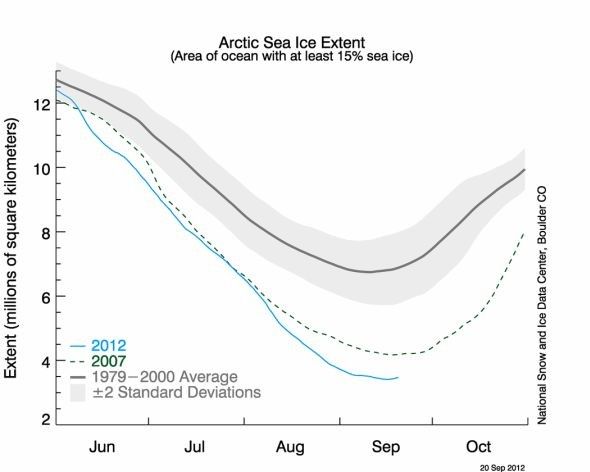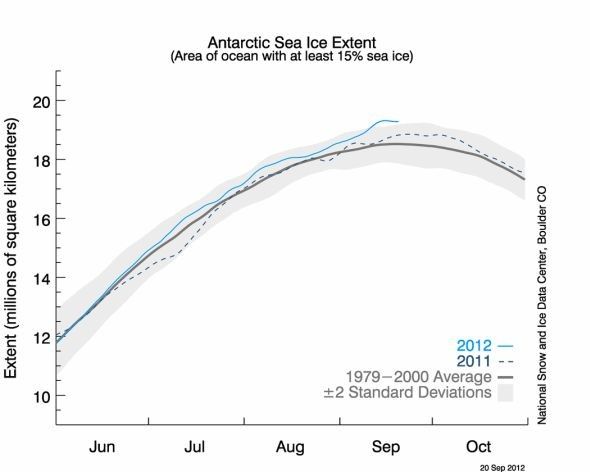 And according to a study published in Nature of 69 sites around the Arctic, the drop in late summer sea ice in the Arctic is unprecedented in over a thousand years: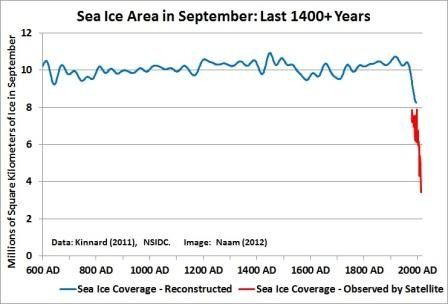 What's more, according to SkepticalScience, "[r]eporting on Antarctic ice often fails to recognize the difference between sea ice and land ice,"—the latter is decreasing even as the former increases slightly.
And the observed Antarctic sea ice gains don't explain away climate change. According to a 2010 study published in the Proceedings of the National Academy of Sciences,  there has been a "substantial warming trend for the second half of the 20th century" for the sea surface temperature in the Southern Ocean, which encircles Antarctica. But this warming has actually been associated with an "increase of the Antarctic sea ice for the past three decades," in part because it has led to increased precipitation in the form of snow in that region. The study, which was authored by Jiping Liu and Judith Curry, a climatologist who has been critical of the IPCC, concluded that "[w]ith increased loading of greenhouse gases in the atmosphere through the 21st century, the models show an accelerated warming in the Southern Ocean" and a "projected decline of the Antarctic sea ice."
According to NSIDC's Walt Meier, that study was in line with past predictions and "conventional wisdom," contrary to IBD's implication that last week's news emerged suddenly to ruin the "global warming story." On the other hand, the drop in Arctic sea ice occurred much more rapidly than many scientists expected, as they told The Washington Post:
"We are now in uncharted territory," said Mark Serreze, NSIDC director. "While we've long known that as the planet warms up, changes would be seen first and be most pronounced in the Arctic, few of us were prepared for how rapidly the changes would actually occur."

The National Oceanic and ­Atmospheric Administration reported that the ice loss during August occurred at the fastest clip on record for the month, the ice shrinking at the rate of 35,400 square miles per day.

"Climate models have predicted a retreat of the Arctic sea ice; but the actual retreat has proven to be much more rapid than the predictions," said Claire Parkinson, a climate scientist at NASA.
Some scientists predict that we could see an ice-free Arctic in the summer as soon as four years from now, though most current models project that this will happen in 30 to 40 years. According to a Fish and Wildlife Service assessment, "it is unlikely that polar bears can survive in ice-free water," and this drop in sea ice could lead to weather extremes.
Visit EcoWatch's CLIMATE CHANGE page for more related news on this topic.
EcoWatch Daily Newsletter
Extreme weather events supercharged by climate change in 2012 led to nearly 1,000 more deaths, more than 20,000 additional hospitalizations, and cost the U.S. healthcare system $10 billion, a new report finds.
Giant sequoia trees at Sequoia National Park, California. lucky-photographer / iStock / Getty Images Plus
A Bay Area conservation group struck a deal to buy and to protect the world's largest remaining privately owned sequoia forest for $15.6 million. Now it needs to raise the money, according to CNN.
This aerial view shows the Ogasayama Sports Park Ecopa Stadium, one of the venues for 2019 Rugby World Cup. MARTIN BUREAU / AFP / Getty Images
The Rugby World Cup starts Friday in Japan where Pacific Island teams from Samoa, Fiji and Tonga will face off against teams from industrialized nations. However, a new report from a UK-based NGO says that when the teams gather for the opening ceremony on Friday night and listen to the theme song "World In Union," the hypocrisy of climate injustice will take center stage.
Vera_Petrunina / iStock / Getty Images Plus
By Wudan Yan
In June, New York Times journalist Andy Newman wrote an article titled, "If seeing the world helps ruin it, should we stay home?" In it, he raised the question of whether or not travel by plane, boat, or car—all of which contribute to climate change, rising sea levels, and melting glaciers—might pose a moral challenge to the responsibility that each of us has to not exacerbate the already catastrophic consequences of climate change. The premise of Newman's piece rests on his assertion that traveling "somewhere far away… is the biggest single action a private citizen can take to worsen climate change."

Volunteer caucasian woman giving grain to starving African children.
Bartosz Hadyniak / E+ / Getty Images
Food will be scarce, expensive and less nutritious," CNN warns us in its coverage of the UN's new "Climate Change and Land" report. The New York Times announces that "Climate Change Threatens the World's Food Supply."
By Adam Vaughan
Two-thirds of people in the UK think the amount people fly should be reined in to tackle climate change, polling has found.
Climate Week NYC
On Monday, Sept. 23, the Climate Group will kick off its 11th annual Climate Week NYC, a chance for governments, non-profits, businesses, communities and individuals to share possible solutions to the climate crisis while world leaders gather in the city for the UN Climate Action Summit.
By Pam Radtke Russell in New Orleans
Local TV weather forecasters have become foot soldiers in the war against climate misinformation. Over the past decade, a growing number of meteorologists and weathercasters have begun addressing the climate crisis either as part of their weather forecasts, or in separate, independent news reports to help their viewers understand what is happening and why it is important.