This website uses cookies to ensure you get the best experience while browsing it. By clicking 'Got It' you're accepting these terms.
Another Whale Dead From Ingesting a Plastic Bag
Oct. 30, 2015 11:32AM EST
Animals
[Editor's note: Yesterday EcoWatch reported that a mature sperm whale was found dead in Taiwan. Local marine biologists said plastic bags and fishing nets filling its stomach.]
Marine debris can be a dangerous problem for the animals that inhabit the marine environment. Unfortunately, we recently saw this first-hand on a Florida beach. A melon-headed whale that was recovered along Florida's east coast died due to a large plastic bag in its digestive system. NOAA Fisheries' stranding network staff, partnering with the Florida Fish and Wildlife Conservation Commission and Harbor Branch Oceanographic Institute responded to the call about a stranding on Riviera Beach.
A decision was made to euthanize the whale after vets at the Palm Beach Zoo determined that the animal was in very poor condition and extremely thin. A necropsy (a non-human autopsy) was performed by a veterinarian to discover the cause of the animal's poor health and subsequent death, during which a large plastic bag was found to be blocking the whale's intestinal tract. The whale had suffered from starvation due to the blockage.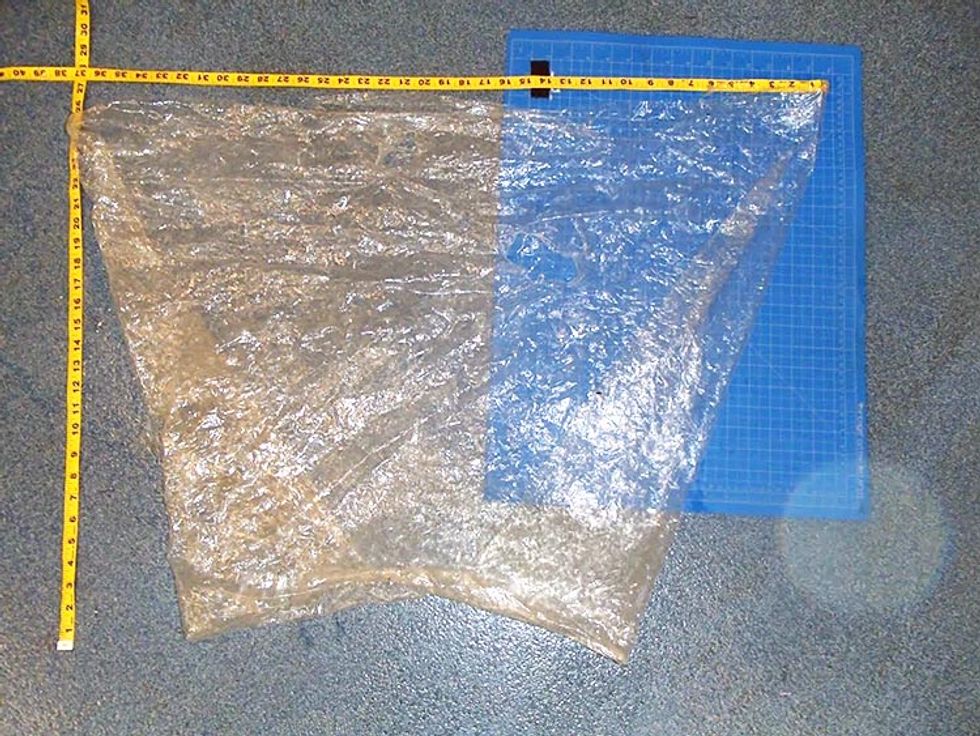 The plastic bag found within a melon-headed whale's digestive tract. Photo Credit: FAU Harbor Branch
This is a sad reminder of the impact of marine debris. Every piece of debris matters. Animals can mistake trash for food or accidentally ingest it when consuming actual food items. However, we can help! By properly disposing of our trash, following the three R's (reduce, reuse, recycle), helping to educate others, and by cleaning up our shorelines and waterways by getting involved in cleanup events, we can fight the marine debris problem and work to avoid outcomes like this in the future. To learn more about how you can help, visit our website.
YOU MIGHT ALSO LIKE
Plastic Bags and Fishing Nets Found in Stomach of Dead Whale
Algal Blooms Linked to Largest Die-Off of Great Whales Ever Recorded
295 Bears Killed in Florida's First Black Bear Hunt in Decades
Plastic Trash Found in Arctic Ocean, Likely Forming Sixth Garbage Patch
EcoWatch Daily Newsletter
We need our government to do everything it can to stop PFAS contamination and exposure from wreaking havoc in communities across the country. LuAnn Hun /
Unsplash
By Genna Reed
The EPA announced last week that it is issuing a preliminary regulatory determination for public comment to set an enforceable drinking water standard to two of the most common and well-studied PFAS, PFOA and PFOS.
This decision is based on three criteria:
PFOA and PFOS have an adverse effect on public health
PFOA and PFOS occur in drinking water often enough and at levels of public health concern;
regulation of PFOA and PFOS is a meaningful opportunity for reducing the health risk to those served by public water systems.
Charging EVs in Stockholm: But where does a dead battery go? Ranjithsiji / Wikimedia Commons
By Kieran Cooke
Driving an electric-powered vehicle (EV) rather than one reliant on fossil fuels is a key way to tackle climate change and improve air quality — but it does leave the old batteries behind as a nasty residue.
U.S. Secretary of the Treasure Steven Mnuchin arrives for a welcome dinner at the Murabba Palace in Riyadh, Saudi Arabia on Feb. 22, 2020 during the G20 finance ministers and central bank governors meeting. FAYEZ NURELDINE / AFP via Getty Images
Finance ministers from the 20 largest economies agreed to add a scant mention of the climate crisis in its final communiqué in Riyadh, Saudi Arabia on Sunday, but they stopped short of calling it a major economic risk, as Reuters reported. It was the first time the G20 has mentioned the climate crisis in its final communiqué since Donald Trump became president in 2017.
Aerial view of Parque da Cachoeira, which suffered the January 2019 dam collapse, in Brumadinho, state of Minas Gerais, Brazil — one of the country's worst industrial accidents that left 270 people dead. Millions of tons of toxic mining waste engulfed houses, farms and waterways, devastating the mineral-rich region. DOUGLAS MAGNO / AFP / Getty Images
Participants of the climate demonstration Fridays for Future walk through Hamburg, Germany on Feb. 21, 2020. Axel Heimken / picture alliance via Getty Images