This website uses cookies to ensure you get the best experience while browsing it. By clicking 'Got It' you're accepting these terms.
Another Victory Strengthens Local GE and Pesticide Bans in Hawaii
Feb. 06, 2014 09:44AM EST
Food
Center for Food Safety (CFS) yesterday welcomed the committee defeat of SB 110, a bill that would have circumvented the legislative process for the so-called "Right to Farm" Act in Hawai'i. SB 110 would have stripped local control over agriculture and replaced it with a "one size fits all" policy dictated by the state. 
"This is a big defeat for the chemical corporations," said Andrew Kimbrell, executive director of CFS. "This defeat shows the power of an informed community, ready to organize at a moment's notice to protect our rights to safe food and a healthy environment."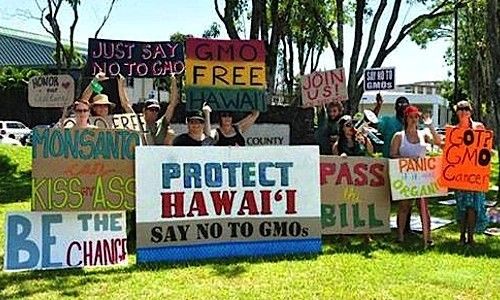 "This should be a wakeup call for the pesticide promoters," Kimbrell continued. "They won't beat us in the streets, in the courts, or by ignoring the legislative procedure."
After a major victory on Kaua'i to protect citizens from the pesticides applied to genetically engineered crops, powerful interests turned to the state to preempt the right of local communities to enact laws to protect their citizens.
Several senators, including Senate Agriculture Chair Clarence Nishihara introduced an amendment to the so-called "Right to Farm" Act that would have taken away the rights of Hawaii counties to regulate their local agriculture—SB 3058. The bill was referred to three separate committees, including the Senate Health Committee, chaired by Sen. Josh Green, a medical doctor and leading advocate for transparency around pesticides and biotechnology. As a procedural deadline approached, a hearing for SB 3058 had yet to be scheduled.
In order to skirt the legislative process, Sen. Nishihara took the language from his "Right to Farm" Act, and inserted it into a "short form" bill that, if passed, could have sidestepped the Senate Health Committee. Although short-form bills are a part of regular Senate procedure, Sen. Laura Theilan noted that it should not be used in this case because there was already a bill for consideration. The Agriculture committee announced it would vote on the new legislation, SB 110, without opportunity for public testimony, with less than 24 hours' notice.
"SB 110 was a legislative maneuver designed to circumvent the committees tasked with protecting the health and safety of the Hawaiian people," said Kimbrell. "Within hours of receiving notification, community groups across the state were mobilizing their constituencies."
"By the early morning the people turned out," Kimbrell continued. "Senate offices were inundated with calls and the procedural hearing was packed with community members. Together we mustered a show of force."
The committee was deadlocked 3-3 and the maneuver was not adopted. After the hearing, Sen. Nishihara is reported to have said that both SB 110 and the original SB 3058 were "dead" in this legislative session.
Visit EcoWatch's BIODIVERSITY and GMO pages for more related news on this topic.

EcoWatch Daily Newsletter
Colombia rainforest. Marcel Oosterwijk / CC BY-SA 2.0
Many of us think of the Amazon as an untouched wilderness, but people have been thriving in these diverse environments for millennia. Due to this long history, the knowledge that Indigenous and forest communities pass between generations about plants, animals and forest ecology is incredibly rich and detailed and easily dwarfs that of any expert.
picture-alliance / Newscom / R. Ben Ari
By Wesley Rahn
Plastic byproducts were found in 97 percent of blood and urine samples from 2,500 children tested between 2014 and 2017, according to a study by the German Environment Ministry and the Robert Koch Institute.

Pexels
Medically reviewed by Daniel Bubnis, MS, NASM-CPT, NASE Level II-CSS
Hot yoga has become a popular exercise in recent years. It offers many of the same benefits as traditional yoga, such as stress reduction, improved strength, and flexibility.
Lara Hata / iStock / Getty Images
By SaVanna Shoemaker, MS, RDN, LD
Rice is a staple in many people's diets. It's filling, inexpensive, and a great mild-tasting addition to flavorful dishes.
An image of the trans-alaskan oil pipeline that carries oil from the northern part of Alaska all the way to valdez. This shot is right near the arctic national wildlife refuge. kyletperry / iStock / Getty Images Plus
The Trump administration has initialized the final steps to open up nearly 1.6 million acres of the protected Alaskan National Wildlife Refuge to allow oil and gas drilling.
Kaboompics / Pexels
Tensions between lawmakers and several large manufacturing companies came to a head on Capitol Hill this week during a hearing on toxic fluorochemicals in U.S. drinking water.