This website uses cookies to ensure you get the best experience while browsing it. By clicking 'Got It' you're accepting these terms.
Another Northern White Rhino Died, Leaving Only 4 Left on Earth
Jul. 28, 2015 02:56PM EST
Animals
After the deaths of a male Northern White Rhino at the San Diego Zoo last year and now a female, Nabiré, at a Czech Republic zoo Monday, the Northern White Rhinos are truly on the brink of extinction. Nabiré was 31 when she died from complications of a ruptured cyst, according to a statement from the zoo.
"It is a terrible loss. Nabiré was the kindest rhino ever bred in our zoo. It is not just that we were very fond of her. Her death is a symbol of the catastrophic decline of rhinos due to a senseless human greed. Her species is on the very brink of extinction," said Přemysl Rabas, the director of the zoo.
BREAKING: Death of northern White #rhino Female Nabire yesterday.Only 4 remaining.This may be the end of the species pic.twitter.com/QzyUGaGAd9

— FONDATION B. BARDOT (@FBB_World) July 28, 2015
Nabiré was one of the only four Northern White Rhinos bred in captivity. The species is now extinct in the wild due to poaching and conflicts in their native home in Africa.
"The four remaining rhinos include Nola, an elderly female living at a zoo in San Diego, and Sudan, an elderly male living with two females—Najin and her daughter Fatu—on the Ol Pejeta reserve in Kenya," reports The Guardian.
The Czech zoo still hopes to be able to breed the remaining Northern White Rhinos. Nabiré could not conceive naturally due to a large amount of cysts in her utero. But the zoo staff saved Nabiré's one healthy ovary as "it was hoped she might become a donor of eggs for in vitro fertilization which could result in an artificially made embryo," says the zoo.
"It is our moral obligation to try to save them," said Rabas. "We are the only ones, perhaps with San Diego Zoo, who have enough of collected biological material to do so. We are aware that our chances are slim, but the hopes are still alive."
The prospects for other species of rhinos are not a whole lot better. There are fewer than 5,000 Black Rhinos left in the wild as of the beginning of this year. They are being poached to extinction, losing 96 percent of their population between 1970 to 1992. Like the Northern White Rhinos, conflicts in countries like Sudan, Rwanda and Somalia have only hampered conservation efforts. And the Javan Rhino is only a few years away from where the Northern White Rhinos are today. There are a mere 57 Javan Rhinos remaining in Ujung Kulon National Park in Java, Indonesia, according to the World Wildlife Fund.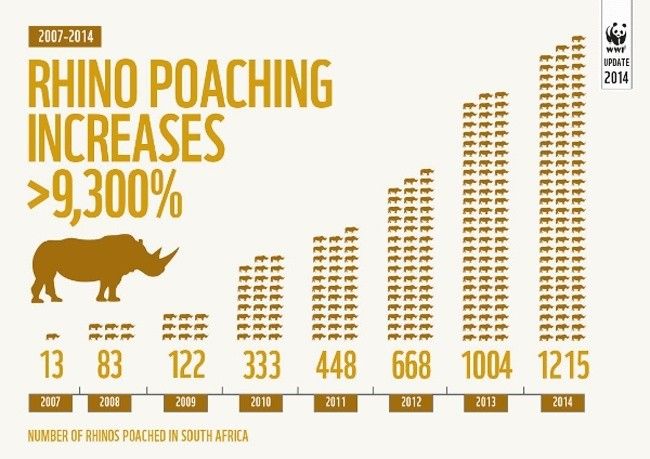 Rhino poaching along with poaching of all animals has skyrocketed in recent years. Figures released earlier this year by the South African Department of Environmental Affairs show that 1, 215 rhinos were illegally killed last year, an increase of 21 percent over the 1,003 killed in 2013, and an overall increase of 9,300 percent since 2007. Most of the illegal activity takes place in Kruger National Park, where 827 rhinos were killed in 2014. To address the wildlife poaching crisis, World Wildlife Fund enlisted actor/director/musician Jared Leto, who's also a dedicated human and animal rights activist, to draw attention to and hopefully stop the crisis.
In response to the report put out by the South African government, Dr. Morné du Plessis, CEO of World Wildlife Fund South Africa, said: "We ... will need everyone to work together to combat these threats if we are to achieve a tangible reduction in rhino losses. There is no time to lose."
YOU MIGHT ALSO LIKE
10 Animal Species That Could Vanish in 2015 if We Don't Act Now
Can 3D-Printing Save Rhinos From Going Extinct?
EcoWatch Daily Newsletter
Tuna auctions are a tourist spectacle in Tokyo. Outside the city's most famous fish market, long queues of visitors hoping for a glimpse of the action begin to form at 5 a.m. The attraction is so popular that last October the Tsukiji fish market, in operation since 1935, moved out from the city center to the district of Toyosu to cope with the crowds.

gmnicholas / E+ / Getty Images
Kristan Porter grew up in a fishing family in the fishing community of Cutler, Maine, where he says all roads lead to one career path: fishing. (Porter's father was the family's lone exception. He suffered from terrible seasickness, and so became a carpenter.) The 49-year-old, who has been working on boats since he was a kid and fishing on his own since 1991, says that the recent warming of Maine's cool coastal waters has yielded unprecedented lobster landings.
Aerial view of lava flows from the eruption of volcano Kilauea on Hawaii, May 2018. Frizi / iStock / Getty Images
Hawaii's Kilauea volcano could be gearing up for an eruption after a pond of water was discovered inside its summit crater for the first time in recorded history, according to the AP.
The Eqip Sermia Glacier is seen behind a moraine left exposed by the glacier's retreat during unseasonably warm weather on Aug. 1 at Eqip Sermia, Greenland. Sean Gallup / Getty Images
hadynyah / E+ / Getty Images
By Johnny Wood
The Ganges is a lifeline for the people of India, spiritually and economically. On its journey from the Himalayas to the Bay of Bengal, it supports fishermen, farmers and an abundance of wildlife.
The river and its tributaries touch the lives of roughly 500 million people. But having flowed for millennia, today it is reaching its capacity for human and industrial waste, while simultaneously being drained for agriculture and municipal use.
Here are some of the challenges the river faces.
By Jake Johnson
As a growing number of states move to pass laws that would criminalize pipeline protests and hit demonstrators with years in prison, an audio recording obtained by The Intercept showed a representative of a powerful oil and gas lobbying group bragging about the industry's success in crafting anti-protest legislation behind closed doors.
Reposted with permission from our media associate Common Dreams.

DESIREE MARTIN / AFP / Getty Images
Wildfires raging on Gran Canaria, the second most populous of Spain's Canary Islands, have forced around 9,000 people to evacuate.