This website uses cookies to ensure you get the best experience while browsing it. By clicking 'Got It' you're accepting these terms.
Another Historic Day in the Battle to Stop the Tar Sands
Nov. 23, 2015 10:41AM EST
Energy
Today people slowed the beast again but this time we did it at the source.
After a string of pipeline victories and over a decade of campaigning on at least three different continents, the Alberta government has finally put a limit to the tar sands. Today they announced they will cap its expansion and limit the tar sands monster to 100 megatons a year (equivalent to what projects already operating and those currently under construction would produce).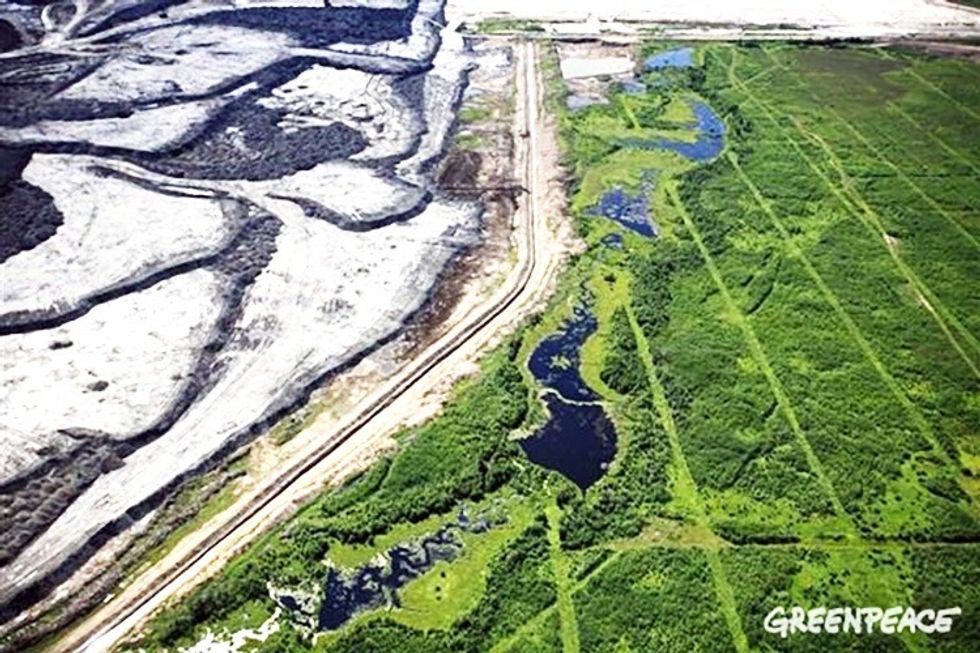 Aerial view of seismic lines and a tar sands mine in the Boreal Forest north of Fort McMurray, northern Alberta. Photo credit: Greenpeace
As momentous an occasion as it is when an oil jurisdiction actually puts limits on growth, 100 million tons of carbon a year at a time when science is demanding bold reductions is still far too much. While historic, the government's cap needs to be viewed as a ceiling rather then a floor and a ceiling that we will need to work like crazy to ratchet down until it meets the science.
On the good side what the current cap does mean is that the two-to-five fold expansion the tar sands industry had planned will not happen.
It means the 2,270,820 barrels a day already approved will stay in the ground, the 1,890,850 barrels a day in the application process will never see the light of day and the 1,923,00 barrels a day disclosed and announced will go no further then that. That's 6,084,670 barrels a day that the government helped stop today and 154.07 million tons of carbon a year that we will be keeping from getting poured into the atmosphere.
All I have to say to that is bam!
Investors better take note and start moving away from high carbon assets as soon as they can.
The Alberta government also started investing in solutions. By 2030, 30 percent of Alberta's electricity will come from renewable energy sources (the same year that the province just committed to phasing out coal). In addition the province also announced supports for energy efficiency, mass transit and the start of an economy-wide carbon tax that will start providing the resources to make it all happen.
It was people power that did that.
People concerned about Indigenous rights, about health, about a growing climate crisis and about the lack of sustainable solutions that came together and worked for years, in some cases decades, to make todays victory possible.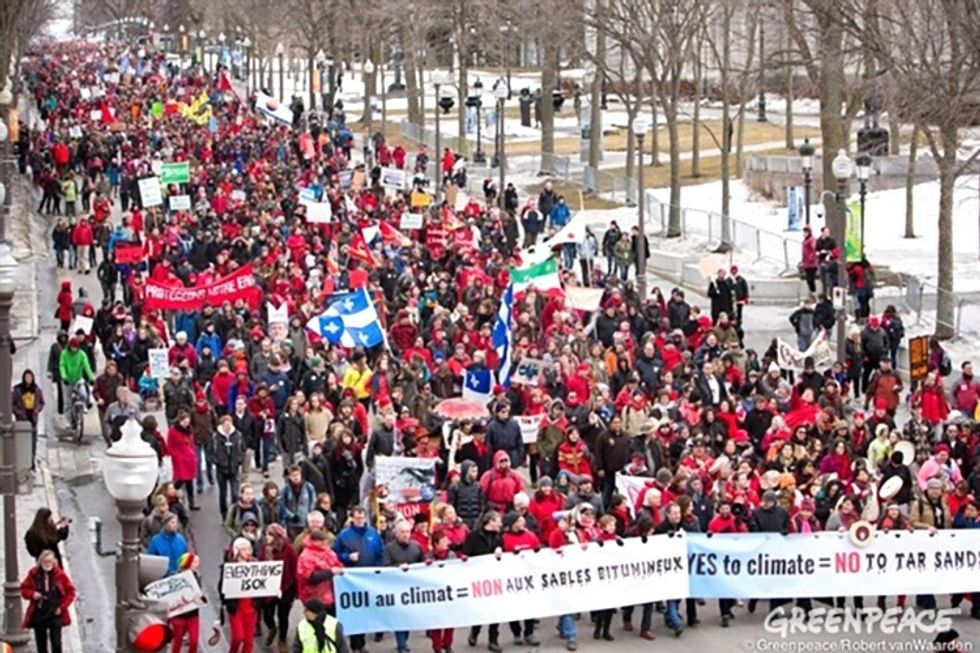 It's because we raised our voices, because we marched, danced, risked arrest and organized community to community that we were able to stand up to the largest corporations on the planet and win. Photo credit: Greenpeace / Robert van Waarden
It's because we raised our voices, because we marched, danced, risked arrest and organized community to community that we were able to stand up to the largest corporations on the planet and win.
People did that.
However, it's not the end of the battle. Alberta still has a lot of work to do to meet the demands of climate science and the tar sands are still bigger that what the climate can handle. More change is necessary and possible. We need to be ready in the days ahead to keep up the pressure and turn it up. We need to continue to stop the pipelines, continue to constrain production and continue to push and mobilize for solutions till this plan meets the science and equity.
People will do this too.
Today is a historic moment for climate activism in Alberta and its one more win for the climate movement that continues to rack up victories right across North America.
Just two weeks ago the president of the U.S. rejected the Keystone XL tar sands pipeline ending a seven-year battle. Last week Prime Minister Justin Trudeau put the nail in Enbridge's tar sands pipeline by directing his minister to implement a tanker ban on BC's north shore. Add to that the growing successes of the fossil fuel divestment movement, the Keep It In the Ground bill seven American Senators including presidential candidate Bernie Sanders put forward, the Exxon climate investigation and the global movement we're building to go 100 percent renewable and you can see together we are building quite the resume.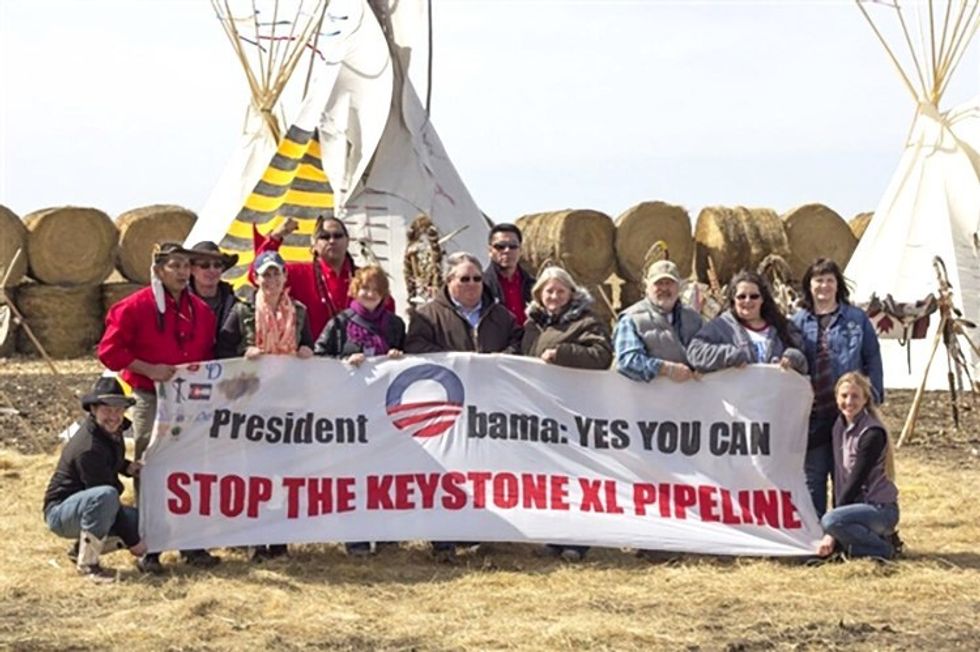 Two weeks ago the president of the U.S. rejected the Keystone XL tar sands pipeline ending a seven-year battle. Photo credit: Greenpeace
And we aren't done yet.
It amazes me sometimes that so much beauty has come from such a horrific place, but it is because of this project that we found each other. We learned that as much as pipeline routes were pathways of destruction they were also maps of resistance. They showed us the communities we could connect to, the perspectives we could learn from and created lights of hope we could follow along the way. They taught us that when we worked together and supported each other, led by the original caretakers of the land, we could become an unstoppable force. And what a force we are.
I have no idea what victory will come next.
All I know is that today I will celebrate, toast to the power of people and social movements and tomorrow I will get back to work preparing for our next big moment in Ottawa before coming back to Alberta to push the government to do more.
The road to climate justice is a long and hard one, but it's a beautiful one too that's getting a little easier by the day. It's easier because now we know that when we work together with love for each other and the land we can beat the biggest of foes, turn the largest of tides and make history in the process.
We already are.
YOU MIGHT ALSO LIKE
Prince Charles: Climate Change Root Cause of Syrian War
This City is the World's First to Mandate Climate Change Warning Labels on Gas Pumps
Mark Jacobson: Barriers to 100% Clean Energy are Social and Political, Not Technical or Economic
EcoWatch Daily Newsletter
By Sabrina Kessler
Far-reaching allegations about how a climate-sinning American multinational could shamelessly lie to the public about its wrongdoing mobilized a small group of New York students on a cold November morning. They stood in front of New York's Supreme Court last week to follow the unprecedented lawsuit against ExxonMobil.
By Alex Robinson
Leah Garcés used to hate poultry farmers.
The animal rights activist, who opposes factory farming, had an adversarial relationship with chicken farmers until around five years ago, when she sat down to listen to one. She met a poultry farmer called Craig Watts in rural North Carolina and learned that the problems stemming from factory farming extended beyond animal cruelty.
People navigate snow-covered sidewalks in the Humboldt Park neighborhood on Nov. 11 in Chicago. Scott Olson / Getty Images
Temperatures plunged rapidly across the U.S. this week and around 70 percent of the population is expected to experience temperatures around freezing Wednesday.
A general view of the flooded St. Mark's Square after an exceptional overnight "Alta Acqua" high tide water level, on Nov. 13 in Venice. MARCO BERTORELLO / AFP / Getty Images
President Donald Trump doesn't like wind turbines.
In April, he claimed they caused cancer, and he sued to stop an offshore wind farm that was scheduled to go up near land he had purchased for a golf course in Aberdeenshire in Scotland. He lost that fight, and now the Trump Organization has agreed to pay the Scottish government $290,000 to cover its legal fees, The Washington Post reported Tuesday.
A verdant and productive urban garden in Havana. Susanne Bollinger / Wikimedia Commons
By Paul Brown
When countries run short of food, they need to find solutions fast, and one answer can be urban farming.
Trevor Noah appears on set during a taping of "The Daily Show with Trevor Noah" in New York on Nov. 26, 2018.
The Daily Show With Trevor Noah / YouTube screenshot