Another Chemical Plant Explodes as Industry Booms Due to Cheap Natural Gas from Fracking
Jun. 17, 2013 10:12AM EST
Energy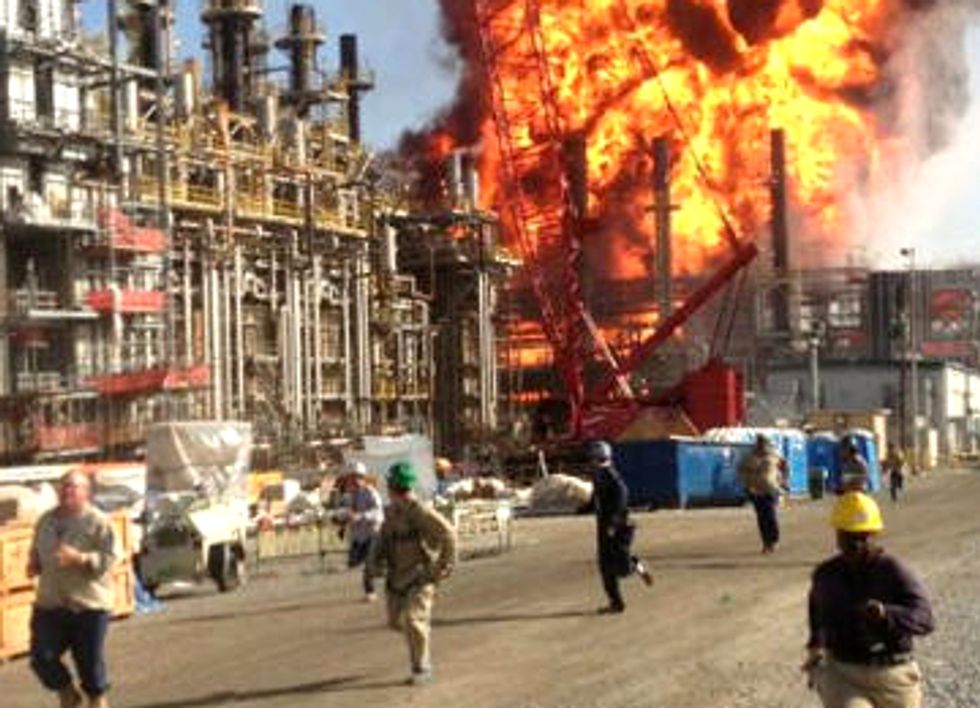 Less than two months after the disaster at West Fertilizer Co. in West, TX, another chemical plant erupted in flames Thursday just south of Baton Rouge, LA. The explosion at the Williams Olefins plant in Geismar killed at least one person and injured more than 73 employees. It remains too early to determine the cause of the explosion—and as of Friday the Occupational Safety and Health Administration had yet to visit the site. The plant produces the combustible and flammable chemicals ethylene and polymer grade propylene—used to make a range of plastic products.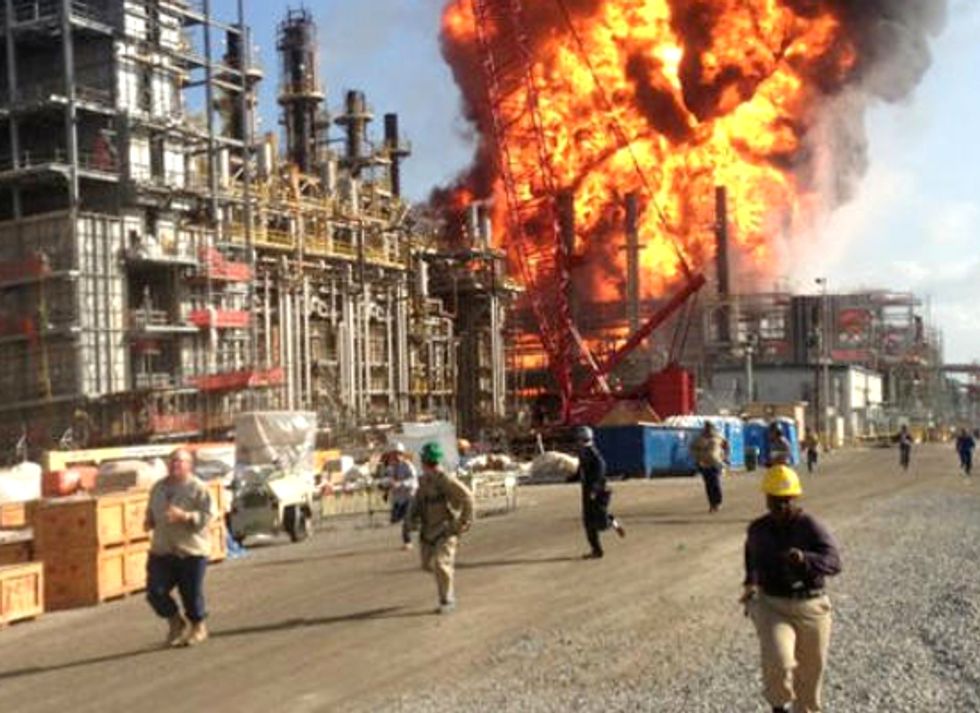 "I've worked in plants for a few years, but I've never been that up close and personal with an explosion before. It felt like heat, intense heat," plant worker Shavonne Stewart told The Advocate.
The explosion at the Williams Olefins plant is the latest in a series of similar incidents this year, notably, the disaster in West, TX—which killed 15 people—and a train blast in Maryland. The explosion at Williams Olefins stands apart, however, due to its direct tie to the natural gas boom.
The production of ethylene and propylene requires natural gas—explicitly, the use of methane. This past December the chemical juggernaut Dow Chemical Co. restarted a previously closed plant in Hahnville, LA. Like Williams, owner of the plant in Geismar, Dow saw the abundance of cheap shale gas as an opportunity to restart a previously unsuccessful venture. The Hahnville plant will be used to "boost ethylene and propylene capacity through 2017 because of cheap gas, used as a raw material and to power plants. Hydraulic fracturing [fracking] of shale rock formations caused a glut of gas supplies and sent prices to a decade low in April," Bloomberg reported.
It is safe to assume chemical disasters such as the one this past Thursday will become more common as the availability of cheap natural gas encourages more expansion in the chemical industry. A 2008 report from the Center for American Progress on the 101 most dangerous chemical facilities in the U.S.—two of them in Louisiana—found that 80 million people "live within range of a catastrophic chemical release."
Moreover, despite the efforts of the Department of Homeland Security (DHS), many facilities remain vulnerable to any manner of industrial sabotage or disaster. The DHS currently monitors over 4,000 "high-risk" facilities—which did not include West Fertilizer Co. despite its clear vulnerability–under the Chemical Facility Anti-Terrorism Standards program, which critics say is full of loopholes.
With the string of disasters in the last two months, the need for change in both the types of chemicals produced and the level of oversight provided by the DHS—which does not require companies to seek safer alternatives—is clear. How many more Wests can we tolerate?
Visit EcoWatch's FRACKING page for more related news on this topic.
——–
Sign the petition today, telling President Obama to enact an immediate fracking moratorium:

EcoWatch Daily Newsletter