This website uses cookies to ensure you get the best experience while browsing it. By clicking 'Got It' you're accepting these terms.
Another Animal Dies at SeaWorld Bringing Death Toll to 4 Large Mammals in Just 4 Months
Feb. 15, 2016 01:14PM EST
It's business as usual for SeaWorld.
Yet another animal has died under SeaWorld's watch, bringing the embattled theme park's death toll to four large marine mammals in just four months. Three of the deaths occurred at SeaWorld San Antonio. Dart, a male dolphin, was the latest to die while kept in captivity.
R.I.P., Dart: Died February 2016
This dolphin is the fourth cetacean to die prematurely at SeaWorld San Antonio since July. Just like many of the dolphins, orcas, belugas and walruses who died before him, he never knew the world outside SeaWorld's tiny concrete tanks, never had the chance to swim freely with his family pod and never got to feel the ocean currents.
R.I.P., Betsy: Died January 2016
Betsy was recently relocated from SeaWorld San Diego, along with two other "longtime companions," SeaWorld said on its Facebook page.

Posted by News 13 on Tuesday, January 19, 2016
Though Betsy lived to a mature age for a Commerson's dolphin—an anomaly for an animal held at SeaWorld, which has a history wrought with premature animal deaths—the circumstances surrounding her death are troubling. Days before she died, she was transferred from SeaWorld San Diego to SeaWorld Orlando, a transport that was undoubtedly hard on the older animal. Betsy was reportedly stolen from her ocean home in 1983, along with 12 other Commerson's dolphins, half of whom died within a year of captivity. SeaWorld recently announced that it will no longer keep Commerson's dolphins in captivity, but 20 have reportedly already died in its care over the last 30 years. Hopefully, the remaining Commerson's dolphins at SeaWorld will be the last to experience the abusement park's concrete tanks.
R.I.P., Unna: Died December 2015
Unna, an 18-year-old orca imprisoned at SeaWorld San Antonio, died after prolonged suffering caused by the fungal infection candida. She was the 38th orca held by SeaWorld to die far short of her maximum life expectancy, which can be more than 100 years for female orcas in the wild. Her "life" in captivity consisted of being taken away from her mother just before her sixth birthday, being impregnated when she was only 8 years old, giving birth to a stillborn calf and being so deprived of enrichment and opportunities to engage in natural behavior that she obsessively picked at the paint on the bottom of SeaWorld's show-pool floor until her face became badly injured.
R.I.P., Stella: Died November 2015
Stella died at SeaWorld San Antonio at just 2 years old, well short of a beluga's natural life expectancy of up to 50 years. Her death added to a tally of at least 58 beluga deaths at SeaWorld locations. SeaWorld and other aquariums have proved again and again that belugas cannot be bred successfully in tiny concrete tanks, where they're denied everything that is natural and important to them.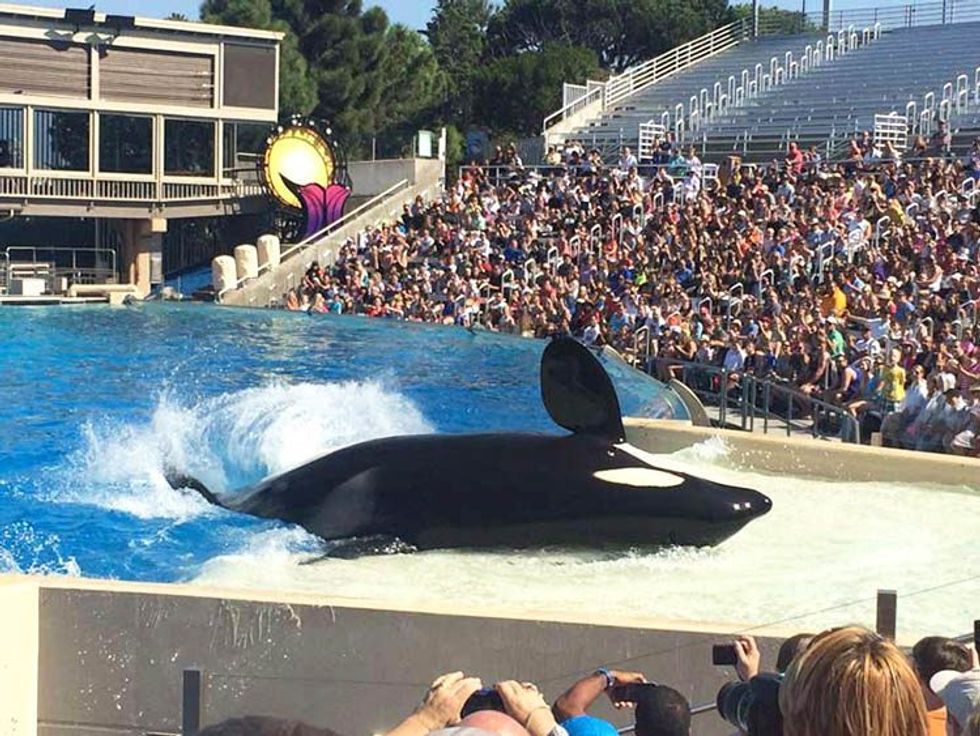 Disturbing Pattern in Captivity
Thirty-eight orcas and at least 58 belugas have died on SeaWorld's watch, along with more than a hundred dolphins. Reports indicate that another dolphin at SeaWorld San Antonio named Betty is currently being treated for a possible infection.
Though SeaWorld's website claims that "there are no apparent connections" between the recent deaths at its San Antonio facility, the high number of premature and unusual deaths there and at the other SeaWorld locations points to a serious common denominator: captivity.
YOU MIGHT ALSO LIKE
150,000 Penguins Die After Huge Iceberg Blocks Route to Sea
Illegal Chilean Sea Bass Fishing Could Be Coming to an End, Thanks to Sea Shepherd
Gruesome Tumors on Sea Turtles Linked to Climate Change and Pollution
EcoWatch Daily Newsletter
Deserted view of NH24 near Akshardham Temple on day nine of the 21-day nationwide lockdown to curb the spread of coronavirus on April 2, 2020 in New Delhi, India. Raj K Raj / Hindustan Times via Getty Images
A Unicef social mobilizer uses a speaker as she carries out public health awareness to prevent the spread and detect the symptoms of the COVID-19 coronavirus by UNICEF at Mangateen IDP camp in Juba, South Sudan on April 2. ALEX MCBRIDE / AFP / Getty Images
By Eddie Ndopu
South Africa is ground zero for the coronavirus pandemic in Africa.
Its townships are typical of high-density neighbourhoods across the continent where self-isolation will be extremely challenging.
The failure to eradicate extreme poverty is a threat beyond the countries in question.
The outside of the Food and Drug Administration headquarters in White Oak, Md. on Nov. 9, 2015. Al Drago / CQ Roll Call
The U.S. Food and Drug Administration has approved the use of two malarial drugs to treat and prevent COVID-19, the respiratory infection caused by the SARS-CoV-2 coronavirus, despite only anecdotal evidence that either is proven effective in treating or slowing the progression of the disease in seriously ill patients.

Some
speculate
that the dissemination of the Antarctic beeches or Nothofagus moorei (seen above in Australia) dates to the time when
Antarctica
, Australia and
South America
were connected. Auscape / Universal Images Group / Getty Images
A team of scientists drilled into the ground near the South Pole to discover forest and fossils from the Cretaceous nearly 90 million years ago, which is the time when dinosaurs roamed the Earth, as the BBC reported.
The recovery of elephant seals is one of the "signs of hope" that scientists say show the oceans can recover swiftly if we let them. NOAA /
CC BY 2.0