This website uses cookies to ensure you get the best experience while browsing it. By clicking 'Got It' you're accepting these terms.
Another Animal Dies at SeaWorld Bringing Death Toll to 4 Large Mammals in Just 4 Months
Feb. 15, 2016 01:14PM EST
It's business as usual for SeaWorld.
Yet another animal has died under SeaWorld's watch, bringing the embattled theme park's death toll to four large marine mammals in just four months. Three of the deaths occurred at SeaWorld San Antonio. Dart, a male dolphin, was the latest to die while kept in captivity.
R.I.P., Dart: Died February 2016
This dolphin is the fourth cetacean to die prematurely at SeaWorld San Antonio since July. Just like many of the dolphins, orcas, belugas and walruses who died before him, he never knew the world outside SeaWorld's tiny concrete tanks, never had the chance to swim freely with his family pod and never got to feel the ocean currents.
R.I.P., Betsy: Died January 2016
Betsy was recently relocated from SeaWorld San Diego, along with two other "longtime companions," SeaWorld said on its Facebook page.

Posted by News 13 on Tuesday, January 19, 2016
Though Betsy lived to a mature age for a Commerson's dolphin—an anomaly for an animal held at SeaWorld, which has a history wrought with premature animal deaths—the circumstances surrounding her death are troubling. Days before she died, she was transferred from SeaWorld San Diego to SeaWorld Orlando, a transport that was undoubtedly hard on the older animal. Betsy was reportedly stolen from her ocean home in 1983, along with 12 other Commerson's dolphins, half of whom died within a year of captivity. SeaWorld recently announced that it will no longer keep Commerson's dolphins in captivity, but 20 have reportedly already died in its care over the last 30 years. Hopefully, the remaining Commerson's dolphins at SeaWorld will be the last to experience the abusement park's concrete tanks.
R.I.P., Unna: Died December 2015
Unna, an 18-year-old orca imprisoned at SeaWorld San Antonio, died after prolonged suffering caused by the fungal infection candida. She was the 38th orca held by SeaWorld to die far short of her maximum life expectancy, which can be more than 100 years for female orcas in the wild. Her "life" in captivity consisted of being taken away from her mother just before her sixth birthday, being impregnated when she was only 8 years old, giving birth to a stillborn calf and being so deprived of enrichment and opportunities to engage in natural behavior that she obsessively picked at the paint on the bottom of SeaWorld's show-pool floor until her face became badly injured.
R.I.P., Stella: Died November 2015
Stella died at SeaWorld San Antonio at just 2 years old, well short of a beluga's natural life expectancy of up to 50 years. Her death added to a tally of at least 58 beluga deaths at SeaWorld locations. SeaWorld and other aquariums have proved again and again that belugas cannot be bred successfully in tiny concrete tanks, where they're denied everything that is natural and important to them.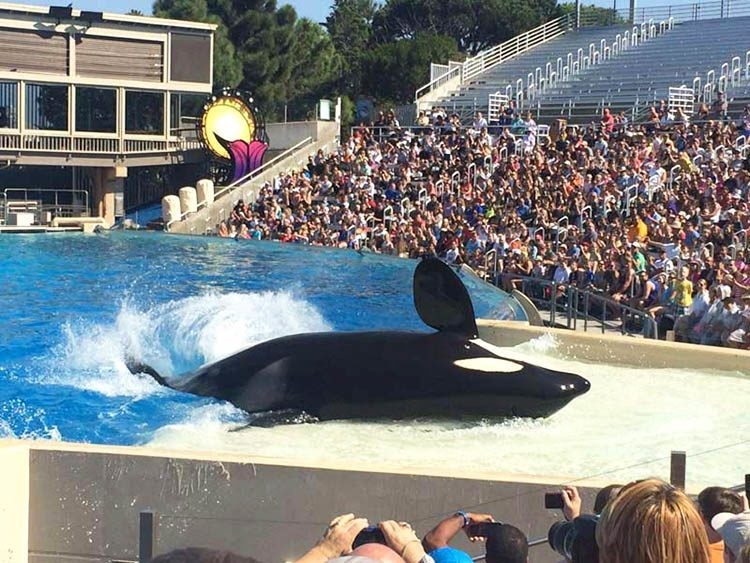 Disturbing Pattern in Captivity
Thirty-eight orcas and at least 58 belugas have died on SeaWorld's watch, along with more than a hundred dolphins. Reports indicate that another dolphin at SeaWorld San Antonio named Betty is currently being treated for a possible infection.
Though SeaWorld's website claims that "there are no apparent connections" between the recent deaths at its San Antonio facility, the high number of premature and unusual deaths there and at the other SeaWorld locations points to a serious common denominator: captivity.
YOU MIGHT ALSO LIKE
150,000 Penguins Die After Huge Iceberg Blocks Route to Sea
Illegal Chilean Sea Bass Fishing Could Be Coming to an End, Thanks to Sea Shepherd
Gruesome Tumors on Sea Turtles Linked to Climate Change and Pollution
PeopleImages / E+ / Getty Images
By Daniel Ross
Hurricane Florence, which battered the U.S. East Coast last September, left a trail of ruin and destruction estimated to cost between $17 billion and $22 billion. Some of the damage was all too visible—smashed homes and livelihoods. But other damage was less so, like the long-term environmental impacts in North Carolina from hog waste that spilled out over large open-air lagoons saturated in the rains.
Hog waste can contain potentially dangerous pathogens, pharmaceuticals and chemicals. According to the state's Department of Environmental Quality, as of early October nearly 100 such lagoons were damaged, breached or were very close to being so, the effluent from which can seep into waterways and drinking water supplies.
This picture taken on May 21, 2018 shows discarded climbing equipment and rubbish scattered around Camp 4 of Mount Everest. Decades of commercial mountaineering have turned Mount Everest into the world's highest rubbish dump as an increasing number of big-spending climbers pay little attention to the ugly footprint they leave behind. DOMA SHERPA / AFP / Getty Images
China has closed its Everest base camp to tourists because of a buildup of trash on the world's tallest mountain.
Researchers tested the eggs of Arctic northern fulmers like these in Nunavut, Canada.
Fiona Paton / Flickr
By Madison Dapcevich
Plastics have been recorded in every corner of the world, from the remote icy waters of Antarctica to the bellies of deep-sea fishes. Now, preliminary findings presented at this year's American Association for the Advancement of Science (AAAS) annual meeting in Washington, DC suggest that bird eggs from the high Arctic—one of the most remote wildernesses on the planet—show evidence of contamination from chemicals used in plastics.

A small Australian rat that lived on a 12 acre island in the Great Barrier Reef has become the first mammal to go extinct primarily because of human-caused climate change, the Australian Government confirmed Monday.
The Bramble Cay melomys was first declared extinct after a 2014 search on Bramble Cay, its native island in the Torres Strait, between Queensland, Australia and Papua New Guinea, according to a 2016 report by the University of Queensland and the Queensland government.