This website uses cookies to ensure you get the best experience while browsing it. By clicking 'Got It' you're accepting these terms.
Another Animal Dies at SeaWorld Bringing Death Toll to 4 Large Mammals in Just 4 Months
Feb. 15, 2016 01:14PM EST
It's business as usual for SeaWorld.
Yet another animal has died under SeaWorld's watch, bringing the embattled theme park's death toll to four large marine mammals in just four months. Three of the deaths occurred at SeaWorld San Antonio. Dart, a male dolphin, was the latest to die while kept in captivity.
R.I.P., Dart: Died February 2016
This dolphin is the fourth cetacean to die prematurely at SeaWorld San Antonio since July. Just like many of the dolphins, orcas, belugas and walruses who died before him, he never knew the world outside SeaWorld's tiny concrete tanks, never had the chance to swim freely with his family pod and never got to feel the ocean currents.
R.I.P., Betsy: Died January 2016
Betsy was recently relocated from SeaWorld San Diego, along with two other "longtime companions," SeaWorld said on its Facebook page.

Posted by News 13 on Tuesday, January 19, 2016
Though Betsy lived to a mature age for a Commerson's dolphin—an anomaly for an animal held at SeaWorld, which has a history wrought with premature animal deaths—the circumstances surrounding her death are troubling. Days before she died, she was transferred from SeaWorld San Diego to SeaWorld Orlando, a transport that was undoubtedly hard on the older animal. Betsy was reportedly stolen from her ocean home in 1983, along with 12 other Commerson's dolphins, half of whom died within a year of captivity. SeaWorld recently announced that it will no longer keep Commerson's dolphins in captivity, but 20 have reportedly already died in its care over the last 30 years. Hopefully, the remaining Commerson's dolphins at SeaWorld will be the last to experience the abusement park's concrete tanks.
R.I.P., Unna: Died December 2015
Unna, an 18-year-old orca imprisoned at SeaWorld San Antonio, died after prolonged suffering caused by the fungal infection candida. She was the 38th orca held by SeaWorld to die far short of her maximum life expectancy, which can be more than 100 years for female orcas in the wild. Her "life" in captivity consisted of being taken away from her mother just before her sixth birthday, being impregnated when she was only 8 years old, giving birth to a stillborn calf and being so deprived of enrichment and opportunities to engage in natural behavior that she obsessively picked at the paint on the bottom of SeaWorld's show-pool floor until her face became badly injured.
R.I.P., Stella: Died November 2015
Stella died at SeaWorld San Antonio at just 2 years old, well short of a beluga's natural life expectancy of up to 50 years. Her death added to a tally of at least 58 beluga deaths at SeaWorld locations. SeaWorld and other aquariums have proved again and again that belugas cannot be bred successfully in tiny concrete tanks, where they're denied everything that is natural and important to them.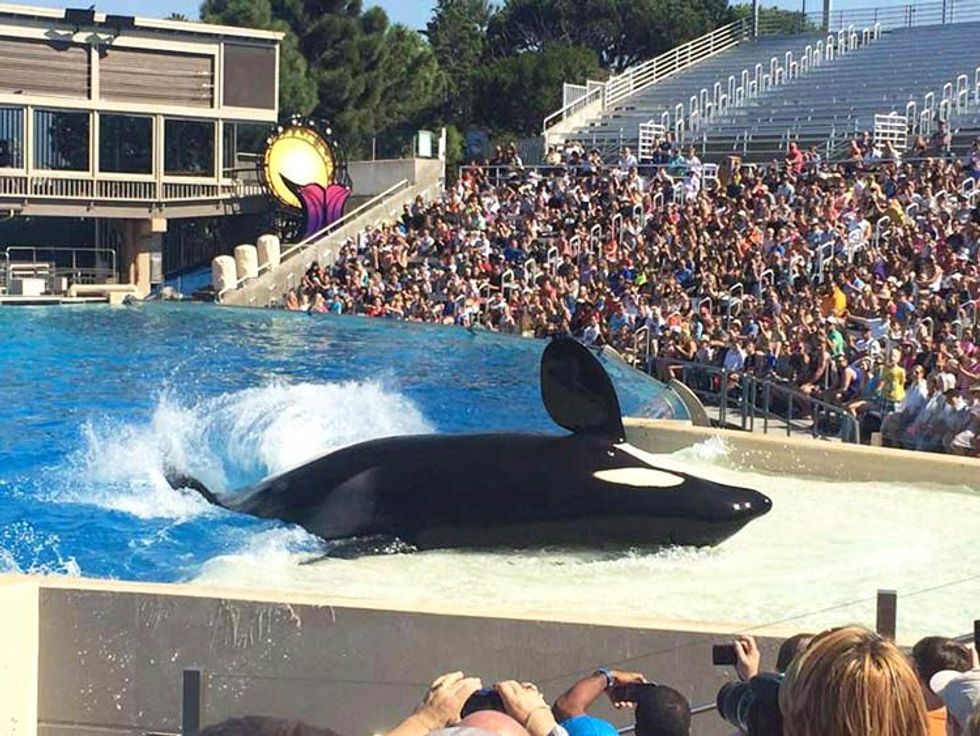 Disturbing Pattern in Captivity
Thirty-eight orcas and at least 58 belugas have died on SeaWorld's watch, along with more than a hundred dolphins. Reports indicate that another dolphin at SeaWorld San Antonio named Betty is currently being treated for a possible infection.
Though SeaWorld's website claims that "there are no apparent connections" between the recent deaths at its San Antonio facility, the high number of premature and unusual deaths there and at the other SeaWorld locations points to a serious common denominator: captivity.
YOU MIGHT ALSO LIKE
150,000 Penguins Die After Huge Iceberg Blocks Route to Sea
Illegal Chilean Sea Bass Fishing Could Be Coming to an End, Thanks to Sea Shepherd
Gruesome Tumors on Sea Turtles Linked to Climate Change and Pollution
EcoWatch Daily Newsletter
Investing in grid infrastructure would enable utilities to incorporate modern technology, making the grid more resilient and flexible. STRATMAN2 / FLICKR
By Elliott Negin
The Royal Swedish Academy of Sciences' recent decision to award the 2019 Nobel Prize in Chemistry to scientists who developed rechargeable lithium-ion batteries reminded the world just how transformative they have been. Without them, we wouldn't have smartphones or electric cars. But it's their potential to store electricity generated by the sun and the wind at their peak that promises to be even more revolutionary, reducing our dependence on fossil fuels and protecting the planet from the worst consequences of climate change.
Two Javan rhinos deep in the forests of Ujung Kulon National Park, the species' last habitat on Earth. Sugeng Hendratno / WWF
The global population of the critically endangered Javan rhinoceros has increased to 72 after four new calves were spotted in the past several months.
A tiger looks out from its cage at a new resort and zoo in the eastern Lao town of Tha Bak on Dec. 5, 2018. Karl Ammann believes the "zoo" is really a front for selling tigers. Terrence McCoy / The Washington Post / Getty Images
Are tigers extinct in Laos?
That's the conclusion of a detailed new study that found no evidence wild tigers still exist in the country.
A group of scientists is warning that livestock production must not expand after 2030 for the world to stave off ecological disaster.
The largest wetland in Africa is in the South Sudan. George Steinmetz / Corbis Documentary / Getty Images Plus
Methane emissions are a far more powerful greenhouse gas than carbon dioxide – about 28 times more powerful. And they have been rising steadily since 2007. Now, a new study has pinpointed the African tropics as a hot spot responsible for one-third of the global methane surge, as Newsweek reported.