This website uses cookies to ensure you get the best experience while browsing it. By clicking 'Got It' you're accepting these terms.
Another Animal Dies at SeaWorld Bringing Death Toll to 4 Large Mammals in Just 4 Months
Feb. 15, 2016 01:14PM EST
It's business as usual for SeaWorld.
Yet another animal has died under SeaWorld's watch, bringing the embattled theme park's death toll to four large marine mammals in just four months. Three of the deaths occurred at SeaWorld San Antonio. Dart, a male dolphin, was the latest to die while kept in captivity.
R.I.P., Dart: Died February 2016
This dolphin is the fourth cetacean to die prematurely at SeaWorld San Antonio since July. Just like many of the dolphins, orcas, belugas and walruses who died before him, he never knew the world outside SeaWorld's tiny concrete tanks, never had the chance to swim freely with his family pod and never got to feel the ocean currents.
R.I.P., Betsy: Died January 2016
Betsy was recently relocated from SeaWorld San Diego, along with two other "longtime companions," SeaWorld said on its Facebook page.

Posted by News 13 on Tuesday, January 19, 2016
Though Betsy lived to a mature age for a Commerson's dolphin—an anomaly for an animal held at SeaWorld, which has a history wrought with premature animal deaths—the circumstances surrounding her death are troubling. Days before she died, she was transferred from SeaWorld San Diego to SeaWorld Orlando, a transport that was undoubtedly hard on the older animal. Betsy was reportedly stolen from her ocean home in 1983, along with 12 other Commerson's dolphins, half of whom died within a year of captivity. SeaWorld recently announced that it will no longer keep Commerson's dolphins in captivity, but 20 have reportedly already died in its care over the last 30 years. Hopefully, the remaining Commerson's dolphins at SeaWorld will be the last to experience the abusement park's concrete tanks.
R.I.P., Unna: Died December 2015
Unna, an 18-year-old orca imprisoned at SeaWorld San Antonio, died after prolonged suffering caused by the fungal infection candida. She was the 38th orca held by SeaWorld to die far short of her maximum life expectancy, which can be more than 100 years for female orcas in the wild. Her "life" in captivity consisted of being taken away from her mother just before her sixth birthday, being impregnated when she was only 8 years old, giving birth to a stillborn calf and being so deprived of enrichment and opportunities to engage in natural behavior that she obsessively picked at the paint on the bottom of SeaWorld's show-pool floor until her face became badly injured.
R.I.P., Stella: Died November 2015
Stella died at SeaWorld San Antonio at just 2 years old, well short of a beluga's natural life expectancy of up to 50 years. Her death added to a tally of at least 58 beluga deaths at SeaWorld locations. SeaWorld and other aquariums have proved again and again that belugas cannot be bred successfully in tiny concrete tanks, where they're denied everything that is natural and important to them.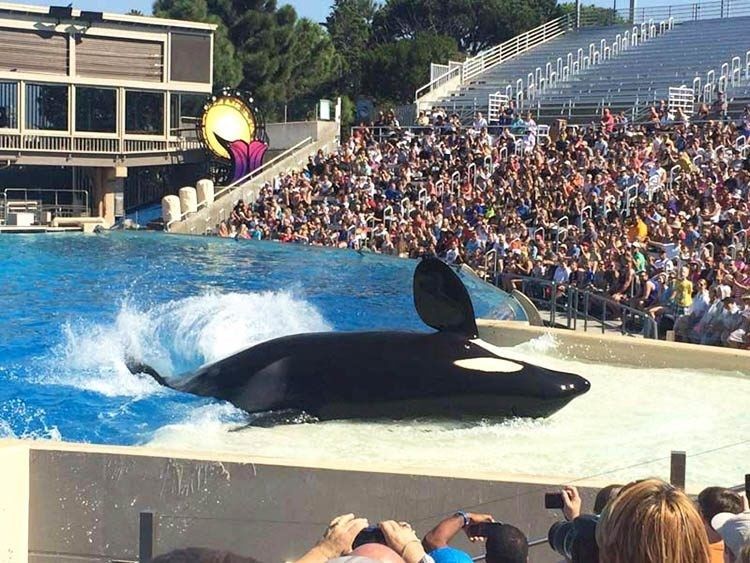 Disturbing Pattern in Captivity
Thirty-eight orcas and at least 58 belugas have died on SeaWorld's watch, along with more than a hundred dolphins. Reports indicate that another dolphin at SeaWorld San Antonio named Betty is currently being treated for a possible infection.
Though SeaWorld's website claims that "there are no apparent connections" between the recent deaths at its San Antonio facility, the high number of premature and unusual deaths there and at the other SeaWorld locations points to a serious common denominator: captivity.
YOU MIGHT ALSO LIKE
150,000 Penguins Die After Huge Iceberg Blocks Route to Sea
Illegal Chilean Sea Bass Fishing Could Be Coming to an End, Thanks to Sea Shepherd
Gruesome Tumors on Sea Turtles Linked to Climate Change and Pollution
EcoWatch Daily Newsletter
Bird watching in the U.S. may be a lot harder than it once was, since bird populations are dropping off in droves, according to a new study.
Amazon CEO Jeff Bezos announces the co-founding of The Climate Pledge at the National Press Club on Sept. 19 in Washington, DC. Paul Morigi / Getty Images for Amazon
The day before over 1,500 Amazon.com employees planned a walkout to participate in today's global climate strike, CEO Jeff Bezos unveiled a sweeping plan for the retail and media giant to be carbon neutral by 2040, 10 years ahead of the Paris agreement schedule.
For the past seven years, the Anishinaabe people have been facing the largest tar sands pipeline project in North America. We still are. In these dying moments of the fossil fuel industry, Water Protectors stand, prepared for yet another battle for the water, wild rice and future of all. We face Enbridge, the largest pipeline company in North America, and the third largest corporation in Canada. We face it unafraid and eyes wide open, for indeed we see the future.
The climate crisis often intensifies systems of oppression. Rieko Honma / Stone / Getty Images Plus
By Mara Dolan
We see the effects of the climate crisis all around us in hurricanes, droughts, wildfires, and rising sea levels, but our proximity to these things, and how deeply our lives are changed by them, are not the same for everyone. Frontline groups have been leading the fight for environmental and climate justice for centuries and understand the critical connections between the climate crisis and racial justice, economic justice, migrant justice, and gender justice. Our personal experiences with climate change are shaped by our experiences with race, gender, and class, as the climate crisis often intensifies these systems of oppression.

Lana Del Rey: "call her Doris Doomsday." Darren Gerrish / BFC / Getty Images Entertainment
By Emer McHugh
Popular music has, and always will be, informed by the political and social contexts from which it emerges.
It was early in the morning last Thursday, and Jonathan Butler was standing on the Fred Hartman Bridge, helping 11 fellow Greenpeace activists rappel down and suspend themselves over the Houston Ship Channel. The protesters dangled in the air most of the day, shutting down a part of one of the country's largest ports for oil.
By C.J. Polychroniou
Climate change is by far the most serious crisis facing the world today. At stake is the future of civilization as we know it. Yet, both public awareness and government action lag way behind what's needed to avert a climate change catastrophe. In the interview below, Noam Chomsky and Robert Pollin discuss the challenges ahead and what needs to be done.
Food manufacturer General Mills issued a voluntary recall of more than 600,000 pounds, or about 120,000 bags, of Gold Medal Unbleached All Purpose Flour this week after a sample tested positive for a bacteria strain known to cause illness.