This website uses cookies to ensure you get the best experience while browsing it. By clicking 'Got It' you're accepting these terms.
Annie Leonard's Letter to the Future
Nov. 18, 2015 09:04AM EST

This letter to the future by Annie Leonard is part of the Letters to the Future campaign, a national effort to encourage people from all walks of life to write six generations into the future about climate change. The campaign puts a spotlight on the importance of world leaders agreeing to a global climate treaty at COP21 in Paris. Now it's your turn to write a letter to the future.

It's hard to imagine writing to the granddaughter of my own daughter, but if you're anything like her—strong, smart, occasionally a little stubborn—then I have no doubt the world is in good hands.
By now your school should have taught you about climate change, and how humans helped to bring it about with our big cars, big homes, big appetites and an endless desire for more stuff. But what the teachers and textbooks may not have passed on are the stories of incredible people that helped make sure the planet remained beautiful and livable for you.
These are stories of everyday people doing courageous things, because they couldn't stand by and watch communities poisoned by pollution, the Arctic melt, or California die of fire and drought. They couldn't bear to think of New Orleans under water again, or New York lost to a superstorm. Right now, as politicians weigh up options and opinion polls, people are organizing and uprising. It's amazing to see and be a part of.
In the year that led up to the 2015 meeting of global leaders on climate change in Paris, kayakers took to the water to stop oil rigs. Nurses, musicians, grannies, preachers and even beekeepers, took to the streets. The message was loud and clear: "We want clean, safe, renewable energy now!"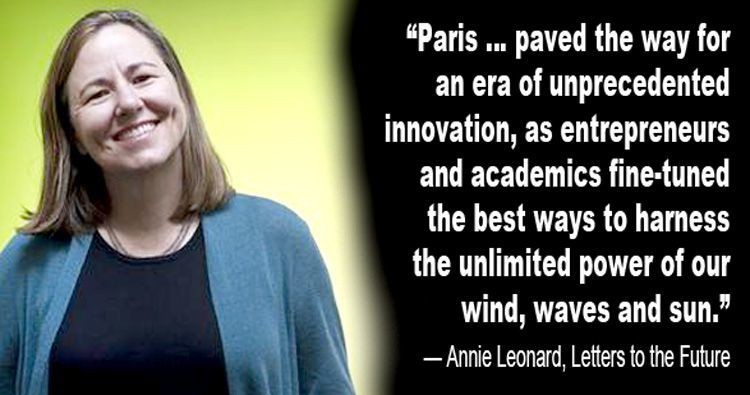 Were it not for this glorious rainbow of people power, I don't know whether President Obama would have stepped up and cancelled oil drilling in the Alaskan Arctic or the sale of 10 billion tons of American coal, that were set to tip the planet towards climate chaos. But he did. This paved the way for an era of unprecedented innovation, as entrepreneurs and academics fine-tuned the best ways to harness the unlimited power of our wind, waves and sun, and make it available to everyone. We've just seen the first ever oceanic crossing by a solar plane and I can only imagine what incredible inventions have grown in your time from the seeds planted in this energy revolution we're experiencing right now.
I want to tell you about this because there was a time we didn't think any of it was possible. And there may be times when you face similar challenges. Generations before you have taken acts of great courage to make sure you too have all the joys and gifts of the natural world—hiking in forests, swimming in clean water, breathing fresh air. If you need to be a little stubborn to make sure things stay that way, so be it.
Currently the executive director of Greenpeace USA, Annie Leonard created the 2007 film, The Story of Stuff, which has been viewed over 40 million times. She wrote the 2010 New York Times bestseller The Story of Stuff and is on the board of Ben & Jerry's, Wallace Global Fund and Story of Stuff.
YOU MIGHT ALSO LIKE
Tim DeChristopher: Don't Back Down in Paris
COP21 Must Go On and Offer Hope for Paris
Why Fossil Fuel Stocks Are Doomed
Bernie Sanders Refuses to Back Down on Climate-Terrorism Connection
Plus, learn if there's one that's best for your health.
Catherine Falls Commercial / Moment / Getty Images
An invasive Amynthas worm, also known as a crazy snake worm, Asian jumping worm and Alabama jumper Tom Potterfield / Flickr
By Jason Bittel
My wife and I built a house two years ago on a few acres of woodland outside of Pittsburgh. The backyard is full of maples, poplars, briars and common spicebush. Two-lined salamanders and grumpy-looking crayfish wade among the rocks in the small stream that runs down the edge of the property. Deer, raccoon and opossum tracks appear regularly in the snow and mud. Sometimes, my trail-cam even catches a pair of gray foxes as they slink through the night.
AleksandarNakic / Getty Images
By Kate Murphy
No matter the time of year, there's always a point in each season when my skin decides to cause me issues. While these skin issues can vary, I find the most common issues to be dryness, acne and redness.

David Woodfall / The Image Bank / Getty Images
By Sam Nickerson
The U.S. Environmental Protection Agency (EPA) in April 2018 proposed relaxing standards related to how it assesses the effects of exposure to low levels of toxic chemicals on public health.
Now, correspondence obtained by the LA Times revealed just how deeply involved industry lobbyists and a controversial, industry-funded toxicologist were in drafting the federal agency's proposal to scrap its current, protective approach to regulating toxin exposure.
Steve Irwin poses with a three foot long alligator at the San Francisco Zoo on June 26, 2002. Justin Sullivan / Getty Images
February 22 is the birthday of conservationist and beloved TV personality "Crocodile Hunter" Steve Irwin, who would have been 57 years old today.
Irwin's life was tragically cut short when the barb from a stingray went through his chest while he was filming in 2006, but his legacy of loving and protecting wildlife lives on, most recently in a Google Doodle today honoring his birthday.