This website uses cookies to ensure you get the best experience while browsing it. By clicking 'Got It' you're accepting these terms.
Annie Leonard's Letter to the Future
Nov. 18, 2015 09:04AM EST
Climate

This letter to the future by Annie Leonard is part of the Letters to the Future campaign, a national effort to encourage people from all walks of life to write six generations into the future about climate change. The campaign puts a spotlight on the importance of world leaders agreeing to a global climate treaty at COP21 in Paris. Now it's your turn to write a letter to the future.
It's hard to imagine writing to the granddaughter of my own daughter, but if you're anything like her—strong, smart, occasionally a little stubborn—then I have no doubt the world is in good hands.
By now your school should have taught you about climate change, and how humans helped to bring it about with our big cars, big homes, big appetites and an endless desire for more stuff. But what the teachers and textbooks may not have passed on are the stories of incredible people that helped make sure the planet remained beautiful and livable for you.
These are stories of everyday people doing courageous things, because they couldn't stand by and watch communities poisoned by pollution, the Arctic melt, or California die of fire and drought. They couldn't bear to think of New Orleans under water again, or New York lost to a superstorm. Right now, as politicians weigh up options and opinion polls, people are organizing and uprising. It's amazing to see and be a part of.
In the year that led up to the 2015 meeting of global leaders on climate change in Paris, kayakers took to the water to stop oil rigs. Nurses, musicians, grannies, preachers and even beekeepers, took to the streets. The message was loud and clear: "We want clean, safe, renewable energy now!"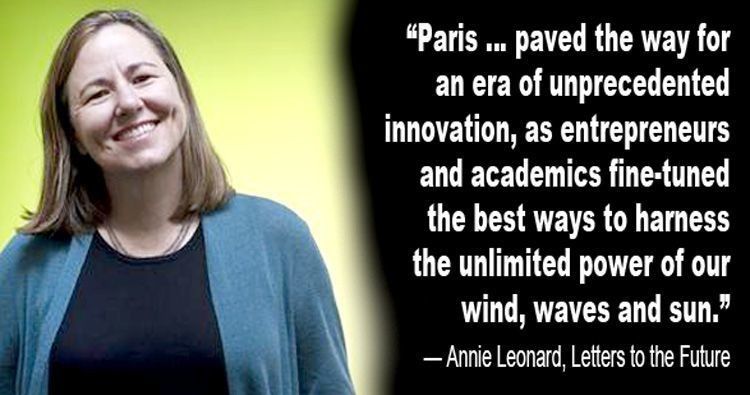 Were it not for this glorious rainbow of people power, I don't know whether President Obama would have stepped up and cancelled oil drilling in the Alaskan Arctic or the sale of 10 billion tons of American coal, that were set to tip the planet towards climate chaos. But he did. This paved the way for an era of unprecedented innovation, as entrepreneurs and academics fine-tuned the best ways to harness the unlimited power of our wind, waves and sun, and make it available to everyone. We've just seen the first ever oceanic crossing by a solar plane and I can only imagine what incredible inventions have grown in your time from the seeds planted in this energy revolution we're experiencing right now.
I want to tell you about this because there was a time we didn't think any of it was possible. And there may be times when you face similar challenges. Generations before you have taken acts of great courage to make sure you too have all the joys and gifts of the natural world—hiking in forests, swimming in clean water, breathing fresh air. If you need to be a little stubborn to make sure things stay that way, so be it.
Currently the executive director of Greenpeace USA, Annie Leonard created the 2007 film, The Story of Stuff, which has been viewed over 40 million times. She wrote the 2010 New York Times bestseller The Story of Stuff and is on the board of Ben & Jerry's, Wallace Global Fund and Story of Stuff.
YOU MIGHT ALSO LIKE
Tim DeChristopher: Don't Back Down in Paris
COP21 Must Go On and Offer Hope for Paris
Why Fossil Fuel Stocks Are Doomed
Bernie Sanders Refuses to Back Down on Climate-Terrorism Connection
EcoWatch Daily Newsletter
A vegan diet can improve your health, but experts say it's important to keep track of nutrients and protein. Getty Images
By Dan Gray
Research shows that 16 weeks of a vegan diet can boost the gut microbiome, helping with weight loss and overall health.
A healthy microbiome is a diverse microbiome. A plant-based diet is the best way to achieve this.
It isn't necessary to opt for a strictly vegan diet, but it's beneficial to limit meat intake.
New research shows that following a vegan diet for about 4 months can boost your gut microbiome. In turn, that can lead to improvements in body weight and blood sugar management.
Students gathered at the National Mall in Washington DC, Sept. 20. NRDC
By Jeff Turrentine
Nearly 20 years have passed since the journalist Malcolm Gladwell popularized the term tipping point, in his best-selling book of the same name. The phrase denotes the moment that a certain idea, behavior, or practice catches on exponentially and gains widespread currency throughout a culture. Having transcended its roots in sociological theory, the tipping point is now part of our everyday vernacular. We use it in scientific contexts to describe, for instance, the climatological point of no return that we'll hit if we allow average global temperatures to rise more than 2 degrees Celsius above preindustrial levels. But we also use it to describe everything from resistance movements to the disenchantment of hockey fans when their team is on a losing streak.
samael334 / iStock / Getty Images
Berries are small, soft, round fruit of various colors — mainly blue, red, or purple.
A glacier is seen in the Kenai Mountains on Sept. 6, near Primrose, Alaska. Scientists from the U.S. Geological Survey have been studying the glaciers in the area since 1966 and their studies show that the warming climate has resulted in sustained glacial mass loss as melting outpaced the accumulation of new snow and ice. Joe Raedle / Getty Images
By Mark Mancini
On Aug. 18, Iceland held a funeral for the first glacier lost to climate change. The deceased party was Okjökull, a historic body of ice that covered 14.6 square miles (38 square kilometers) in the Icelandic Highlands at the turn of the 20th century. But its glory days are long gone. In 2014, having dwindled to less than 1/15 its former size, Okjökull lost its status as an official glacier.
Members of Chicago Democratic Socialists of America table at the Logan Square Farmers Market on Aug. 18. Alex Schwartz
By Alex Schwartz
Among the many vendors at the Logan Square Farmers Market on Aug. 18 sat three young people peddling neither organic vegetables, gourmet cheese nor handmade crafts. Instead, they offered liberation from capitalism.
Hackney primary school students went to the Town Hall on May 24 in London after school to protest about the climate emergency. Jenny Matthews / In Pictures / Getty Images
Bird watching in the U.S. may be a lot harder than it once was, since bird populations are dropping off in droves, according to a new study.