This website uses cookies to ensure you get the best experience while browsing it. By clicking 'Got It' you're accepting these terms.
Annie Leonard: My Take on the State of the Union
Jan. 21, 2015 03:46PM EST
Climate
As a lifetime advocate for the planet, I look to the State of the Union address for signals about how the President will act in the coming year. This time, as ever, I listened keenly for good news on how we'll work together against climate change, keep our oceans clean, prevent toxic pollution and preserve the incredible landscapes we are blessed with. But my biggest highs and lows from President Obama's speech didn't come from counting the number of times he mentioned carbon.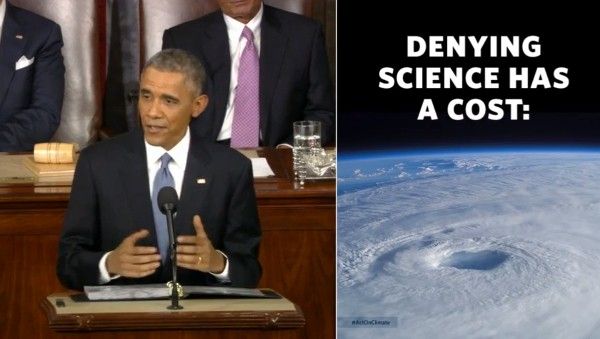 I've been thinking a lot lately about what the movement needs to win—and by winning I mean creating a healthy, sustainable and just future for everyone. To win we need to connect with each other. We need to show up as engaged citizens. And we need to be heard. Today's State of the Union speech gave me a little more hope for each of these.
The President voiced clear support for "a free and open internet extend(ing) its reach to every classroom, and every community." This platform for free speech is essential for people to connect across continents and neighborhoods; to amplify the voices of people impacted by environmental degradation, and to help communities take action to defend against the corporate pillage of their land, air and water.
As a single mom, the President's words on childcare spoke to me personally, and it makes me happy that many people will benefit from his promise to make "quality childcare more available and more affordable, for every middle-class and low-income family with young children in America." I'm hopeful that in a small but meaningful way, this will also allow more parents an extra moment in their busy lives to engage in all sorts of ways to help secure a clean and healthy future for all our kids. Because it's not just those who chain themselves to coal-fired power plants that are making a difference (though of course we need them); it's the people who make sandwiches for the protesters, or drive the carpool, or call the local council too.
I mentioned that we need to be heard, in order to win. This is easier said than done. The President called out the corporate lobbyists and the "super-rich," whose tax-break fuelled coffers have bought the ear of Congress. It's refreshing to hear such inequality and political corruption recognized by a politician, but we need to go further in order to make sure "we the people" have a fair say in the decisions that govern our lives, our country and our future. Citizens United (a Supreme Court ruling which allows unlimited political spending by wealthy individuals and corporations) needs to be overturned, so that corporate fortunes can no longer buy the voices and votes of our politicians.
All this doesn't mean I wasn't listening intently for specific promises from President Obama on tackling our ever-growing carbon emissions. His recognition that "every three weeks, we bring online as much solar power as we did in all of 2008" is a testament to the clean energy revolution that is happening throughout our country, thanks to support from local communities and Fortune 500 companies alike. There are now twice as many solar jobs as coal mining jobs, and the renewables industry doesn't show any signs of slowing down. People across America want to see the President lead on climate change and that means championing wind and solar power.
Equally important is the need for President Obama to prioritize a strong commitment from the United States at the Paris climate conference, a definitive rejection of the Keystone XL pipeline and Arctic drilling proposals, and an end to our extraction and export of fossil fuels. Doing so will show that he actually means it when he says that "no challenge poses a greater threat to future generations than climate change."
There's no question that we've come a long way with a President who will not only acknowledge climate change in his State of the Union address, but also commits to take action to prevent it. While we welcome the opportunity implicit in President Obama's promises for the coming year, let's also think about how we can work together to both hold him accountable and be a part of the solutions ourselves. One thing we learned from his first term is that we can't sit back and expect him to take care of everything; he may be the President, but it's up to us to be the movement that demands he be a real leader.
YOU MIGHT ALSO LIKE
Obama: No Challenge Poses a Greater Threat Than Climate Change
Pharrell and Al Gore Announce 'Live Earth Road to Paris'
EcoWatch Daily Newsletter

georgeclerk / E+ / Getty Images
By Jennifer Molidor
One million species are at risk of extinction from human activity, warns a recent study by scientists with the United Nations. We need to cut greenhouse gas pollution across all sectors to avoid catastrophic climate change — and we need to do it fast, said the Intergovernmental Panel on Climate Change.
This research should serve as a rallying cry for polluting industries to make major changes now. Yet the agriculture industry continues to lag behind.
Edwin Remsburg / VW Pics / Getty Images
Botswana, home to one third of Africa's elephants, announced Wednesday that it was lifting its ban on the hunting of the large mammals.
"The Ministry of Environment, Natural Resources Conservation and Tourism wishes to inform the public that following extensive consultations with all stakeholders, the Government of Botswana has taken a decision to lift the hunting suspension," the government announced in a press release shared on social media.
Pxhere
By Richard Denison
Readers of this blog know how concerned EDF is over the Trump EPA's approval of many dozens of new chemicals based on its mere "expectation" that workers across supply chains will always employ personal protective equipment (PPE) just because it is recommended in the manufacturer's non-binding safety data sheet (SDS).
By Grant Smith
From 2009 to 2012, Gregory Jaczko was chairman of the Nuclear Regulatory Commission, which approves nuclear power plant designs and sets safety standards for plants. But he now says that nuclear power is too dangerous and expensive — and not part of the answer to the climate crisis.
A lake in Rocky Mountain National Park. Brett Walton / Circle of Blue
By Brett Walton
When Greg Wetherbee sat in front of the microscope recently, he was looking for fragments of metals or coal, particles that might indicate the source of airborne nitrogen pollution in Rocky Mountain National Park. What caught his eye, though, were the plastics.
Gabriele Holtermann Gorden / Pacific Press / LightRocket / Getty Images
In a big victory for animals, Prada has announced that it's ending its use of fur! It joins Coach, Jean Paul Gaultier, Giorgio Armani, Versace, Ralph Lauren, Vivienne Westwood, Michael Kors, Donna Karan and many others PETA has pushed toward a ban.
This is a victory more than a decade in the making. PETA and our international affiliates have crashed Prada's catwalks with anti-fur signs, held eye-catching demonstrations all around the world, and sent the company loads of information about the fur industry. In 2018, actor and animal rights advocate Pamela Anderson sent a letter on PETA's behalf urging Miuccia Prada to commit to leaving fur out of all future collections, and the iconic designer has finally listened.
Amer Ghazzal / Barcroft Media / Getty Images
If people in three European countries want to fight the climate crisis, they need to chill out more.
That's the conclusion of a new study from think tank Autonomy, which found that Germany, the UK and Sweden all needed to drastically reduce their workweeks to fight climate change.
Amazon Employees for Climate Justice held a press conference after the annual shareholder meeting on May 22. Amazon Employees for Climate Justice