This website uses cookies to ensure you get the best experience while browsing it. By clicking 'Got It' you're accepting these terms.
Angolan Oil Industry Fuels Corruption and Parallels Destruction of Louisiana Communities
May. 08, 2012 10:00PM EST
Energy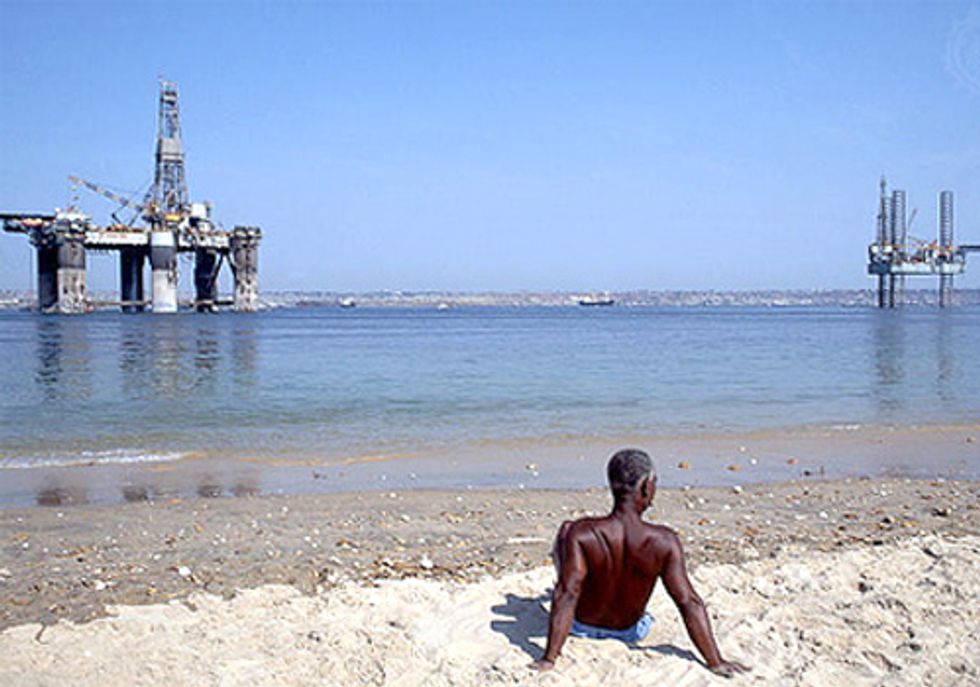 Oil industry destruction of communities in Angola and Louisiana were highlighted on May 7 at a presentation about the Angolan oil industry by Alberto do Carmo Bento Ribeiro, Ambassador of the Republic of Angola to the U.S. "The Ambassador and the U.S. government are putting a friendly face on oil industry operations in Angola," said Anne Rolfes, founding director of the Louisiana Bucket Brigade, "but we know it's a masquerade of pollution, economic devastation, corruption and death for people and the environment."
The goal of the Angolan Minister's presentation is to attract investors.
One of the most successful exploration companies in Angola, Cobalt International Energy, is being investigated by the Department of Justice for enriching government officials in order to do business.1
Communications from people in Angola report that "most of the fishermen are now out of business and the oil leakages are now affecting in-land rivers next to the coast." This means that subsistence fishers and the fishing industry in both freshwater and the Atlantic Ocean are impacted.
The destruction of livelihoods is familiar to Louisiana communities devastated not only by the BP Oil Disaster, but also by ongoing spills in the Gulf of Mexico. There have been more than 4,000 oil spills in the Gulf of Mexico since the BP Disaster.2
Angola is the largest producer of oil in sub-Saharan Africa, yet millions of Angolans lack basic necessities. The extreme poverty is staggering: 161 out of every 1,000 Angolan children die before the age of five. Thirty percent of Angolans are illiterate. Fifty-four percent of Angolans live under $1.25/day.3
According to the U.S. government, Transparency International and Human Rights Watch, government corruption and mismanagement are pervasive in Angola. These issues portend a poorly managed oil sector in which a few men make off with the country's riches.
Angola ranks 168 out of 182 countries and is in the bottom 4th percentile for control of corruption.4
U.S. State Dept. report on money-laundering: "Corruption pervades Angolan society and commerce and extends across all levels of government."5
U.S. Senate Committee Report in 2008 highlighted Angola: "Keep Foreign Corruption Out of the United States: Four Case Histories"6
U.S. State Dept. in 2010: "Government corruption was widespread, and accountability was limited due to a lack of checks and balances, lack of institutional capacity, and a culture of impunity…There were credible reports of high-level officials receiving substantial bribes from private companies awarded government contracts."7
Attendees at the meeting were urged to be honest about their intentions in Angola and then to transform that behavior. "The least they can do is talk frankly and say, 'we are seeking profit, to hell with human rights and the local economy," said Ms. Rolfes.
For more information, click here.
—————
1. Burgis, Tom, "Cobalt presses on with Angolan venture,"  Financial Times, May 2, 2012 http://www.ft.com/intl/cms/s/0/e5b66530-93bb-11e1-baf0-00144feab49a.html
2. Louisiana Bucket Brigade, http://www.labucketbrigade.org/article.php?id=764&preview=1&cache=0
3. UNDP Human Development Index Statistics, http:// hdrstats.undp.org
4. Transparency International's 2011 Corruption Perceptions Index,
5. U.S. Department of State, "2008 International Narcotics Control Strategy Report, Volume II, Money Laundering and Financial Crimes," March 2008, at 83-84.
6. United States Senate, Senate Committee on Homeland Security and Governmental Affairs, Permanent Subcommittee on Investigations, "Keeping Foreign Corruption Out of the United States: Four Case Histories," Majority and Minority Staff Report, February 4, 2010.
7. U.S. Department of State, "2010 Human Rights Report: Angola," http://www.state.gov/j/drl/rls/hrrpt/2010/af/154330.htm.
EcoWatch Daily Newsletter
Doctors report that only 1 in 4 children are getting the recommended 60 minutes of physical activity per day. Ronnie Kaufman / DigitalVision / Getty Images
By Dan Gray
Pediatricians are being urged to start writing "exercise prescriptions" for the children they see in their office.
A First Nations protester walks in front of a train blockade in Tyendinaga, near Belleville, Ontario, Canada on Feb. 21, 2020. LARS HAGBERG / AFP via Getty Images
An indigenous rail blockade that snarled train travel in Canada for more than two weeks came to an end Monday when police moved in to clear protesters acting in solidarity with another indigenous community in British Columbia (B.C.), which is fighting to keep a natural gas pipeline off its land.
A rainbow snake, a rare reptile spotted in a Florida county for the first time in more than 50 years, seen here on July 5, 2013.
Kevin Enge / FWC Fish and Wildlife Research Institute / Flickr
A Florida hiker recently stumbled across a slithering surprise — a rare snake that hadn't been spotted in the area for more than 50 years.
We need our government to do everything it can to stop PFAS contamination and exposure from wreaking havoc in communities across the country. LuAnn Hun /
Unsplash
By Genna Reed
The EPA announced last week that it is issuing a preliminary regulatory determination for public comment to set an enforceable drinking water standard to two of the most common and well-studied PFAS, PFOA and PFOS.
This decision is based on three criteria:
PFOA and PFOS have an adverse effect on public health
PFOA and PFOS occur in drinking water often enough and at levels of public health concern;
regulation of PFOA and PFOS is a meaningful opportunity for reducing the health risk to those served by public water systems.
Charging EVs in Stockholm: But where does a dead battery go? Ranjithsiji / Wikimedia Commons
By Kieran Cooke
Driving an electric-powered vehicle (EV) rather than one reliant on fossil fuels is a key way to tackle climate change and improve air quality — but it does leave the old batteries behind as a nasty residue.